This is a sponsored blog post; while the views expressed here were genuinely mine, consideration was paid to me by Santa HQ to review this product. Santa HQ is available at 15 locations across the United States in states like Colorad, California, New York and more! #SantaHQ
It's that time of year, my favorite time in fact. The glow of lights, the pesky elf is back, and our Holiday traditions are coming out to play, like taking a trip to the mall to visit Jolly Ol' Saint Nick. Every year I take the kids to see Santa and it's something they love to do. While waiting in line they'll argue over who made the naughty or nice list and they prepare to ask Santa what they want for Christmas.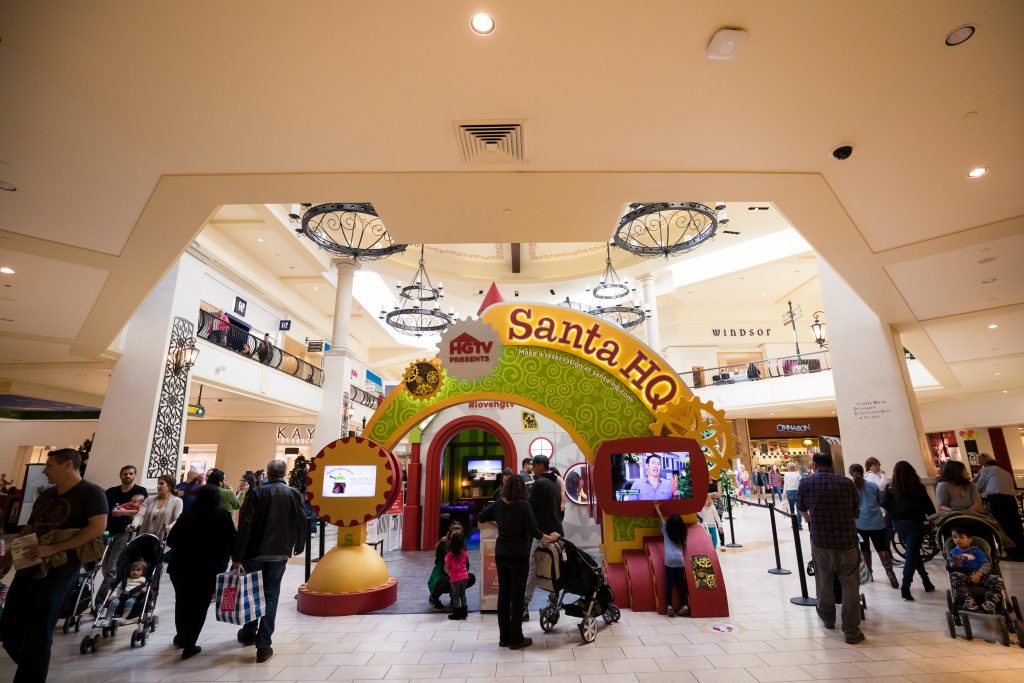 When we visit Santa I like to make a morning of it and visit a Santa that has a fun, interactive exhibit for them to enjoy. It helps keep them occupied while waiting, but also makes the experience fun for them. Last year we were invited to check out the Santa HQ by HGTV at Flat Iron Crossings Mall up in Broomfield. We went to Santa's arrival, had breakfast with him, and then paid him a visit at his headquarters in the mall. This year we missed his arrival, but still made the trip up to visit him because it's such a lovely & fun experience. The kids were even talking about how much fun they had last year at Flat Iron Crossings.
What sets Santa HQ apart
Santa HQ is different from other Santa experiences because of their observatory. Once you get to the front of the line you'll check in and someone will take you into Santa HQ. The first stop will be the naughty or nice list. The kids each took turns having their names added to the list and then stood on the naughty or nice meter and waiting for their results. SHOCKINGLY Santa and his elves thought all of the kids were nice this year.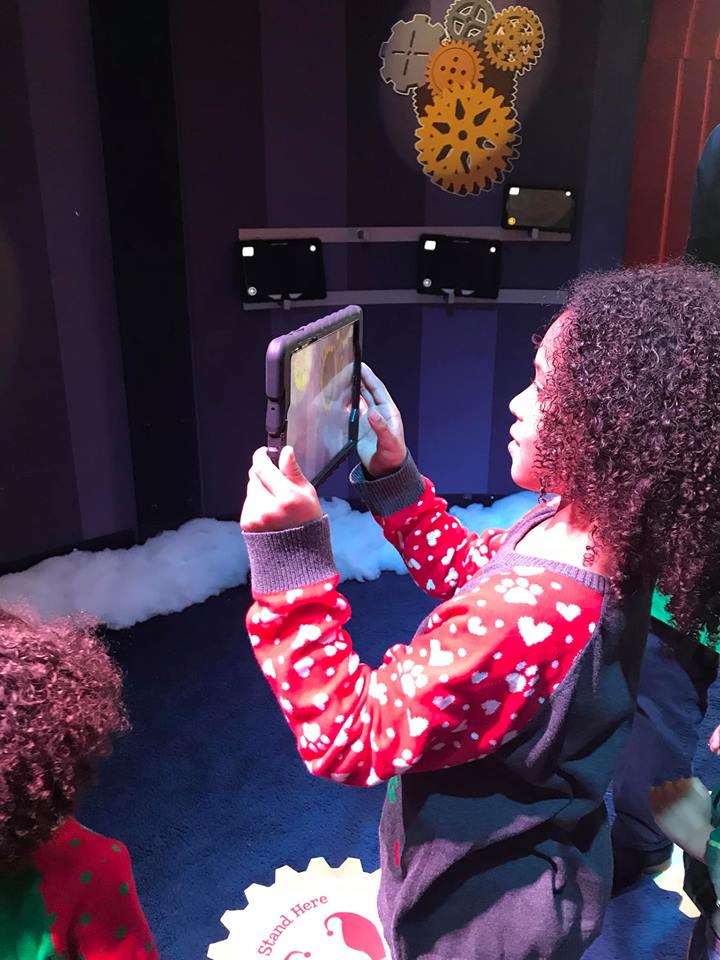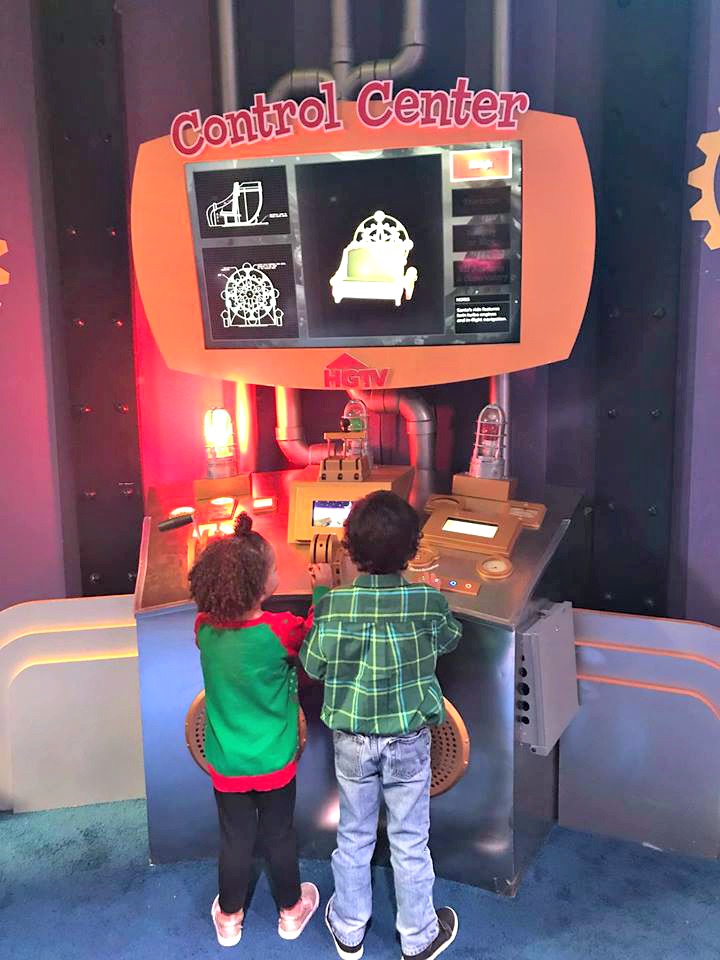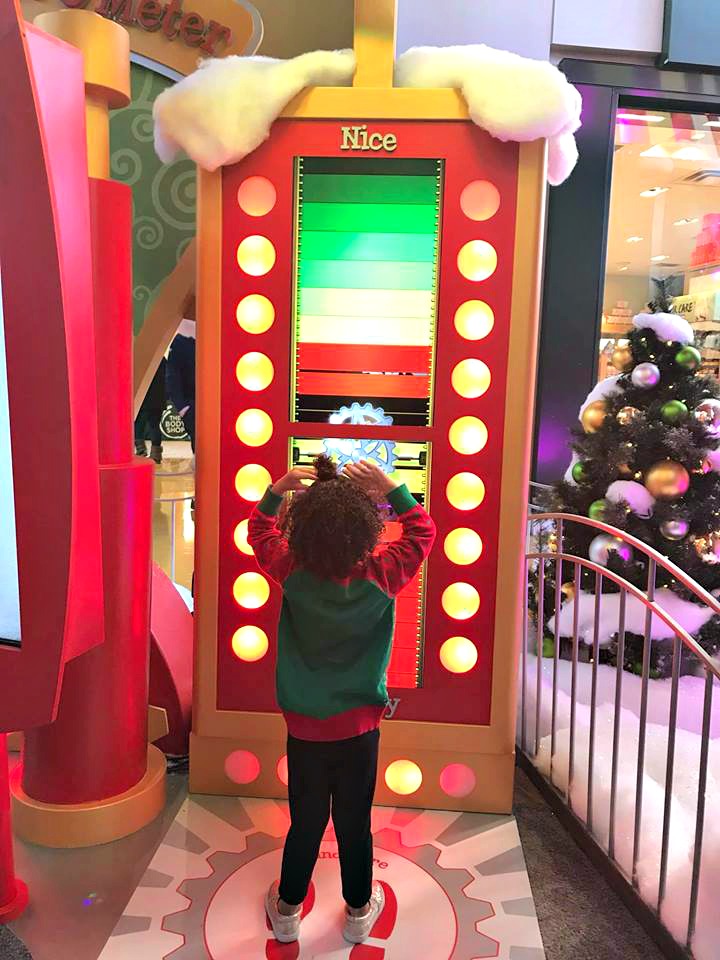 Next on the list the kids stepped inside the observatory where they got to build Santa's sleigh and play around with the elf finder. Santa HQ provides tablets for the kids to use to find the elves, but there is also a FREE app you can download called Elf Vision that you can use on your own to find elves. (google play) Make sure to download the triggers so your little ones will be able to see what the elves are up to. (Do I see an elf on the shelf Idea in the works?)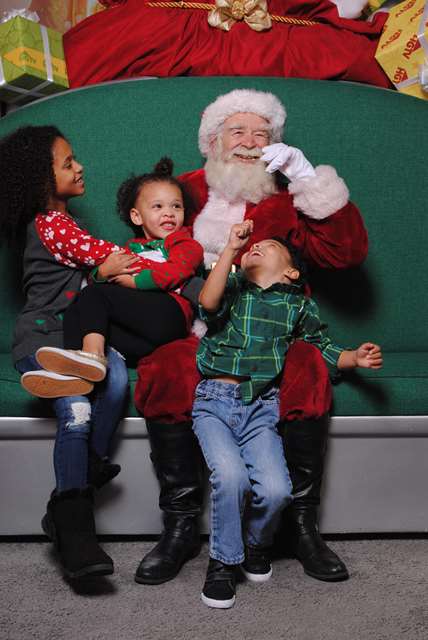 Once they were done having fun finding elves and building Santa's sleigh we headed in to see the big guy, Santa Claus. I loved that we got the same Santa as last year. He's such a great Santa and the kids loved visiting him. At the end of their visit he started playing with them and they were all laughing and having fun.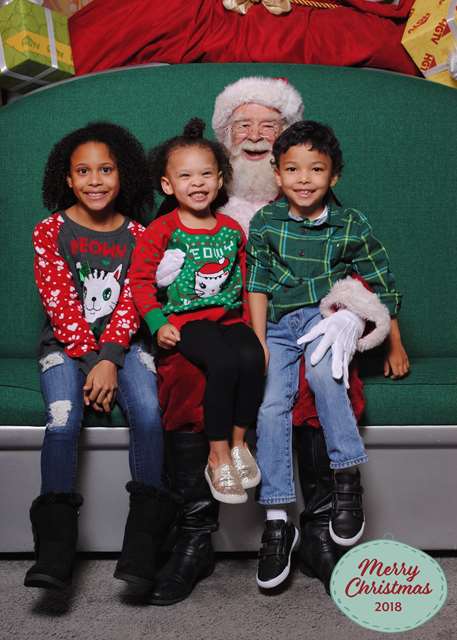 Meowy Christmas ugly kids Christmas sweaters are from Target. Girls // Toddler Girl. Boy shirt.
All in all the kids had a wonderful visit with Santa and are hoping Santa brings them:
Maddie – Would love Lego's.
William – Would love Play-doh & Hot Wheels Ultimate Garage.
Caroline – Pink Kitchen
Photos with Santa
To enhance the enjoyment of Santa HQ's photos-with-Santa experience and spend less time waiting in line, guests can now select the date and time of their photos session by making a reservation online at https://santa-hq.com The reservation system enables users to select and pre-pay for their photo package, and it gives them the opportunity to upgrade their package by making their family photo session days or even weeks in advance. The online reservation system even has an opt-in text functionality to provide reminders about their Santa photo session reservation.
In the Holiday Spirit of Giving
Visitors to Santa HQ will also be able to enjoy the holiday spirit of giving through HGTV's Help Through Holiday Giving Drive. The program encourages visitors to donate new, unwrapped toys for local children in need with the goal of collecting over 1,000 toys per center. In 2017, HGTV's Help Through Holiday Giving program collected over 66,000 toys benefiting local organizations like Forgotten Angel Tree, Salvation Army Angel Tree, Toys for Tots, and Spark of Love Stuff a Bus.