We've partnered with Mattel to tell you all about the Thomas and Friends Super Station. #SuperStationWalmart
Our kids love Thomas the Train. While both of my younger 2 love Thomas and Friends, our son really loves Thomas and Friends, which is why the Thomas and Friends Super Station is going under our Christmas tree this year.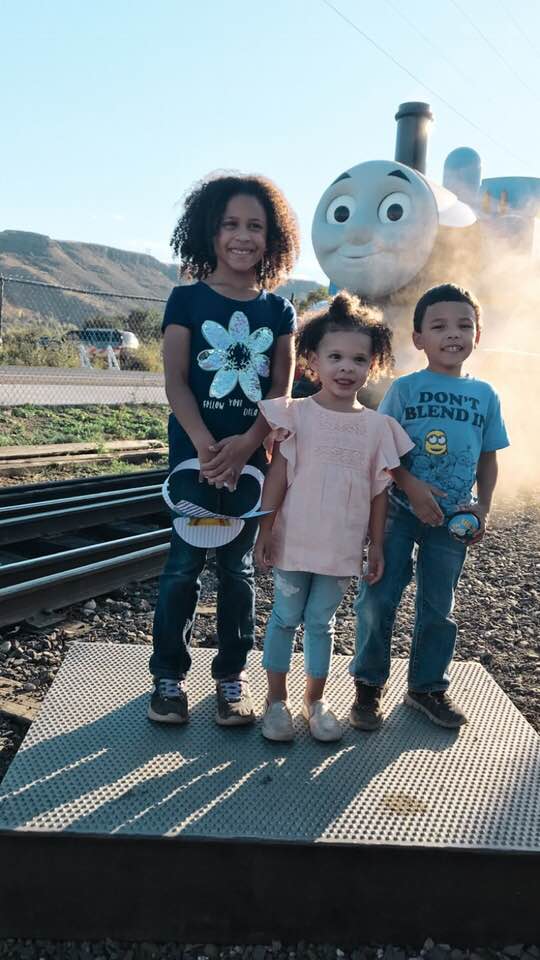 We just saw Thomas the Train at A Day Out With Thomas and the kids had so much fun, especially William, which is why I know the Thomas and Friends Super Station is going to be a hit this Christmas with the kids. When it comes to play time for our boy he loves 2 things, anything with wheels and super heroes. You will always find a race car or Thomas and Friends train laying around the house somewhere and there is usually one in his pants pocket. The boy is obsessed.
Most recently our daughter has also gotten into trains and even asked Santa for "choo choos" for Christmas.
What Makes the Thomas and Friends Super Station Awesome
When it comes to toys I love toys that spark my kids imaginations. Things they can build, experiment on, and get their brains working while having fun are a must when it comes to toy buying. The Thomas and Friends Super Station does just that. With over 35 feet of track the Thomas and Friends Super Station allows kids to use their imaginations while building tracks for Thomas and Friends. The possibilities are endless when it comes to track building and the tracks easily snap together so little hands can do all the work themselves. You can make it as big or as little as your space allows.
Another great feature about the Thomas and Friends Super Station (available at Walmart) is that you can use any Thomas and Friends trains with the track, no matter their size. You can also use any previous Thomas the Train tracks with the Thomas and Friends Super Station by using the track adapters that come with the set. I just love a toy that is versatile and can work with existing toy sets that we already have.
About the Thomas and Friends Super Station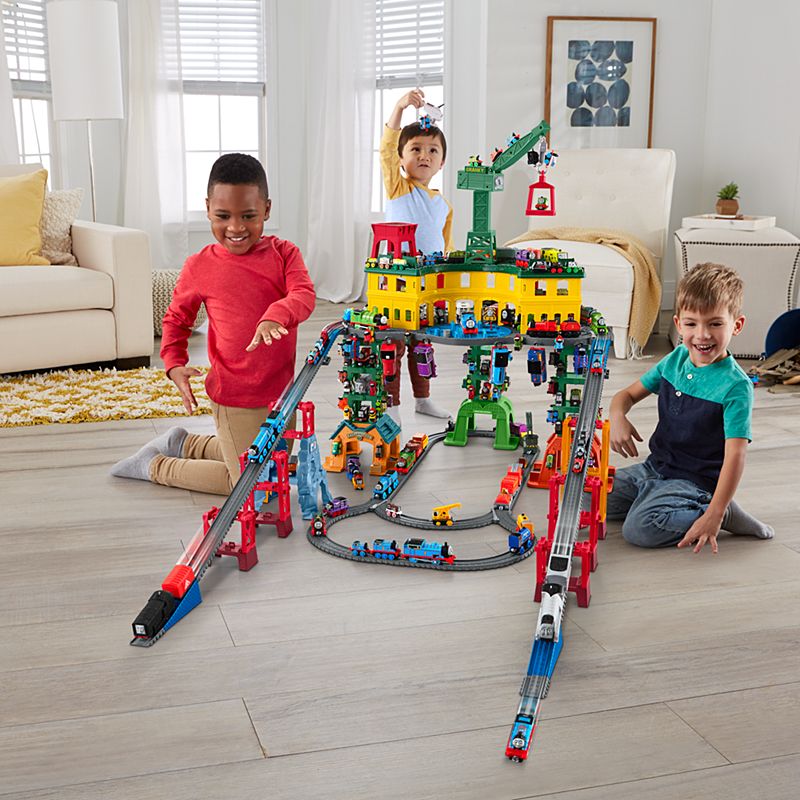 Now kids can imagine and play out adventures with Thomas & Friends™ using all their engines! This multi-system track set with 3 levels of play lets children play with engines from Thomas & Friends™ Adventures, TrackMaster™, MINIS and Wooden Railway, including Thomas, Percy, James and Harold. In addition to being able to use any Thomas engine, multiple configurations allow for layouts that can fit any space in the home. The legs can even be removed to create a micro-layout for smaller spaces! Features storage for 100+ engines, over 35 feet / 10 meters of track, and iconic locations including Tidmouth Sheds, Brendam Docks, Knapford Station, the Sodor Steamworks, the Dieselworks, Blue Mountain Quarry and the SSRC with Harold's helipad. There are also cargo pieces, adapter pieces to connect to other playsets, two racetracks, floor play and more! Fun features include Cranky with a crane that can be raised, lowered, and attached to a cargo lift that can be used to raise cargo and engines; and a turntable complete with a stop-track lever to halt TrackMaster™ engines while your little engineer changes direction. The legs and locations feature tunnels, and there are areas for cargo storage, too. Additional engines and playsets sold separately and subject to availability. It's the ultimate Thomas & Friends™ playset!
Works with Thomas & Friends™ Adventures, TrackMaster™, MINIS and Wooden Railway engines (additional engines sold separately)
Comes with Thomas & Friends™ TrackMaster™ Thomas, and his friends Thomas & Friends™ Adventures Percy, Thomas & Friends™ MINIS James, plastic Harold
Multiple configurations of layouts to fit into any space
Remove legs for micro layouts to fit small spaces
Features storage for 100+ engines (sold separately and subject to availability)
Over 35 feet (10 meters) of track
Features iconic Sodor locations such as Tidmouth Sheds, Knapford Station, Brendam Docks and more
Includes track adapters to connect to other Thomas & Friends™ playsets
Two racetracks plus floor play