We knew that once we bought our house we wanted to add pets to our family. We've been in our home for a while now and for the last few months I've felt like it was time to add some four legged friends to our family. We went to adopt on the free adoption weekend Denver had a few months ago, but after visits to several shelters they were out of pets, especially kittens. I was so thrilled all the animals had new homes, but bummed that we left empty handed. Since then I've looked around on Facebook groups and craigslist some, but babies go so quickly. I wanted babies so they could enter our family at an early age and grow up with our children.
Growing up I had a few pets and all of them have such wonderful memories for me. Like the kitten I got for Christmas one year as a kid or the litters we rescued from my moms backyard. I want my kids to have those same memories and now seemed like a great time to add to our family. After a few failed kittens from Facebook groups (don't judge me) I decided the smaller 2 kids and I would check out some shelters. All of them had kittens listed on their websites, but I know how fast kittens can go. We set out and checked the first shelter, no kittens. Same followed with the second and third. We left a few places with a child in tears because they really wanted a kitten.
A few people have recommended Rocky Mountain Feline Rescue to me, but they didn't open til noon and I was ready to get home. That voice inside of me said to just check them out. So we went and waited about 20 minutes until they opened. We walked in and they had a whole room full of beautiful little kittens waiting for their new homes. The kids and I went inside and started playing with the kittens and looking around. We instantly fell in love with SO MANY of them. The spunky personalities, the sweet little faces… I just wanted to save them all.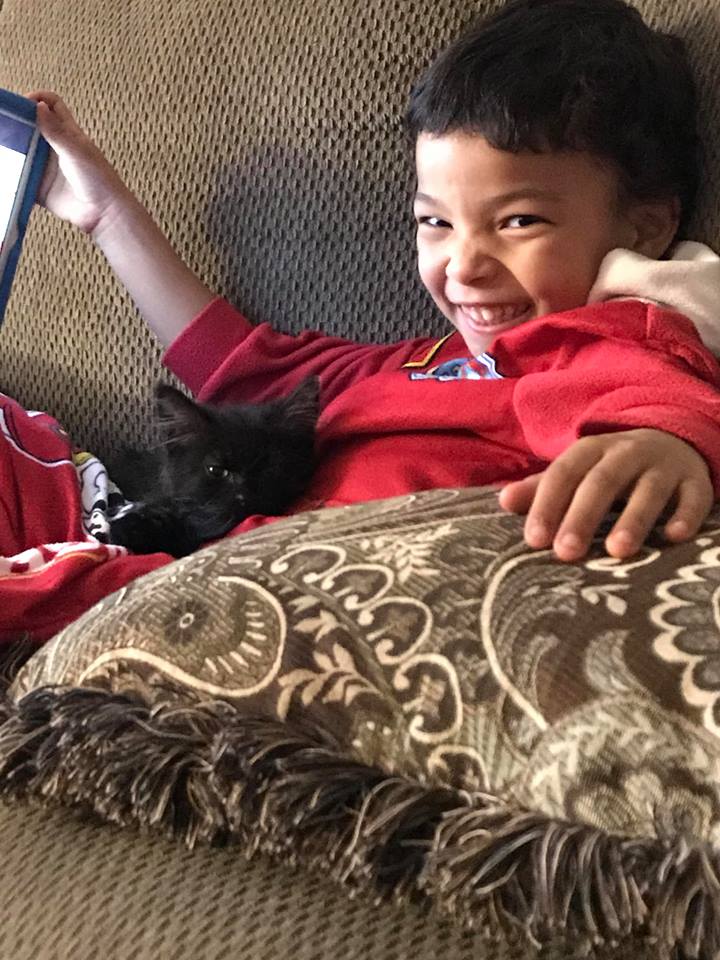 Walking in I knew my husband and son really wanted a black kitty and I really wanted a grey one, but we were also open to any other little cuties who meshed well with us. I've always heard that your pet picks you and in our case this was 100% true. From the second I walked into the kitten room George was meowing at us. When I picked him up he quickly cuddled up to me and started crawling all over me. When I put him down to walk away, he followed me. When I got close to cat furniture he would jump onto me. At one point he climbed up my back and was nestling himself into my hair. I knew this cat wasn't going to let us leave without him and our son loved him too.
Then I spotted Gracie (Jasmine is the name the shelter gave her). She's a gorgeous grey kitty. She was sleeping when I found her, but when I picked her up she quickly cuddled into me and went back to sleep. I instantly fell in love with her and knew she was coming home with us.
I had only planned on adopting one kitten that day, but after a few texts with my husband and a chat with one of the girls at Rocky Mountain Feline Rescue we came home with 2 new babies. The adoption process was so easy and effortless. We signed in, went to view the kitties, filled out an adoption form, went over the adoption form, went over a few important details about the cats (things like feeding, vaccinations, ect), and then we were on our way. The whole process took about 45 mins to an hour.
The girl who helped us at the rescue said it was better to adopt kittens in 2's because they'll have someone to play with. Kittens are full of energy and can play rough so it's better for them to take that out on each other instead of the kids. After the last 24 hrs I can 100% agree with her recommendation and am so glad we got 2 kittens instead of just the one.
George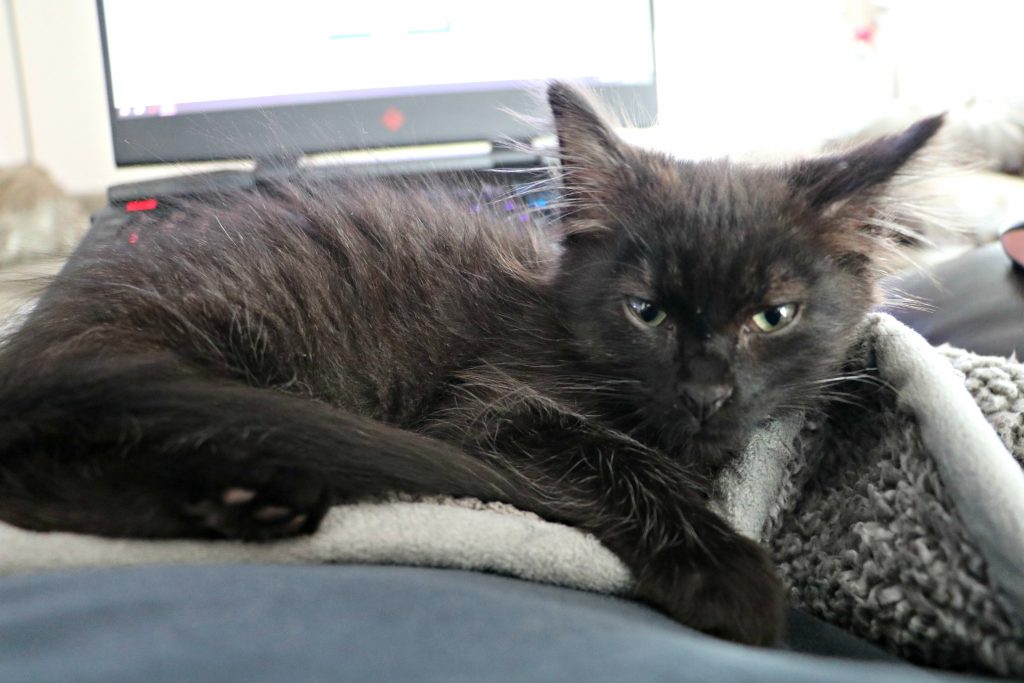 George instantly won our hearts and that boy was determined to find his forever home. He is full of so much spunk and personality. He's 9 weeks old, fluffy, cuddly, and I can see he's going to be a little bit of trouble. We got home and he instantly started to explore his new home. Checking out every level, every room, and quickly making himself at home. Once he was done he jumped onto my bed and took a nap.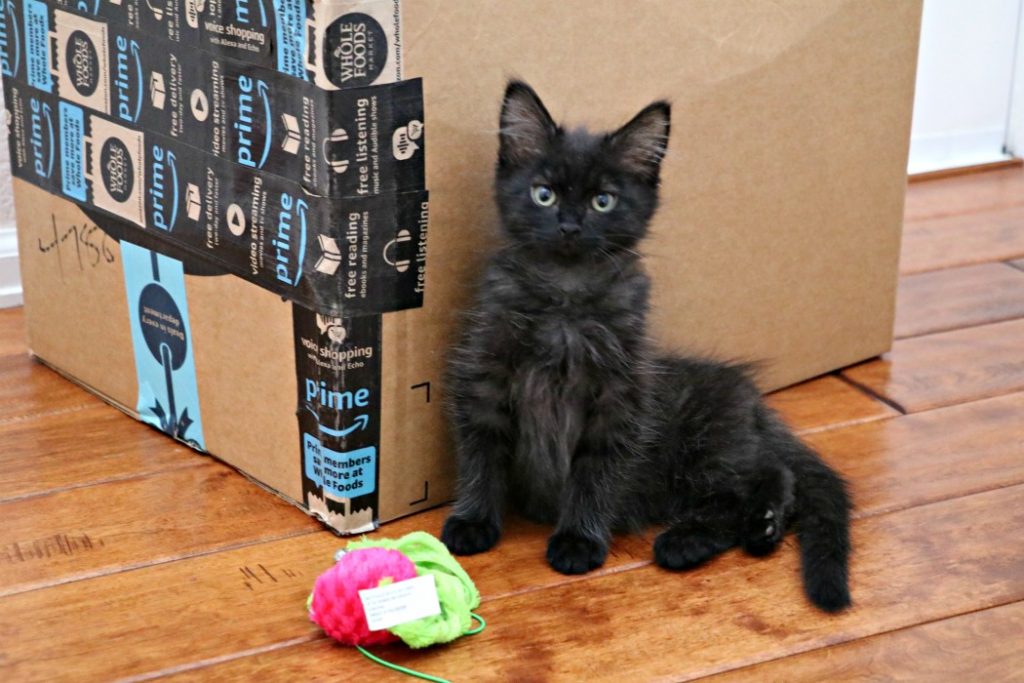 George didn't just win over our hearts. He also won over the hearts of another couple who was there looking at kittens. When they found out we were adopting him they got so excited because their choices were between George and another cat, but they ended up picking the other cat. They said they really wanted George to get adopted because he was so friendly, we just happen to agree.
George loves toys, tackling his sister Gracie, and meowing at us for attention. His meow is the cutest little meow and sounds like a combo of a half meow and a hiss.
Gracie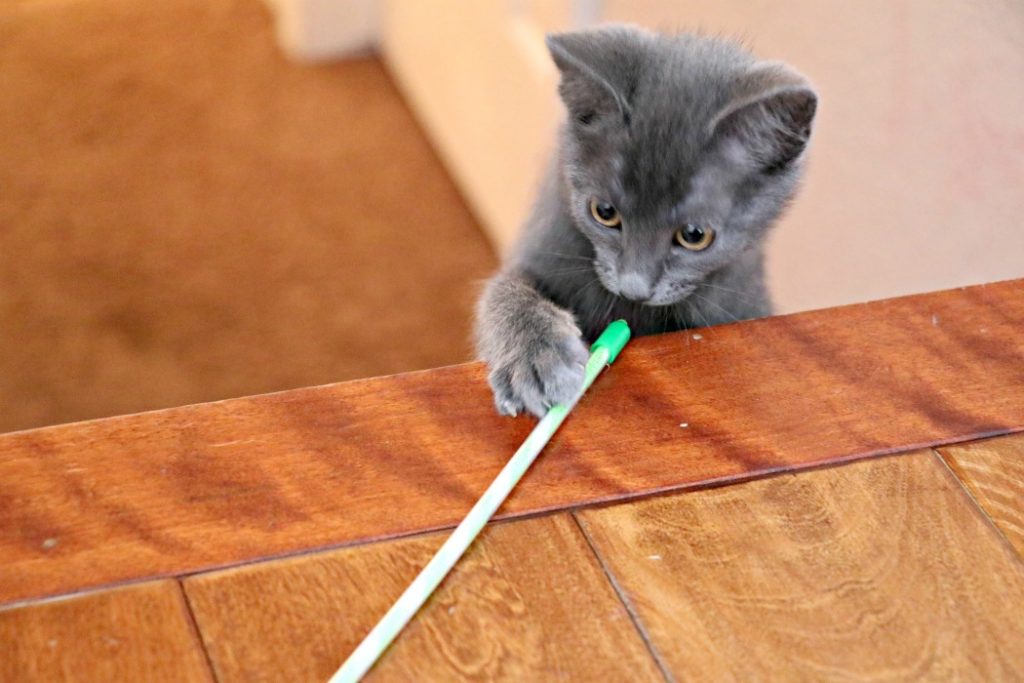 Gracie is a gorgeous grey kitty who is 12 weeks old. She won me over with her cuddling abilities and spent the first 24 hours in her new home hiding or sleeping. She's so good at hiding that we couldn't find her for half a day and I started to become worried. We finally found her under a dresser and still don't know how she got under there because the openings are so small. I was worried she wasn't going to come out of her shell because as soon as I would take her out of hiding and let her go, she would run and hide again. She didn't eat or drink much the first day, which worried me some more, but after her epic hide and seek win she turned into a completely different kitten. It's like a light-switch was hit and she's come out of her shell.
The first night I tried to sleep with her and the second the light turned off she darted out of the room. Last night was a completely different story. Once her kitty switch was hit she became very playful, explores the house, wrestles with her brother (a lot of which she instigates), is eating & drinking more, plays with toys, and is overall a very playful kitty. Unlike George she's not an attention seeker 24/7. Instead she will come to you when she wants to snuggle up. It has to be on her terms, where George wants attention 24/7. She's learned to jump onto the side of the bed and climb up the comforter to get onto our high bed.
I didn't get much sleep last night because both George & Gracie were running through the house playing, jumping onto my bed and scaring the crap out of me, and both took turns on feet attacks. Gracie even upped her game and got under the covers for her attacks. Then I woke up this morning to find 2 of our 3 kids in my bed and both kittens snuggled up in different spots sleeping. It was perfect and I am so excited for the new additions to our family, the love they bring, and the happiness it brings our family. In true mom blogger fashion I'll be sharing a lot of George & Gracie on the blog and they even have their own instagram!
Adopt Don't Shop!
I've always heard people say Adopt Don't Shop and I am now a firm believer in it. We got such a better quality (if that makes sense) kitten from the rescue than I would have from any group or BST website. Our kittens were well taken care of before coming home with us. They had visited a vet, received their vaccinations, were spayed/neutered, use to people, and micro-chipped. If I had bought a cat someone got in their backyard non of that would have been done and I would have been responsible for it, which can get pricey. Instead the rescue took care of it and I know that their adoption fee was a lot less than I would have spent on all those things. The kittens also came with food, coupons for free food, a coupon for a free vet visit, and if they come down with a shelter related sickness within 2 weeks of coming home with us one of their vet partners will cover the treatment.
Adopting is the responsible step to pet ownership. If you're looking to add a new cat or kitten to your home, please check out Rocky Mountain Feline Rescue! If you're not looking at add a furry friend then consider donating to their wonderful facility or buying them some much needed supplies.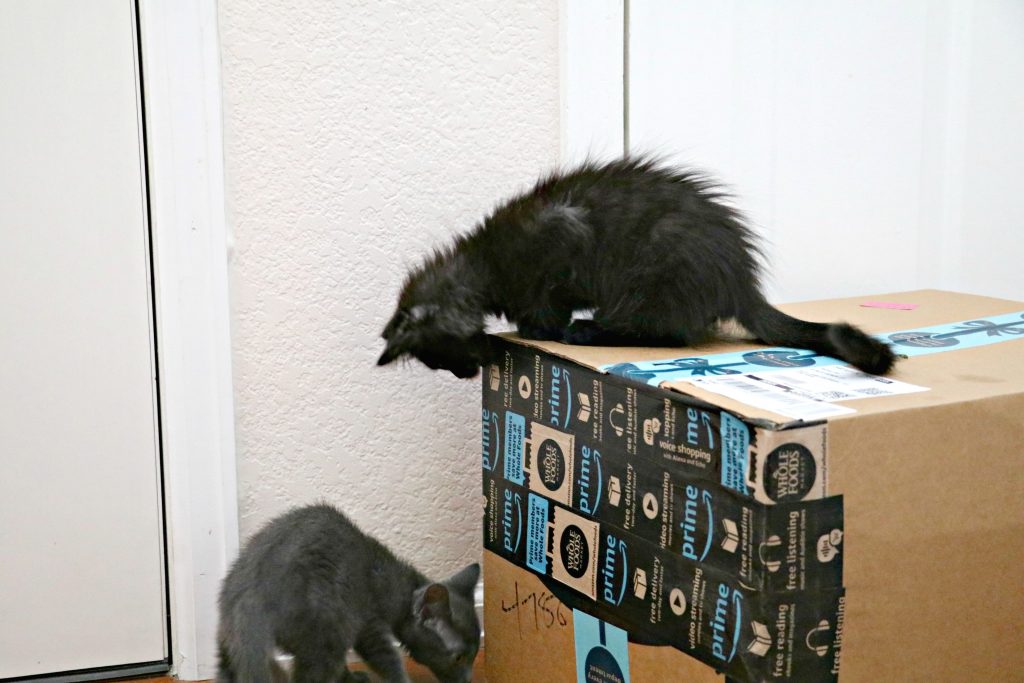 **I am not affiliated with Rocky Mountain Feline Rescue in any way. I wanted to share our story in the hopes that you'll consider them as your adoption source when adding a new cat or kitten to your home. The staff was so friendly, helpful, and the rescue was full of kitties who need loving homes.