This recipe for Fudgey Pumpkin Brownies combines brownie mix and pumpkin for a decadent treat that is great for the whole family. The simple ingredients and quick prep means that as a busy parent we can whip up our family (and friends) a fresh-baked treat without making too much of a mess or requiring too many ingredients.
I love baking for my kids and I keep my pantry stocked this time of year with baking necessities like NESTLÉ® TOLL HOUSE® Brownies & More mix, NESTLÉ® TOLL HOUSE® Semi-Sweet Chocolate Morsels for cookies, NESTLÉ® CARNATION® Evaporated Milk, and Libby's® 100% Pure Pumpkin which comes in handy for homemade pop tarts. While I love to bake I don't always want to make recipes that require a lot of ingredients or steps. In the hustle and bustle of managing the kids sometimes I just want a very simple recipe that is still freshly baked for the kids and these Fudgey Pumpkin Brownies are the perfect treat.
One of the great things about these Fudgey Pumpkin Brownies is that they contain pumpkin, which is good for you. The kids think they're eating a sweet treat and little do they know it has some good for you food hidden inside. The only ingredients you'll need are a box of NESTLÉ® TOLL HOUSE® Brownies and 1 can of Libby's® 100% Pure Pumpkin.
Empty the Brownies and More contents into a bowl and combine with one 15oz can of Libby's® 100% Pure Pumpkin.
Bake at 350 for 25-30 mins. Let cool and serve!
I was able to find all of my Nestle Baking needs at my local Walmart in the baking aisle. You can pick up all your baking needs and more on your next shopping trip. You can also take advantage of Walmart's awesome grocery pick-up option which allows you to make an order online and quickly pick it up. Total life and time saver!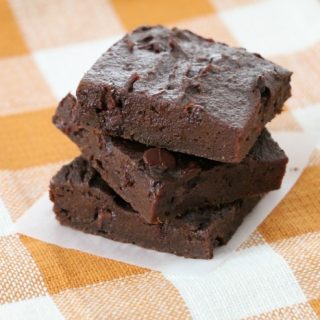 Pumpkin Fudge Brownies
Quick, Easy, and Delicious brownies with only 2 ingredients!
Ingredients
1 box Brownie Mix
1 15oz can pureed pumpkin
Instructions
Preheat oven to 350°
Line a pan with foil and spray lightly with cooking spray.
In a bowl mix together brownie mix and pureed pumpkin until smooth.
Spread batter into pan and bake for 25-30 minutes until set.
Let cool completely.
Notes
Optional - Use canned pumpkin pie mix for spiced brownies.