Want to customize cups without a Cricut machine or sublimation? Want to customize cups with one easy step? Let me introduce you to DTF Tumbler Wraps!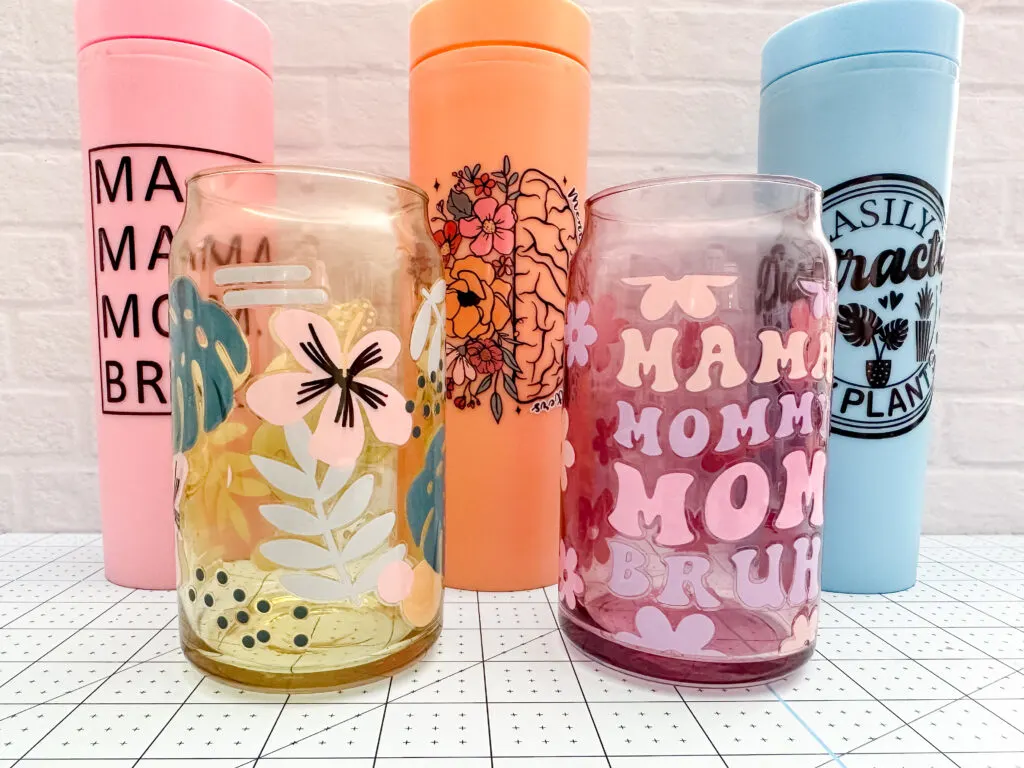 What Are DTF Tumbler Wraps?
DTF (Direct to Film) wraps are a type of sticker that can be placed on tumblers, cups, and mugs. DTF wraps use a special type of printer that uses UV-curable ink that is printed on a thin, transparent film. You then apply the film to your tumbler or mug and you don't need a special printer or cutting machine.
How Can I Save Time with DTF Wraps?
You can save time with DTF wraps because you aren't the one printing out designs or cutting them and weeding them. Instead, you just apply the DTF sticker to your tumbler, and within seconds you have a cute, custom mug.
What Tools Are Needed to Make DTF Wrap Tumblers?
You only need a few supplies for your DTF tumblers or mugs.
Tumbler or Mug – Libbey Glass Cans are the most popular tumbler to use with DTF wraps, but you can use anything the dtf decal will stick to.
Cup Cradle – This holds your cup in place while applying the DTF wrap and keeps your mug steady.
Squeegee – This is used to smooth your DTF wrap to your cup. It helps to remove any air bubbles and makes sure the wrap is smooth, has no bumps, and is evenly applied to the cup. The felt side prevents knicks, scratches, or tears in your DTF decal.
DTF Wraps or Decals – There are A LOT of retailers for DTF wraps. Type it into Google and lots of websites come up, especially Etsy.
What Tumblers to Use with DTF Wraps
The most popular cup to use DTF transfers with is Libbey Cans, but you can use any type of cup you see fit. You can use skinny tumblers, mugs, and anything that a sticker would stick to.
Tips & Tricks for Working with DTF Wraps
Can you peel off DTF transfers? No, you cannot peel the decal back up once it has been placed down. If you do the design with rip so you need to make sure you are careful while placing the decal or wrap on your cup. Even touching the design with your finger can cause it to rip.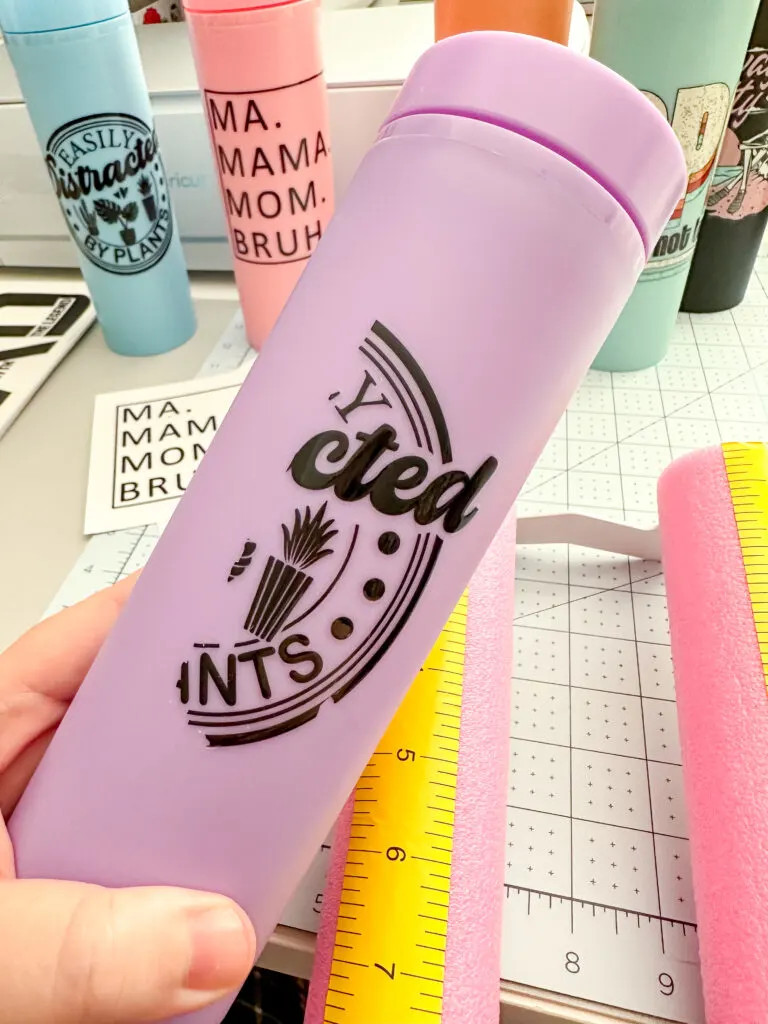 How to Wash DTF cups – Wash with warm water. Do not soak or place cups in the dishwasher. DTF wraps are also not microwave-safe.
Can you Cut DTF wraps? Yes, you can, just make sure you aren't cutting the design. But you can cut them to place them better on your cups or size them smaller.
Do I need to let the wrap cure? Yes, once you apply the wrap to your cup let it sit for 24-48 hours before using your cup or washing it. This allows the DTF wrap to properly adhere to the cup.
Can You Feel DTF Wraps on Cups? Yes, but only slightly. The wraps are very thin and not really noticeable, unlike vinyl which is thicker.
Are DTF Wraps like Vinyl? I would say no. DTF wraps use a different process to make them and they are thinner, but they do feel a bit like vinyl while on a cup it's just a lot thinner feeling. With vinyl, you have to have vinyl, use a cutting machine, weed it, and (possibly) layer it. With DTF the printer prints it out and then you apply it to your cup. DTF is more permanent, whereas with vinyl you could easily peel it up to remove it or move it. With DTF if you try to remove it the design breaks off into a lot of small pieces and it is a nightmare to remove. Vinyl allows more room for error when applying whereas DTF does not.
What Cups to Use for DTF Wraps
Depending on the size of your decal you can use the DTF Wraps or DTF Decals on any cup you like. Most shops sell wraps sized for a Libbey Glass Can, but some shops sell them in other sizes like skinny tumblers or mugs. You can even buy decals to place on cups, where it doesn't wrap around the whole cup.
Here are my favorite tumblers to use with DTF Wraps:
You can even apply the wraps to mugs or Stanley-type tumblers
How to Apply DTF Wraps to Tumblers and Cups
Step 1: Make sure to properly clean your tumbler. You can run a microfiber cloth over the tumbler to remove any dust and debris. If your tumbler has oils on it you will want to wash it well with water and dish soap. Let it fully dry before applying the decal. DO NOT USE ALCOHOL to clean your cup.
Step 2: Place the Tumbler on Cup Cradle.
Step 3: Position Decal on Cup. You will want to position your decal on your cup and make sure it is straight and tight. If you need help holding the wrap in place you can use a piece of painter's tape OVER the top of the decal.
Step 4: Apply Decal. Once your decal is in place you will peel back one corner of your wrap and remove a corner of the white backing. You do this by peeling the white backing away from the transparent film/design. Gradually remove the backing from the rest of the design while pressing down the design to the cup. Move slowly so you don't mess up and so that your DTF wrap is placed smoothly on the tumbler.
NOTE: Be careful when applying the DTF wrap. If the transparent sheet or the DTF decal crease while applying the wrap it can cause the design to crack and then it won't be useable.
Step 5: Squeegee the Wrap. Use the felt side of your squeegee and rub all over the design, making sure the design is smooth on the cup.
Step 6: Remove the Clear Film. Peel up one corner of the clear film and peel it away from the cup, slowly.