Looking for a cute way to remember the first and last day of school with your kids? Print out this free printable first and last day of school pennant flags for cute beginning and end of year pics with kids!
These printable pennant flags come in 2 fun designs – One design looks like a pencil and the other looks like a composition notebook. Both come in a printable PDF for easy download and printing. You can print them at home or at your local print shop.
How to Make a First or Last Day of School Pennant Flag
Before we get started you'll need a few supplies to make your pennant flag:
Printer with Paper – I like to use cardstock so the flag is sturdier and the paper is thicker so it isn't sheer.
Wooden Dowel or Skewer – I use 12″ wood dowels from Michaels for my pennant flags, but you can also use a food skewer.
Scissors – To cut your pennant flag out
Hot Glue Gun – I like to use my glue gun, but you could also use krazy glue.
Ribbon – I used ribbon I had on hand. I like to purchase ribbon bundles for projects like these. You could also use yarn!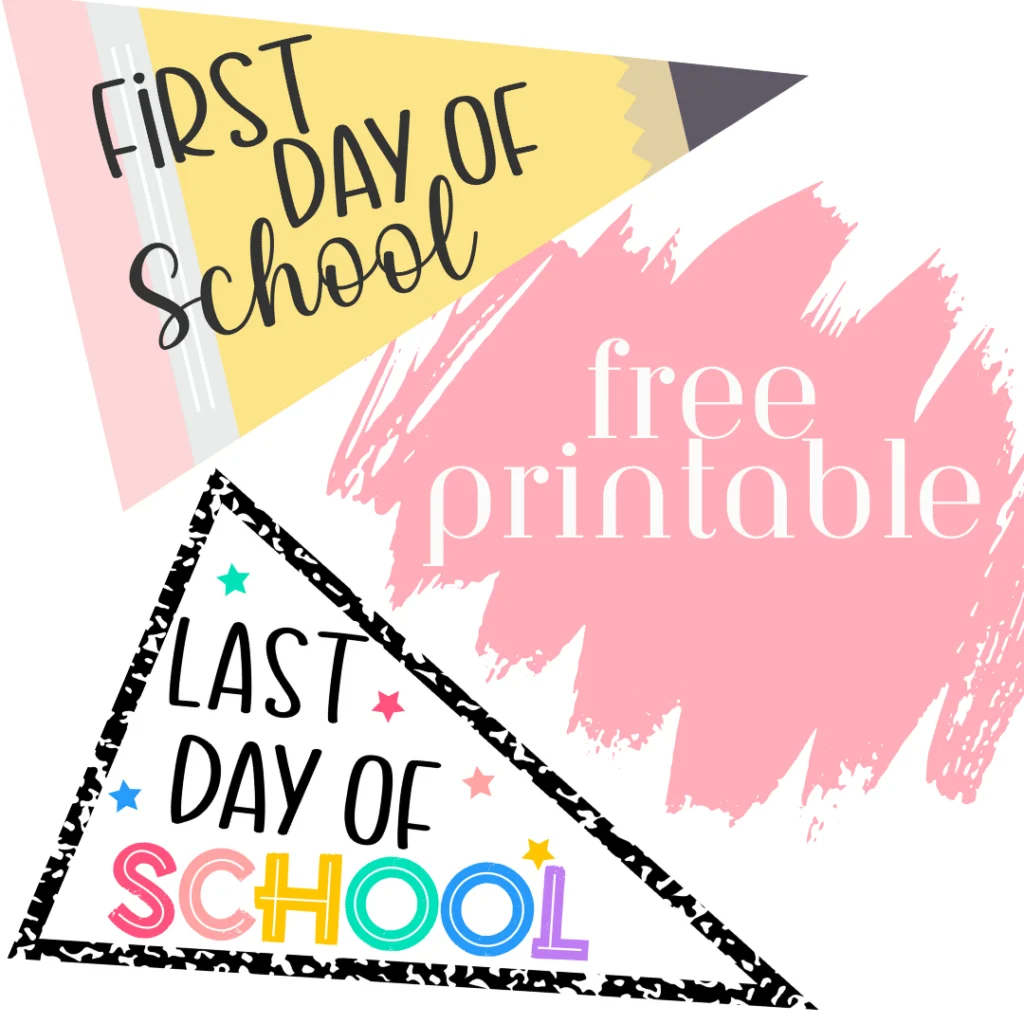 How to Assemble Printable Pennant Flag
Step 1: Download your flags via the box at the bottom of this post.
Step 2: Print your flag out.
Step 3: Cut your flag out.
Step 4: Place hot glue along the back edge of your flag. I added mine to the dowel, but doing it on the paper is probably easier. Quickly place your dowel or skewer over the glue and hold down for 5-10 seconds.
Step 5: Cut your ribbon. I did 8.5″, but you can do longer if you want.
Step 6: Tie your ribbon around your dowel under the pennant.
Step 7: Now you can use your pennant flag for the first day or last day of school pictures or decorate your home or classroom for the first or last day of school.
Download Free Printable
To get your free printable first day of preschool pennant flags, enter your information into the box below. Once you enter your information you'll be redirected to a download page where you can download the pdf printable.
Free printables on The Denver Housewife are for personal use only and cannot be sold or redistributed.