Keep the kids busy on Thanksgiving with Free Printable I Spy Thanksgiving. Thanksgiving I Spy is perfect for Thanksgiving gatherings, church groups, school classrooms, and even just for fun at home.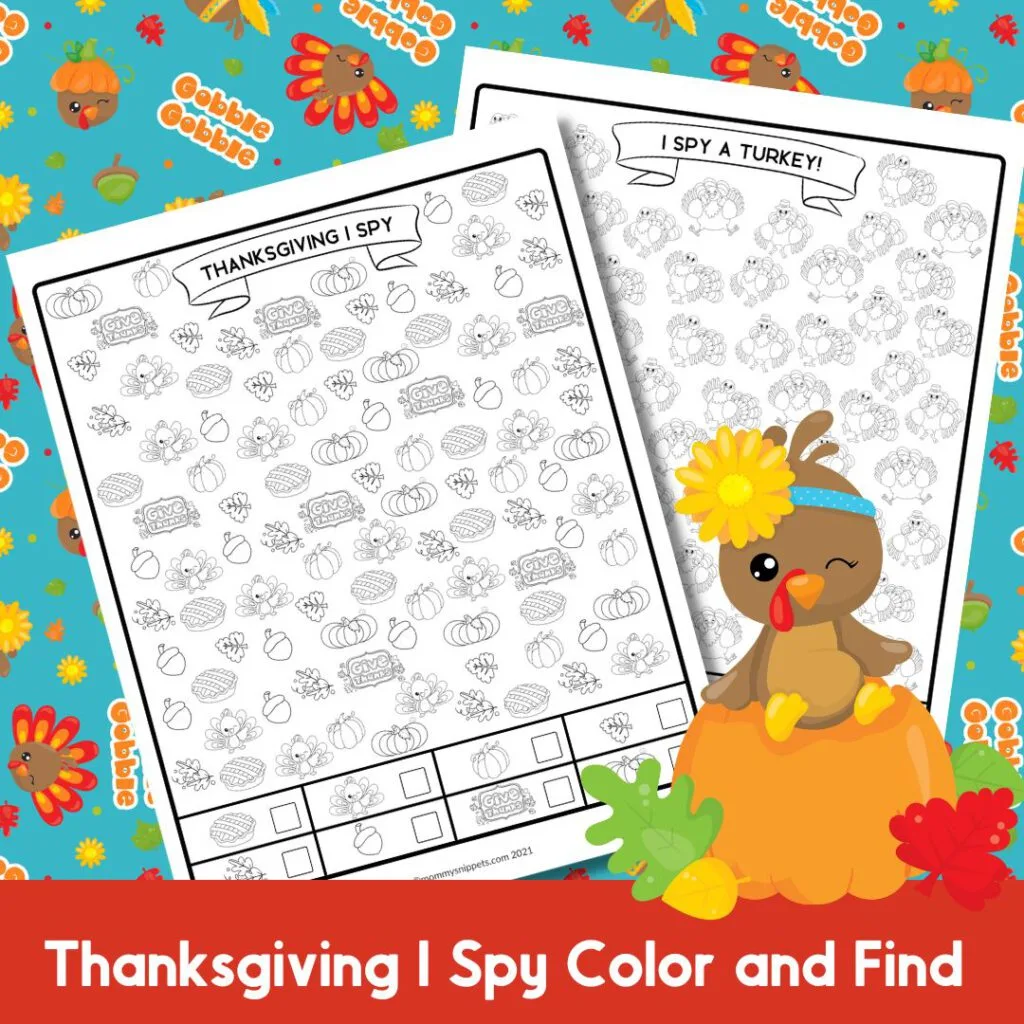 Keeping the kids busy while you're busy cooking can be hard. That's why printable games link i spy and bingo are great to help keep them occupied. Thanksgiving ispy doubles as a coloring page the kids can color before or after they find all their I spy items.
This post contains affiliate links.
I Spy Thanksgiving Printable
If you love free printables make sure to check out my free printable library filled with bingo games, activity sheets, and more for all holidays.
How to Play I Spy for Kids
Playing I Spy on a printable is easy. Look at the bottom of the page for the I spy key. There are 4 different items to spy/look for on the page and kids need to find all the matching icons. Count them up and write the number in the blank box. On the first page, you'll be looking for different Turkeys, which can be more of a challenge. On the second page you'll be searching for:
Pie
Turkey
Pumpkin
Leaf
Acorn
Give Thanks
Find each item, count them all up, and write the number in the box at the bottom of the page.
Printable Thanksgiving I Spy is meant to be printed on 8.5×11 cardstock, but any printer paper will work.
Supplies needed for Thanksgiving Bingo
Printer – You'll need a printer to print out your free printable bingo cards. This is an affordable printer that would be great for printing out printables. However, this is my favorite printer and it's great if you're also into crafting.
Printer Paper or Cardstock – Personally I like to print my printables out on cardstock since it's thicker and more durable, but regular printer paper works as well.
Laminator – I love to laminate my printables. It makes them last longer with sticky little hands, I can wipe them clean, and it makes them so they can be enjoyed over and over again. This is the laminator I use and love. Don't forget the laminating sheets!
Dry Erase Packet – If you don't want to use a laminator these dry erase packets are just as good. They're also a more budget-friendly and easier option.
Dry Erase Markers – If you're going to laminate or use dry erase packets make sure to grab some Dry Erase Markers. I like to get the fine-tip ones in a variety of colors.
Colored Pencils – If you are going to use just paper make sure to grab some colored pencils, crayons, or something else kids can use to color with.
Before you get started playing I Spy
Download the Thanksgiving I Spy pdf file via the box at the bottom of this post. Print it out and give kids something to color and/or write with.
Have kids play the game while you cook, clean, or relax.
Download Thanksgiving I Spy!
To get your free printable Thanksgiving I Spy Game, enter your information into the box below. Once you enter your information you'll be redirected to a download page where you can download the pdf game.
Free printables on The Denver Housewife are for personal use only and cannot be sold or redistributed.