The Ultimate Fortnite Gift Guide for Kids includes Fortnite skins, toys, games, and more!
Fortnite seems to be here to stay. Odds are just about everybody has at least one person in their life who is a fan. This Fortnite Gift Guide is a whole list of gifts totally appropriate for any Fortnite fan. Are you a parent who doesn't know what Fornite is or wants to learn more about it? Check out my Parent's Guide to Fortnite which explains what the game is and everything about it!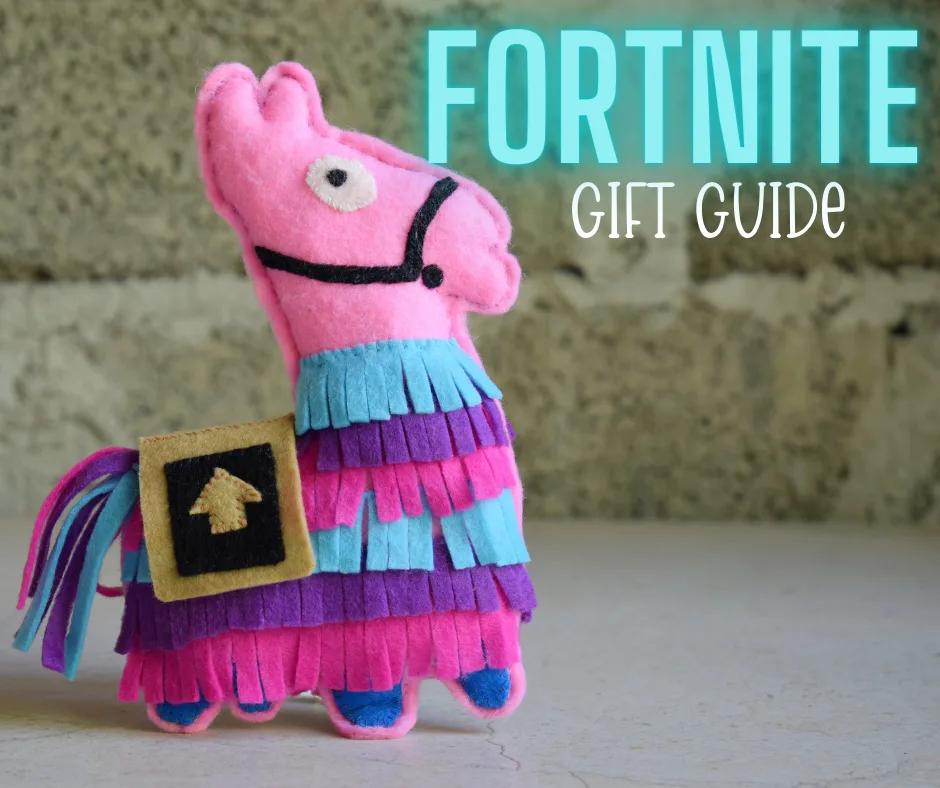 What is a good gift for someone who plays Fortnite? Check out this guide to find out!
What do you give a Fortnite gamer for Christmas? V-bucks are always my go-to Fortnite gift item, but this guide has a lot of great other options.
In Game Content
Fortnite players love collecting in-game content. It is fun to add new characters to your collection. This section will give you some ideas about obtaining those gifts for the player in your life. In-game content is available through each gaming platform. Make sure you purchase the content for the correct console.
Anime Legends Pack
The Anime Legends pack contains new redesigns of several popular characters from the series' lifetime. It's a fun new spin on recognizable characters.
Minty Legends Pack
The Fortnite Minty Legends Pack is another set of redesigns of classic Fortnite skins. These have a neat holiday glow to them.
Fortnite V-Bucks Gift Card
Instead of buying skins for a player, a V-Bucks gift card lets them choose their own skins and cosmetics.
Gaming Bundles
If someone is already a gamer, they can always use some more gaming implements.
Joy-Con Pair Fortnite Edition for Nintendo Switch (includes in-game content)
If you know someone who plays Fortnite on the Nintendo Switch, the Fortnite Joy-Cons are perfect. There's always a need for new Joy-Cons; why not get a set that includes some exclusive Fortnite content? These cost the same as a regular set of Joy-Cons, they include exclusive Fortnite digital content.
Nintendo Switch Fortnite Wildcat Bundle (includes in-game content)
Moving beyond the controllers, the Nintendo Switch Fortnite Wildcat Bundle is the whole system. Contains a Nintendo Switch and Joy-Cons, all branded in Fortnite. Also contains exclusive digital content redeemable in Fortnite.
Xbox Series S – Fortnite & Rocket League Bundle (includes in-game content)
One more console bundle, the Fortnite & Rocket League Bundle is for Xbox. Contains the full system setup, plus yet another exclusive skin; also has bonus content for Rocket League.
Fortnite Plushies
You can't always be gaming, but you can bring Fortnite along with you.
Cozy Fortnite Blanket
Give the gift of warmth and coziness with a Fortnite throw blanket. Our kids love these blankets when we're huddled up having a family game sesh.
Fortnite 7″ Llama Loot Plush
This plush is the classic Fortnite loot Llama. Instantly recognizable to a Fortnite player.
Fortnite 7″ Boogie Bomb Plush
The Boogie Bomb is one of the most iconic items in the game, you can make your opponents dance by hitting them with this. The plush won't make anyone dance, but it's soft enough that it won't hurt anybody if you throw it.
Fortnite 5″ Durrr Burger Plush
One more Fortnite classic, the Durrr Burger has been around since the start of things. This Durrr Burger plush is a snuggly piece of Fortnite history.
Fortnite Toys
There is a wide range of action figures to keep the action going outside the game as well.
Fortnite Funko Pop
There are so many great Fortnite characters made into Fortnite Funko Pop and they all make great gifts. Our family favorites are the Loot Llama, Cuddles, Peely, and Midas, but you can't go wrong with any of them.
Fortnite Hasbro Victory Royale Series Lynx Collectible Action Figure
Lynx is a classic skin that has been a part of numerous storylines in Fortnite. A popular and interesting character that is sure to please a fan of the game. The 6- inch Lynx action figure shows off her black stage 4 style outfit.
Fortnite Hasbro Victory Royale Series Upgrade Shark Collectible Action Figure
The shark showed up in Chapter 2 and changed gameplay forever. The shark collectible action figure even comes with the other implements needed to ride behind a shark, just like in the game.
Fortnite Hasbro Victory Royale Series Midas Rex Collectible Action Figure
And speaking of one of the shark's most famous victims, Midas returned to gameplay as Midas Rex, outfitted in gold armor. The Midas Rex action figure shows the fan-favorite outfit in detail.
Fortnite Hasbro Victory Royale Series Mancake Deluxe Pack Collectible Action Figure
Finally, Mancake is another standout skin from the game. A gunfighter with a stack of pancakes for a head, he has remained popular since his introduction. The 6-inch Mancake action figure comes with several accessories and even includes a different head to show off a different style.
Fortnite Board Games
You can play Fortnite, even when you aren't playing Fortnite with these board games. They even work when the power is out.
Monopoly: Fortnite Edition Board Game (newest addition)
The Fortnite Edition Monopoly Game is a new spin on the classic board game. The gameplay is a bit different from the standard game, but it's still easy enough to pick up. The results are uniquely Fortnite.
Hasbro Gaming Jenga: Fortnite Edition Game
The Fortnite Edition Jenga is a new spin on a classic game, you climb the tower while still removing and "building."
Fortnite Nerf
Now you can play Fortnite outside of the game, and get some exercise in.
Nerf Fortnite RL Blaster
The Nerf Fortnite Rocket Launcher Blaster is a perfect replica of the Fortnite RPG weapon. It actually fires foam rockets, perfect for Nerf wars.
Nerf Fortnite Flare Dart Blaster
The flare gun is a very useful item in Fortnite. And now you can use the Nerf Fortnite Flare Dart Blaster to blast your friends, as well.
Nerf Fortnite 3 Dart-Firing Micro Trio
The Nerf Fortnite 3 Dart-Firing Micro Trio includes three blasters and six official elite darts. These three Fortnite-themed mini blasters are easy to transport and conceal.
Nerf Fortnite Rift Edge Harvesting Tool
Inspired by a classic Fortnite skin, the Nerf Fortnite Rift Edge Harvesting Tool is modeled after Drift's pickaxe. You can melee if you run out of ammo.
Gaming Setup
These gift ideas will help the player in your life send their gaming setup to the next level.
Fortnite Bitty Boomers Peely Wireless Bluetooth Speaker
A handy Bluetooth speaker is always nice to have. And you can't go wrong with the Fortnite Bitty Boomers Peely Speaker modeled after an iconic Fortnite skin. But if Peely is not a favorite, there are lots of different Fortnite characters to choose from.
3D Illusion Fortnite Series Night Light-4 Patterns
These color-changing lights are a great addition to anyone's gaming setup. You can control the color, and pick your favorite style or character.
Fortnite-Battle Bus Landscape Wall Poster
This Battle Bus Landscape Wall Poster shows off one of the most memorable scenes for any Fortnite player. You can't go wrong with the Battle Bus.
Fortnite Boogie Bomb with Lights and Sounds
One more Boogie Bomb; this one's not really good to throw at someone. But it does light up and plays the music from when you hit an opponent in-game.
Victory Royale
You will definitely achieve a victory royale with one of these gifts from this Fortnite Gift Guide. So, jump off the Battle Bus and dive in!