Are you looking for a summer chore chart for your kids to keep them on track to earn wifi, video games, and electronics? This Free Printable Summer Rules checklist template is perfect for keeping kids on track and earning their screen time.
Summer rules checklists help to keep my kids on track with getting their chores done, taking care of themselves, and earning their much-wanted video game time. I made this printable for our house, but it could also work for your family!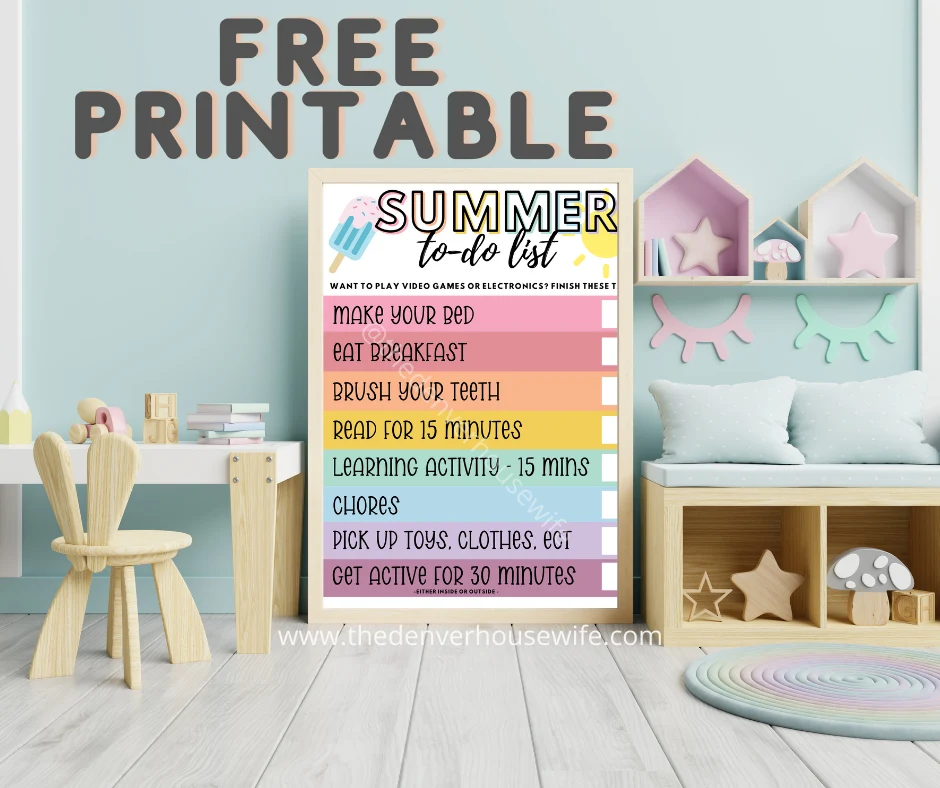 Free Printable Summer Chore Chart
If I don't have my kids eat, get their chores done, and read for a bit before handing over the video games they won't do anything but game all day long. Since they can't wait to play with their online and school friends in their favorite video games we set a rule that their chores and summer learning needs to be done before they can play.
Summer learning loss can be real, but one way to help prevent or reduce it is to have your kids do some school work each day. In our house the kids do a spelling word each day, do work in a summer workbook, and read for 15 minutes. In total it's about 30 minutes of work so it's not taking up too much of our day. We do skip weekends though.
How Summer Screen Time Rules Work
Each morning when our kids wake up and get out of bed (we don't have a time they have to be up by) they have a list of things they need to do before they can play video games or electronics. Here's my list of summer screen time rules:
Make Your Bed – Kids need to make their beds.
Eat Breakfast – If I don't make this a "rule" my kids will get so engrossed in playing that they won't eat. They can watch TV while eating breakfast (because summer break is still fun and breakfast and cartoons just make sense), but I do add a time limit of 20 minutes and it gets turned off as soon as they're done eating.
Brush Your Teeth
Read for 15 Minutes – They can read anything that interests them as long as their reading. Some good options are magazines, comic books, craft or science books, chapter books, ect.
Learning for 15 minutes – One of our kids came home with a workbook from school and the other ones use some workbooks that I picked up on Amazon. They have to do 2-3 pages which include writing, math, reading, ect. Some days we'll switch things up and do a cooking recipe that is great for math or a science experiment.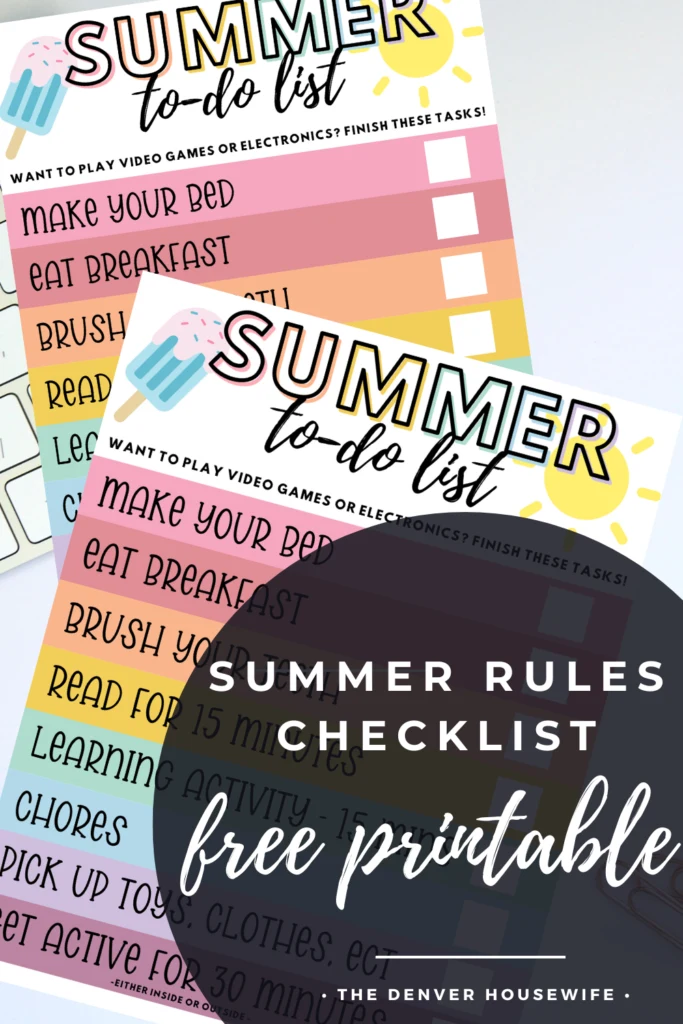 Chores – We get our chores out of the way in the morning this can include anything and can change daily. I have a Chore Chart that is great for keeping track of chores. Our kids do things like making sure their bathroom is picked up, clean clothes put away, vacuum, take out the trash, feed pets, ect.
Pick Up Toys, Clothes, Ect – This is a bit separate from Chores because when our kids play before electronics they need to make sure they clean up first. This also ensures their pajamas from the night before are put into the dirty laundry.
Get Active for 30 minutes – This can be done inside or outside. Dance party, Youtube exercise video, or playing outside in the yard. Often times they'll go over the 30 minutes, especially if they're outside playing. Fresh air and sunshine daily is good for the mind and body!
What is Included with the Summer Rules Checklist
To get your free printable summer rules checklist fill out the box at the end of this post. You will be able to download a PNG or PDF summer chore chart. Included is a filled-out Summer rules checklist and a blank summer rules checklist in case you want to make your own rules.
How to edit the Summer Rules Checklist
You can edit the file for free in Canva. Click Create a Design > Custom Size > Change to Inches > 8.5 x 11. Upload the PNG file. Drag the File over to the white box. Hit the text box. Type out the word you want and then size it to fit the line. Do this with each line.
Supplies needed for Printable Summer Chore Chart
Printer – You'll need a printer to print out your free printable bingo cards. This is an affordable printer that would be great for printing out printables. However, this is my favorite printer and it's great if you're also into crafting.
Printer Paper or Cardstock – Personally I like to print my printables out on cardstock since it's thicker and more durable, but regular printer paper works as well.
Laminator – This is the perfect sheet to laminate. At the end of each day you can wipe it clean and then the next day it's ready to use again. This is the laminator I use and love. Don't forget the laminating sheets! Then use dry erase markers with it. We attach ours to the fridge with a magnet clip.
Download Free Summer Screen Time Rules Printable
To get your free printable Summer rules printable, enter your information into the box below. Once you enter your information you'll be redirected to a download page where you can download the pdf screen time rules printable.
Free printables on The Denver Housewife are for personal use only and cannot be sold or redistributed.
This post contains affiliate links.