White Chocolate Dip is an Easter Candy Dip made with white chocolate pudding, Easter Candy, and cool whip and cream cheese. This basic cookie dip can be customized for any time of year and enjoyed as an Easter fruit dip, cookie dip, or Easter dessert dip.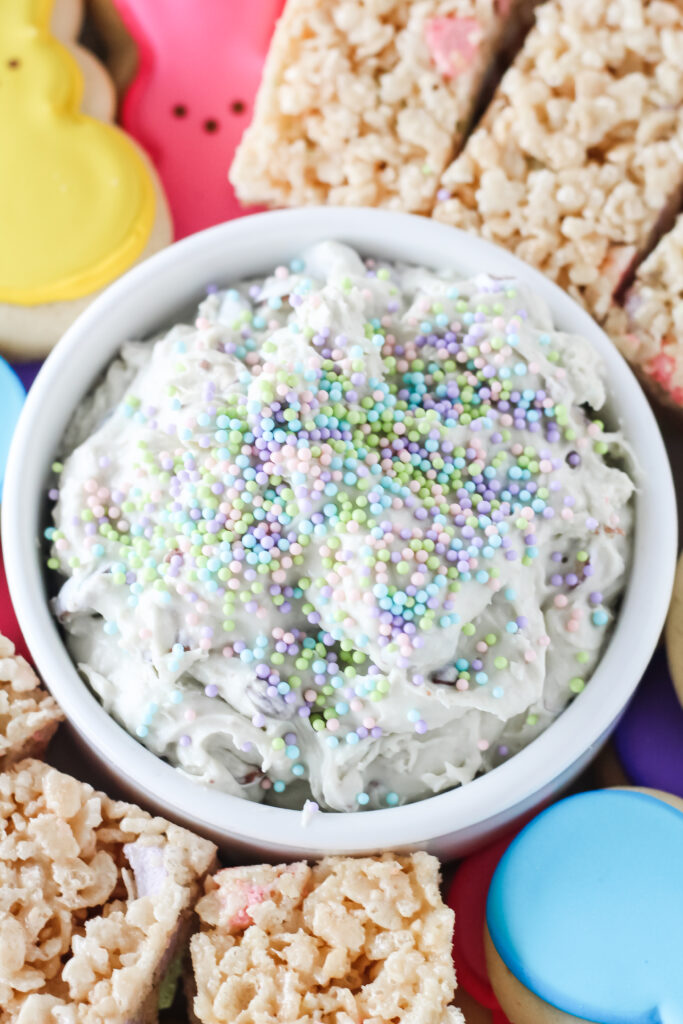 Y'all know we love dips around here. They're perfect for dessert charcuterie boards, movie nights, and as an easy dessert for parties. They're quick to make, affordable, and delicious. Plus, they can be paired with so many things!
White Chocolate Dip
While my white chocolate dip was made for Easter you can easily swap out the candy in this recipe and make it any time of year! Since M&M's are the main candy just swap those out for any seasonal or regular M&M's.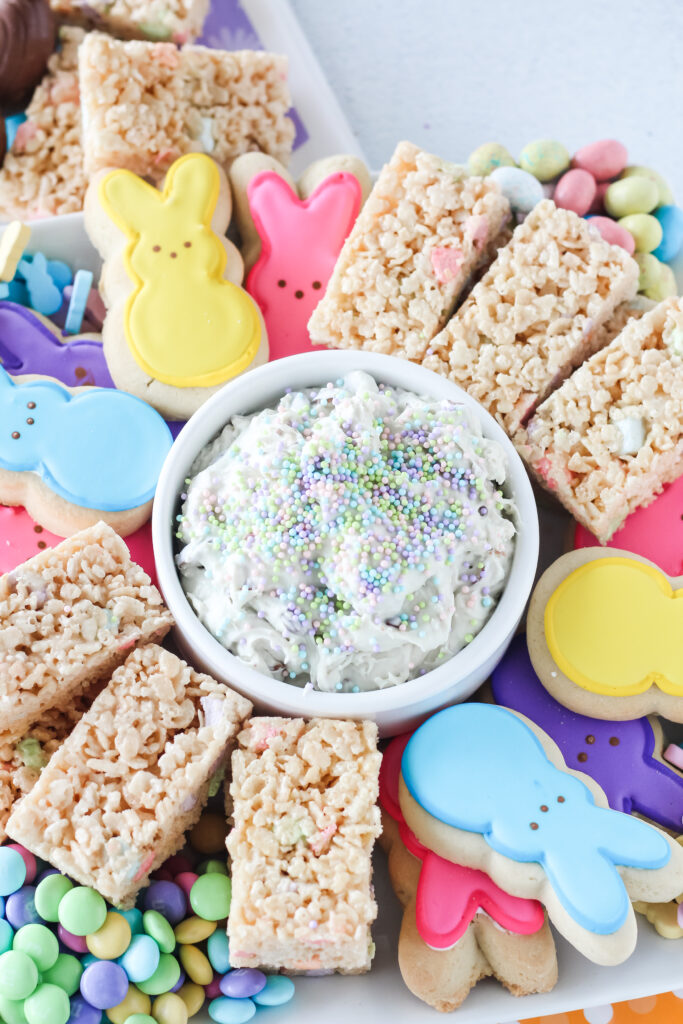 What to Dip is White Chocolate Dip
Wondering what to add to your Easter charcuterie board? Here are some delicious options for your white chocolate dip.
Fresh Fruit – Strawberry, Banana, Apples, or Pineapple
Graham Crackers – The bunny ones would be fun for Easter
Cookies – Like these Peep Sugar Cookies
Rice Crispy Treats
Wafer Cookies
Pretzels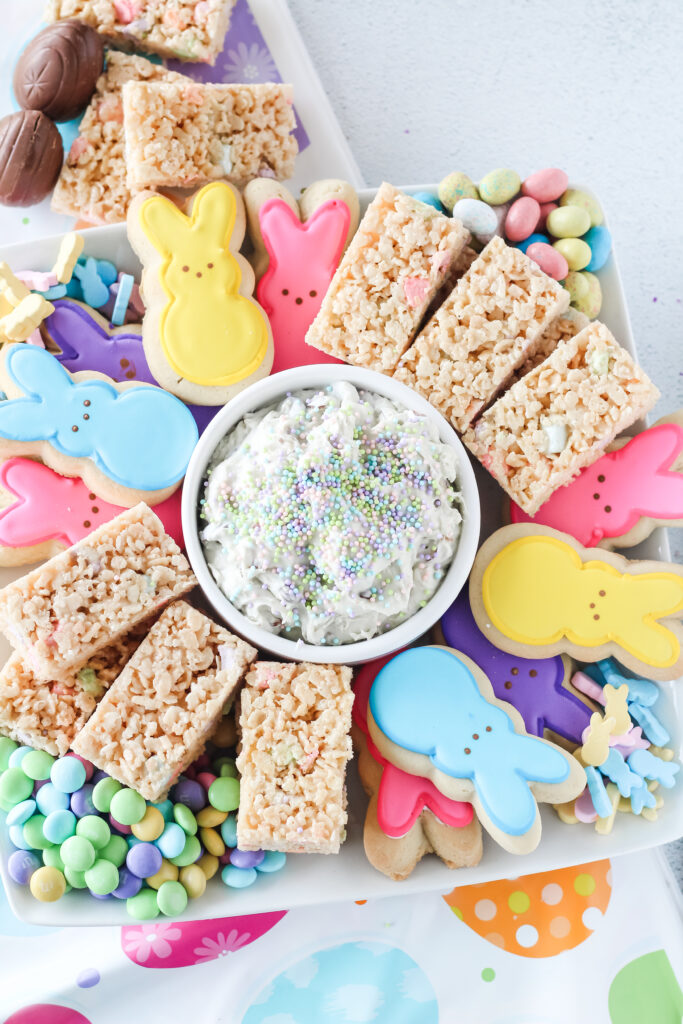 What to add to an Easter Dessert Board
Dessert boards are so much fun and our family loves them. Here is what we love to add to ours:
Fresh fruit
Graham Crackers
Candy – M&M's, Gummy Candies, and Peeps would be fun for this board, but any candy your family likes.
Dip – Like this white chocolate fruit dip.
Cookies – Do a variety of types. Oreos, Nilla Wafers, Sugar Cookies, ect.
Rice Crispy Treats
Pretzels
Marshmallows – Either fun shapes, peeps, or regular ones.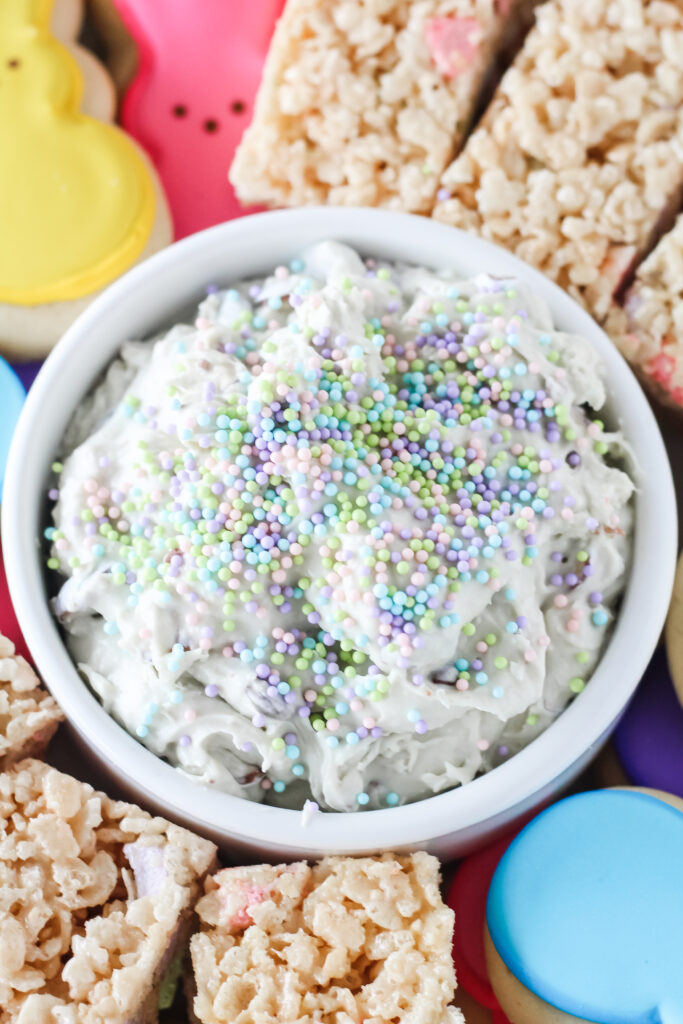 How to Store White Chocolate Dip
White chocolate dip can be stored in an air-tight container in the fridge for a couple of days.
How to Make White Chocolate Dip
White chocolate dip is so easy to make and ready in about 5 minutes. It uses just 3 main ingredients and can be customized with different types of chocolate candy and sprinkles, which are both optional. Let's make this white chocolate dip for cookies.
To make your White Chocolate Dip you're going to need:
½ a block of Cream Cheese
4 oz. of Cool Whip
1 packet of White Chocolate Pudding Mix
Easter M&Ms (chopped)
Robin Egg Candy (chopped)
Easter Sprinkles
How to Make White Chocolate Dip
Start by adding cream cheese, cool whip, pudding mix, and Easter candy to your mixer.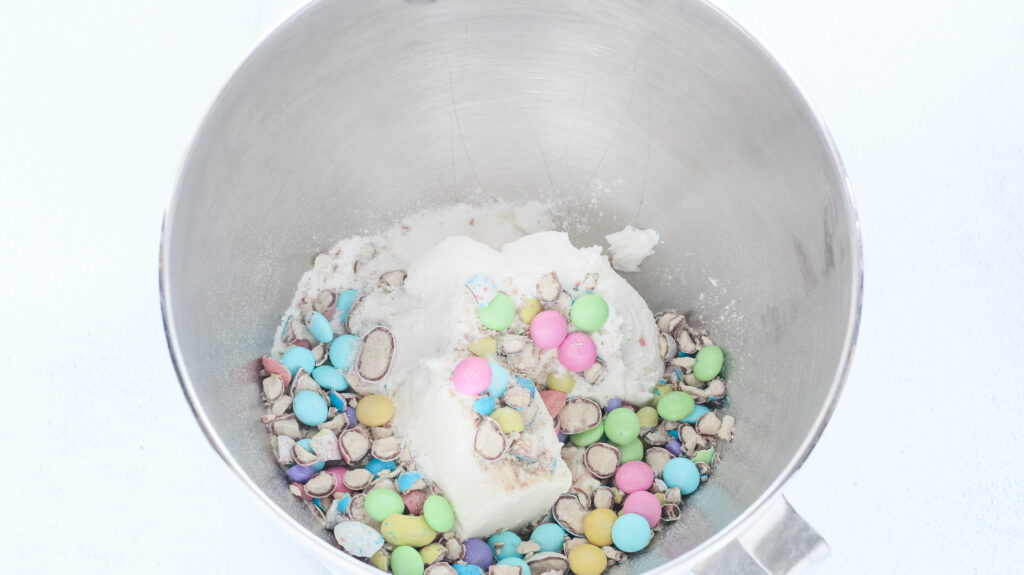 Mix on high until well combined.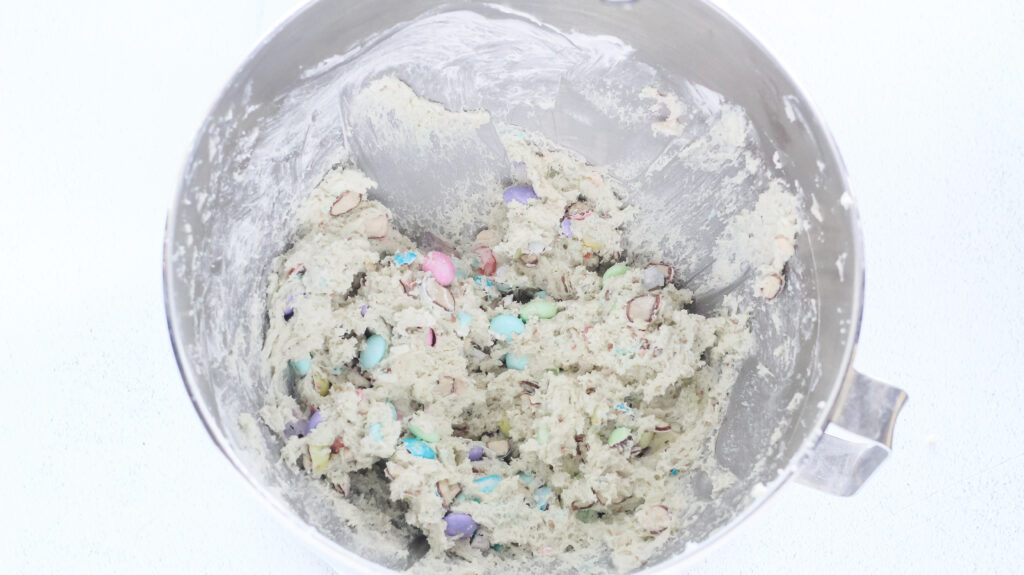 Add to your serving dish and sprinkle with sprinkles.
Surround with cookies, candy, and rice crispy treats.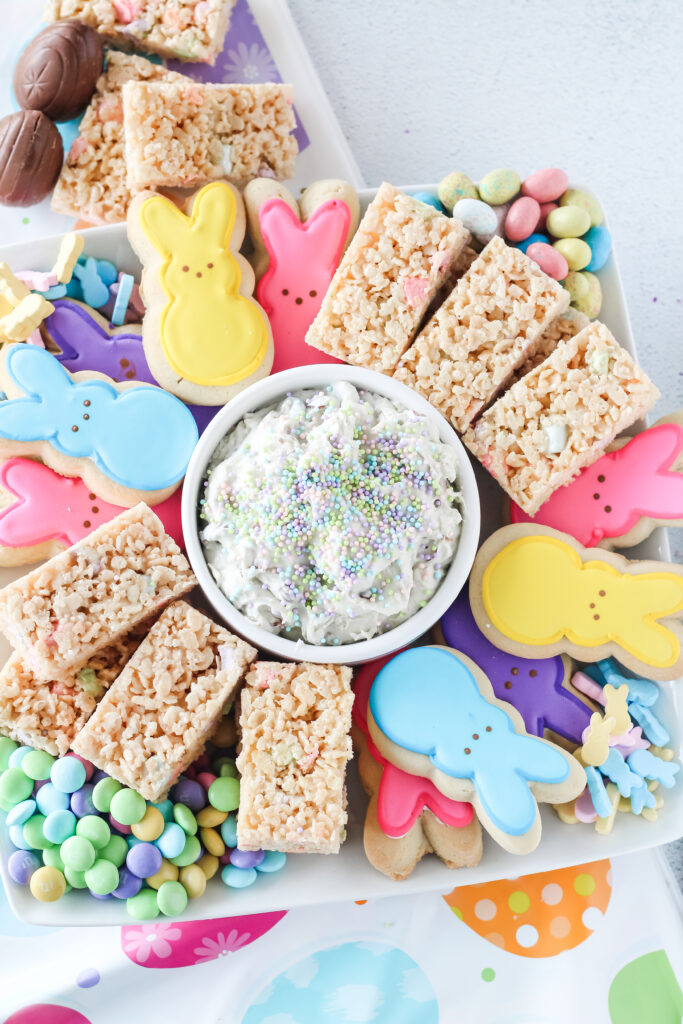 Serve and enjoy!!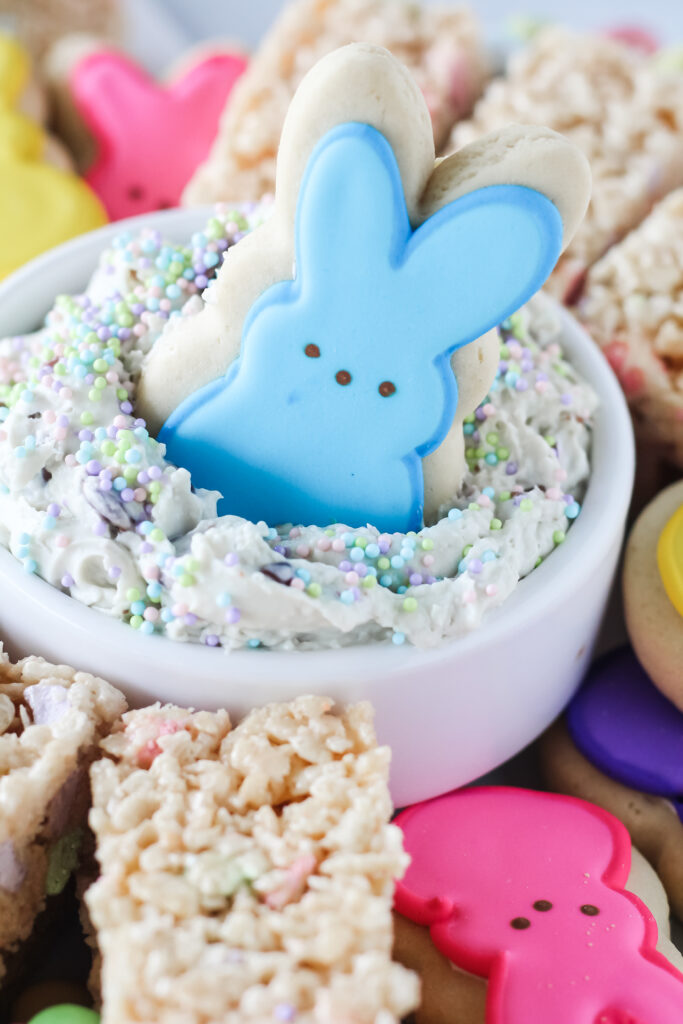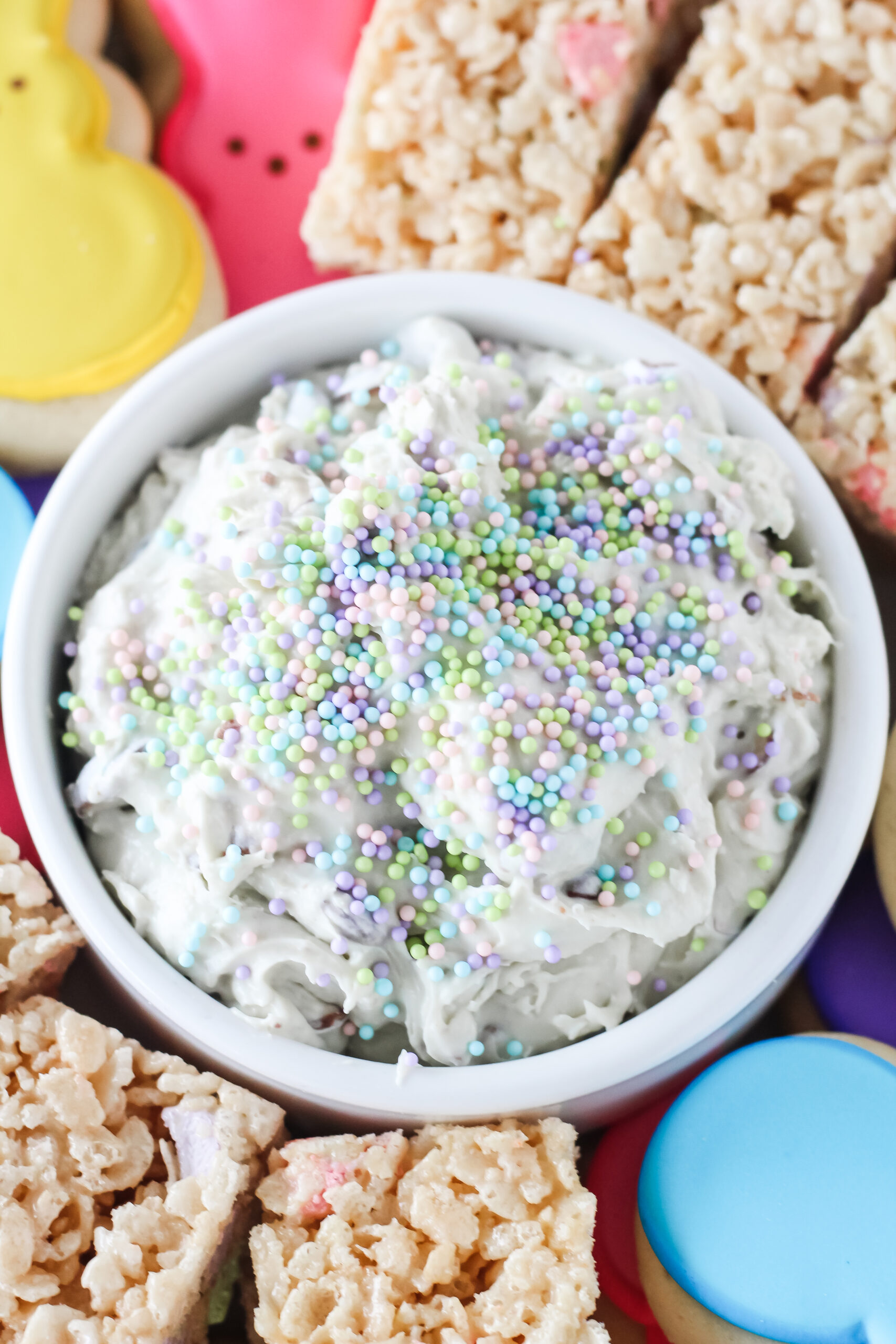 White Chocolate Dip
An easy White Chocolate Dip that is sweet and creamy.
Ingredients
½ a block of Cream Cheese
4 oz. of Cool Whip
1 packet of White Chocolate Pudding Mix
Easter M&Ms (chopped)
Robin Egg Candy (chopped)
Easter Sprinkles