St Patrick's Day Dessert Board for kids is filled with green, gold, and rainbow-colored foods perfect for St Patrick's Day. Enjoy the day watching a St Patrick's Day movie, playing Lucky Bingo, and eating yummy snacks.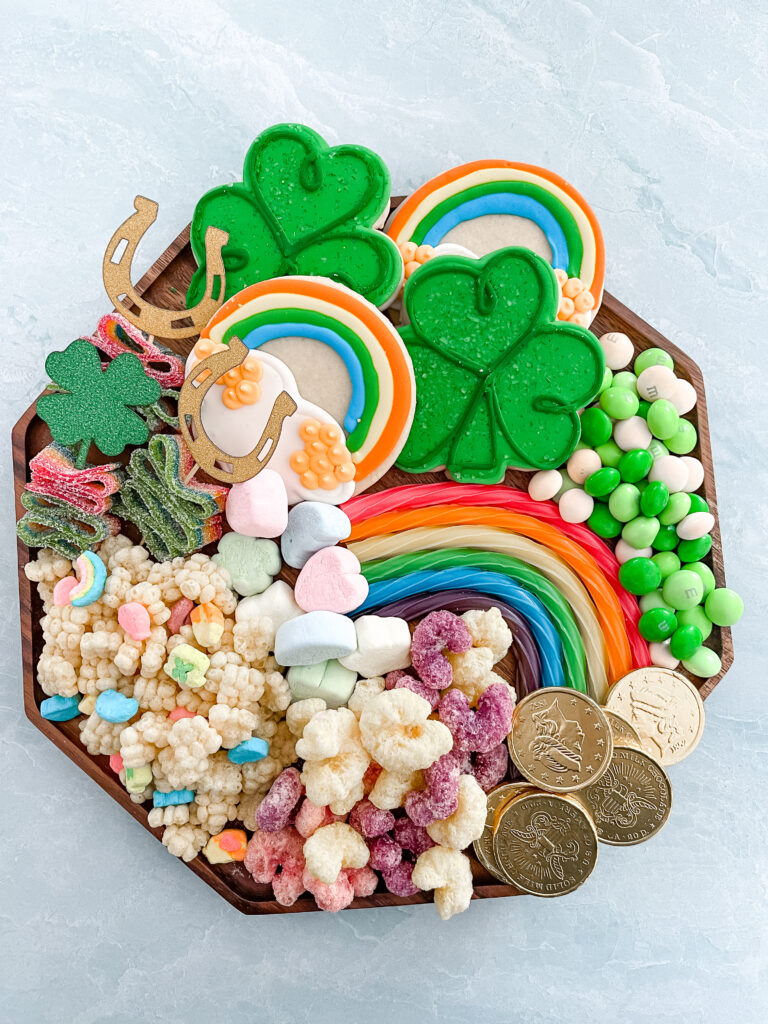 Your St Patrick's Day snack board can have whatever foods you and your family enjoy, from candy to fruit and everything in between.
St Patrick's Day Dessert Board
I kept our St Patrick's Day charcuterie board simple and on the smaller side, but you can use a bigger board and a variety of food types. Get creative and turn it into a snack and dessert board or keep it simple with just dessert foods during a movie night.
You could do a rainbow fruit platter with dunkaroo dip. Change the sprinkles to green, shamrocks, or keep them with rainbow sprinkles. Then add in some marshmallows, cookies, and candy.
You could do an all-green foods charcuterie board. Here are some green snack board food ideas:
Grapes
Kiwi
Green M&M's
Green Peppers
Green Apples
Shamrock Sugar Cookies
Pickles
Pea Snap Crisps
Wasabi Peas
Green Rice Crispy Treats
Cucumber
Guacamole or Avocado Dip
Spinach or Artichoke Dip
Snap Peas
Green Tortilla Chips (you can even make some with spinach tortillas)
Green Olives
Mint Oreos
Kale Chips
Mint Kit Kat
Green Cupcakes or Green Frosted Cookies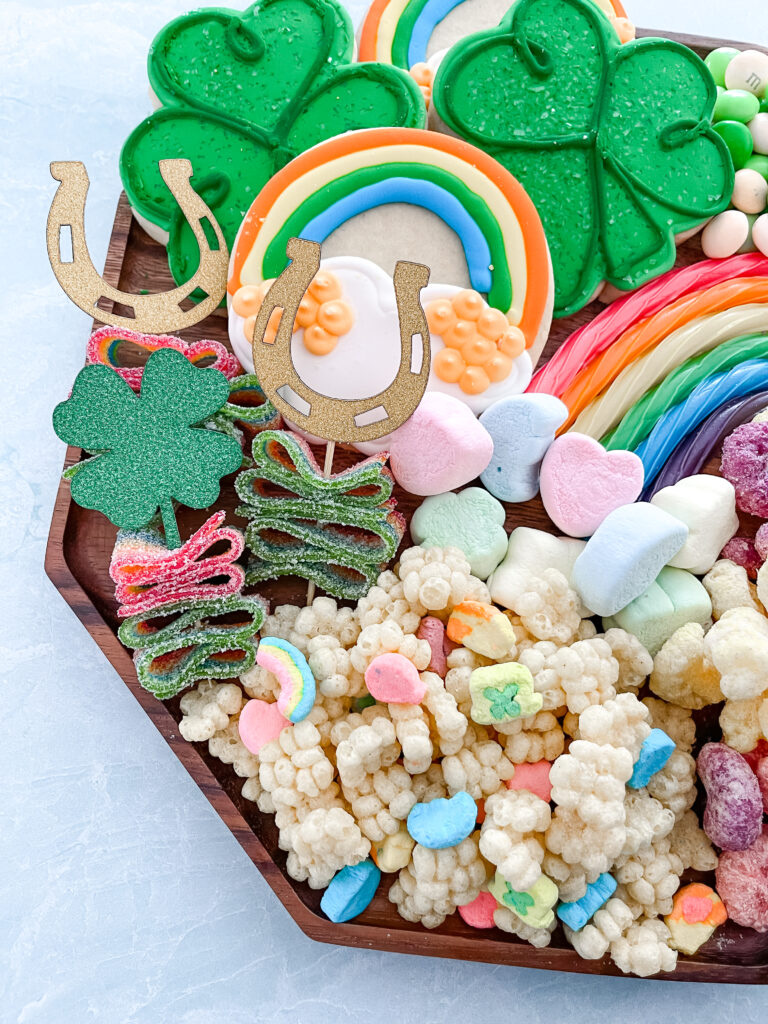 How to Make a St Patrick's Dessert Board
For this dessert board, I went with items I could easily grab from Target, Walmart, and Amazon.
St Patrick's Day snack board ingredients
St Patrick's Day Sugar Cookies – I grabbed these from Target, but any cookies will work. You can use sugar cookies with the sprinkles, the frosted sugar cookies, or contact a local cookie barkery for some St Patrick's Day cookies. (Target)
Lucky Charms Clusters – These have marshmallow clusters with the Lucky Charms marshmallows, but you could also use the cereal bars, regular lucky charms, or make lucky charms crispy treats. (Target)
Rainbow Twizzlers – I turned these into a rainbow and added marshmallows and gold coins on the ends. (Walmart)
Gold Coins – These are like their "pot of gold". I had originally planned to use rolo's, but I couldn't find any of the individually wrapped ones. (target)
Lucky Charms Marshmallows – These are the regular-sized marshmallows. (Target)
Air Head Xtreme Ropes – I folded these and added them to some St Patrick's Day-themed cupcake toppers. You can fit about 2-3 ropes on each pick. (Walmart)
M&M's – I used Key Lime M&M's and they were pretty good. They fit the theme perfectly. (Target)
Popcorn – I used the colorful Pirate Booty, but any colorful or green popcorn will work. (Target)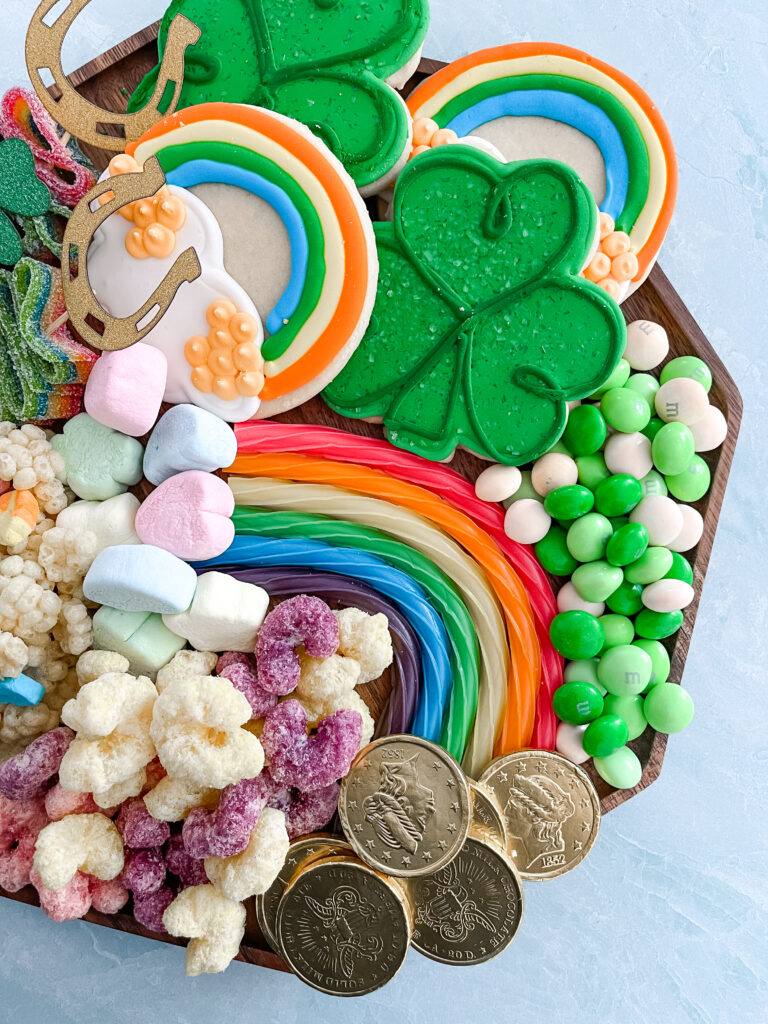 How to Assemble a Dessert Snack Board
A good quality charcuterie platter is a must. I have a few different types and sizes. I used this Acacia Wood Board, the bigger size in the pack.
To assemble your charcuterie board you're going to place everything on the board into piles next to each other.
I added the rainbow Twizzlers, marshmallows, and gold coins first and then fit everything else around it.
Place your biggest item down first and then fill in items around it. If you're using small bowls add those to the board first and then fill around them.
You want items touching each other, so keep that in mind when placing items. You wouldn't want something wet, like fruit, to be touching crackers since it could make them soggy.
To give the board a full effect make the piles big and have the foods touching each other.
Serve immediately or store covered until you're ready to serve it. If there are perishable items on the board store it in the fridge.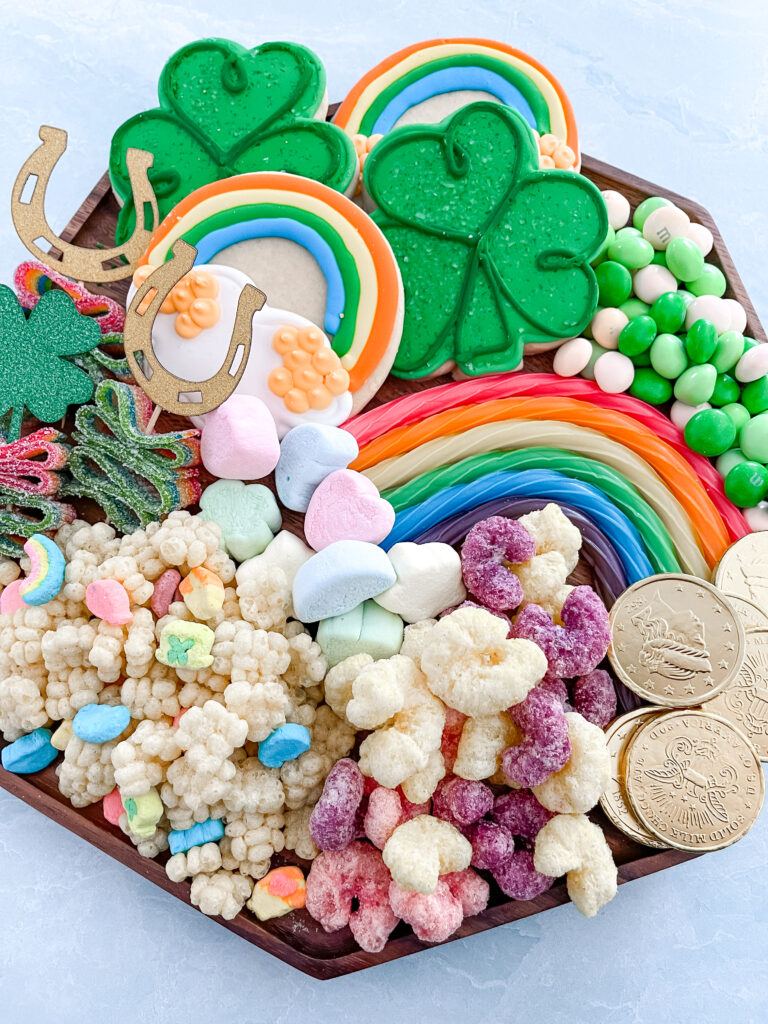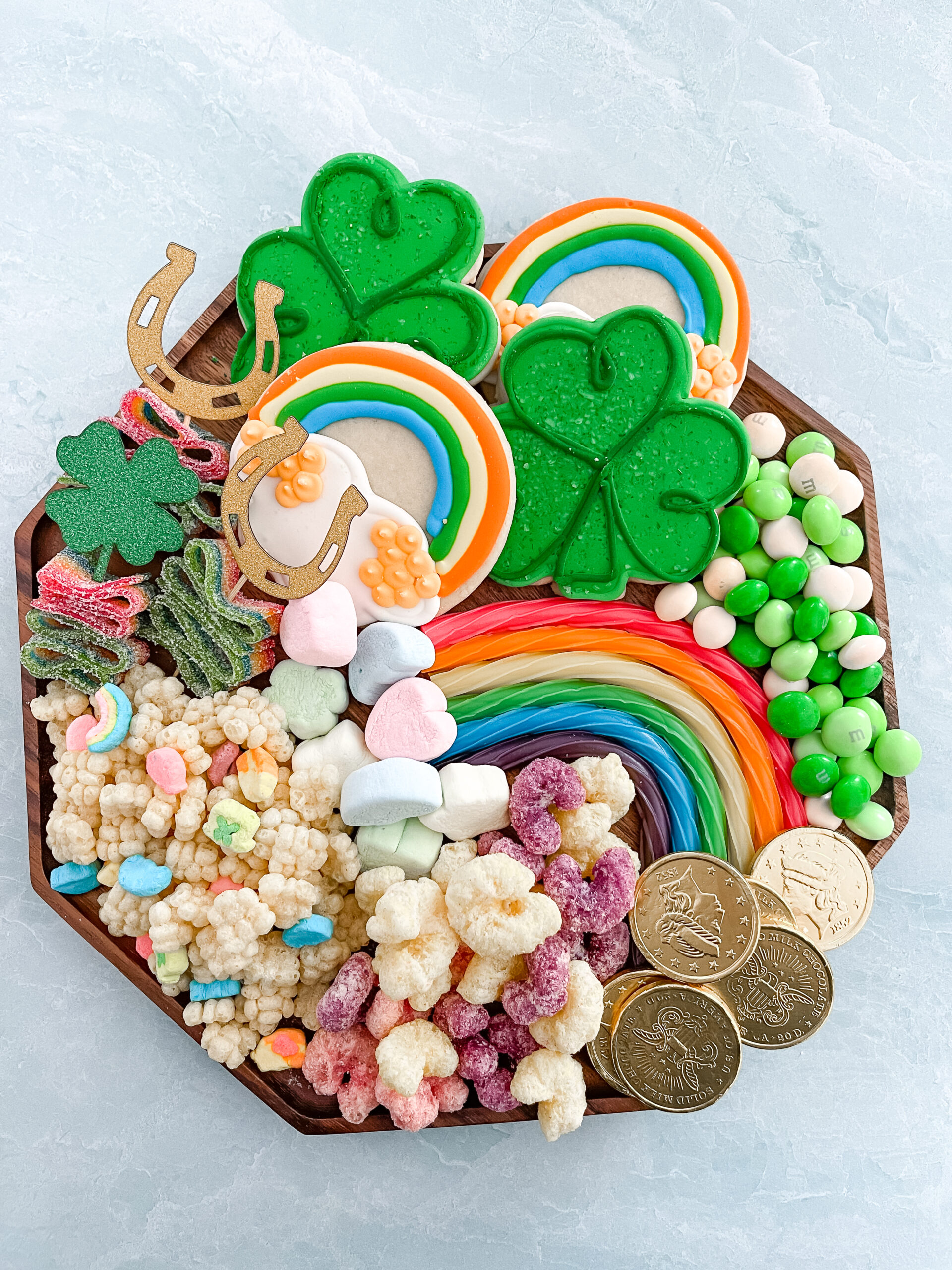 St Patrick's Day Dessert Charcuterie Board
Assembly Time:
10 minutes
An easy St Patrick's Day Rainbow dessert charcuterie board for kids.
Ingredients
St Patrick's Day Cookies
Rainbow Twizzlers
Lucky Charms Marshmallows
Lucky Charms Cluster Cereal
Gold Coins
M&M's
Air Heads Xtreme Ropes
Popcorn
Instructions
Assemble the items on a large board or serving platter.