Cricut Christmas gift ideas using your Cricut Mug Press and Cricut Joy. Cricut Christmas mug ideas and how to gift mugs for the holidays.
This post is sponsored by Cricut.
Are you looking for Cricut ideas for Christmas Gifts? These personalized Cricut mugs are the perfect Cricut Christmas Gifts. You can make them in a variety of designs, colors, and personalize them with names, initials, or even quotes. Add a matching coaster, fill the mug with candy, a gift card, cocoa bomb, or coffee and you have a homemade gift that is personal and affordable!
Making a mug with Cricut is easy and I go into full depth in my How to Make a Mug with Cricut post. We're going to make some cute Christmas mugs with our Cricut Joy, Infusible Ink, and Cricut Mug Press. Then we're going to fill them and wrap them. In a second post, I'll also be sharing how to make personalized Cricut Christmas tags for gifts with your Cricut Joy. While I am using my Cricut Joy for these projects, you can use any Cricut machine you have. The steps are all pretty similar.
How to Make Christmas Cricut Mugs
To make Cricut Christmas mugs you're going to need:
Cricut Machine – I'm using my Cricut Joy
Cricut Mugs – I used the 15 oz mugs and Beveled Mug
Lint Roller
Infusible Ink Sheets – I like the Cricut Joy size, but any size will work. I got Buffalo Check, Black, Red, and Green.
Heat Tape, optional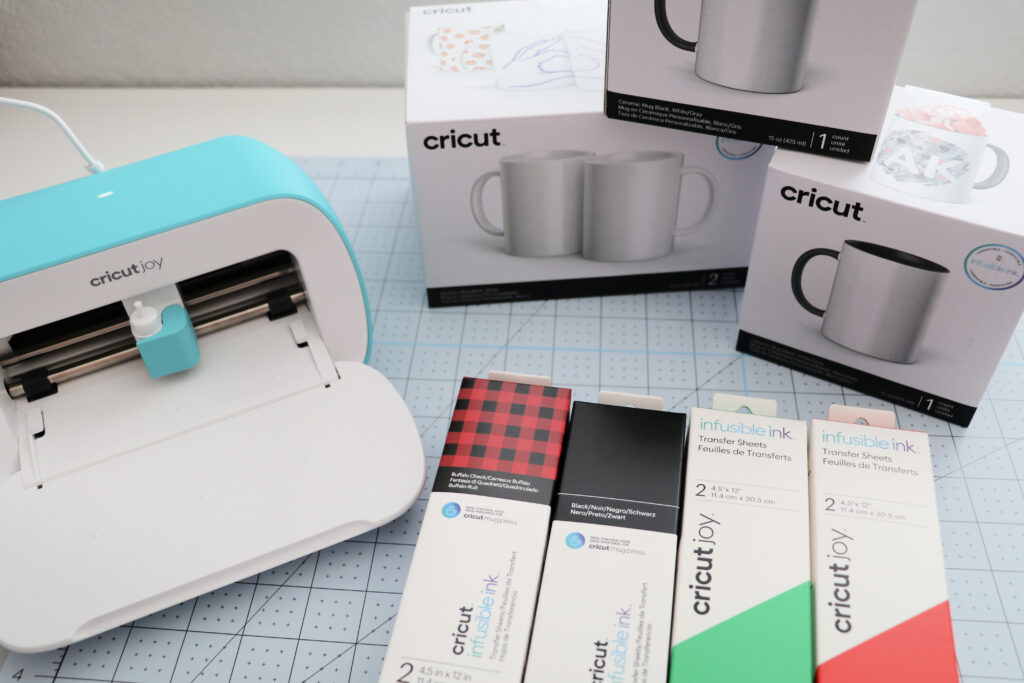 Here's how to make a Cricut Christmas Mug:
Open Design Space and click New Project.
Click the projects button and search for "Christmas Mugs". Scroll down until you find a design you like. I am using the Holiday Sweater Mug.
Side note: Did you see that you can now save projects and designs you like for easier access? Just click the bookmark icon on the bottom right of the design!
Click the project and which size mug you'll be making. I am using a 15 oz mug so I clicked that. Click Customize It.
I deleted the tag files from the screen because I won't be using those.
Click Make It.
Since I am using my Cricut Joy and Infusible Ink you will click the "On Mat" option.
Make sure to mirror your design!
Place your Infusible Ink sheet onto your Cricut Joy mat. Place the color/pattern side facing up.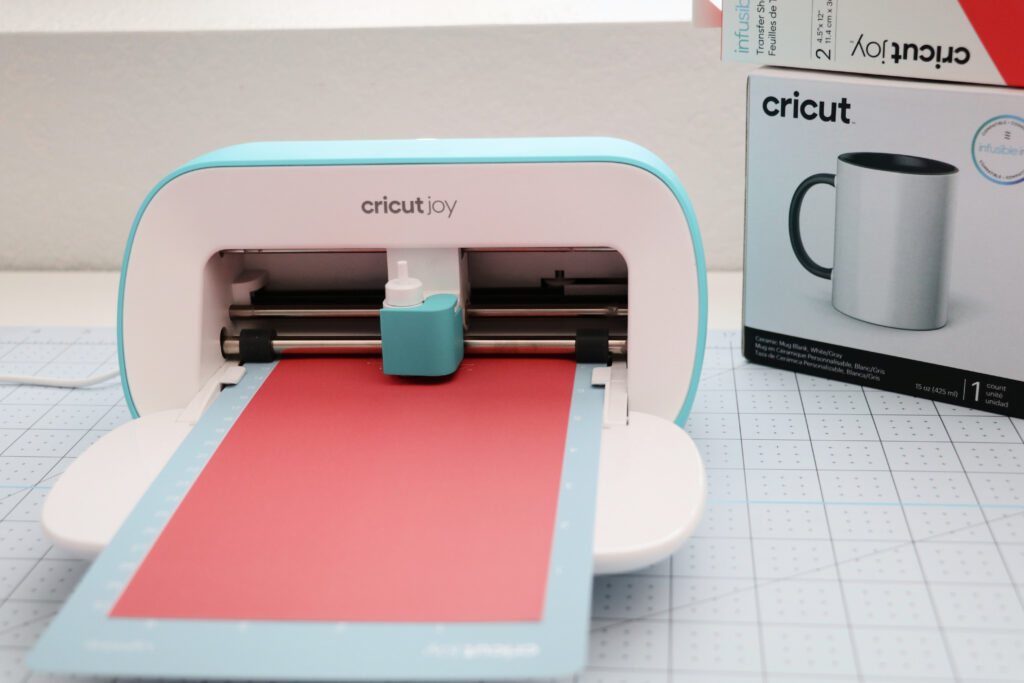 Cut out your design.
Once your design is cut out you'll need to weed the design.
Clean your mug with the lint roller to remove any dust or debris.
Wrap your wedded design around your mug.
Heat up your mug press. You can do this earlier since it takes about 5 minutes for it to heat up.
Once your mug press is ready place your mug inside and push the lever down.
When your mug is done remove it and place it on a pot holder or Cricut EasyPress Mat. You don't want to place the hot mug onto a surface it can ruin or melt.
Let the mug cool for 10-15 minutes before removing the infusible ink design.
Reminder – If you try to remove the infusible ink while the mug is hot you can burn yourself. If you try to remove the infusible ink and stop you could cause ghosting since ink can still transfer while the mug is hot. Leave it alone until it has cooled.
Once your mug is cool remove the Infusible Ink and fill with goodies of your choice.
Christmas Designs to put on a Cricut Christmas Mug
I used design space for these projects. I'll list each mug and the design file number. Some of these are projects, so I'll list the project name to search for.
I Ate Santa's Cookies – This is a combination of 2 designs. Both are available in the images. The first is "Large Decorative Border Mug Design #M1D015112" and the second is "I Ate Santa's Cookies #M2A9E7004".
M Monogram Mug – This is listed under the Projects tab. Search for "Block Monogram Mug". Click customize so you can change your letter. Click on Images > All Images (top left) > Image Sets (middle left side) > Search for Mug Monograms.
Fair Isle Print – This is listed in the projects tab. Search for Holiday Sweater Mug.
I run on Cocoa and Christmas Cheer – This is 2 designs and in the images. The first image is "I Run On Cocoa & Christmas Cheer #M10BEB0C4". I used the contour feature to remove the mug. Then I added in the holly with image "Holly Berry #M849AD86". Use a blank Mug template as your guide to size your image.
What to Fill a Christmas Mug with for Gifts
When it comes to Christmas Mug gifting you can give an empty mug or you can fill it up with items like:
Pens or Markers
Candy
Gift Card
Cookies
Hot Cocoa Packets or Hot Cocoa Bombs – Learn how to make your own hot cocoa bombs here
Cozy Socks or Mittens
Mug Cake packs
Coffee or K-Cups
Tea
A succulent
Small snacks
Make it into a Candle
Travel sized beauty items like chapstick, nail polish, and hand lotion (make sure they're items the person will use)
Deocrative Kitchen towel and baking items like a spatula, whisk, or measuring spoons