Salami or Pepperoni Roses are folded in a way to look like roses and are perfect for snack boards, charcuterie boards, and more! These easy-to-make meat roses are pretty, delicious, and easy to make!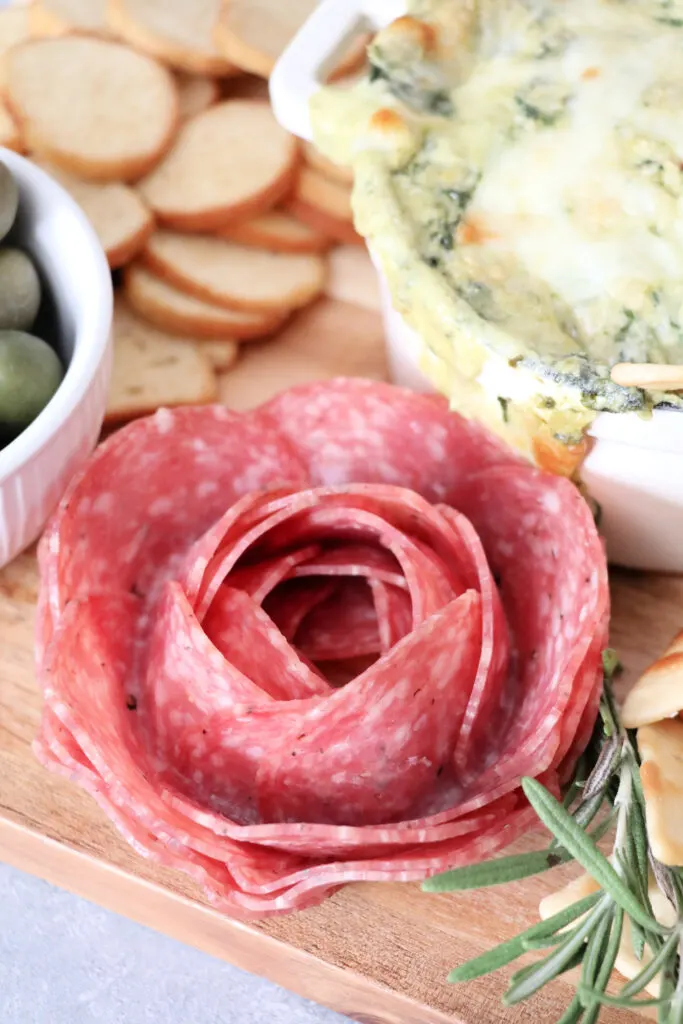 Salami Roses are another viral TikTok Trend and they're fun a pretty, but easy way to dress up a snack or charcuterie board. They're ready in just a couple of minutes and add some beautiful flair to your snack boards. Charcuterie boards are all the rage these days and what's not to love about them? Meats, Cheeses, Crackers or Bread, Candy, and whatever else you desire are added to a board. They make great appetizers or snacks for 1 person or 100 and the possibilities on what's on them are endless.
Salami or Pepperoni Roses
What are Salami Roses? Salami or Pepperoni Roses are a fun way to fold salami or pepperoni for a snack or charcuterie board. While some people lay the salami flat or fold it into triangles, the rose shape is another way to present the salami or pepperoni or any meat of your choosing. It adds decoration to your charcuterie board that is edible and pretty.
How to Make Salami or Meat Roses
This tutorial isn't limited to salami. You can use any thinly sliced round meat of your choosing. Some great meat options are:
Salami
Pepperoni
Turkey
Ham
Canadian Bacon
Roast Beef
If your meat doesn't come in a round shape you could always use a circle cookie cutter to cut it out so it's the perfect shape for turning into a rose. You'll want it to be round because the round shape looks like rose petals when folded up. You could even try this with thinly sliced round cheeses.
To make Salami Roses you're going to need:
Salami – Thinly Sliced
Wine Glass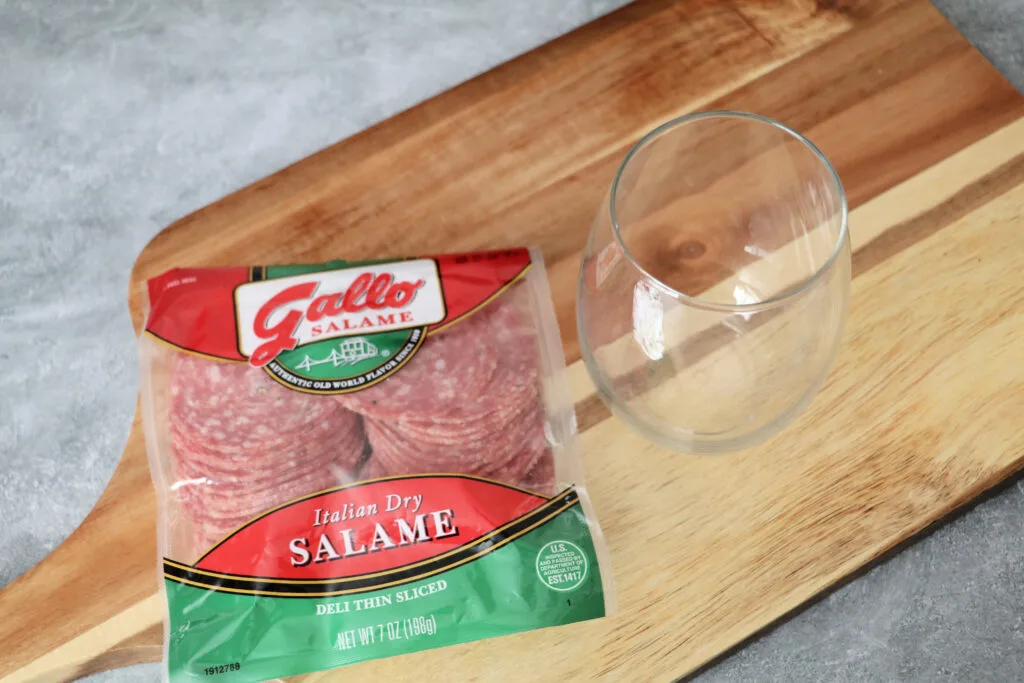 Here's how to make Salami Roses:
Place one slice of salami on the rim of your wine glass and fold it over the rim. You'll want the middle of the salami to be touching the rim.
Overlap another piece of salami over the first piece and keep doing this around the rim of the glass.
On your first layer you'll want to space the salami out more so you'll use fewer slices of salami. Place salami around the whole rim of the glass.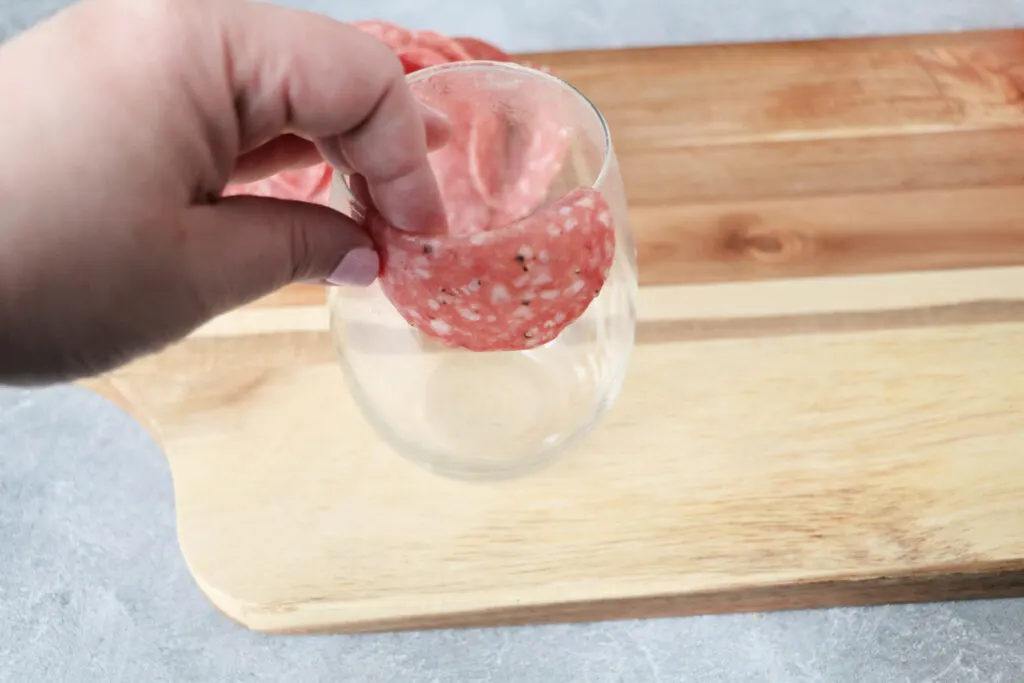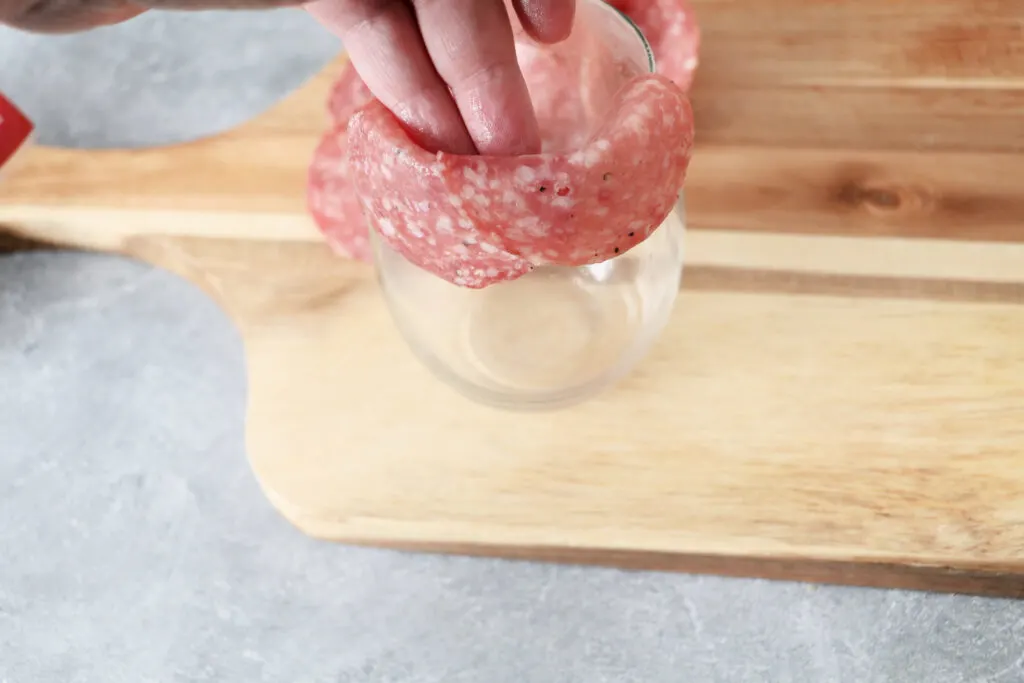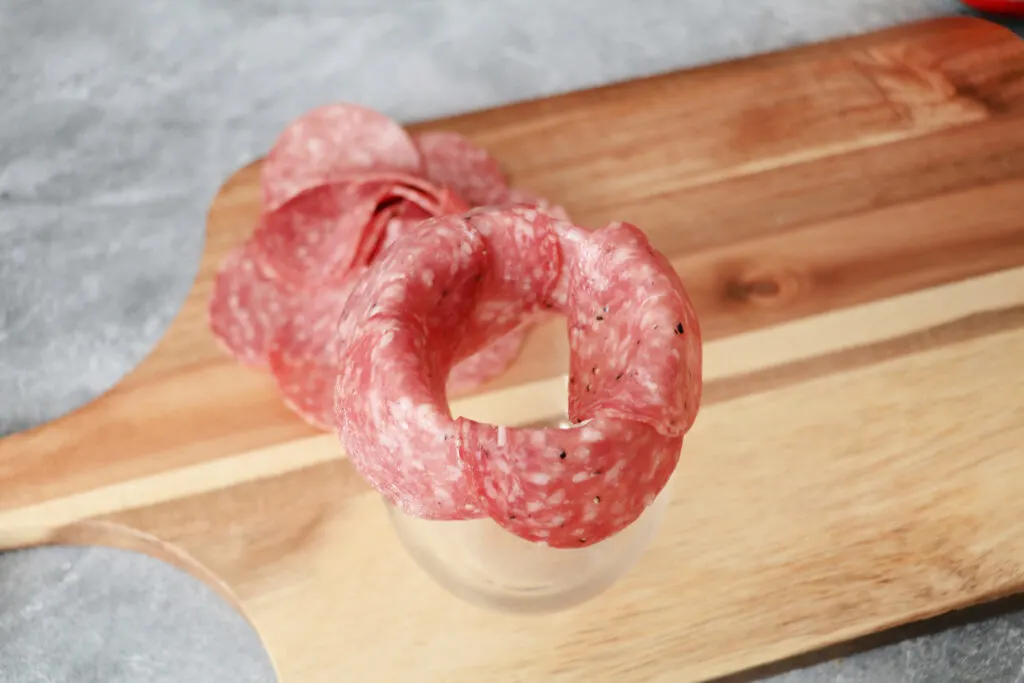 On your second layer, you'll bring them closer together.
Then on your third layer, you'll bring them even more closely together.
The number of slices you use will depend on the size of your wine glass.
Your first layer of salami will have a few pieces of salami and your last layer will have more. We're going for 3 layers here. You want to build up the thickness of each layer. The first layer will be more spread out while the last layer will be placed closer together.
Make sure to press the meat onto the wine glass really well so it sticks together and tightly holds its shape.
When you're ready to place the meat rose on your board you'll flip the wine glass over, place it against the board, and pull it away from the meat. Then you'll have a pretty meat rose.
If you remove the glass and your salami isn't holding its shape you can re-do the rose, wrap the meat while on the glass tightly with saran wrap, and pop it into the freezer for about 10 – 20 minutes. You don't want the meat to freeze, but getting it cold will help it keep its shape.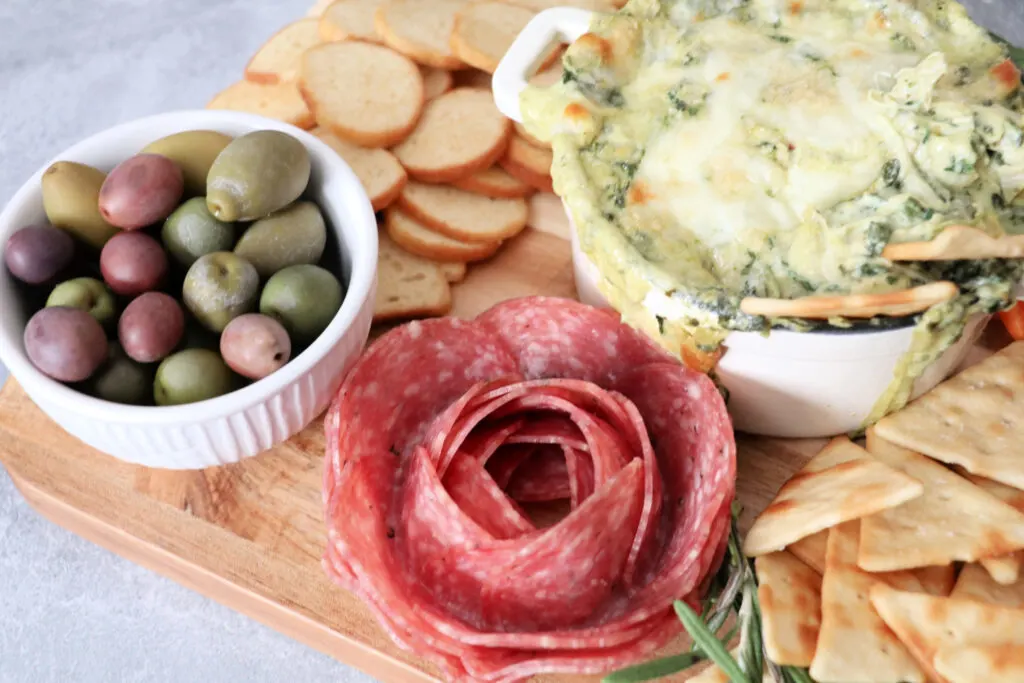 Now assemble your charcuterie board. I used these salami roses with a Pesto Spinach Artichoke Dip snack board I made and they were the perfect addition!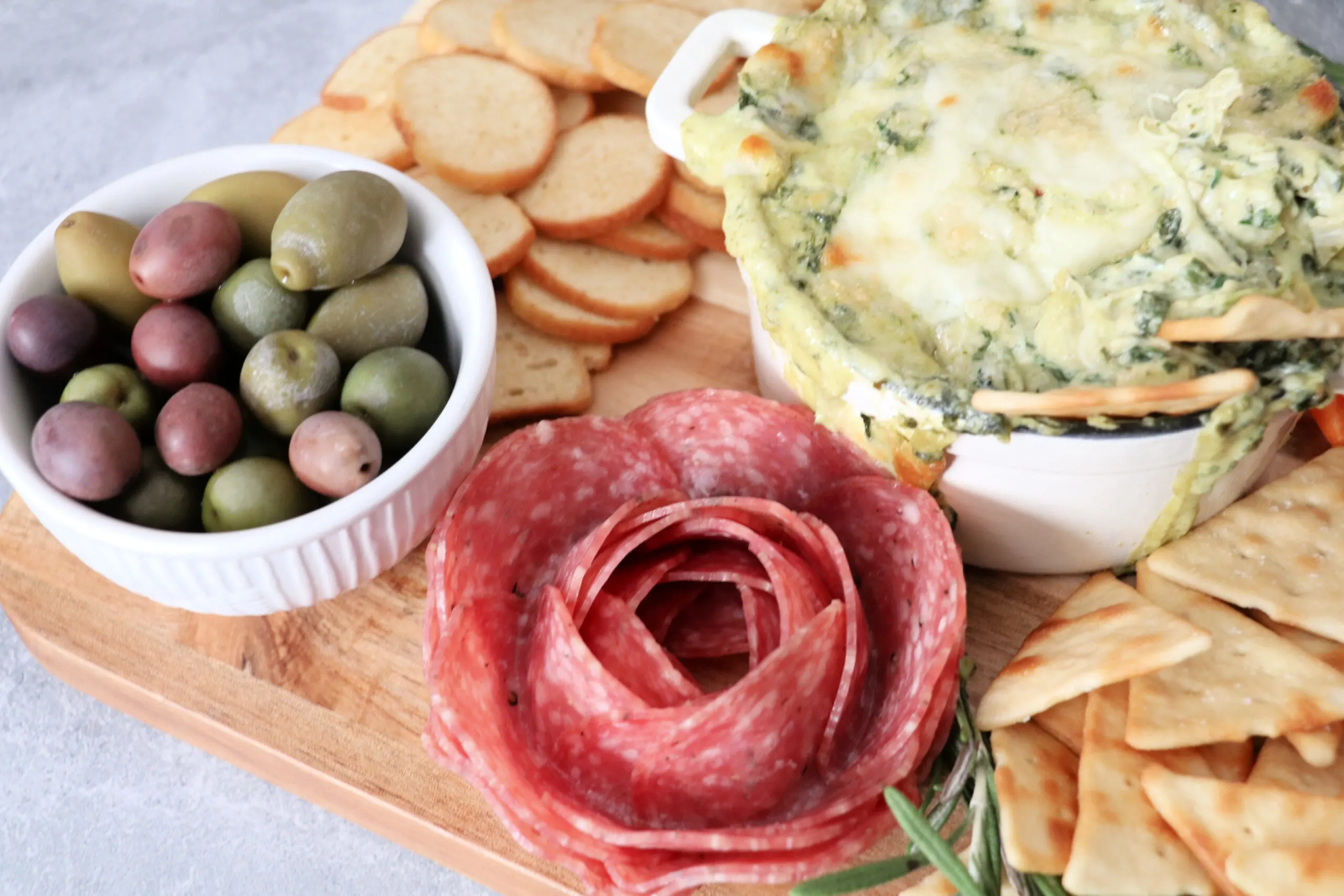 Salami Roses
Learn how to make pretty salami, pepperoni, or other meat roses.
Instructions
Place a slice of salami over the rim of your wine glass. You'll want the middle of the salami to be touching the rim of the wine glass. Place each piece firmly against the glass.
Next, take another piece of salami and overlap it on the first piece of salami. You'll want the salami spread out, but still touching.
Repeat the overlapping of meat around the rim of your wine glass.
You want to do this for 3 layers.
On the second layer bring the salami closer together when overlapping.
On the third layer, you'll want to bring the layers closer together than the previous layer. This ensures that the salami will be wrapped tightly together and that your rose won't fall apart.
Place the glass, salami side down, on your charcuterie board, and remove the glass from the salami.
Notes
Store in a fridge until ready to serve.
You can do this with any thinly sliced circle-shaped meat like salami, pepperoni, turkey, ham, or Canadian bacon.