TikTok Chili Cheese Corn Dogs are baked or air-fried corn dogs topped with chili and cheese for a chili cheese corn dog.
Quick and easy meals are my go-to as a mom. Whether it's a quick lunch or easy dinner for the kids there are a few staples we keep in the house for easy meals. Frozen corn dogs and canned chili are a pantry staple in our home and you can combine the 2 for an easy weeknight meal that is ready in under 20 minutes!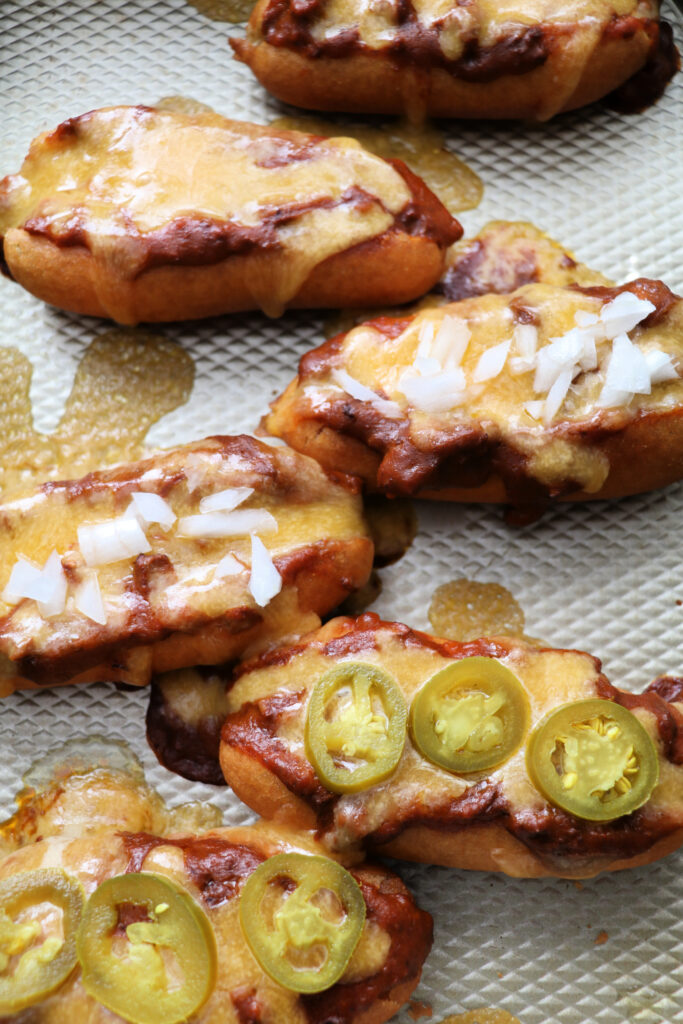 Chili Cheese Corn Dogs have recently been going crazy on TikTok, but I've been making these for the last 10 years! They're worth every bite.
This post was originally sponsored by Safeway in 2014, but has since been updated.
Our family loves chili dogs, but I started making this recipe years ago when we wanted chili dogs for dinner. We only had frozen corn dogs on hand so I used those instead and they turned out delicious! The hardest part of the recipe is waiting for your corn dogs to cook. It's so easy and the kids love to help make it.
There are two ways to enjoy these bad boys. My favorite way is to take the stick out, smother them in chili and cheese and grab a fork and knife and dig in, but you can also leave the stick in and put a smaller amount of chili and cheese on them and eat it off the stick. The choice is totally up to you and whichever way you choose, you won't be disappointed!
How to Make Chili Cheese Corn Dogs
This recipe is so easy to make. Even if you "can't cook" you can make these. The best part is they're ready in about 20 minutes and oh so delicious! You can make chili cheese corn dogs in the microwave, air fryer, or oven. The steps are all the same. Cook the corn dogs, top with chili, add shredded cheese and cook again until cheese is melted.
To make Chili Cheese Corn Dogs you'll need:
Corn Dogs
Canned Chili
Shredded Cheese
Additional toppings of your choosing: onion, jalapeno, mustard, ect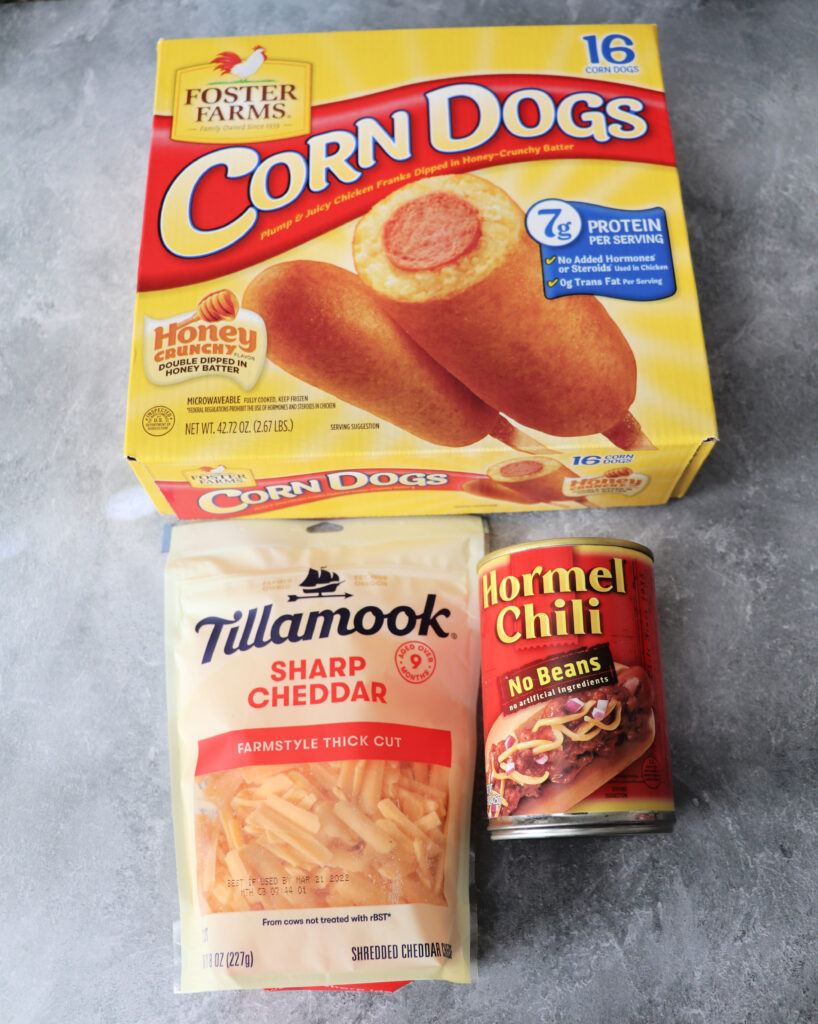 How to make Chili Cheese Corn Dogs:
You are going to cook your corn dogs per the package directions. Mine says to preheat an oven to 350.
You'll bake your corn dogs for 15-20 minutes or until cooked through.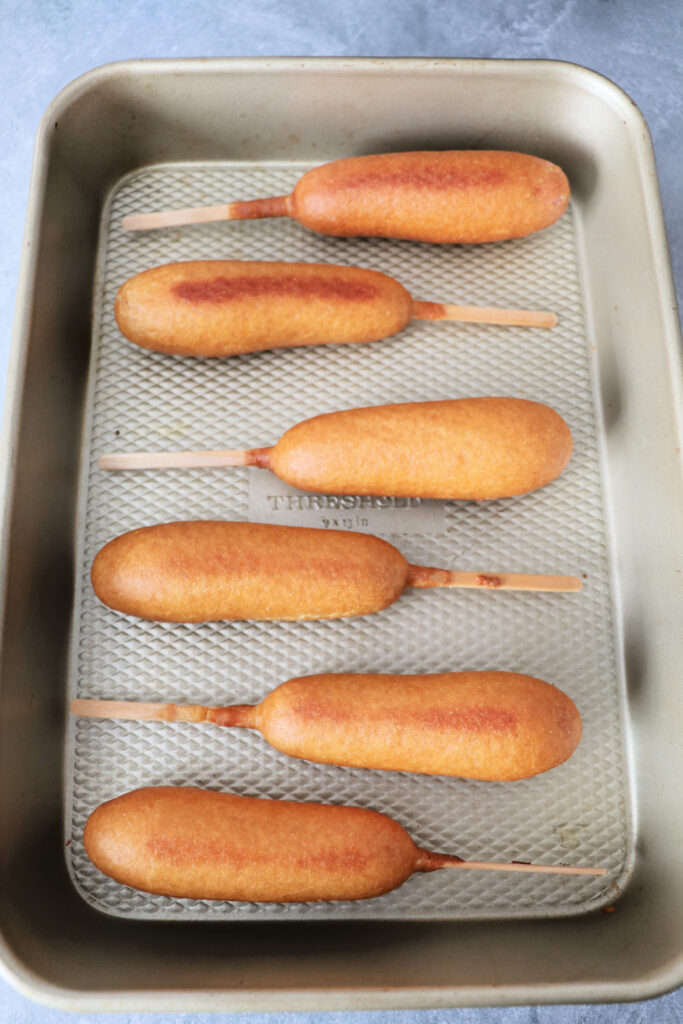 Heat your can of chili up.
Once your corn dogs are cooked slice them open, similar to how you would slice a baked potato open.
Top corn dogs with 1-2 spoonfuls of chili.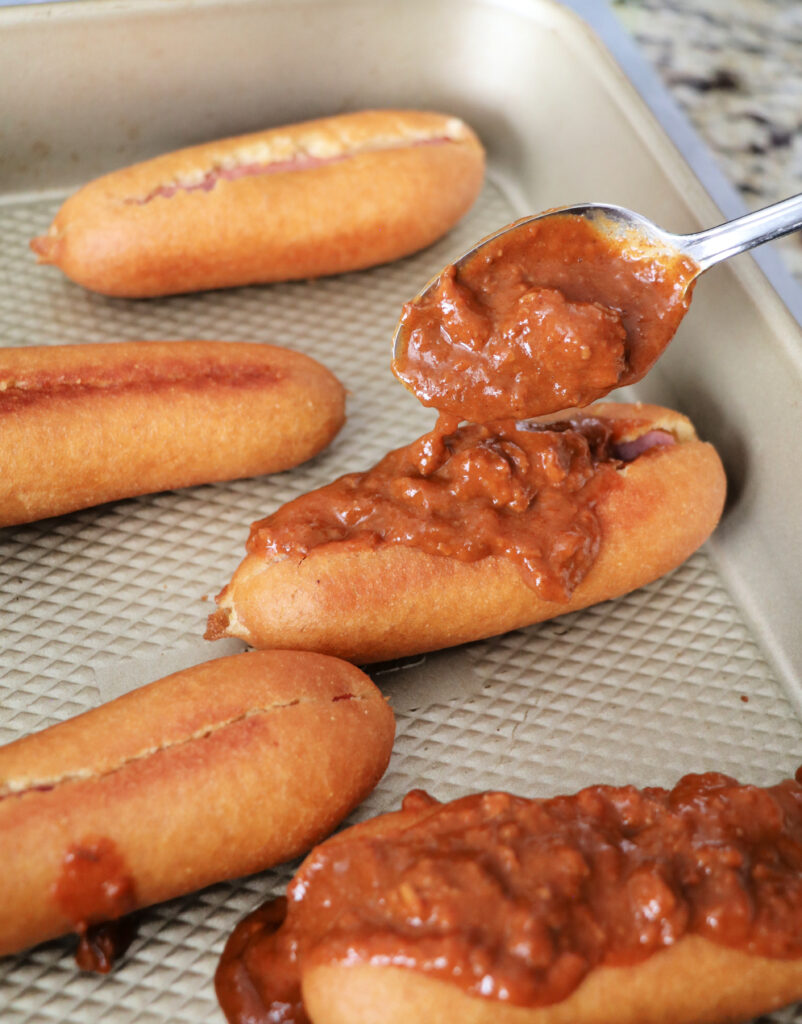 Top with shredded cheese.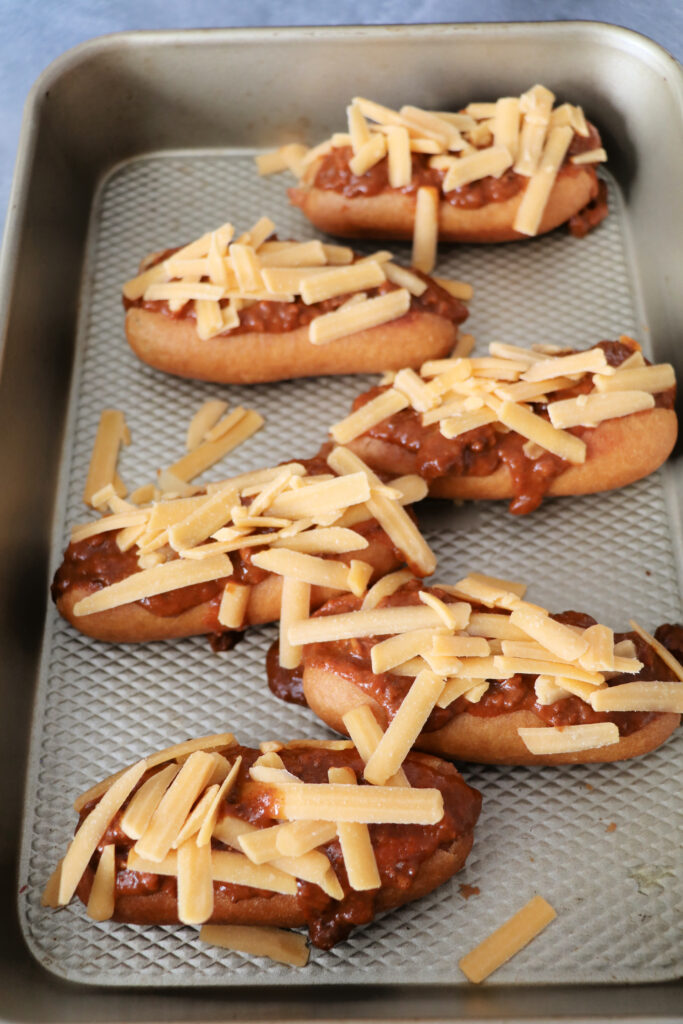 Bake for an additional 5-10 minutes or until cheese is melted.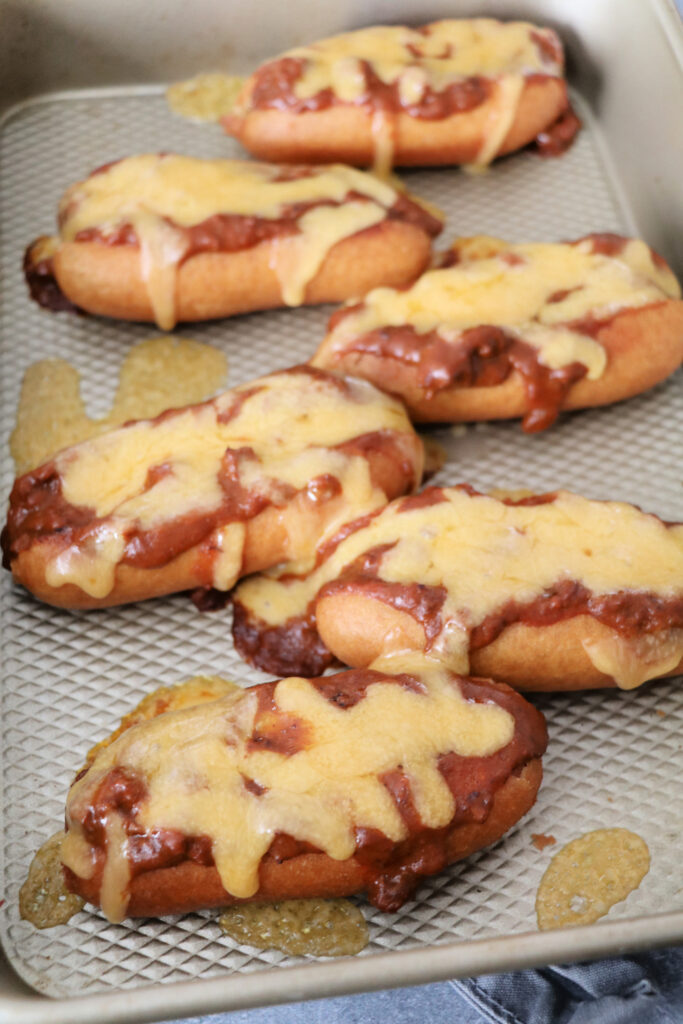 You can eat them as is or top them with additional toppings like onions, jalapenos, mustard, or whatever else you enjoy on a chili dog.
For this recipe, I used State Fair Corn Dogs, Hormel Chili, and Shredded store cheese. You could use any brands that you have on hand or normally buy or make everything from scratch.
Enjoy!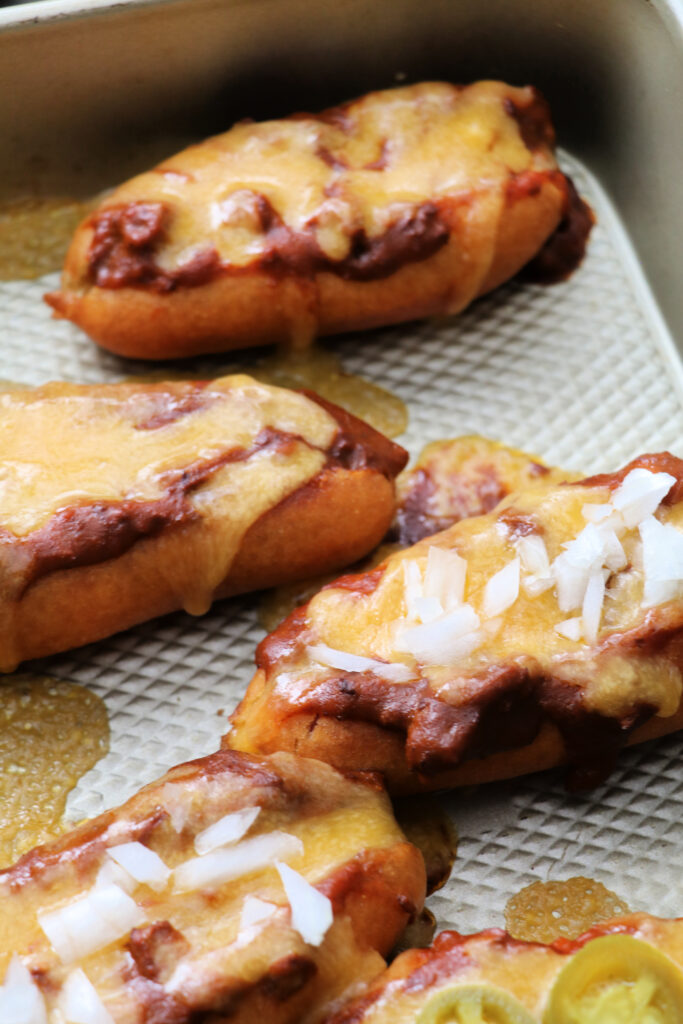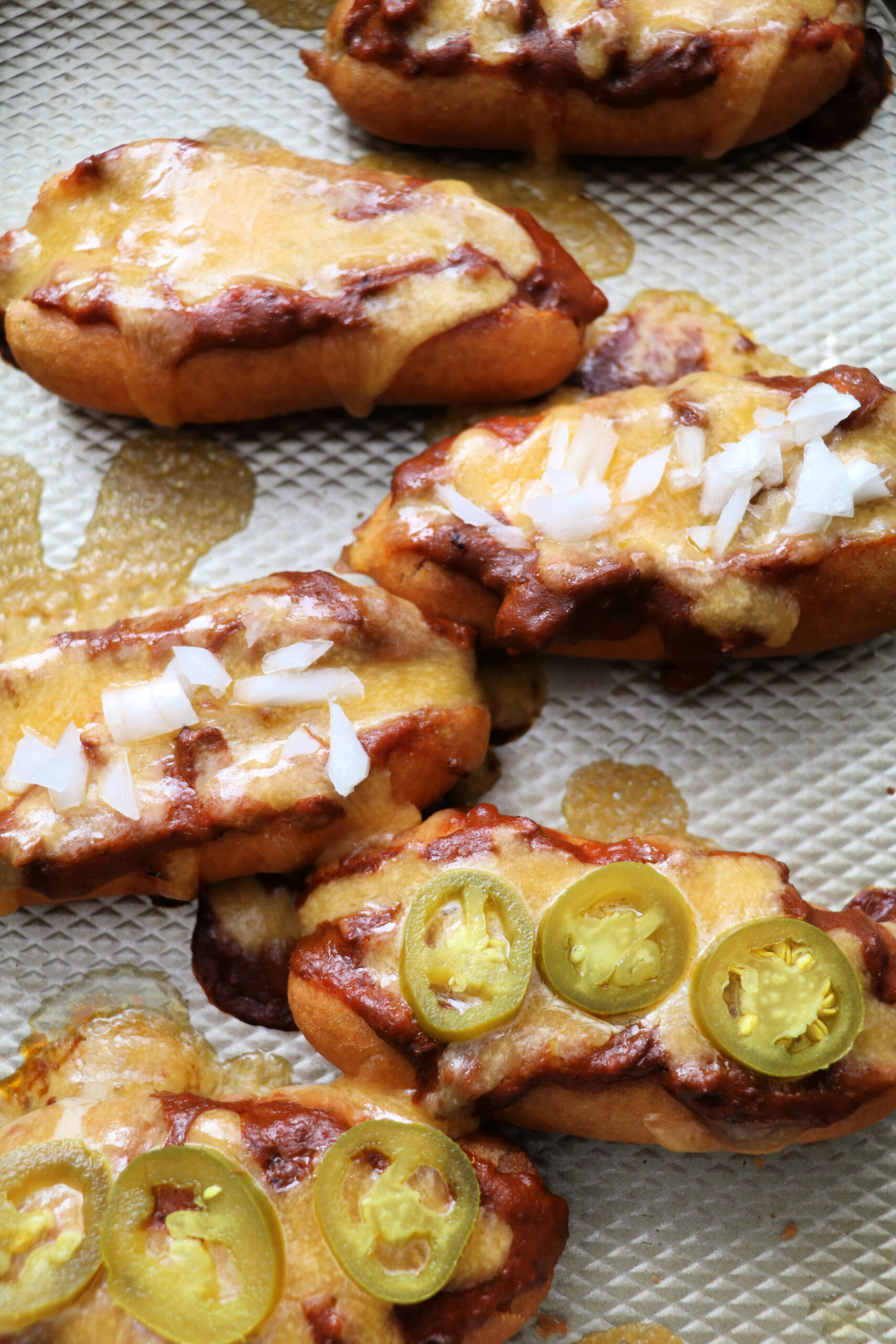 Chili Cheese Corn Dogs
Chili Cheese Corn Dogs are a quick and easy meal to feed a family. Frozen corn dogs, canned chili, and shredded cheese make delicious chili corn dogs.
Ingredients
Frozen Corn Dogs
1 Can of Chili
Shredded Cheese
Instructions
Bake your corn dogs per the package directions.
Heat up your chili.
Once corn dogs are cooked, remove the sticks and slice them open down the middle.
Pour chili over the corn dogs.
Top with shredded cheese.
Bake for an additional 5-10 minutes or until cheese is fully melted.
Notes
You can use any canned chili, shredded cheese, and frozen corn dogs you like for this recipe.