Have you seen one of the latest TikTok trends for Uncrustable Donuts? They're typically made with the peanut butter and jelly uncrustables, but we took it a step further with the hazelnut uncrustables and turned them into donuts with our air fryer. These Air Fryer Cinnamon Sugar Nutella Uncrustable Donuts are amazingly delicious and ready in under 10 minutes!
If you aren't on TikTok there is a new trend going around where you deep fry an uncrustable sandwich and cover it in powdered sugar or cinnamon sugar and turn it into a donut. We had to give these a try, but with the hazelnut nutella uncrustables. They were AMAZING and so easy easy to make. We swapped the deep fryer for an air fryer and the results were delicious.
Air Fryer Cinnamon Sugar Nutella Uncrustable Donuts
What is an Uncrustable?
If you aren't familiar with uncrustable sandwiches they're found in the freezer section. They're ready to made peanut butter and jelly sandwiches that kids (and some adults) love. They're easy, convenient, and a mom's best friends for snacks and lunches.
Uncrustables come in a few delicious flavors and all of them would be perfect to turn into donuts.
Peanut Butter and Grape Jelly
Peanut Butter and Strawberry Jelly
Peanut Butter and Honey
Chocolate Hazelnut (nutella)
Whichever flavor you choose would make a delicious donut and the steps for them are all the same.
How to Make an Uncrustable
If you wanted to make your own uncrustables they're super easy to make. You would need 2 slices of bread, filling of your choice, and an uncrustable cutter.
Lay the first piece of bread down and place 1-2 tablespoons of filling onto the center of the bread.
Spread it around a little bit around the center of the bread.
Place the second piece of bread on top.
Use the uncrustable cutter and cut out your uncrustable sandwich.
What filling to place inside of a Homemade Uncrustable Sandwich?
You can use a variety of fillings like:
Honey
Peanut Butter or Nut Butters
Fruit Butters like apple or pumpkin
Jellies or Jams
Nutella
Marshmallow Spread
Cream Cheese
Fresh Fruit
How to Make a Cinnamon Sugar Nutella Uncrustable Donut
Now let's get to making our donuts. This recipe is SO EASY and you'll be enjoying your hot donuts in under 10 minutes.
Here are the supplies you'll need:
Air Fryer – This is the one I have and I LOVE it.
Small Round Cookie Cutter or Something else to cut out the center like a medicine cup. You can also use a knife.
Uncrustable Sandwiches
Cinnamon and Sugar – I used the bottled kind, but you can mix 1/4 cup sugar and 1 1/2 tsp cinnamon together to make your own.
Cooking Spray or Butter
How to Make Nutella Uncrustable Donuts
Pull your uncrustables out of the freezer and let them defrost. About 30-60 mins. You can even leave these in the fridge the night before or several hours before hand. They'll need to be thawed out so you're able to cut the center out.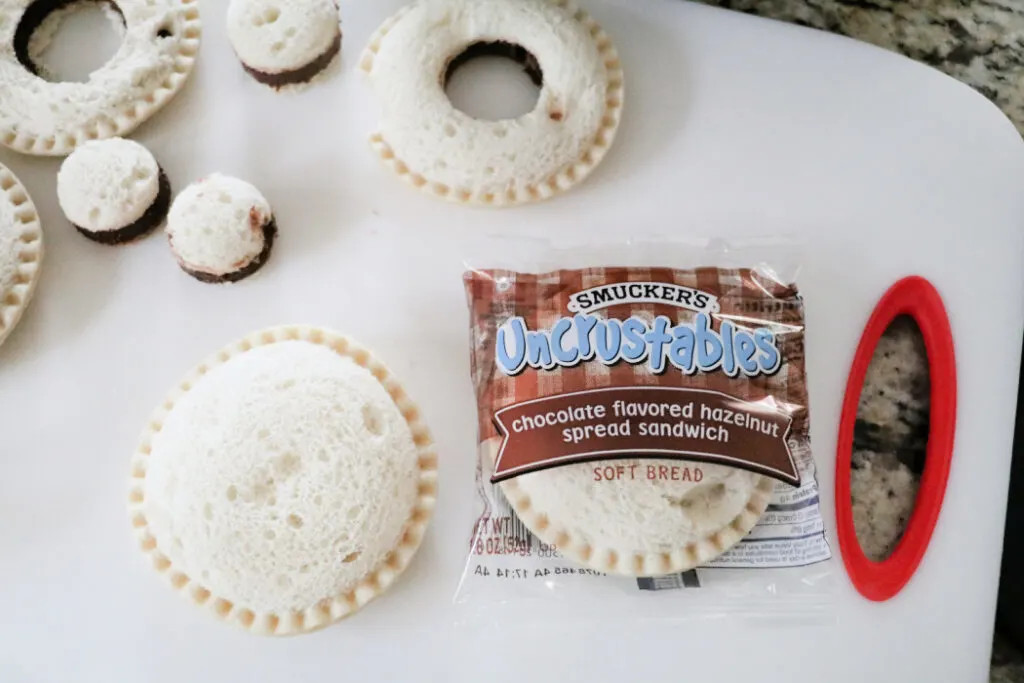 Use your cookie cutter (or whatever you have) to cut the center of the uncrustable out. Like how a donut looks.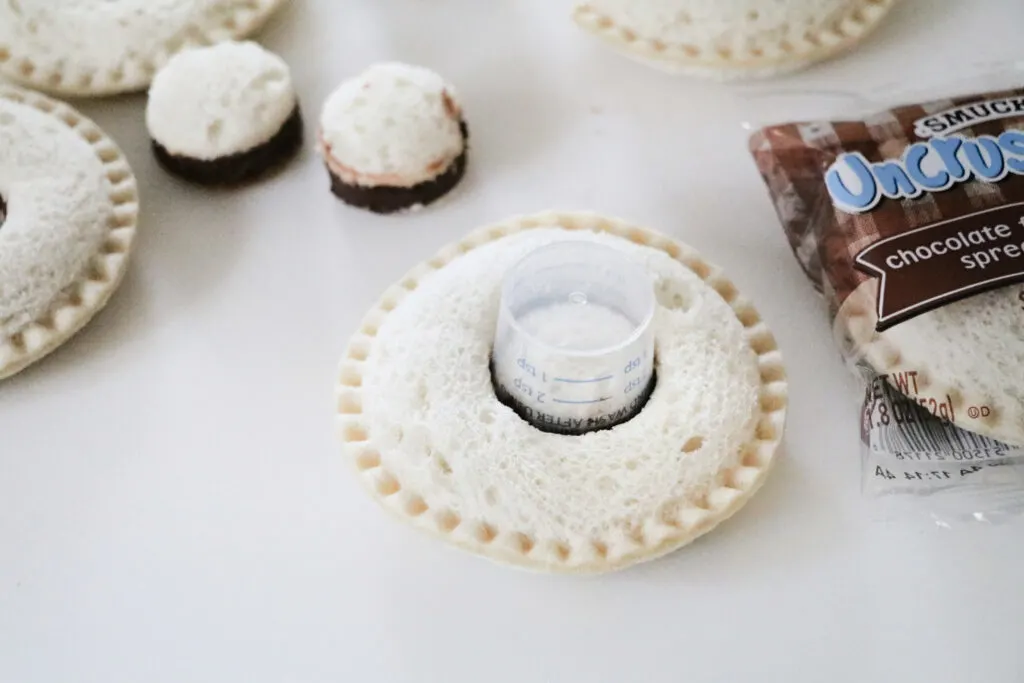 You can air fry the centers, but I gave them to my kids to eat while I made the donuts.
Spray cooking spray on the bottom of your air fryer and each side of your uncrustable. You can use melted butter instead of cooking spray.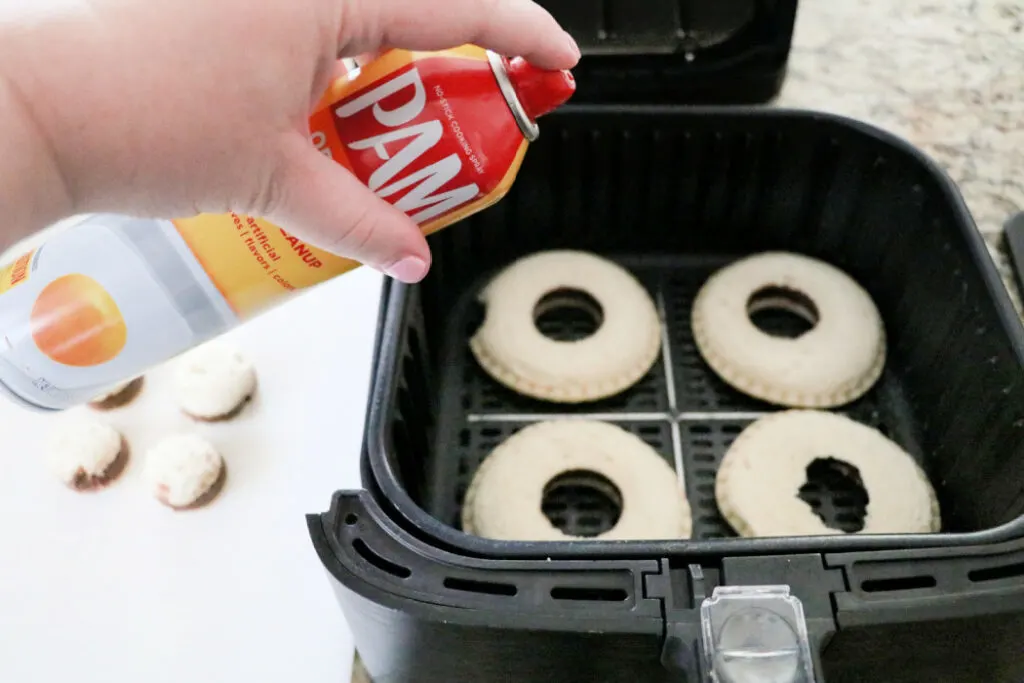 Place them into your air fryer and cook for 6-8 minutes. 6 minutes was enough for my air fryer, but all air fryers cook a little differently.
Halfway through you're going to flip them over. So for me I flipped at 3 minutes.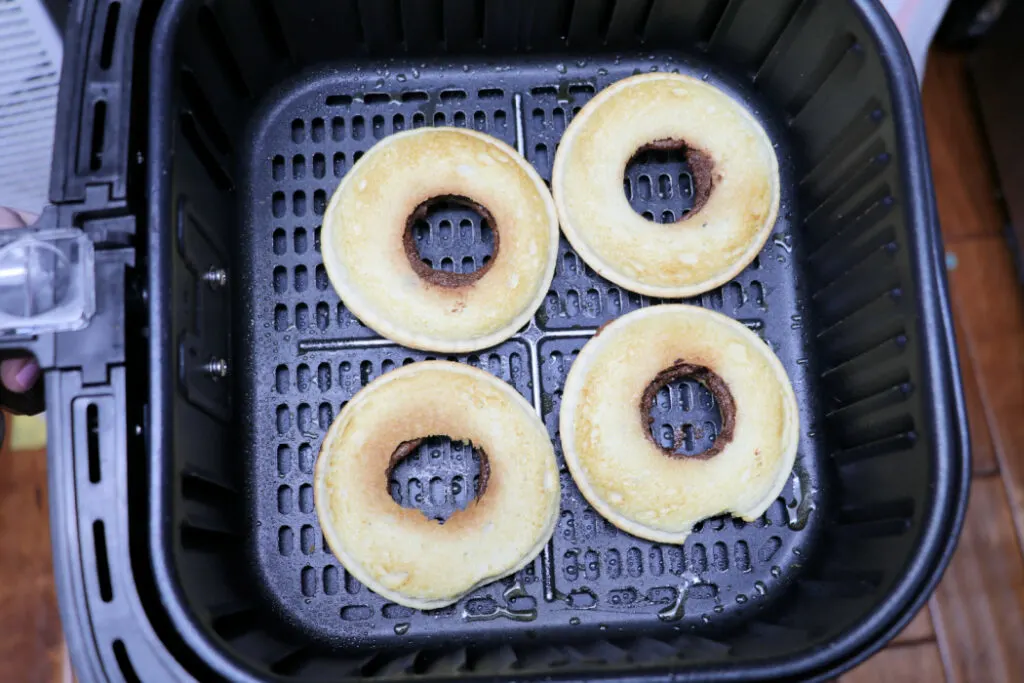 Once they're done toss them into some cinnamon and sugar on each side.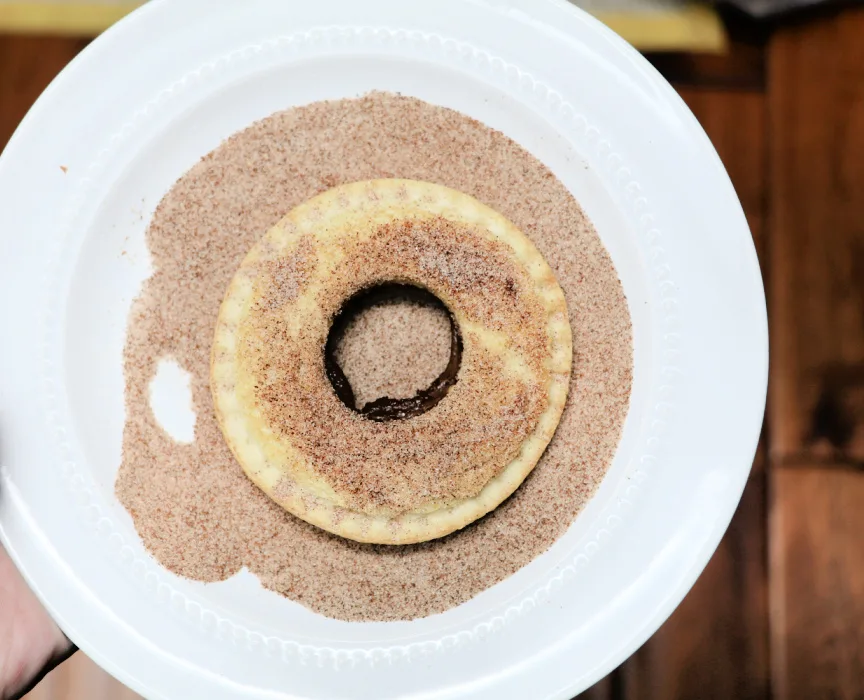 Enjoy!
Air Fryer Cinnamon Sugar Nutella Uncrustable Donuts
Air Fryer Uncrustable Donut with Cinnamon Sugar and Hazelnut Chocolate (nutella)
Ingredients
Air Fryer
Small Round Cookie Cutter
Uncrustable - Any Flavor
1/4 cup Cinnamon & Sugar - 1/4 cup sugar and 1 1/2 tsp cinnamon
Cooking Spray
Instructions
Thaw uncrustable.
Cut the center of the uncrustable out with a small circle cookie cutter or another item like a medicine cup.
Spray bottom of air fryer with cooking spray.
Spray each side of the uncrustable with cooking spray.
Cook in Air Fryer on 350 for 6-8 minutes, flipping donuts halfway through.
Once done coat both sides with cinnamon and sugar mixture.
Enjoy!