Free SVG and Cricut Tutorial for making Baby Milestone Acrylic Rounds. Mark baby's first year with monthly milestone rounds as photo props. You'll use acrylic rounds, acrylic paint, and permanent vinyl for this Cricut project.
I love this trend of marking a baby's first year with a monthly picture and a cute photo prop. This is perfect for your own little one, but also makes a cute and personalized DIY baby shower gift with your Cricut machine. This project comes with a FREE SVG file, but you could also make your own with 2 of your favorite fonts.
What Font Did I Use?
I have gotten a lot of questions about the font I used. The cursive font is a hand-brushed font called Bhatoshine. Buy the font here!
Baby Milestone Acrylic Rounds
Making monthly baby milestone rounds is a super easy project and you'll need just a few supplies to make these. Most of these you probably have on hand already like vinyl and acrylic paint. If not you can easily grab them when you order your acrylic rounds from Amazon.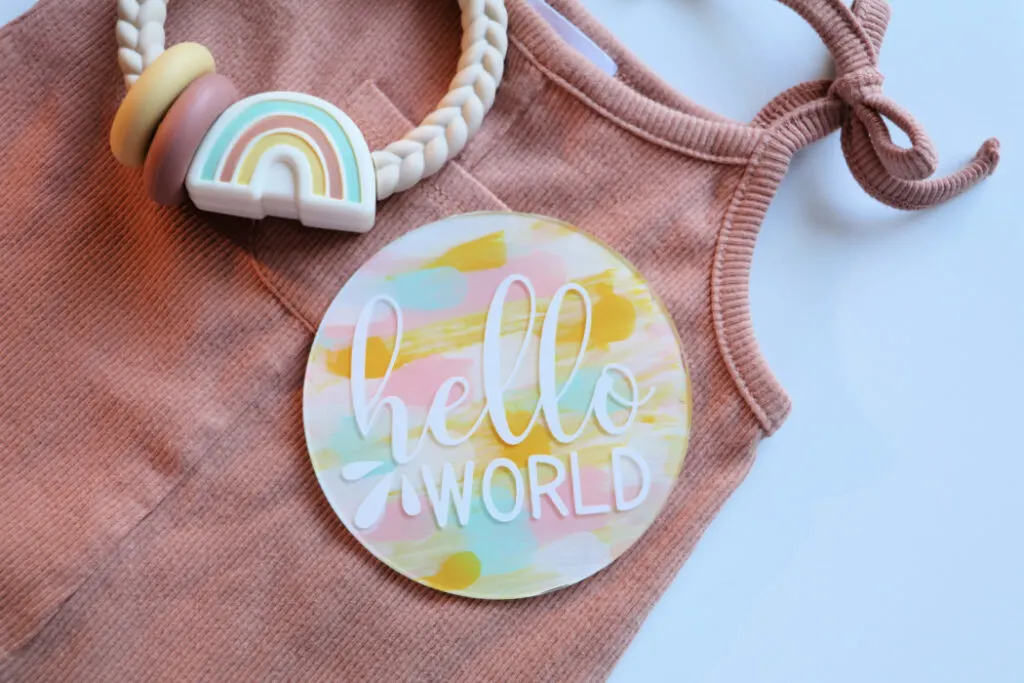 Here are the supplies you'll need to make baby milestone acrylic rounds
13 Acrylic Rounds – I used 4 inches
Acrylic Paint – I used some I grabbed from Target but any acrylic paint will work
Paint Brush
Permanent Vinyl – White, Black, Gold, and Holographic are good for this project
Transfer Tape
Weeding Tool
Scraper
Standard Grip Cutting Mat
Cricut Machine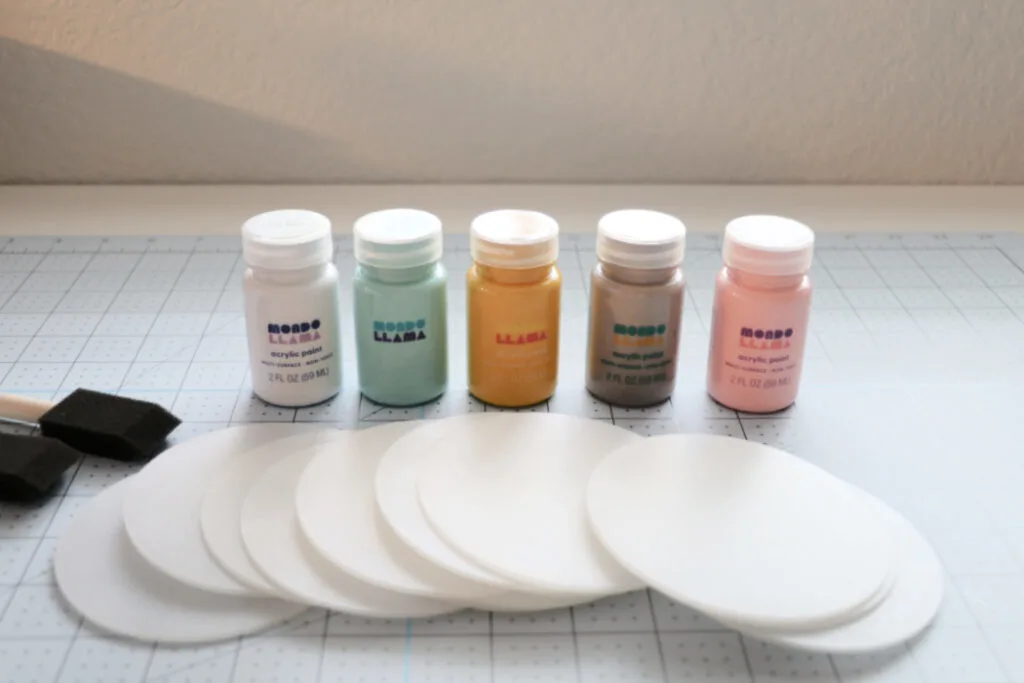 Here's how to make baby milestone acrylic rounds
Download the FREE SVG file for this project at the bottom of this post.
Take your acrylic rounds and peel off the protective cover off one side of the acrylic round. I like to leave the other one on just in case the paint gets on that side. If you leave the film on that side you don't have to worry about cleaning the paint off later.
Pour some paint onto the acrylic round. The side with the film removed.
There are a few ways you can paint these.
add dabs of different colored paints and brush them across the blank.
do color and white. you would alternate dabs of the color and white and then brush the color across the blank.
a single color. when doing one color you can dip your brush into your paint and then brush it across the blank.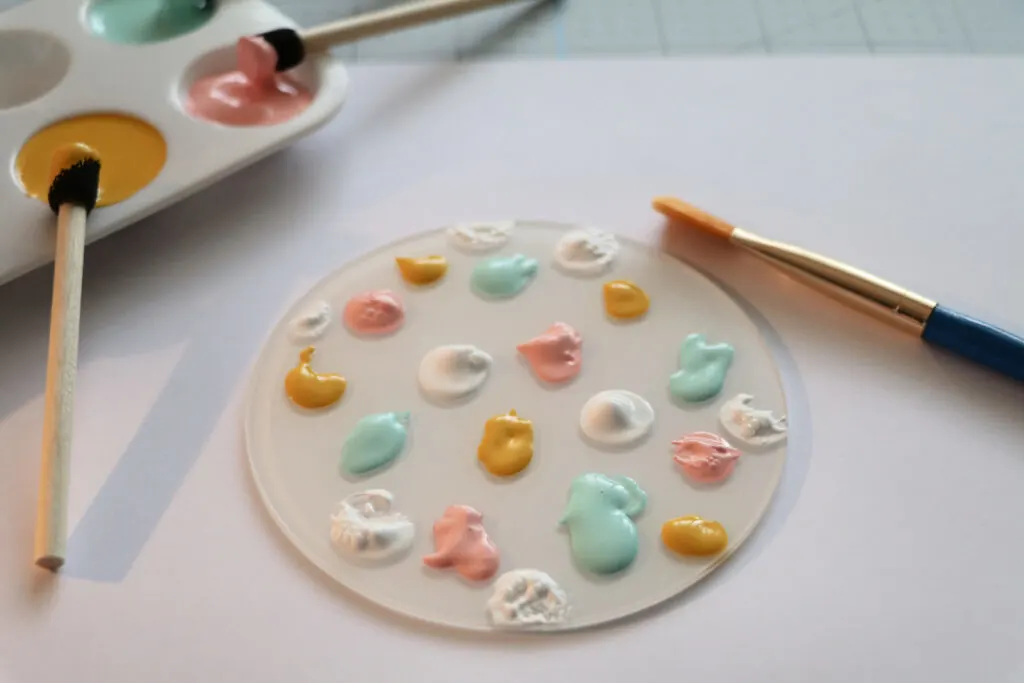 Tip: If you wanted to avoid painting the back of your acrylic rounds you can use vinyl on the back. Cut out a brushstroke design or a full circle and apply it to the back. You will need to mirror this part of the design. You could even do shapes like flowers, hearts, rainbows, clouds, etc.
Use your paintbrush to paint the back of the acrylic round. You can paint the whole circle or just the center. This is totally up to you and whatever look you are going for.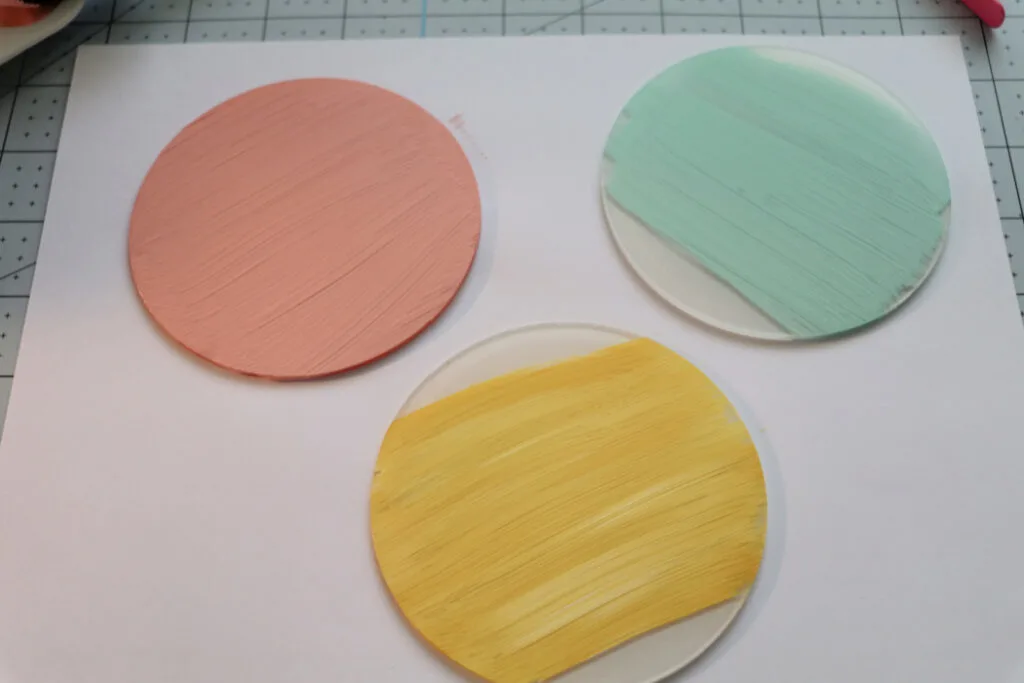 You can mix colors together if you want an ombre, rainbow, or multi color design.
Let that coat dry for one hour.
If you feel like your paint needs another coat then add one.
Let it dry. I like to paint my blanks the night before and then add my vinyl the next day, but you could wait a few hours and add the vinyl. However, acrylic paint might not fully dry for up to 24 hours.
While your paint is drying you can cut out your baby milestone designs or make your own.
Open Cricut Design Space and start a new project.
Upload the design and make sure it is sized to the size of your round. This file should be sized properly for a 4″ round, but you might want the design smaller.
Cut out the designs on permanent vinyl.
Weed your design.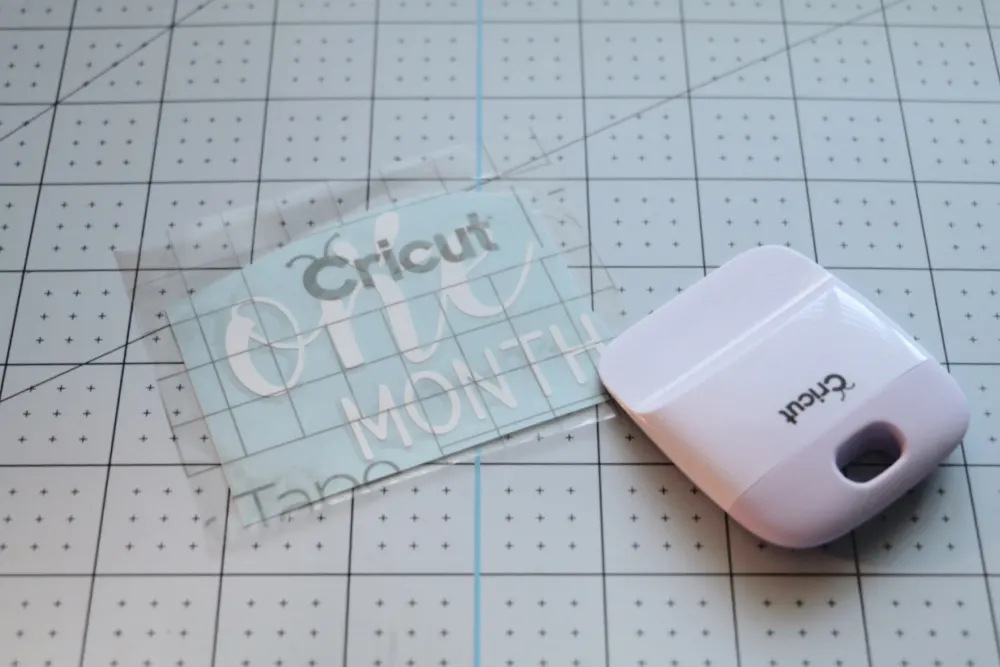 Cut the design out into each month and apply your transfer tape to them.
Remove the project film from the other side of the acrylic round.
Use your transfer tape to apply the design to your acrylic rounds.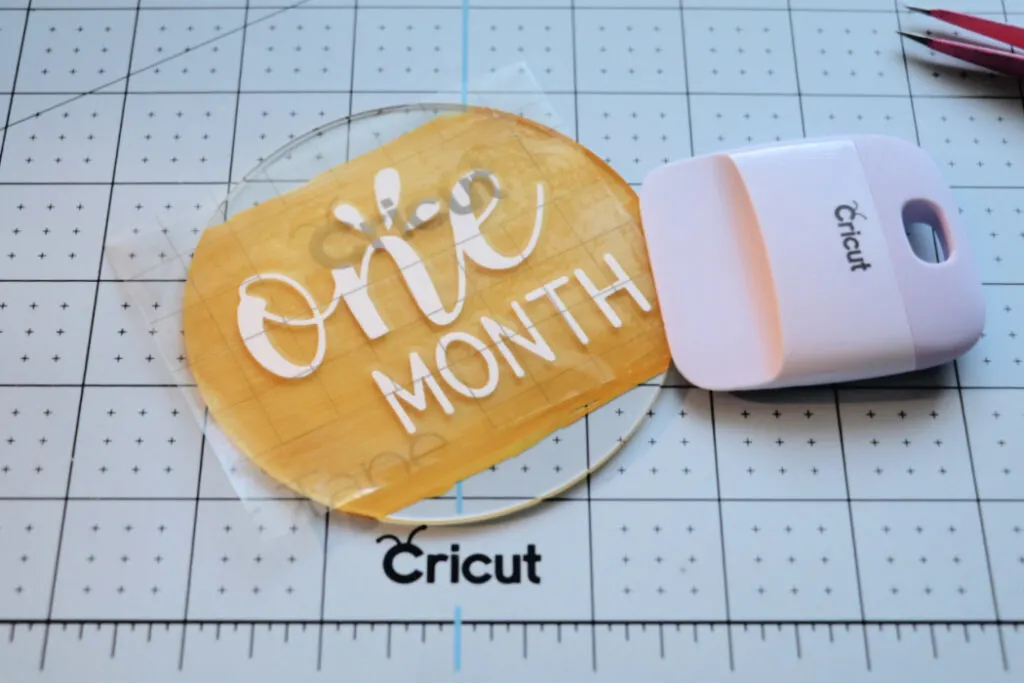 Give it a firm scraper with your scraper tool and remove the transfer tape.
Repeat with each acrylic round.