Denver Water Parks around the Denver metro. Some indoor water parks, outdoor water parks, and some Denver water park hotels. Some of them are the best water parks in Denver, but all of them are FUN!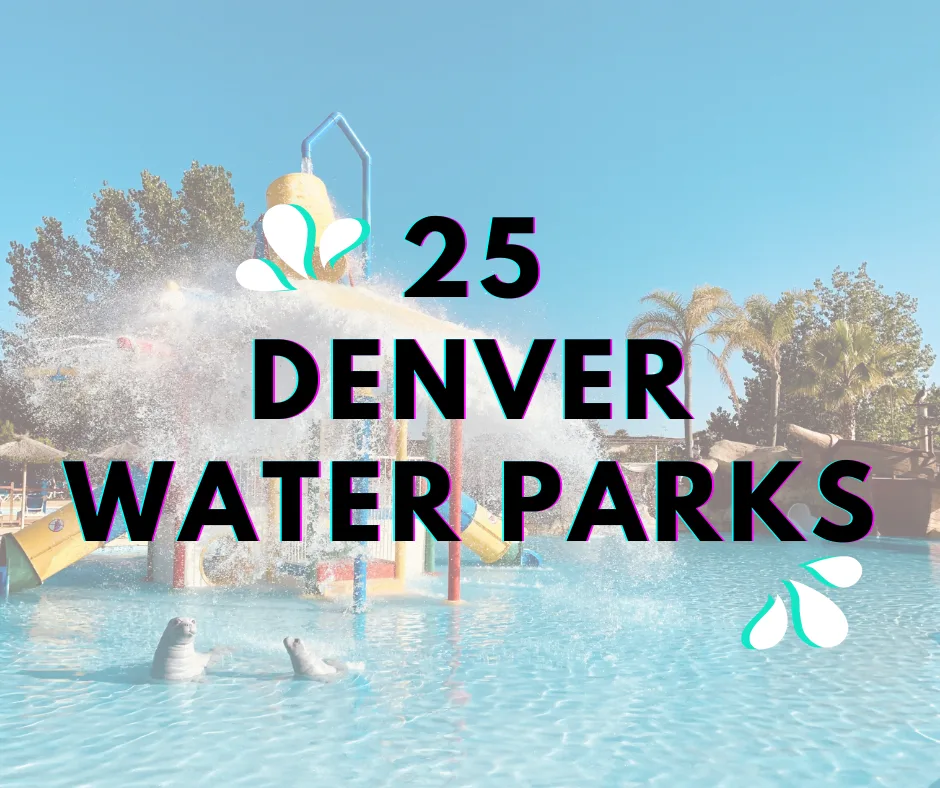 Colorado goes from snow to hot summers really quickly. We've reached the time of year where it's sunny, gorgeous, and HOT. Our favorite way to cool off during the summer is heading out to the best Denver splash pads and Denver water parks for some water fun. My kids love splashing around in the water and riding water slides. Luckily Colorado is filled with lots of water parks, from small to large, that are perfect for hot days. Here's a list of 20 water parks in and around the Denver Metro Area!
1. Pirates Cove – 1225 W. Belleview Avenue Englewood, Colorado 80120
Pirates Cove features a 35-foot tower with three slides, a lazy river, a six-lane pool and a 25-meter pool, along with plenty of concessions and other fun perfect for a family day out.
Pricing varies by age and residency.
2. Elitch Gardens Water Park – 2000 Elitch Cir, Denver, CO 80204
Great for the whole family Elitch Gardens Water Park has everything from Thrill Rides to Family friendly areas.
Pricing – Included when you purchase a Theme Park ticket. $34.99/Child $39.99/adult
3. Water World – 8801 N. Pecos St. Federal Heights, CO 80260
Featuring nearly 50 attractions for the entire family, Water World is one of the country's premier family water parks!
Price: $36.99 children/$41.99 adults
4. Great Wolf Lodge – 9494 Federal Drive, Colorado Springs, CO 80921
Your next unforgettable family getaway awaits in our 84-degree indoor water park. Zip down the Howlin' Tornado thrill slide, play in the zero-depth Cub Paw Pool with your little ones, or ride the waves in Slap Tail Pond. With over 50,000 square feet of water park action; there are tons of pools, rides, and water slides for everyone from toddlers to teens to enjoy during your family vacation in CO.
Admission include with stay at the resort.
5. The Splash at Fossil Trace – 3151 Illinois St, Golden, CO 80401
The Splash has fun filled attractions for all ages! Sitting on 10 acres in beautiful Jefferson County in the City of Golden, the Splash has something for kids of all ages! Leisure Pool, Lap Pool, Splash Pad, Sandbox, kiddy slide, beach, and a Grill.
Admission depends on age and residency. $4-$9.50
6. Deer Creek Pool – 8637 S. Garrison St., Littleton, CO 80128
Pool, Splash Area, Water Slide, and Concession stands.
Admission depends on age and residency. $3.5-$7
7. Apex Center – 13150 W 72nd Ave, Arvada, CO 80005
23,000 square feet of exciting play features, spas and lap pool, plus adult and family spas, and adjacent men's, women's and family locker rooms the area.
Admission depends on age and residency. $3.50-$8.25
8. Bay Aquatic Park – 250 Spader Way Broomfield, CO 80020
The Bay features two exciting serpentine slides, a leisure pool with zero-depth entry, an interactive water play structure, and an inner tube slide. There is also a tot pool with slides and waterfall.
Admission depends on age and residency. $5-$9
9. H2O'Brien – 10795 Victorian Drive Parker, CO 80138
H2O'Brien Outdoor Pool features two 182′ water slides, a waterworks play structure, a spray garden, sprays and geysers, a circulation and lap pool, a concession area and a shade pavilion.
Admission depends on age and residency. $4-$5.50
10. Weaver Hollow Pool – 12750 W. Stanford Ave., Morrison, CO 80465
Water Slide, Pool, Splash Area, and Concession Stand.
Admission depends on age and residency. $3.75-$7.25
11. Del Mar Water Park – 12000 E. 6th Ave. Aurora, CO 80011
Huge water playground with two slides and Full-service concession stand.
Admission: $3.50/Child $5/Adult
12. Sunset Swimming Pool – 1900 Longs Peak Ave. Longmont, CO 80501
Sunset Pool is a heated outdoor pool with six lap lanes, a large wading area, three diving boards, and two fast and fun water-slides. The pool is surrounded by both grass and sand areas with magnificent mountain views – a complete attraction for the entire family!
Admission depends on age and residency. $3.75-$6.25
13. Brighton Oasis – 1852 E Bromley Ln, Brighton, CO 80601
Seasonal pool center with water activities such as slides & a lazy river plus party pavilions.
Admission depends on age and residency. $2.50 – $7
14. Fort Collins City Park Pool – 1599 City Park Dr. Fort Collins, CO 80521
City Park Pool provides you with a water park experience right in your own backyard. Pool, Water Slide, Lazy River, Play structure, and picnic area.
Admission: Youth $6 Adult $7
15. Burgess Memorial Pool – 22 N. Gilbert St. Castle Rock, CO 80104
20-foot-long and toddler water slides, Main pool depths of 0 feet to 5 feet, Water basketball, Lazy river, and picnic areas.
Admission depends on age and residency. $4.25 – $6.25
16. Cook Creek Pool – 8711 Lone Tree Pkwy, Lone Tree, CO 80124
Whether you like to swim, splash, slide, dive, or lay out in the sun – you can do it all at the Cook Creek Pool. Experience the thrill of a 25-foot water slide, get dumped on by a giant tipping bucket of water, practice your swan dive and flips from the diving board, or get in a few laps. The zero-depth entry pool offers a perfect way to cool off, or wade into the water with young children.
Admission depends on age and residency. $3 – $6.50
17. Central Park Recreation Center – 9651 M.L.K. Jr Blvd, Denver, CO 80238
Lazy River / Splash Area / 25 yard lap pool / Slide
Admission depends on age and residency.
18. Parker Recreation Center – 17301 E. Lincoln Ave. Parker, CO 80134
Lazy River, Water Slide, Aquatic Climbing Wall, Pool, and Splash Area.
Admission depends on age and residency.
19. The Trails Recreation Center – 16799 E Lake Ave Centennial, CO 80112
Lap Pool, Leisure Pool, Activity Pool, Water Slides, Lazy River, and Hot Tub.
Admission depends on age and residency.
20. Utah Pool – 1800 S. Peoria St. Aurora, 80012
Pool, Water Slide, Splash Area, and Pool.
Admission depends on age and residency.
21. Paradice Island Pool at Pioneer Park – 5951 Monaco St. Commerce City, CO 80022
Paradice Island is the city's outdoor game-themed leisure pool located at the east end of Pioneer Park. The first of its kind in Commerce City and a state-of-the-art aquatic facility, the 2-acre center features: Leisure pool, Three water slides, A 250-foot lazy river with a variety of sprays and geysers, A 1,700-square-foot toddler pool with interactive water features, An activities pool for lap lanes, swim lessons and volleyball, Shaded areas, and Play structures!
Admission depends on age and residency.
22. Wheatridge Rec Center – 4005 Kipling St. Wheat Ridge, CO 80033
Leisure Pool with 120 foot water slide, Frog slide for the little ones, Lazy "River" for water exercise and/or tubing, Fountains and tumble buckets.
Admission depends on age and residency.
23. Barnum Water Park – Denver
These are just that parks on our list to check out. They all look so fun and most are only a few $$ to get in. Also make sure to check your local Park and Rec website because a lot of them have indoor pools (yay for getting out of the hot sun) with water slides, splash pads, and lazy rivers inside!
24. City Pool – Littleton
25. Jellystone Park at Larkspur – Jellystone Park is an RV park located in Larkspur Colorado, just south of Castle Rock. There are 2 ways to stay at this fun resort, with an RV or by renting one of their cabins. While there are lots of things to do at this glamping resort the water park is screaming our name.
Do you have a favorite Water Park your family likes to visit? Tell me in the comments!