Whether you're looking for a fun way to celebrate St Patrick's Day or looking for rainbow treats these mini rainbow treat bags are cute, fun, and filled with rainbow goodness. Rainbow candy bags are filled with rainbow candy and are great for unicorn parties, rainbow parties, or St Patrick's Day treats for kids.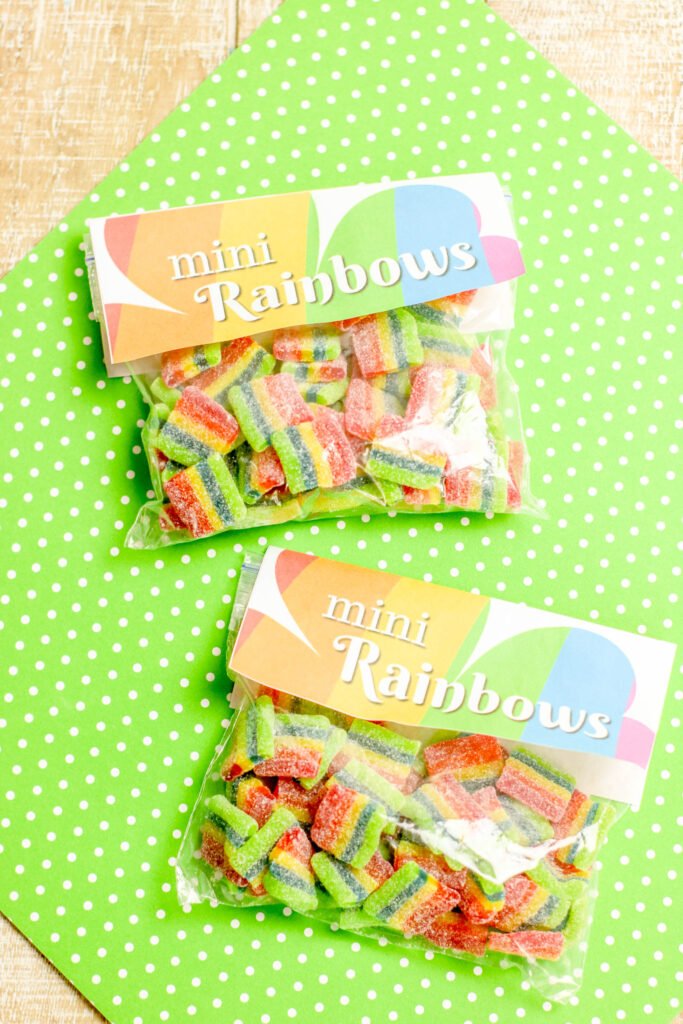 Mini rainbow treat bags come with a free printable treat bag topper. These can be given to kids, friends, family, and classmates for St. Patrick's day or a rainbow-themed party.
Mini Rainbow Treat Bags
Mini rainbow treat bags are easy to put together and can be done in a matter of minutes. Looking for rainbow treat ideas? Mini Rainbow treats are the perfect rainbow snack or rainbow treats.
These cute St Patrick's Day or Rainbow party treat bags are filled with mini rainbow candies like Airhead Xtreme Bites. St Patrick's Day is all about rainbows and pots of gold, so we took rainbows and turned them into fun treat bags for kids.
These treat bags can be given out to classmates at school, to kids or grandkids, or the neighborhood kids. If your kids are into catching leprechauns you could even leave these in the leprechaun trap they set.
While we made these treat bags for St Patrick's Day they are perfect for all year round and can be used anytime you need a color pick me up or as party favors for a unicorn or rainbow-themed party.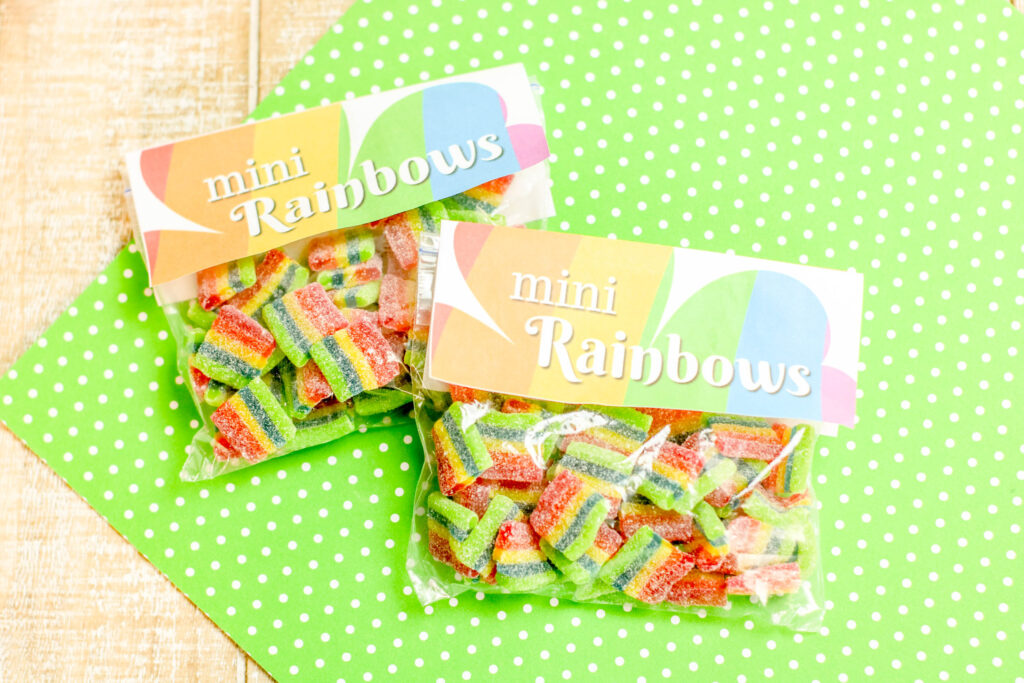 How to make Mini Rainbow Treat Bags
To make mini rainbow treat bags you'll need a few supplies and ingredients like:
Sandwich size Ziploc bags
Mini rainbow candy
Double-sided tape or stapler
Treat Bag Topper Printed
To make your mini rainbow treat bags you will take some rainbow candy-like Airheads Xtreme Bites and place them into a sandwich-sized Ziploc bag.
Print out the treat bag topper and cut it out.
Fold the treat bag topper in half.
Attach the treat bag topper to the top of the Ziploc bag with double-sided tape or a stapler.
Don't forget to write your name on the bags in the from section!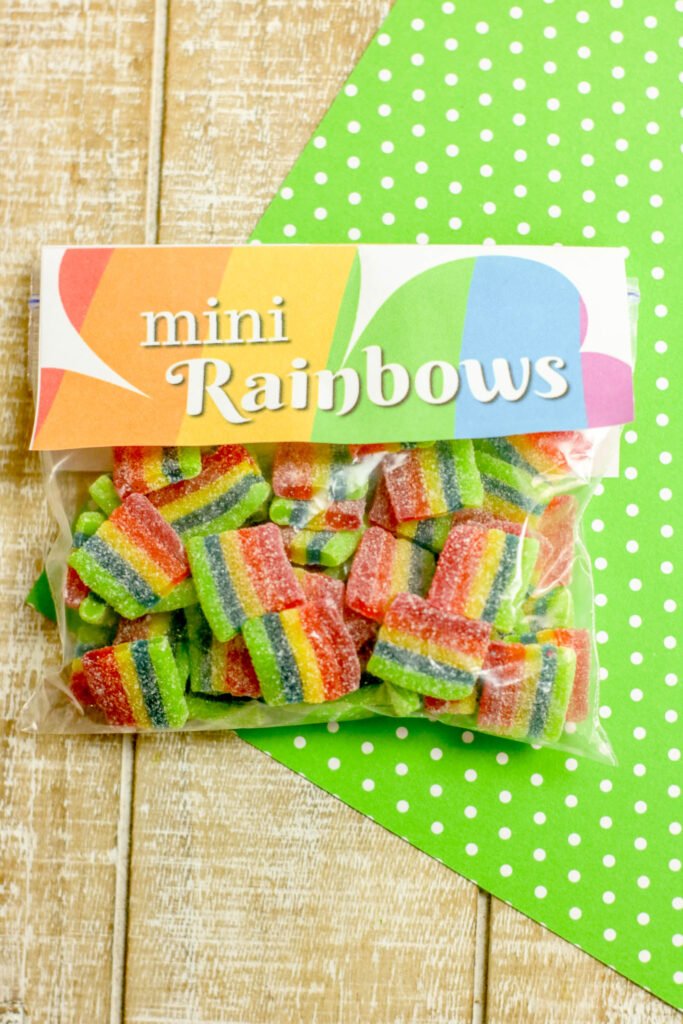 What candy to use for Rainbow Treat bags
You can use any rainbow candy for these mini rainbow treat bags. We used Airheads Xtreme Bites, but any rainbow candy will work. Here are some ideas:
Another fun addition to the mini rainbow treat bags would be adding mini marshmallows to them. It will be like rainbows and clouds. Plus they're delicious.
DOWNLOAD FREE PRINTABLE RAINBOW TREAT BAG TOPPER
Download the free mini rainbow treat bag topper in the box below. This is a free printable for you to download and print out. This free printable is for personal use only.
Free printable files are for personal use only and cannot be sold or redistributed.
This post contains affiliate links which means I earn a small commission from purchases you make.