Download a FREE SVG, DXF, or PNG file for a parentheses banner flag to make your own DIY Birthday Banner or Bunting.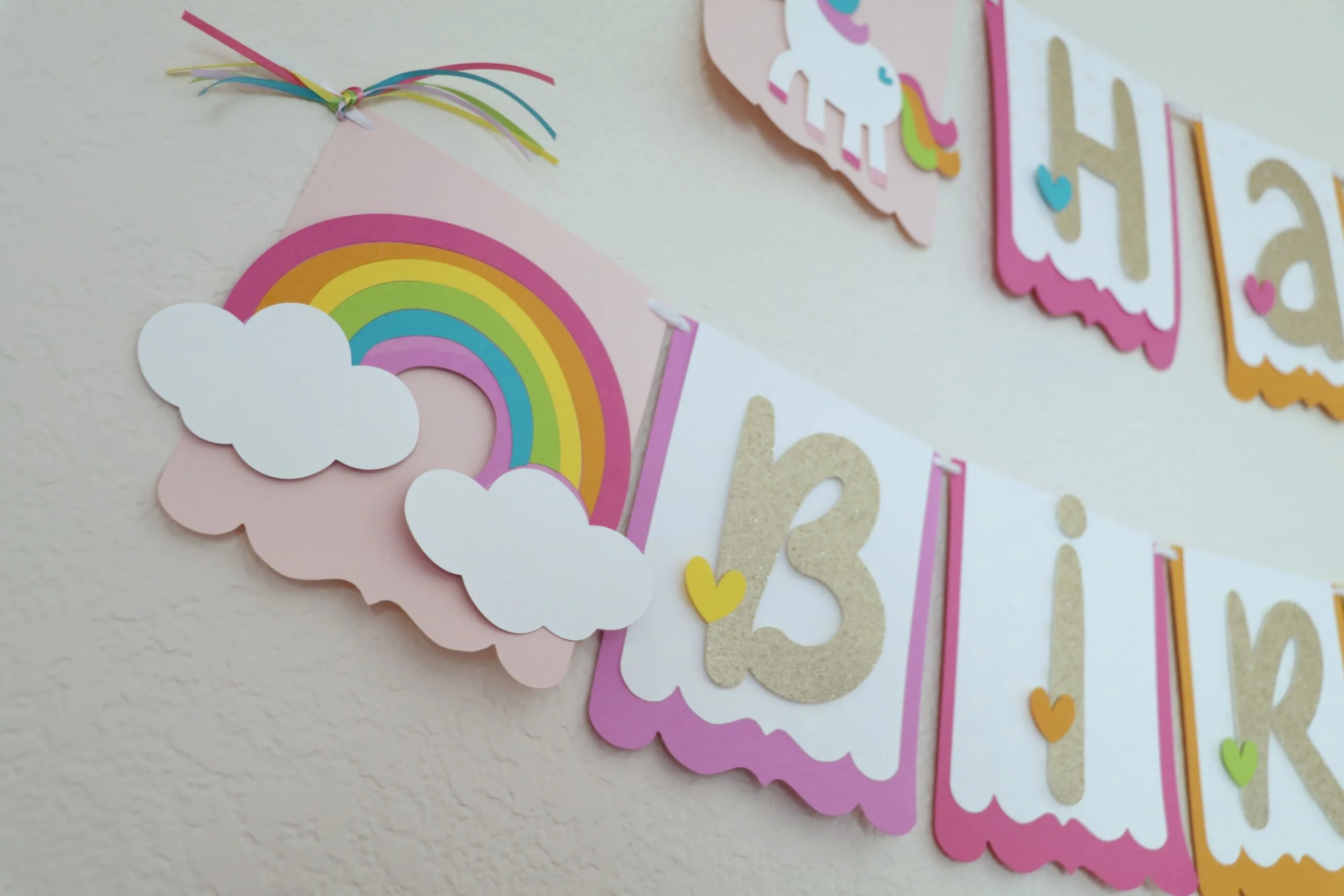 A few years ago I did a DIY post sharing how I made all of our daughter's unicorn birthday decorations with my Silhouette Cameo 3. The post has gotten a lot of views since then and I've had a lot of people reach out asking me about the parentheses banner flag I used on my banner.
The parentheses banner flag I made on my own, but since so may of you have asked for it I've decided to share it with you all. This is a FREE SVG file for the banner flags and can be used with Cricut and Silhouette cutting machines. I've added SVG, DXF, and PDF files for you to upload into the software of your choice.
Once you download the FREE SVG file for the parentheses banner flag you'll upload it into the software of your choice. I use a Cricut machine now and tested the banner out on my Cricut machine and it works perfectly!
How to Make a Birthday Banner
Chances are you'll be using this to make a birthday banner, right? This also works great for any party banners. Holidays, Weddings, Anniversaries, Showers, etc. Here I'll share how to make a birthday banner. I am using a Cricut machine, but the steps should be similar to the Cameo.
Download the Parentheses Banner Flag Template (download here)
Upload the SVG file into your software. I am using Design space so you'll:
Open Software
New Project
Upload (bottom left)
Upload Image
Browse (find the image on your computer and click it)
Save
Insert Image
Now that the file is loaded onto your Design Space Canvas you'll want to resize it to the size you need. I did my banner with the following sizes: the back offset piece is 5.5″ w by 6.5″ h in size. The smaller banner is 5″ w by 6″ h.
Copy and paste the file to make multiple of it.
Once you are ready to cut your file you'll grab your light blue Cricut mat and apply your cardstock to the mat. Turn your dial to the cardstock setting and cut your file.
Once all of your banners are cut out you'll start to attach them together. I used glue dots, but any crafting glue works too. I also like the elmer's crafting gluestick.
You can use a small hole punch to cut holes on the top side to run your string or ribbon through so you can hang your banner.
What Kind of Paper to Use for Birthday Banners
You'll want to use cardstock when making a birthday or any type of banner. Cardstock is thicker and sturdier, which is what you'll need. You can buy this at most stores with a craft section, office supply stores, and amazon. My favorite cardstock to use is the recollections brand at Michaels and it's often on sale.
What Kind of Glue to use for Birthday Banners
You'll want to use a glue that is going to stick for a long time and is sturdy. If you add a good amount of embellishments you'll need a strong glue. You can use a glue gun, a thin tip glue gun is good for banners.
When it comes to applying the banners together I like to use glue dots or crafters tape. When adding embellishments I'll use glue dots, hot glue, or crafting glue depending on what I am applying.
How to Get Dimension on Banners
Are you looking to add dimensions or layers to your birthday banner? If you look at my unicorn banner the letters pop out a little bit. To do that you'll use foam squares. Foam squares are similar to glue dots except they're thicker to add some dimension to your project.
Apply a few foam dots to the back of your letter and use that to attach your letters or other embellishments to your banner.