Looking for ways to use faux leather outside of hair bows and earrings? Cricut faux leather key fobs or keychains are cute, easy to make, and can easily be done with your Cricut machine. This tutorial comes with a Cricut keychain template for free.
When it comes to buying crafting materials I am a total hoarder. I have been buying cute faux leather for a while now and have been looking for ways to use it that doesn't involve earrings or hairbows. That's when I decided to try making faux leather key fobs.
How to Make Faux Leather Key Rob
In this Cricut keychain tutorial, I'll share how to turn fake leather into faux leather keychains.
What you'll need:
Faux leather – make sure to buy sheets big enough for your project size.
Key Fob or Key Chains
Cutting Machine, like Cricut
Optional – Rivets toolset.
Download SVG File at the bottom of this post.
What you'll do:
To make your key fobs you'll need cute faux leather, like the kind Pretty in Pink supply sells. You can find faux leather all over the place like on Amazon, Etsy, Cricut, and more. You can use plain colors or get extra cute and use glitter sheets or patterns. The possibilities are endless.
You can cut your leather out by hand, but I like to use my Cricut machine since it makes it easier. To use your Cricut machine you'll open design space and upload the FREE KEY FOB SVG. This file comes with 5 different Key Fob styles.
I made my keychain size a .90in w by 8in h, but you can choose whichever size you want. You'll want to make the width just a tiny bit smaller than your keyring size. Since mine was 1in wide I went with .90w. For the height, you can make it longer to fit around your wrist, but I went with a bit smaller since I don't wear my keys on my wrist.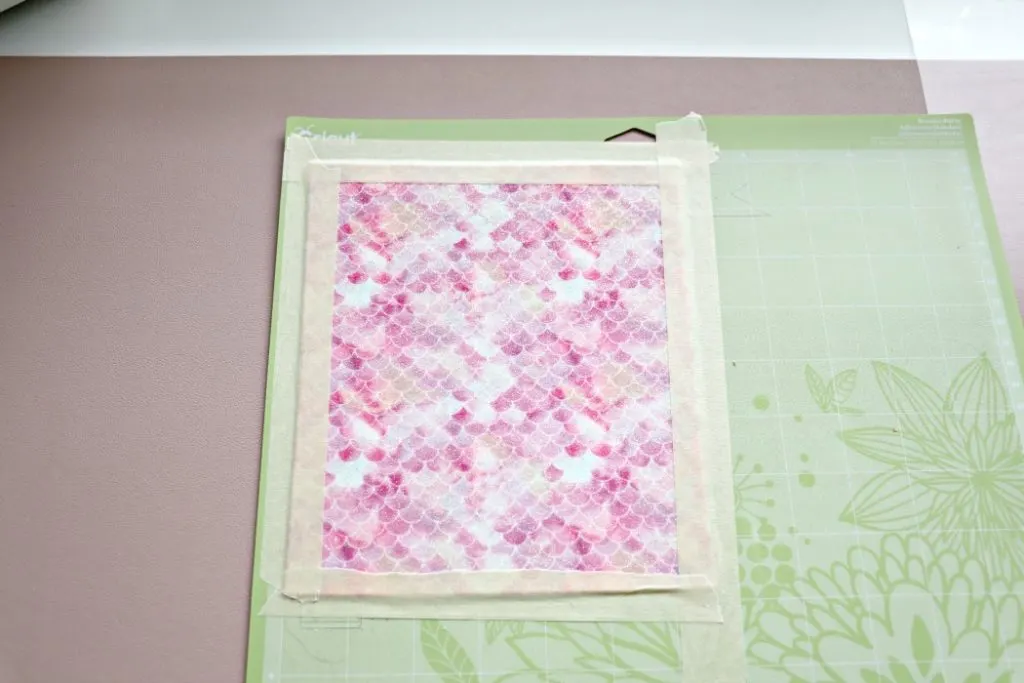 Once you have your sizing right you'll want to cut your design out. I place my leather on a green Cricut mat and tape the sides down well with masking tape, this ensures that the leather doesn't move during cutting.
Cut out your design using the Cricut Metallic Leather setting.
Once your design is cut out remove it from the mat and take the tape off.
Tip: After you cut your leather check your Cricut blade and clean it. I had small amounts (and sometimes big) of masking tape stuck to the blade and it started to get sticky.
For my keyrings, I went with a key fob bar kit I got from Amazon. It was really easy to use.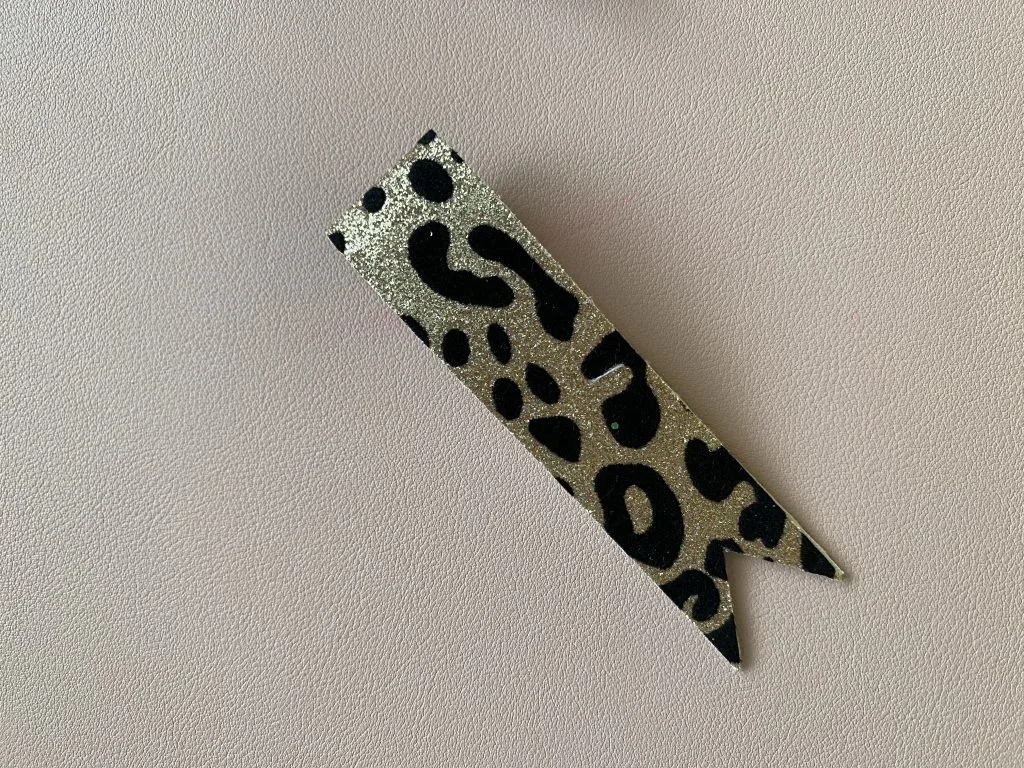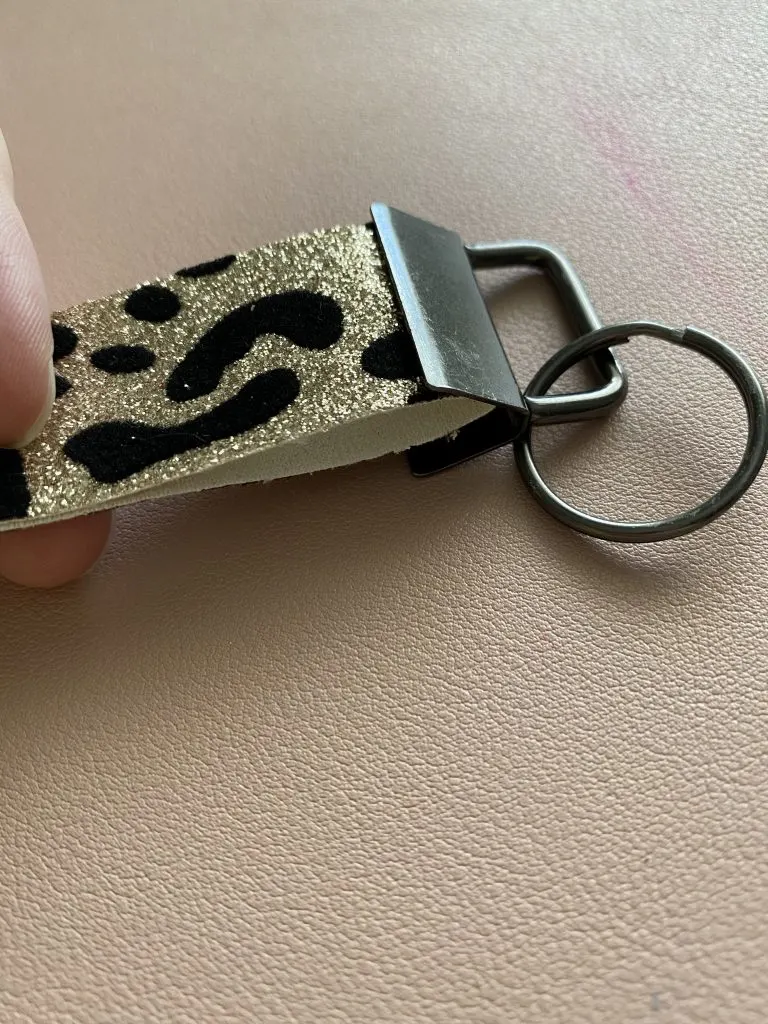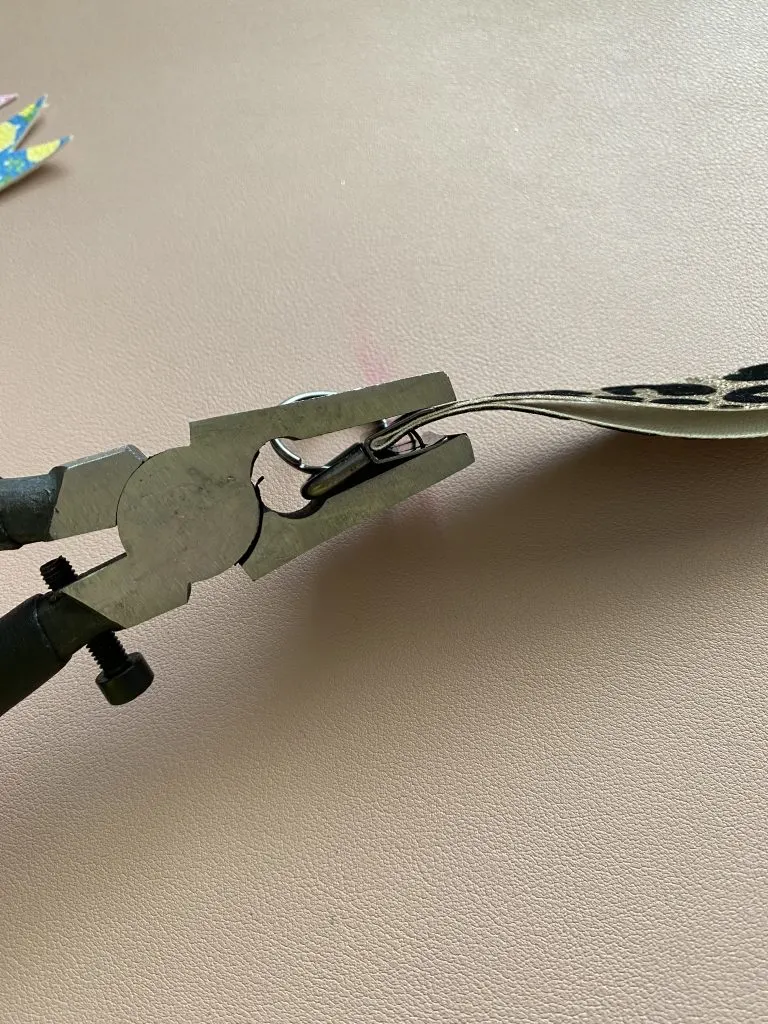 When I did the "loop" keychain I didn't use a rivet, but for the other 2 styles, I added a rivet at the bottom of the leather. If you want to use a rivet follow the steps below.
Fold your leather in half and place the bottom edges into the key fob bar and make sure the leather is straight and touching the bottom. Use the tool to close the key fob keychain.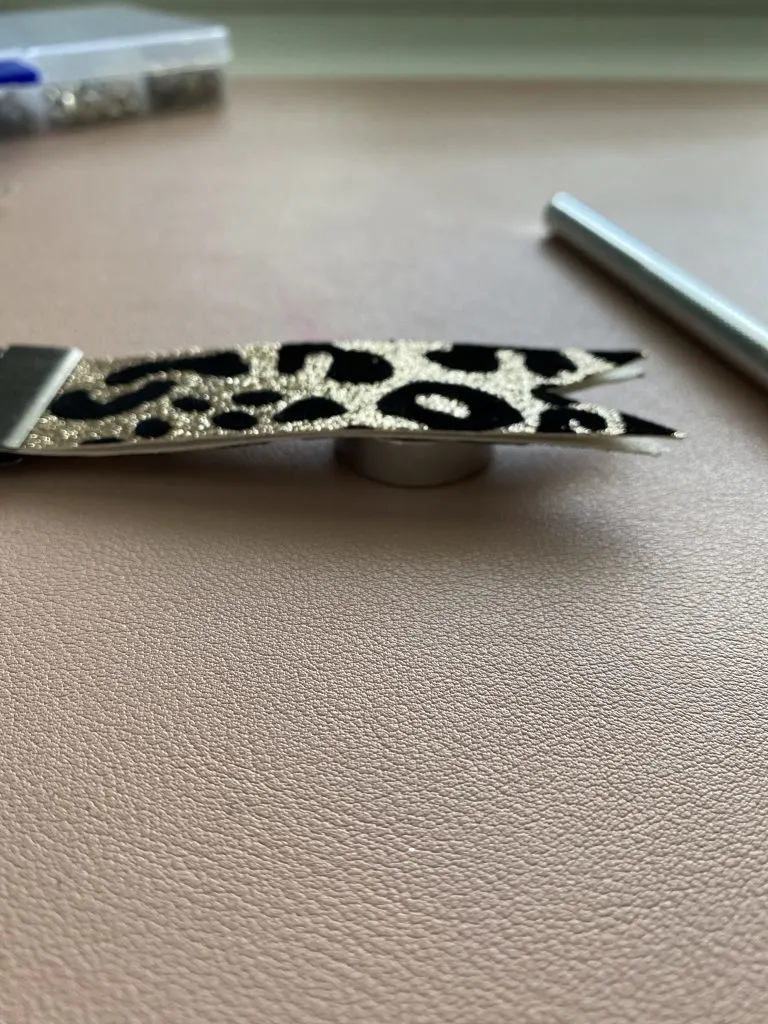 Since I wanted my leather closed at the bottom I added a rivet using a rivet kit I got from Amazon. To use the rivet kit you'll make sure your leather is evenly lined up and use the punch tool to cut a hole in the leather.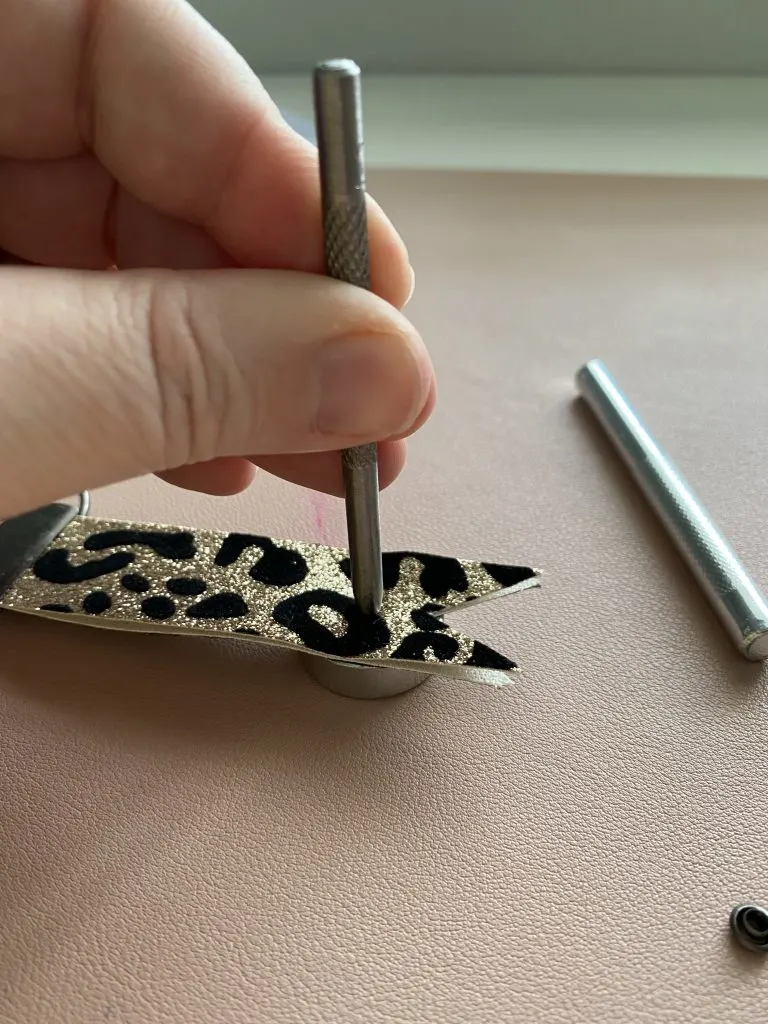 Place the leather over the anvil (circle piece) and place the punch tool over where you want to make a hole. With one hand I hold the punch tool and the other I hit it hard a few times with a hammer. Remove the punch tool and you should have a hole going through both sides of the leather.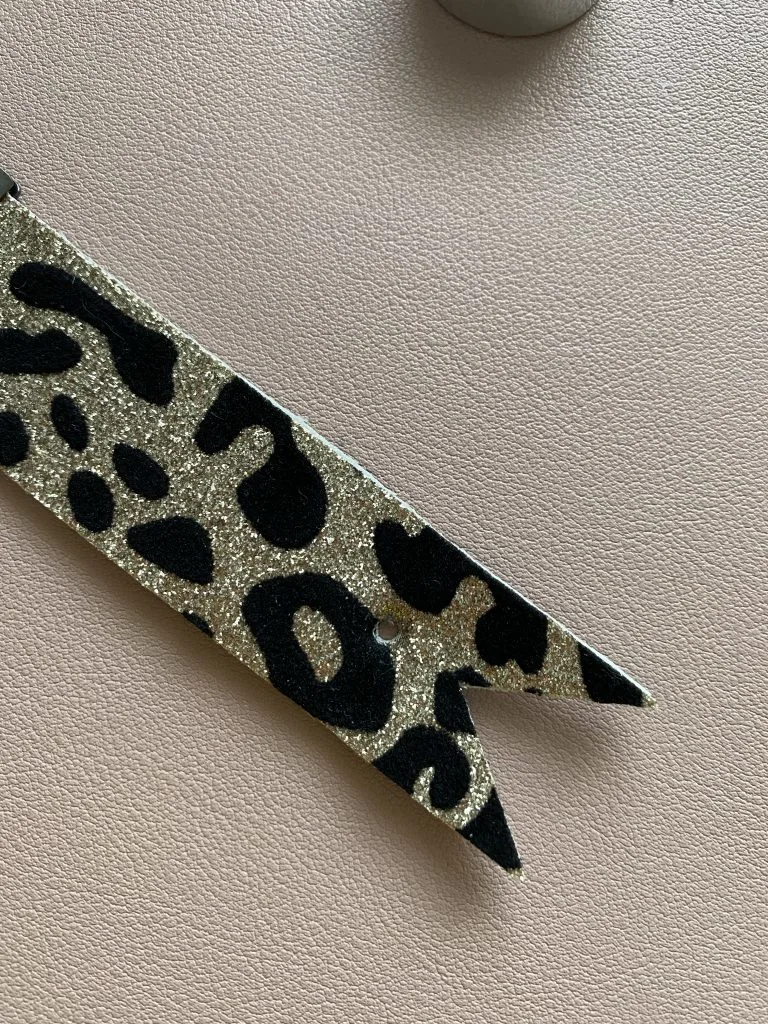 Once you have the holes you'll need to place the rivet. Place the post (longer piece) through one side and place the cap on the other side. Place the post side down onto the anvil and use a hammer to connect the cap and post together.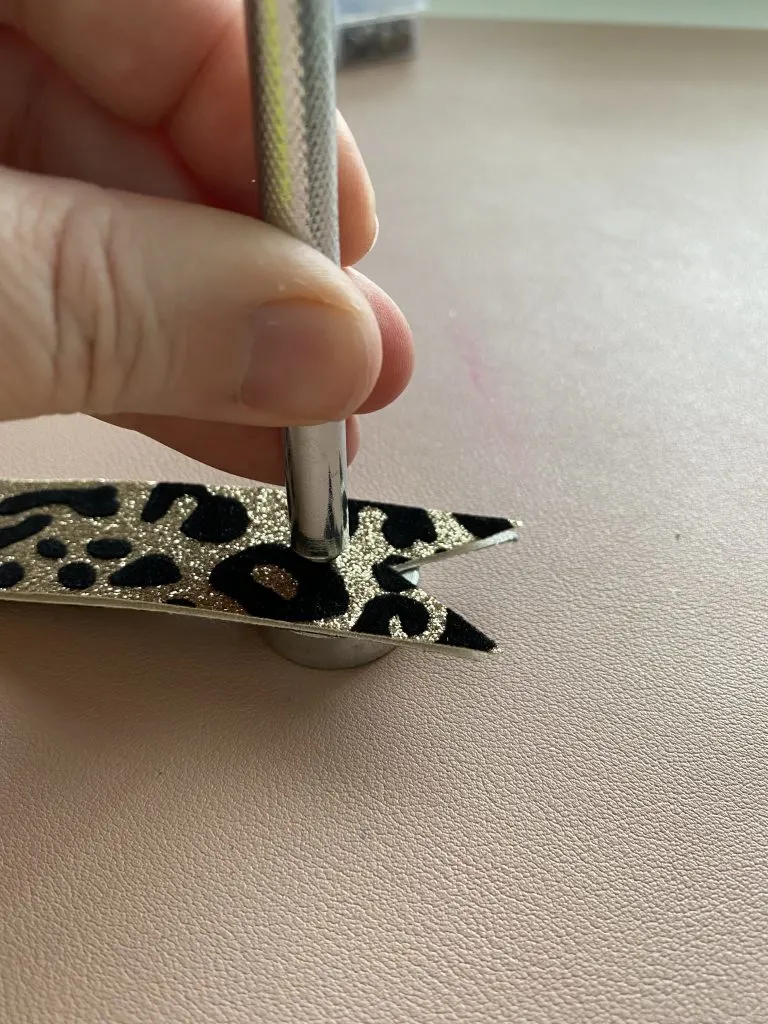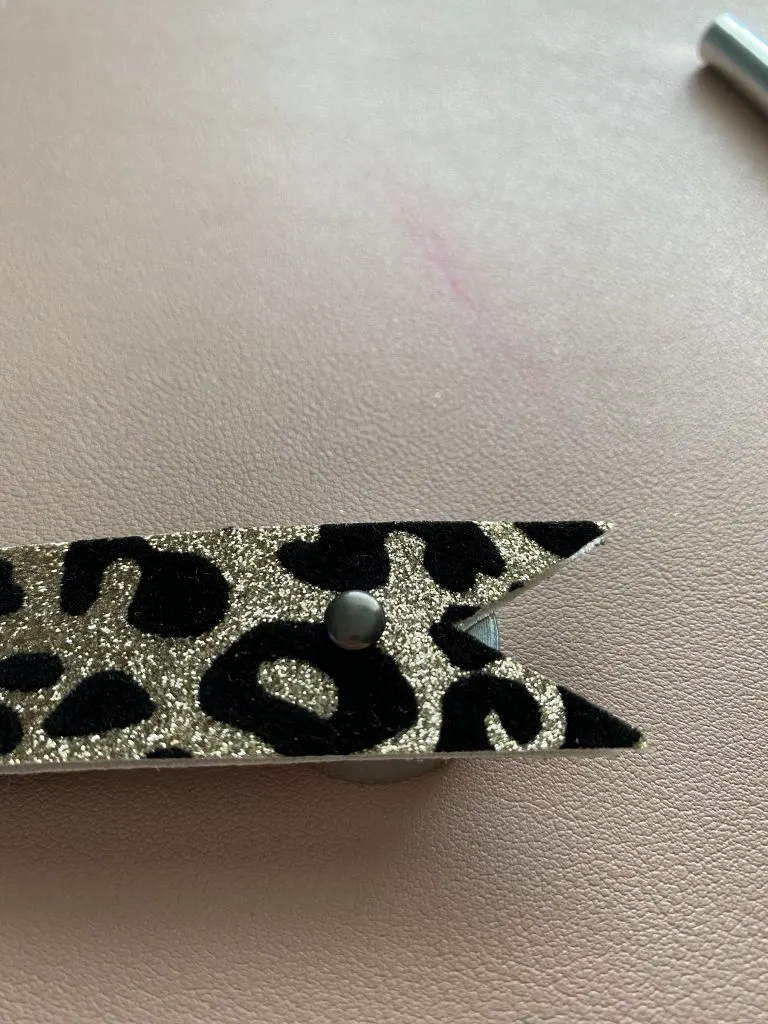 Now you're done! Once you get the hang of making them they are so quick and easy to make.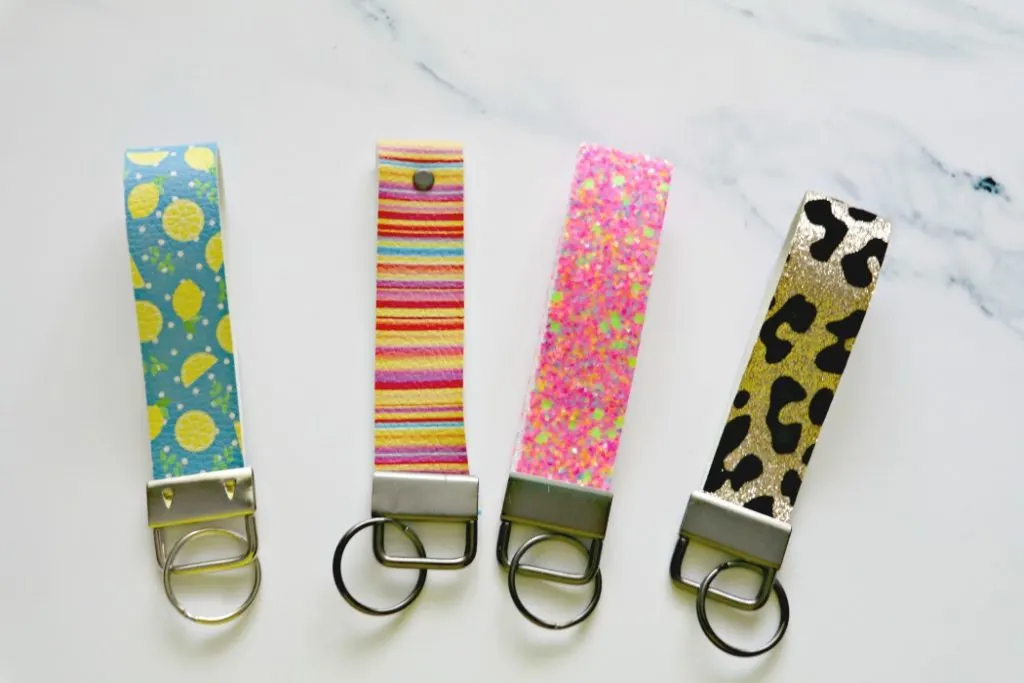 These faux leather key fobs or key chains are perfect as gifts, to sell, or to use for yourself, and are so cute!
Download Key FOB SVG Files
Want to grab your free Key Fob SVG? Just fill out the box below and you'll be redirected to a site to download your files!
Free files on The Denver Housewife are for personal use only and cannot be sold or redistributed without permission.