Cricut announced a new cutting machine and it's like a mini Cricut. There are a variety of Cricut types and the Cricut Joy is the newest Cricut cutting machine that will be released on March 1, 2020, with a price point of $180. The Cricut Joy's size is just 5-by-8 inches and weighs less than 4lbs, which is a lot smaller than the Explore Air 2 and Cricut Maker. It's perfect as a companion to the bigger Cricut machines or on its own.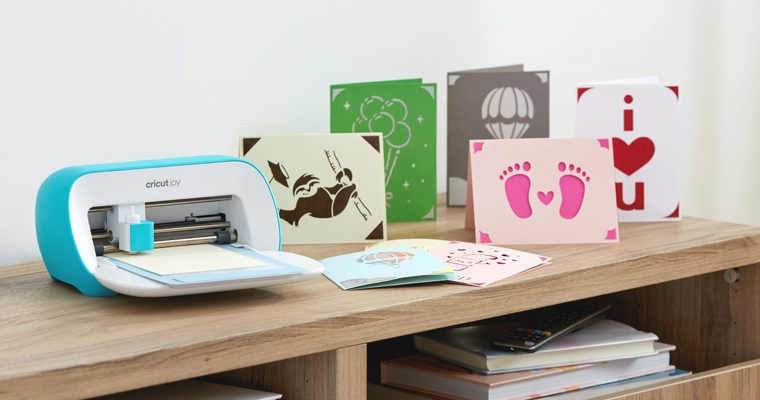 The Cricut joy takes up minimal space, so it's perfect for someone who doesn't have a craft room or lots of storage space. The small design is perfect for moving it around your home to craft in different spots or taking it on the go. The Cricut Joy is the smallest cutting machine on the market and will fit perfectly anywhere in your home like on a bookshelf.
Unlike the larger Cricut machines, the Cricut Joy can cut materials without a mat (the first of the Cricut machines to do this) and can cut designs up to 20ft long. The Cricut Joy can cut single designs up to 4 ft long and repeated designs up to 20ft long. The Cricut Joy allows you to make projects in under 15 minutes, YAY for quick crafting.
The Cricut Joy has it's own mats, pens, and a blade that cannot be used with other Cricut Machines and other Cricut tools cannot be used with the Circut Joy.
What Can the Cricut Joy Do
The Cricut joy can cut and write or draw.
What Materials Can the Cricut Joy Cut
The Cricut Joy can cut 50+ materials such as:
Iron-On
Vinyl
Infusible Ink
Cardstock
Paper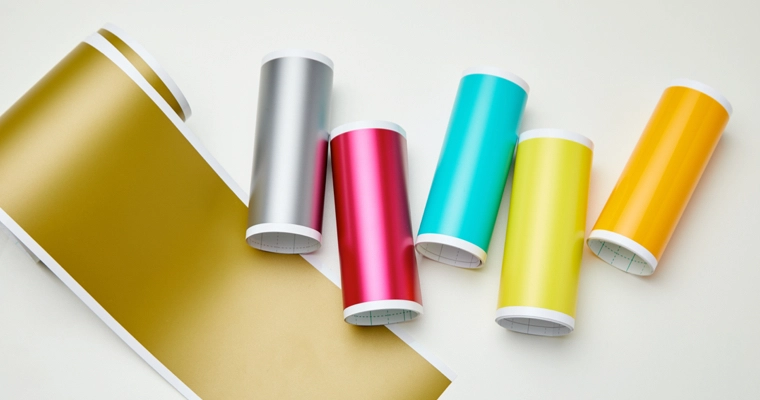 The Cricut Joy can cut regular materials and comes with smaller sized mats, but it also has its own line of Smart materials made specifically for the Cricut Joy that have a thicker backing and won't require the use of a mat.
What Can You Make with the Cricut Joy
You can make decals, cupcake toppers, cards, gift tags, decor, T-shirts, labels, cutouts, custom stickers, custom decals for water bottles, stickers for luggage tags, labels for spice jars, monograms for throw pillows, and so much more. The possibilities are endless with Cricut.
How Does the Cricut Joy Work
Similar to the larger Cricut machines you'll use design space to create your designs. You can either use the mobile app or desktop app to create designs. You'll need to connect the Cricut Joy via Bluetooth to your device.
There are no cutting buttons on the Cricut Joy. When you load your material the Cricut Joy can sense it and automatically loads it into the machine, measures it to make sure there is enough material for the project you're making, and once you hit GO in design space it will start getting to work.
What Does the Cricut Joy Come With
Cricut Joy machine
Power adapter and cord
Cutting blade with housing
Cutting mat, 4.5″ x 6.5″
50 ready-to-make projects accessible online
Fine Point Pen, Black (0.4 mm)
Materials for a practice cut
About the Cricut Joy
Compact 5″ x 8″ and less than 4 lb. size that sets up instantly and packs away easily
Accurate precision and speed of the company's full-size smart cutting machines at 75 percent less weight and one-third of the size
Buttonless design with Bluetooth® wireless connectivity for designing and cutting
Free, downloadable design app, Design Space®, for Mac, Windows, iOS, and Android
Cuts over 50 different types of materials
Access to nearly 130,000 images and ready-to-make projects in Design Space
Load-and-go sensor technology that facilitates automated loading of materials and detection of material length (a feature not available on any other machine in the market)
Housing unit to hold blade or pen tools
Off-axis motor design that reduces the carriage size by 73 percent