Toy Story 4 opens in theaters today and I hope all of you go and see it. For the adults it's closure to our childhood movie and to kids it's a fun movie to watch. Our family watched it a few weeks ago at a screening and loved it. So much that I want to go back and see it again.
To celebrate the release of Toy Story 4 they have a fun activation going on where they're touring the US and stopping in cities to celebrate the release of Toy Story 4 with a Toy Story RV. A major plot in Toy Story 4 is the family taking an RV road trip, so the RV tour is the perfect way to celebrate.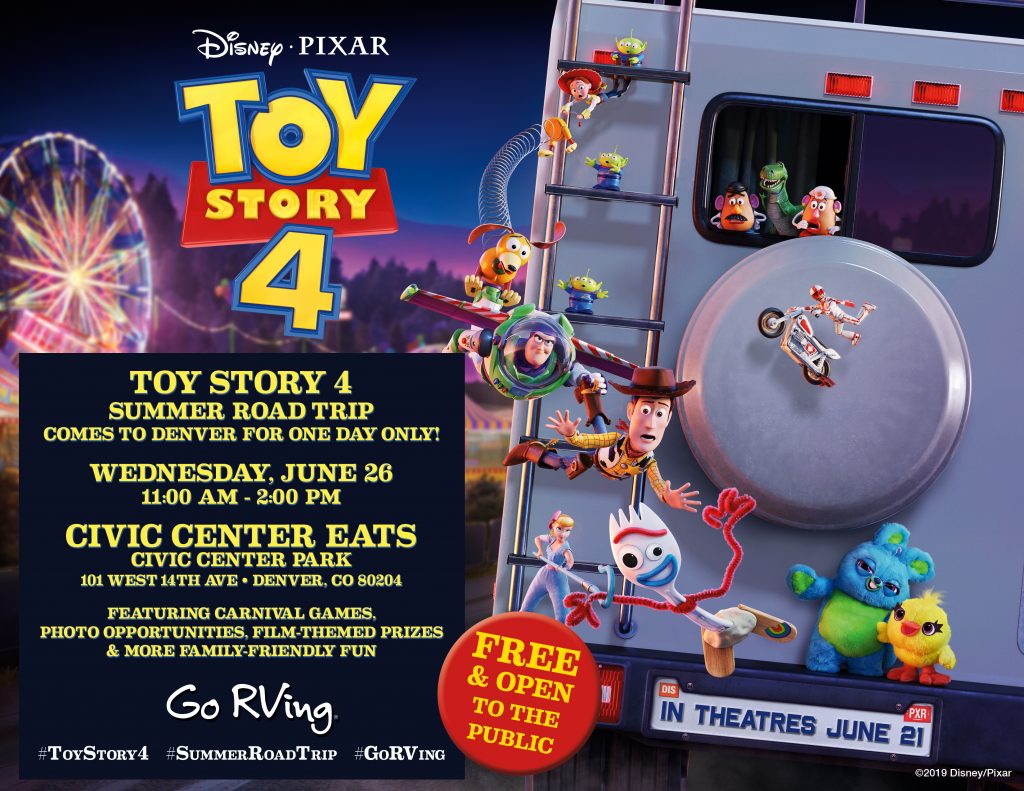 Giveaway
TOY STORY 4 is in theaters now! And we are giving our followers the chance to win free tickets to see the film at a theater near you! Send your full name and birthdate to DisneyDenver@gmail.com and enter subject line "HOUSEWIFE TOY STORY" for your chance to win a family four-pack of Fandango tickets! Enter by Wednesday, June 26th at 2 pm mst for your chance to win.
Denver Toy Story 4 RV Stop
That's not all… Denver is on the map for the amazing TOY STORY 4 RV Tour, and the free and fun experience will be at Denver Civic Center Eats on Wednesday, June 26th from 11-2! Bring the family out to get the full TOY STORY experience and bring home some fun souvenirs AND loads of free tickets!
Denver is one of the last cities on the tour, but they'll also be stopping at:
June 28 – Salt Lake City, UT 11:00 AM–3:00 PM, Megaplex Theatres at Thanksgiving Point, 2935 North Thanksgiving Way, Lehi, UT 84043.
June 30 – San Francisco, CA (location unknown at this time)