If you're like my girls and LOVE Unicorns then you are going to then this quick, easy, and cheap DIY Floral Unicorn Pumpkin craft for Halloween.
When it comes to Halloween decor we like to stick with cute, instead of spooky. Since my girls are obsessed with Unicorns this year, and I know many others are as well, I knew that a Unicorn Pumpkin was a must for our Halloween decor this year. And when it comes to pumpkin decorating my kids like to skip the carving and stick to stickers, paint, and other craft related ways to decorate their pumpkins, which is why the Floral Unicorn Pumpkin is the perfect way for the kids to decorate their pumpkins this year.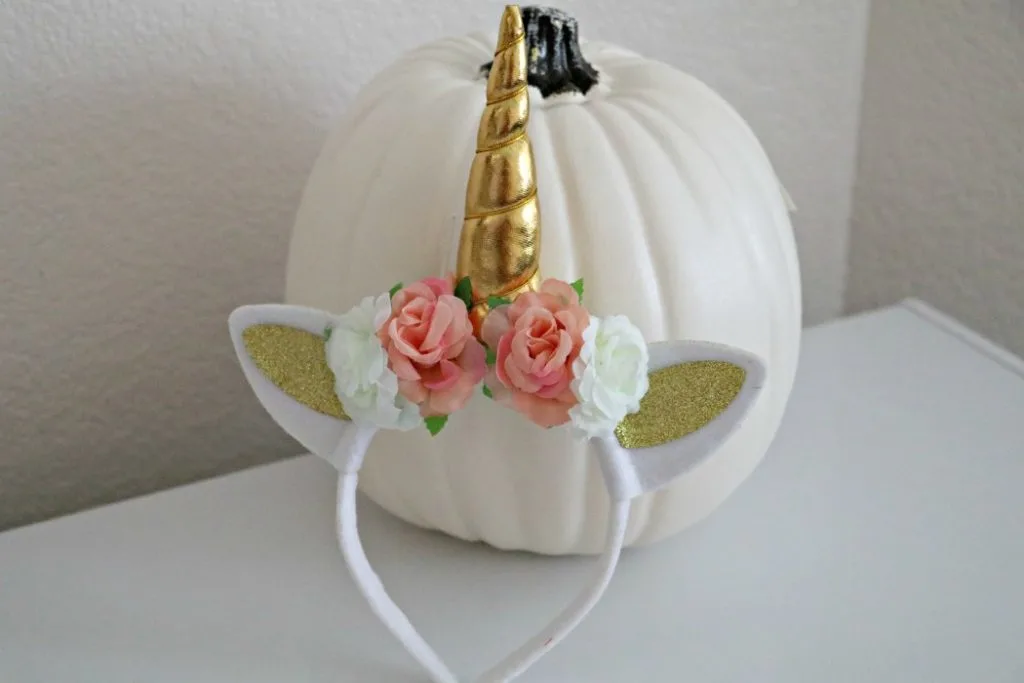 To make this easy Floral Unicorn Pumpkin you'll need:
Craft pumpkin
Glue, preferably mod podge
Paint brush
Scissors
Hot glue gun
Black paint or permanent marker
To make this pumpkin you're going to mix mod podge and glitter together. I made mine a little runny so it was easier to get the glitter on. You'll take your paint brush and put it into the glitter mixture and apply around the top portion of the pumpkin. The mod podge will dry clear and makes as a great adhesive for your glitter. Mod Podge dries pretty quickly, but I left mine dry for a few hours. Once dried you'll want to start taking apart your headband.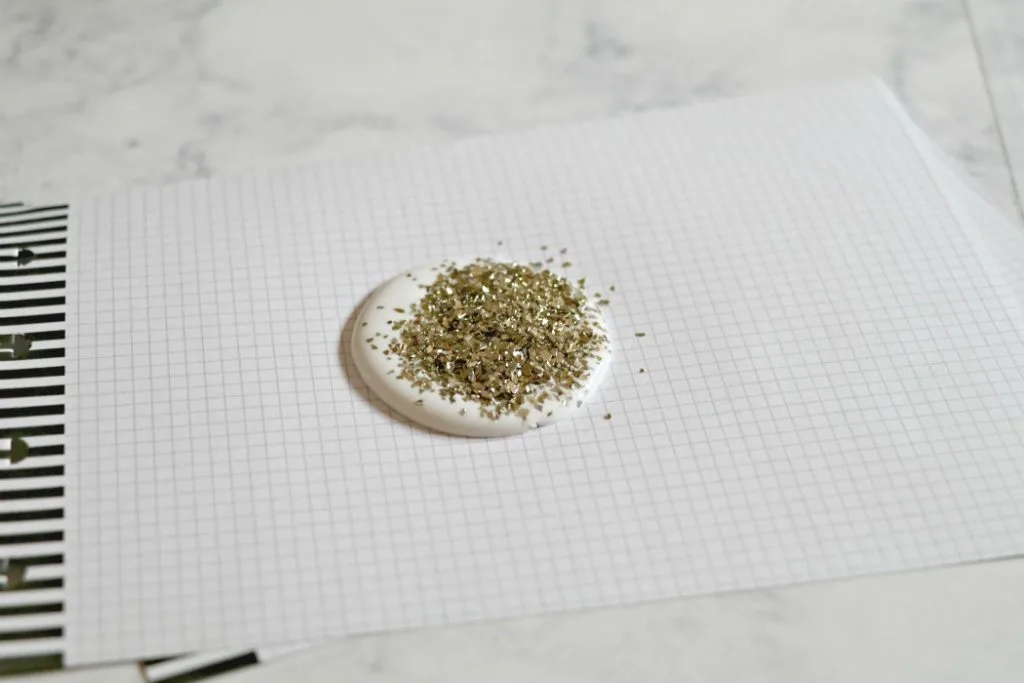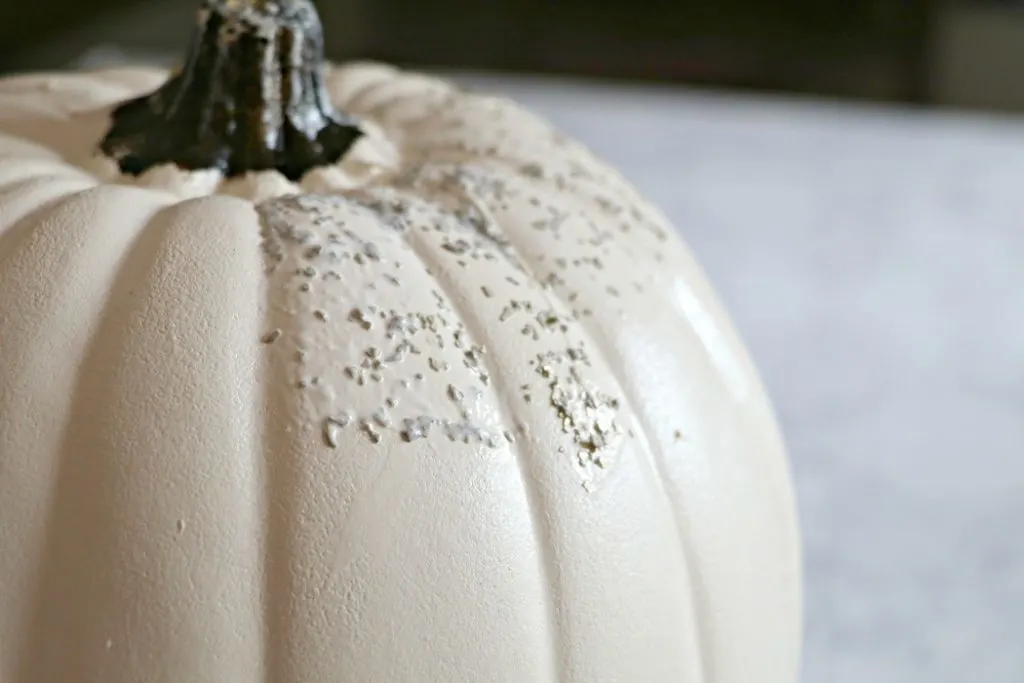 To take apart the Unicorn headband I cut off the fabric end of the head band and took it off the plastic headband.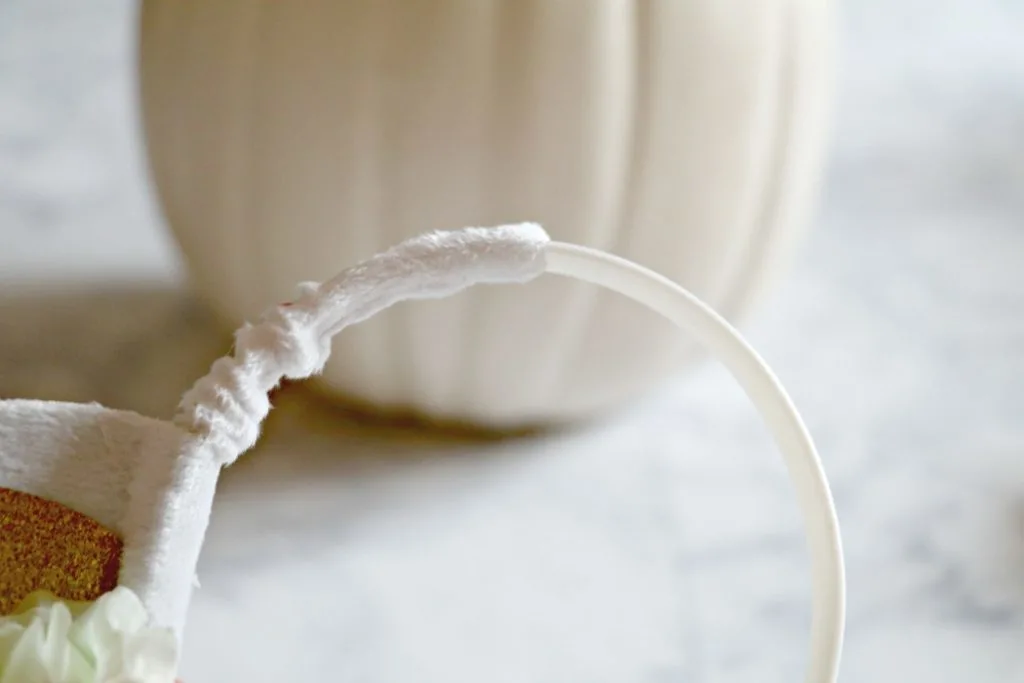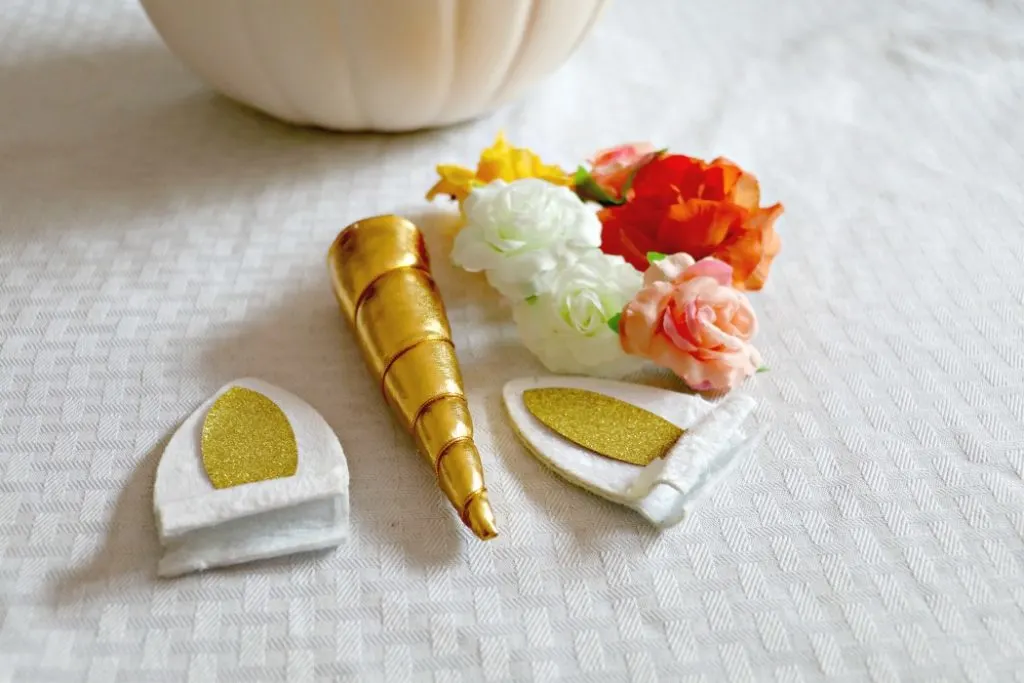 The flowers were hot glued on and I was able to easily peel them out of the glue, same as the horn. To get the ears off I cut a slit along the bottom of the ear and peeled them off of the fabric.
I then hot glued the bottoms of the ears back together. The horn had a piece of the cardboard on the bottom side that I took off and I took a small amount of the stuffing out, so I could get it onto the pumpkin stem easier.
Next you'll hot glue the ears on.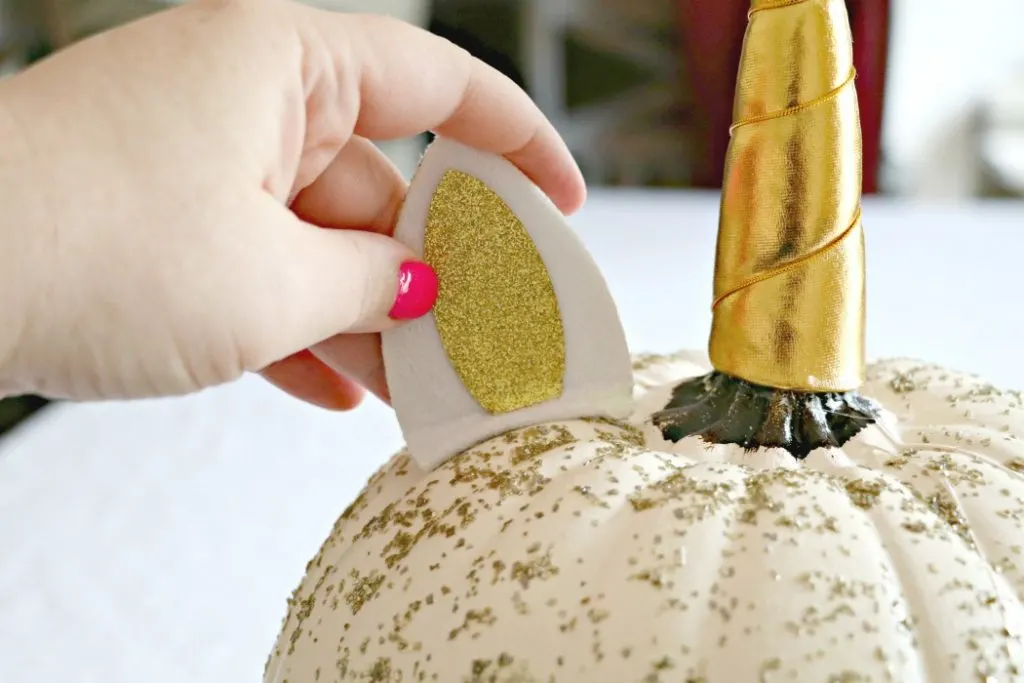 Then you'll add your flowers. I used a combo of the flowers from the headband and added an orange and yellow flower I got from my local craft store. I wanted to give the pumpkin for of a Halloween/Fall touch. My local Michael's had small flower bunches for $1 each and they were perfect for this Floral Unicorn Pumpkin. To apply the flowers just hot glue them down.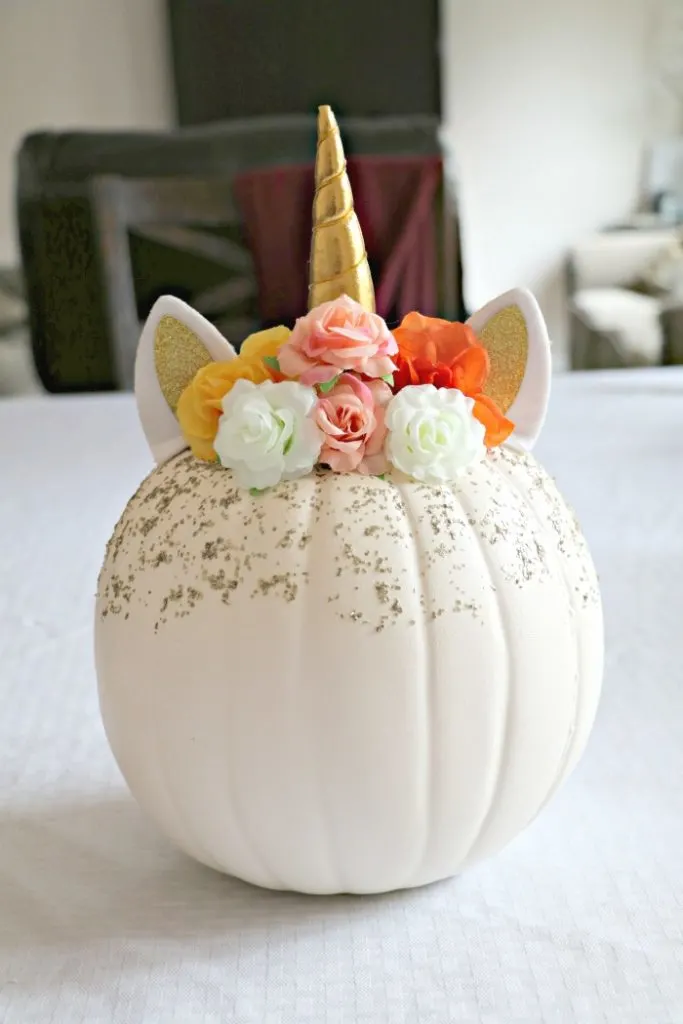 Finally you'll need to add some eye lashes to your Unicorn. I used my kids craft paint, but a sharpie works too! My free hand drawing is terrible, but my kids don't seem to care.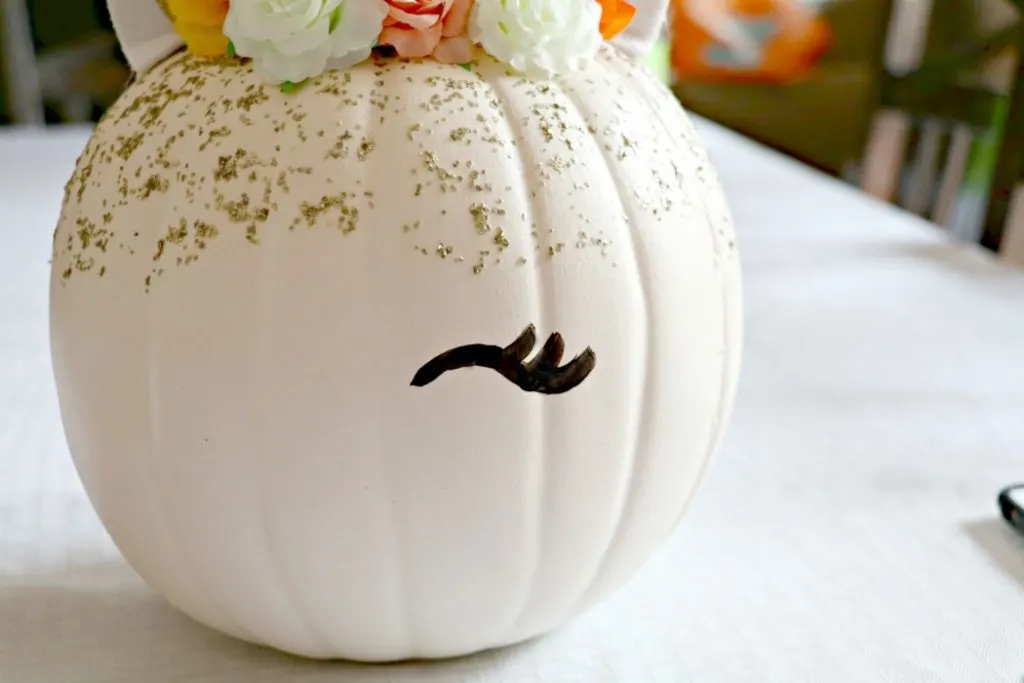 Let your eye lashes dry and you're all done! The best part about this pumpkin is you can work with any color theme you want. Rainbows, Black, ect. Just pick out the right Unicorn headband and you're set!