This post was sponsored by the National 4-H Council as part of an Influencer Activation for Influence Central and all opinions expressed in my post are my own. #4HNYSD #InspireKidstoDo
Growing up my best friend did 4-H, so I've learned a little bit about what they do through her, but I still didn't know too much about 4-H and all the things they offer. I've recently been looking at different activities to put my kids in and looked into 4-H and I wanted to learn more about all they offer kids. My best friend's kids are now doing 4-H and it's so fun watching them raise their guinea pigs, chickens, and sheep, showing them, and watching as they get their ribbons, but it has to be more than just raising and showing animals, right?
4-H is a lot more than just raising and showing animals. Their whole approach is hands on learning for kids – learning by doing. Kids complete hands-on projects in areas like health, science, agriculture, and citizenship. They help kids to grow life skills like confidence, independence, resilience and compassion through stages and developed through experiences, not instruction. The goal is to help kids grow and give them the tools they need to live and lead their best life. Kids will learn things like: bicycle care and safety, consumer education, aerospace and model rocketry, go-carting, and animal sciences – to name a few.
For the month of October 4-H is encouraging kids to take an interest in STEM learning. 4-H National Youth Science Day (4-H NYSD) is an annual initiative to inspire kids everywhere to take an interest in STEM topics (science, technology engineering and math) through hands-on doing. It is celebrated nationally on October 1st, with events taking place throughout the month of October in classrooms, clubs, homes, and after school spaces across the country.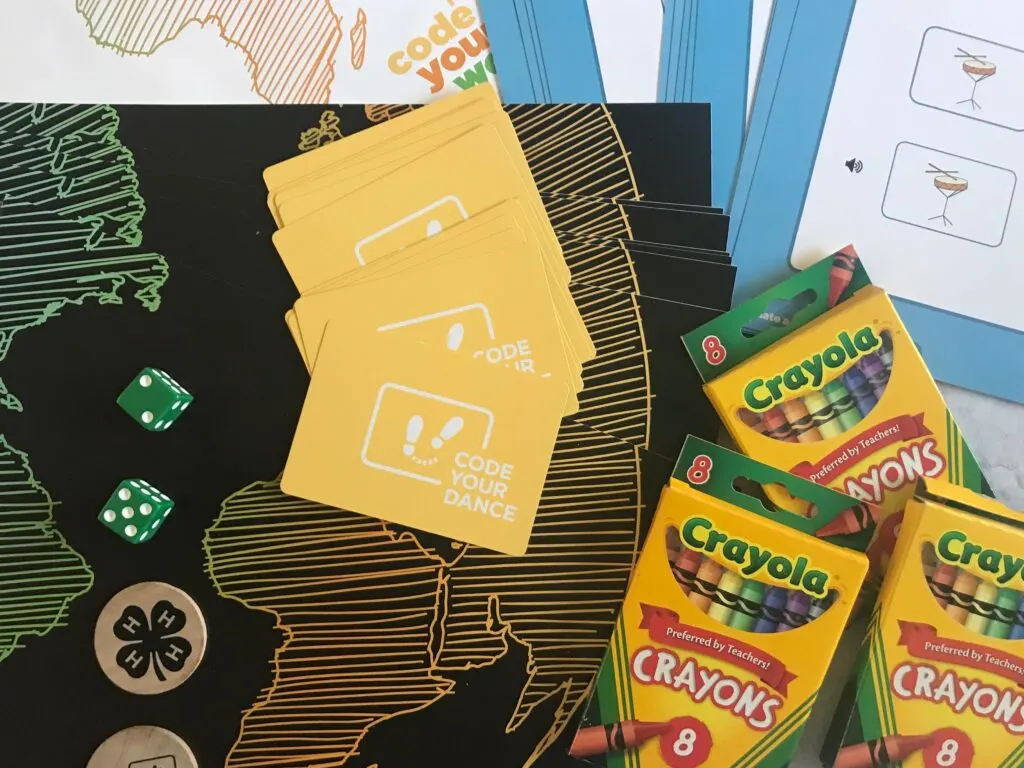 Code Your World is the 2018 4-H National Youth Science Day challenge that invites kids to get involved in computer science (CS) through fun hands-on activities. Developed by Google and West Virginia University Extension Service, the four-part challenge teaches kids CS skills through fun topics like digital animation, gaming and dance. Today and in the future, there is a tremendous need for young people to know how to create technology, not just consume it. Computer science is an integral part of the modern world—from the food we eat, to the gadgets we love, to medicine we depend on and the music we enjoy. Learning CS will not only help young people understand the world around them, it will help them find success in the careers of tomorrow.
I am loving the mission 4-H has for our youth and it's something I'll sign our oldest up for next year when she hits the 4th grade, but for now we are enjoying our Code your World Kit and learning how to play it as a family.