If you're looking for an easy week night dinner that can be prepared and thrown together quickly then Slow Cooker Mozzarella Stuffed Turkey Meatballs are for you. Healthier, Easy, and Delicious on busy nights. Thank you to BabbleBoxx.com for sponsoring this post on behalf of New RAGÚ® Simply Chunky Marinara Pasta Sauce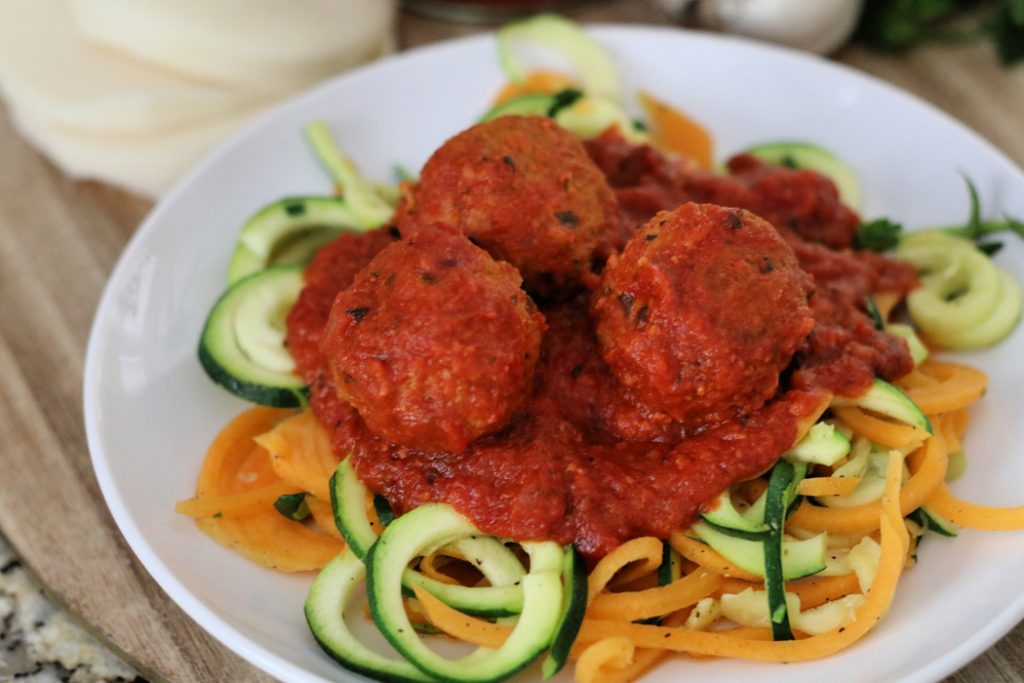 Pasta is one of our families favorite meals. When I ask the kids what they want for dinner it's either Pasta or Tacos. Luckily for me both are pretty easy to put together on busy weeknights and they're dinners I know my kids are going to devour, which is always a good thing. One of my favorite things about pasta nights is I know the kids are loading up on their veggies since marinara sauce, like New RAGÚ® Simply Chunky Marinara Pasta Sauce, is loaded with veggies.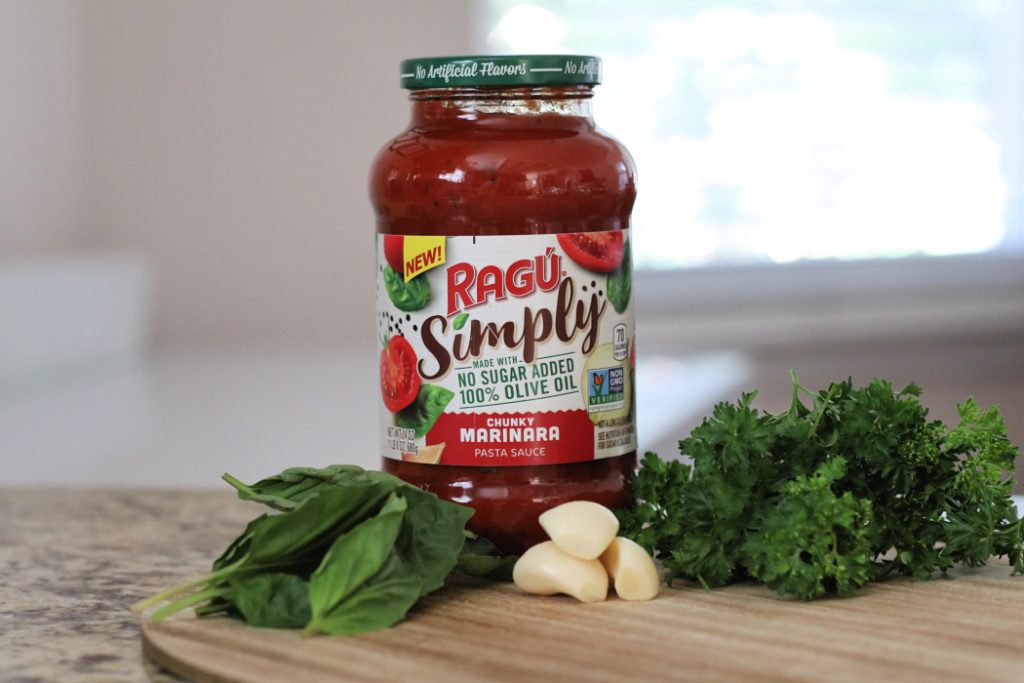 When it comes to marinara sauce I use RAGÚ since it makes dinner making so much easier. It's made with 100% olive oil, each bite is filled with plump tomatoes, onions, garlic and spices in the NEW RAGÚ® Simply Chunky Marinara Pasta Sauce, and it's simply delicious. When using premade foods I like to try and stick with ones that have no added sugar and real ingredients that I can pronounce and I know what they are. New RAGÚ® Simply Chunky Marinara Pasta Sauce fits that bill and I'm loving the simple, but delicious flavor.
In recent years I have switched a lot of our meals to ground turkey and it's something my family hasn't even noticed. Ground turkey is a great replacement for red meat, healthier for you, and when flavored properly you barely even notice a difference. Our meatballs also made the switch and to kick them up a knotch I like to stuff them with mozzarella. They're easy to throw together, can be left alone in a slower cooker, and they're perfect for making in big batches and freezing for later use.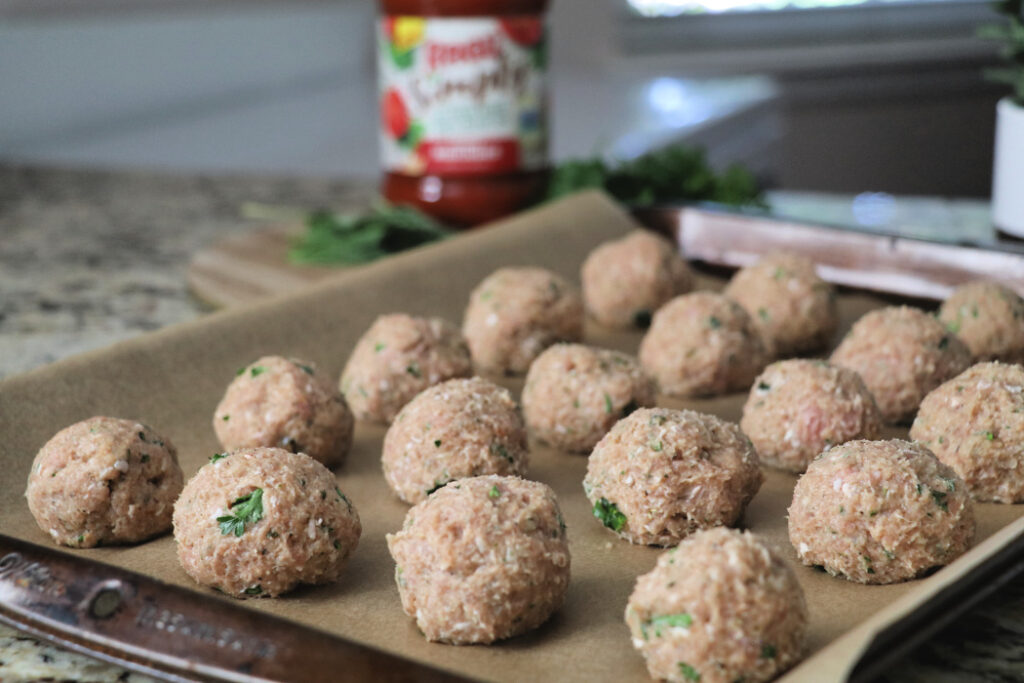 To make your meatballs you're going to combine ground turkey, egg, Italian seasoned bread crumbs, salt, pepper, Italian spices, and garlic together.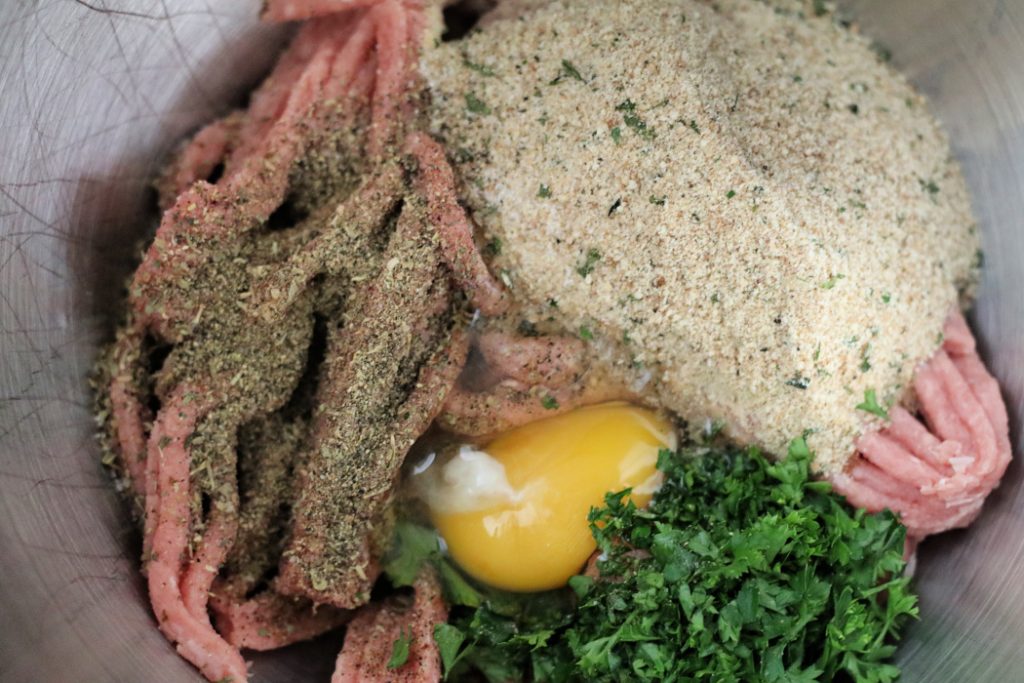 Once all of that is combined you're going to make your meatballs. I like to use a cookie scoop so all of my meatballs are about the same size. Once you have your meatball press the center down with your thumb to make an indent in your meatball and add a small cube of mozzarella, about a half inch in size.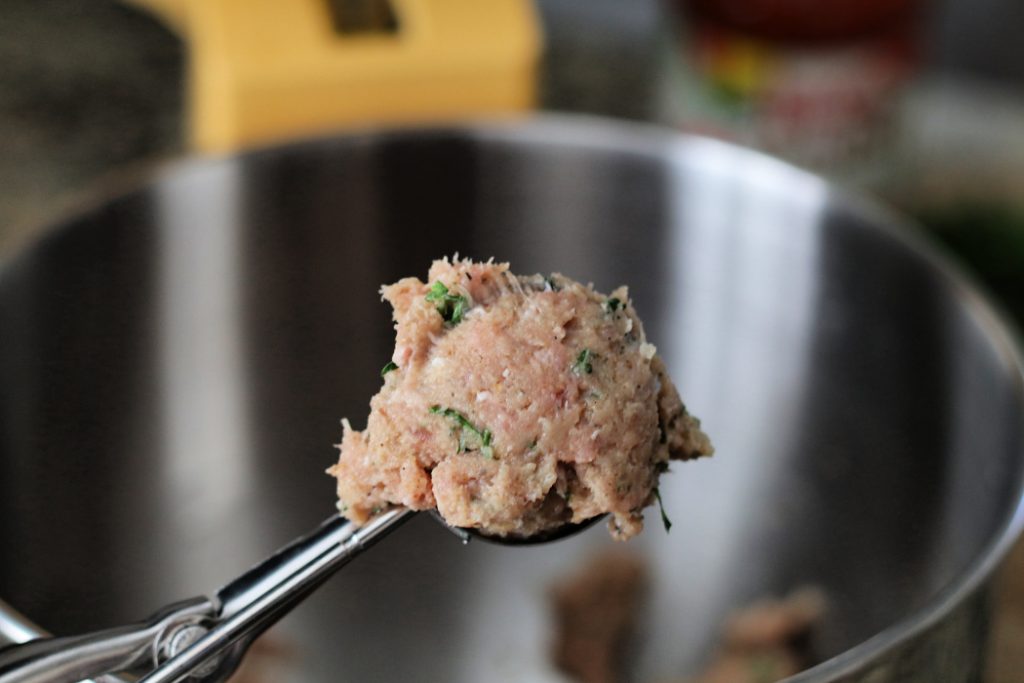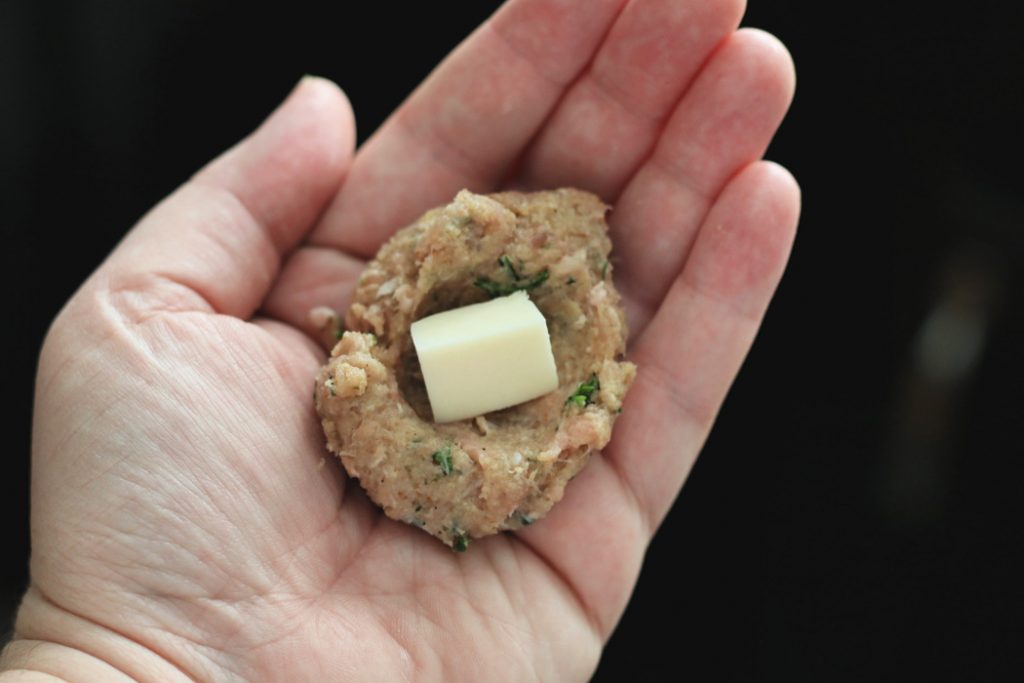 Form the meatball around the mozzarella cheese and make sure to roll it back up well. Place into slow cooker and pour New RAGÚ® Simply Chunky Marinara Pasta Sauce over meatballs. Cook on low for 6-8 hours or high for 3-4 hours.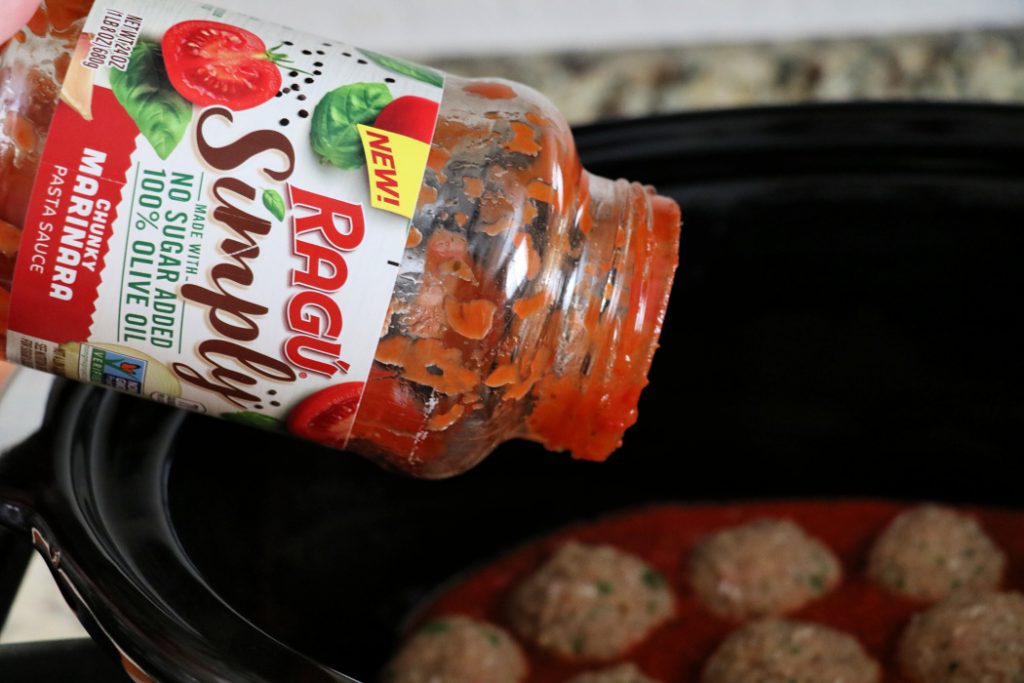 When you're done serve over zoodles or spaghetti.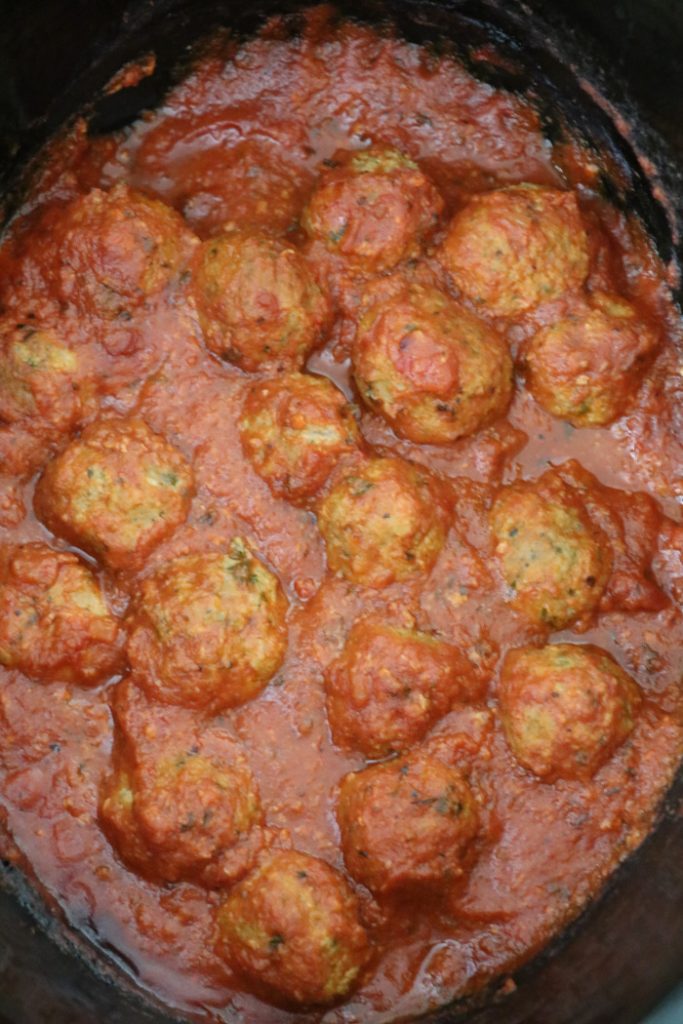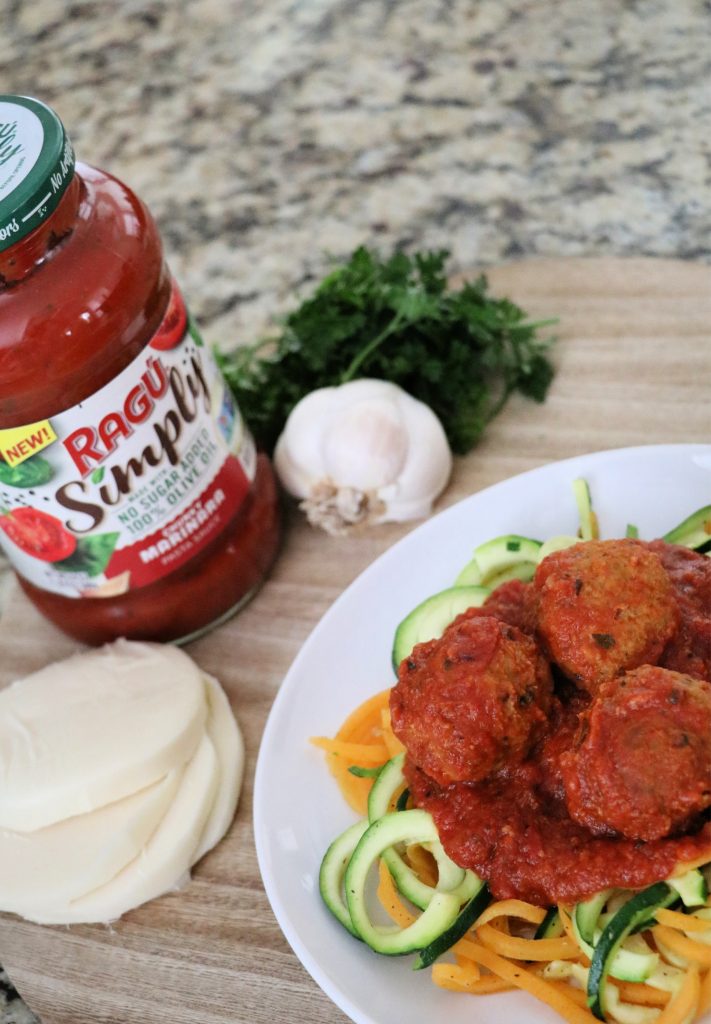 These could also be cooked in the oven. Preheat oven to 375 and cook for about 15-20 minutes or until center reads 165 degrees on a meat thermometer.
Mozzarella Stuffed Turkey Meatballs
2018-09-21 21:20:03
Serves 4
Ingredients
1 lb ground turkey (could also use beef)
1/2 cup Italian seasoned dry bread crumbs
1/4 cup chopped Italian parsley
1 egg, beaten
1/2 cup water
1/2 tsp kosher salt
2 cloves garlic
1 tbsp Italian seasoning
3-4 gloves garlic, minced
Mozzarella, cubed into 1/2 inch cubes, 18 cubes
1 jar RAGÚ® Simply Chunky Marinara Pasta Sauce
Instructions
Combine ground turkey, Italian bread crumbs, parsley, egg, water, salt, pepper, garlic, and Italian seasoning together well.
Chop mozzarella into 1/2 inch cubes, about 18
Use a cookie scoop or about 1 1/2 tablespoons of ground turkey mixture to make meatballs.
Take a mozzarella cube and push it into center of meatball.
Form meat around mozzarella and form into ball.
Place meatballs in slow cooker and cover with jar of RAGÚ® Simply Chunky Marinara Pasta Sauce.
Cook on high 3-4 hours or low for 6-7 hours.
The Denver Housewife https://www.thedenverhousewife.com/