Mississippi Pot Roast is the easiest pot roast recipe you'll ever make. With just 5 ingredients you dump it and forget about it in a slow cooker. Several hours later you have a moist and flavorful pot roast ready and waiting for you.
I love anything that I can toss in my slow cooker and forget about. Bonus points for when there is no prep work and this Mississippi Pot Roast is just that. You toss everything in a slow cooker and forget about it, but you will be tortured all day by it's delicious smell. I've heard so many rave reviews about it that I finally broke down and gave it a try. It's very easy to make, will leave you wanting more, and is great for the whole family.
We had this for the first time for dinner and it was amazing. Some of the best pot roasts I've ever had and the whole family loved it. The kids asked for more (which is rare) and the hubby said it was really good too. It does come out a little salty, so make sure to use unsalted butter and pair with a side that isn't salty.
What is Mississippi Pot Roast
Mississippi pot roast is a pot roast recipe that uses just 5 simple ingredients to make a moist and flavorful pot roast.
Mississippi Pot Roast is called Mississippi Pot Roast because it was created by a woman, Robin Chapman, who lived in Mississippi. She tried to recreate her aunts pot roast for her kids and it turned out to be a hit for her family. Her recipe was featured in a church cookbook and it took off from there. (source)
Tips for Making Mississippi Pot Roast
I've been making Mississippi Pot Roast for years now and here are a few tricks I've learned when making it.
Use unsalted butter. The seasoning packets and salted butter can make this dish very salty, so using low sodium items where you can helps a lot.
Add 1/2 cup of water to the slow cooker. I started adding water to the slow cooker and it helps cut down the saltiness and doesn't affect the flavor.
Turn the juice into a gravy. It's so delicious. I hate making gravy from scratch so I mix 1/2 of water with 1/2 cup of dripping with a brown gravy packet (low sodium) and it makes the best mississippi pot roast gravy.
I find it comes out best in the slow cooker. I have cooked mississippi pot roast in my instantpot, but I find it gets way more tender in the slow cooker.
Buy a bigger roast and use the leftovers for sandwiches, salads, burritos, and so much more. The meat is so good that you can make multiple delicious meals out of it.
How to Make Mississippi Pot Roast
To make mississippi pot roast you'll need a few simple ingredients.
1 3-4lb chuck roast
1 packet of Au Jus
1 packet of ranch mix
1 stick of butter
6-8 pepperoncinis
This recipe is so simple that you dump it and forget it for 6-8 hours.
This first step is optional and I do it if I have time, but if not you can totally skip it. Heat some oil in a skillet, season your meat with salt and pepper, and sear each side of your roast until browned on both sides.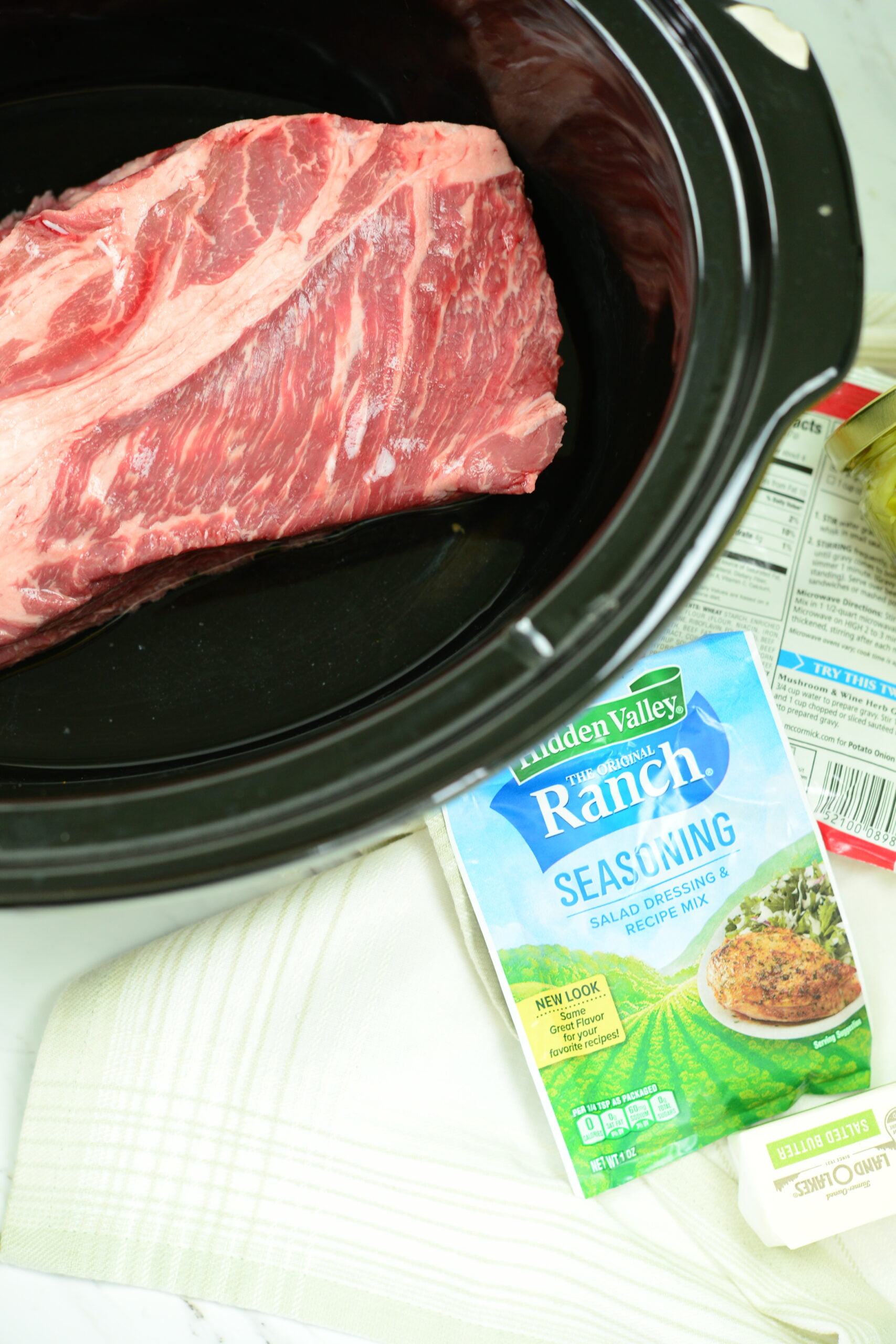 Place your chuck roast into the slow cooker.
Pour the au jus and ranch packet over the roast.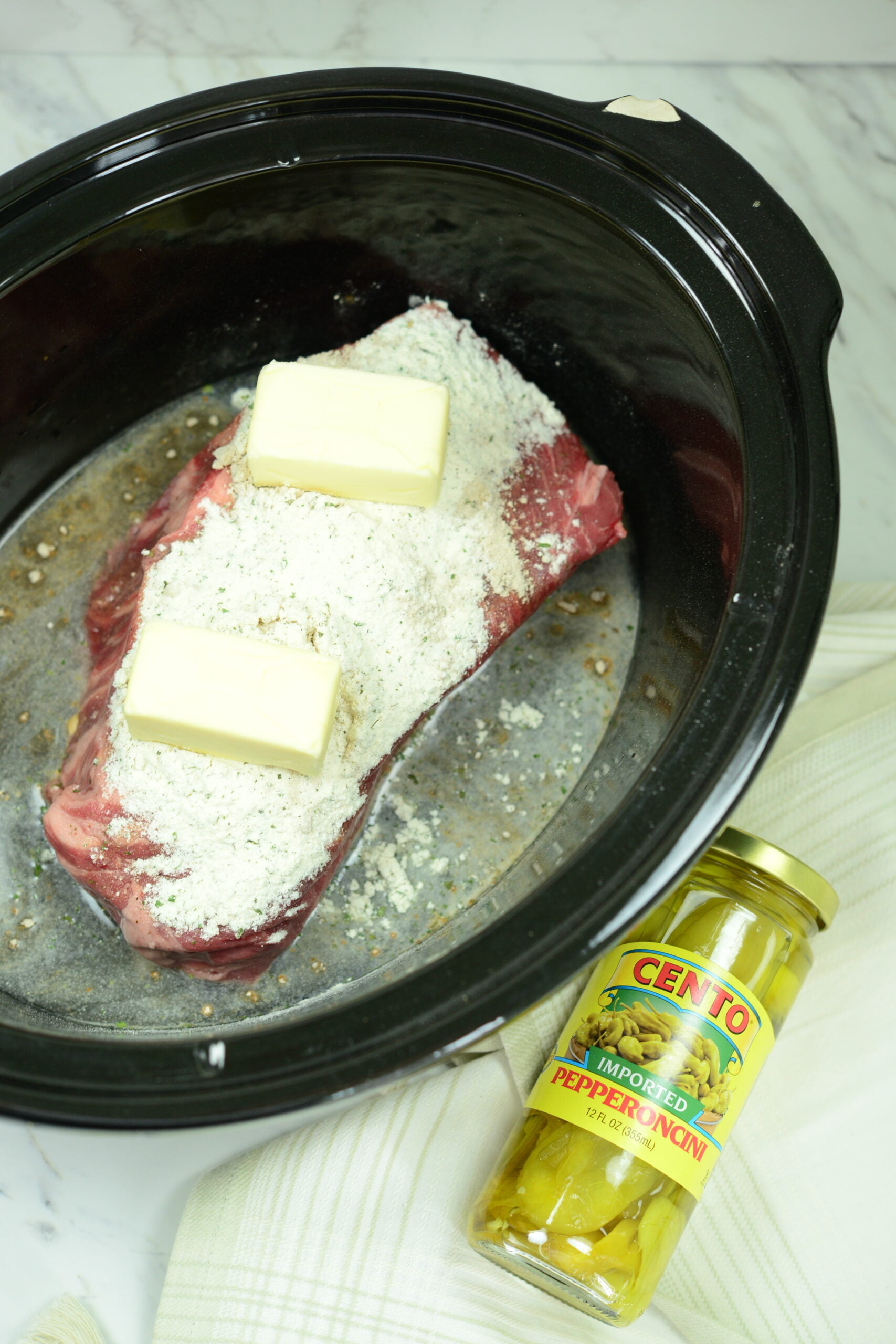 Place a stick of butter on top of the roast.
Place 6-7 pepperoncinis on the roast.
I like to add a little bit of the pepperocini juice to the slow cooker and 1/2 cup of water. This is optional, but I find it helps make more juice for the gravy, gives it more flavor, and the water cuts down on the saltiness.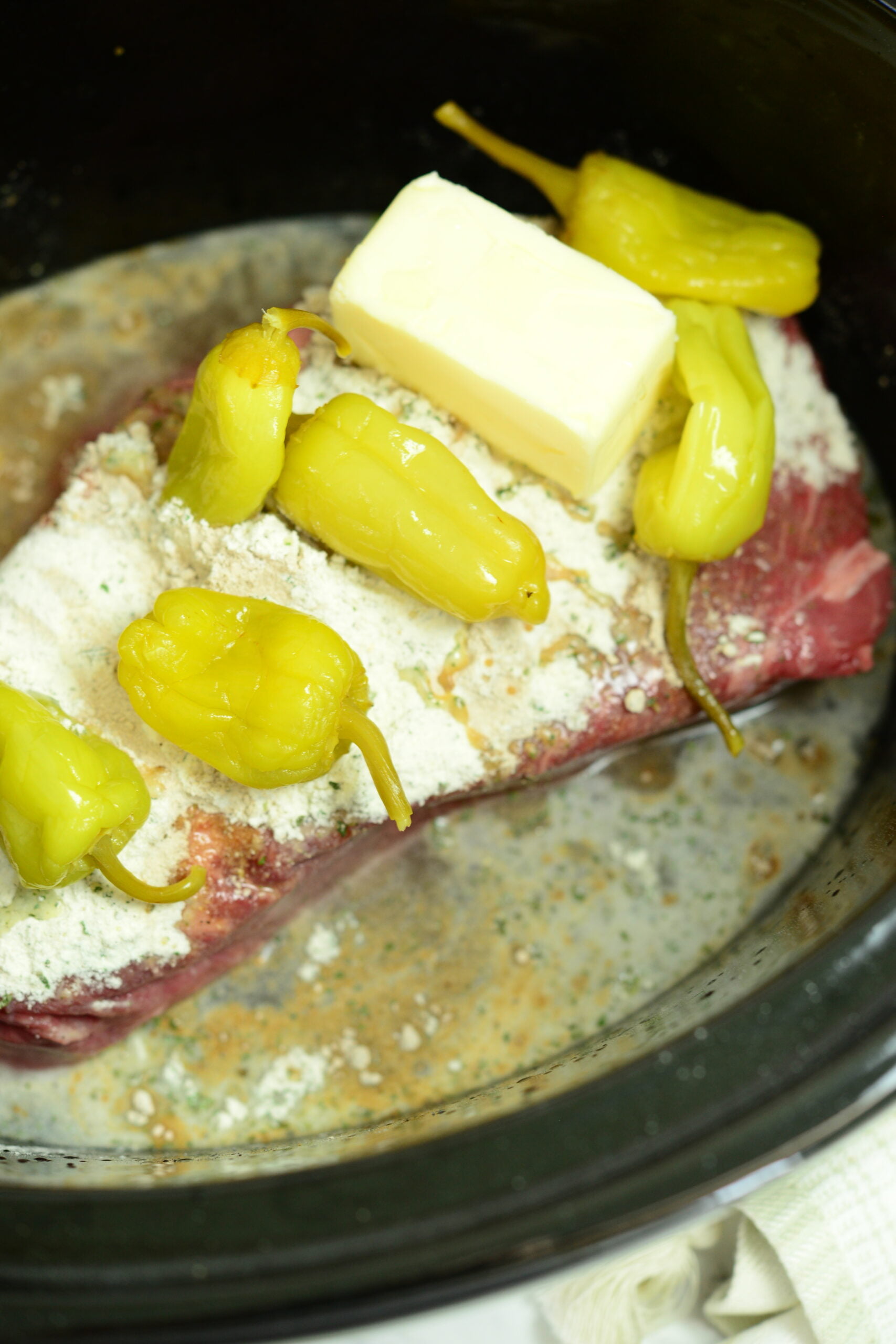 Cook on low for 6- hours.
Once the meat is done you'll remove it from the slow cooker and shred it.
I take some of the juice from the slow cooker and use it to make a gravy. I am not a good from scratch gravy maker so I mix 1/2 cup of water with 1/2 cup of the juices and a brown gravy packet together for my gravy.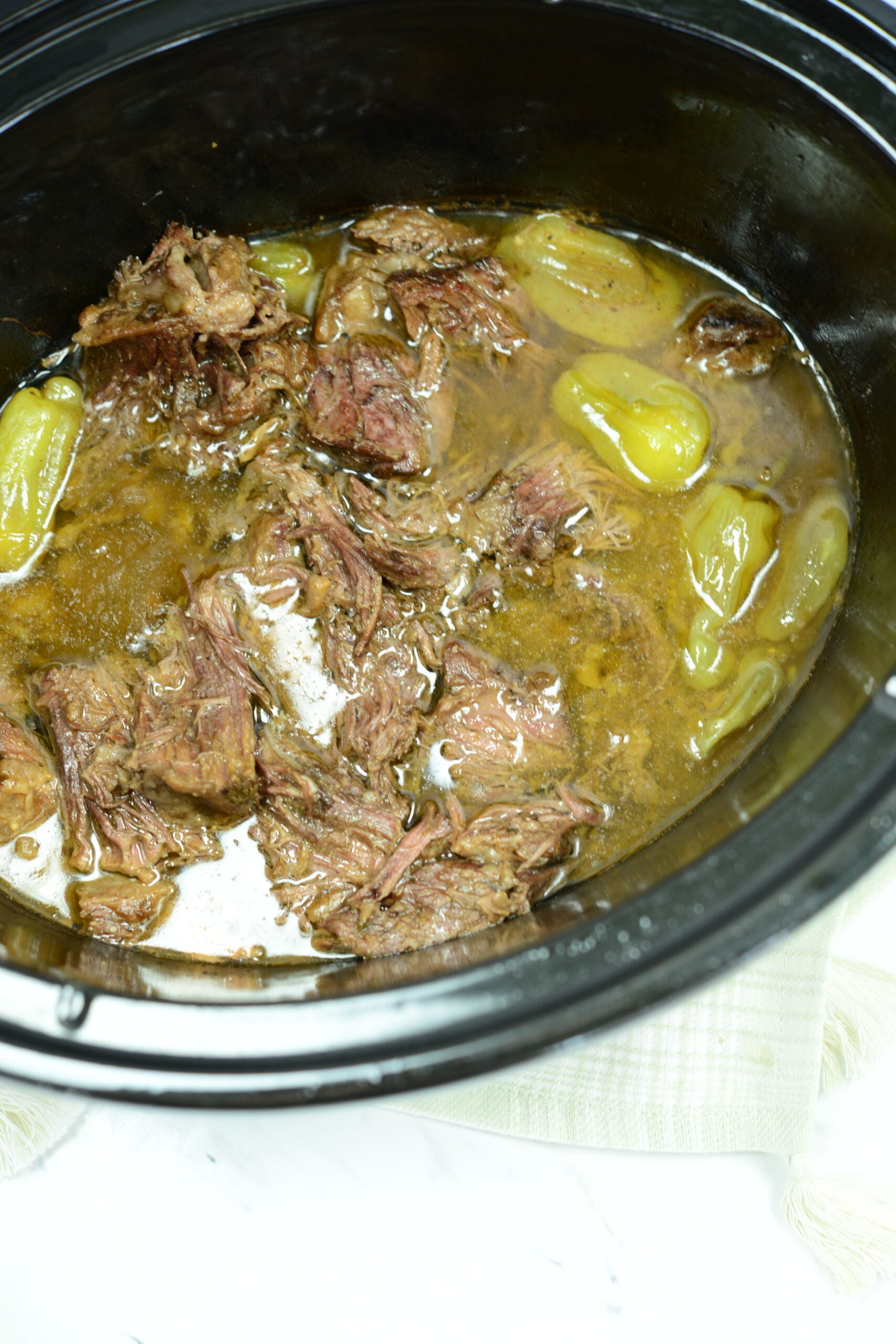 While the gravy is cooking I add the meat back to the juices so it doesn't dry out. This also adds to the flavor.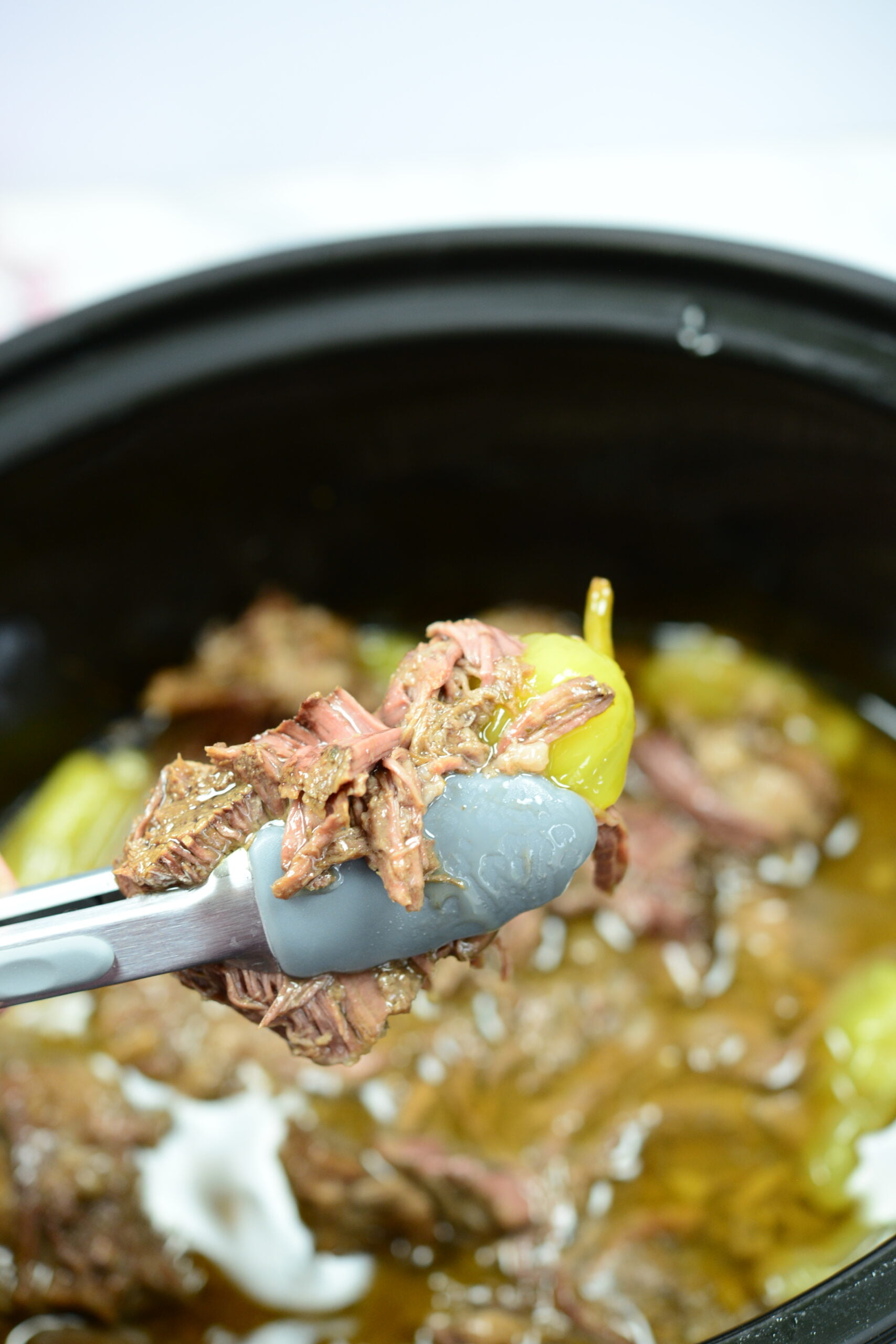 Enjoy! We like to enjoy our mississippi pot roast with mashed potatoes or in mississippi pot roast sandwiches.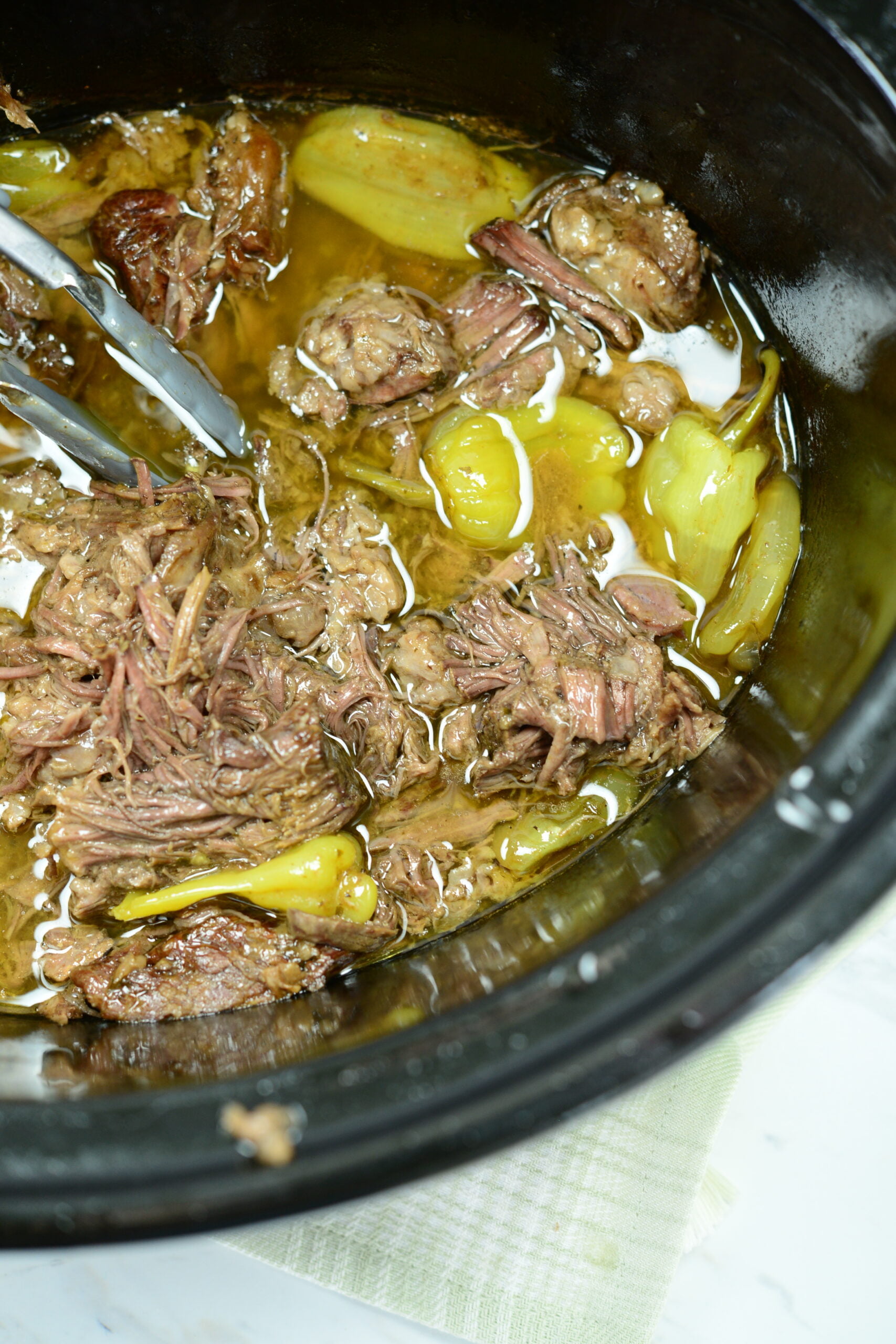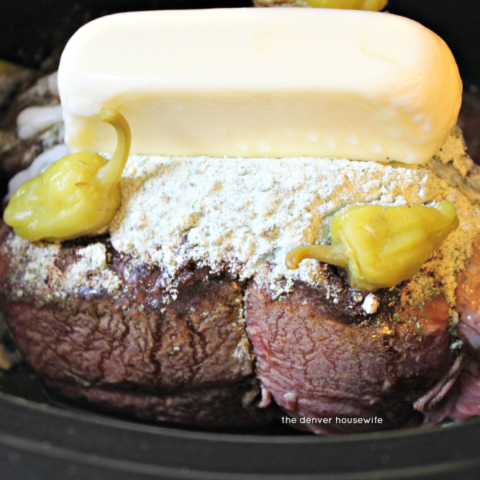 Slow Cooker Mississippi Pot Roast
Total Time:
8 hours
5 minutes
The most delicious and easiest pot roast recipe ever. Flavorful, juicy, and tender.
Ingredients
1 (3-4 pounds) chuck roast
1 packet ranch dressing mix
1 packet au jus gravy mix
1 stick unsalted butter
6-8 pepperoncini peppers
Splash of pepperoncini juice
1/2 cup water
Instructions
Place roast into a slower cooker.
Pour Au Just and Ranch packet over the roast.
Place 1/2 stick of butter on top of the roast.
Place pepperoncini peppers on top of the roast.
Add water and a splash of pepperoncini juice to the slow cooker.
Cook on low 6-8 hours.