Looking for a healthier snack option for the kids? Fresh and crisp apples are topped with your favorite spread and toppings like chocolate, sprinkles, fruit, or granola into a no bake apple donut.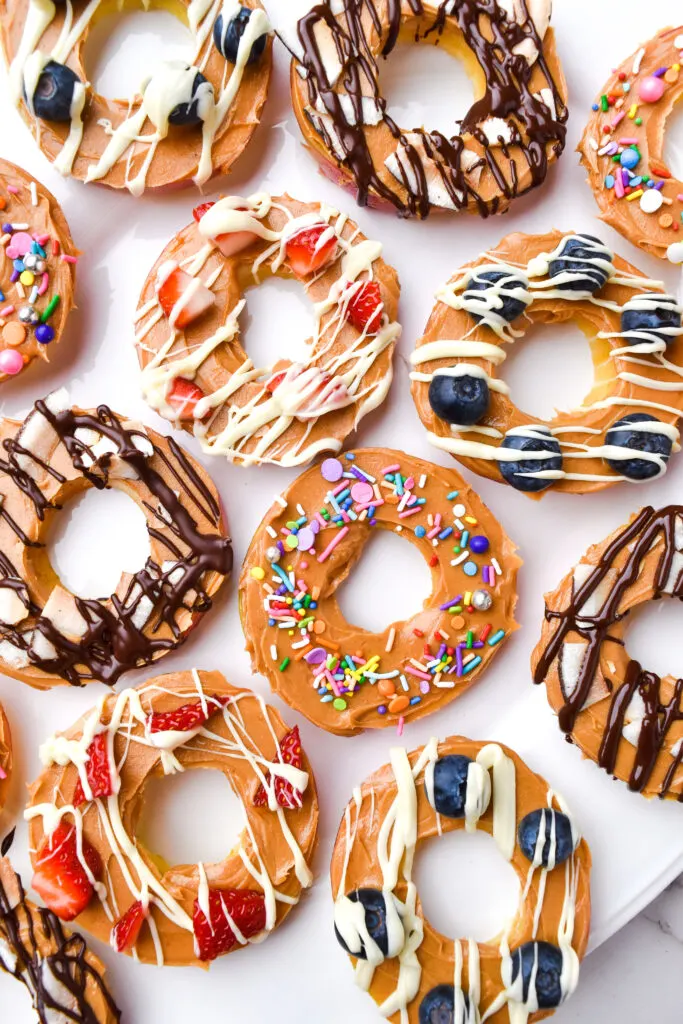 Apples and peanut butter go together so well and these make an easy and healthier snack for kids and adults. Customize them with different toppings and spreads depending on your mood.
No Bake Apple Donuts
Apple donuts make a great after school snack and kids can help by making their own combinations.
Apple Donut Toppings
Here are some great items to add to your no bake apple dounts!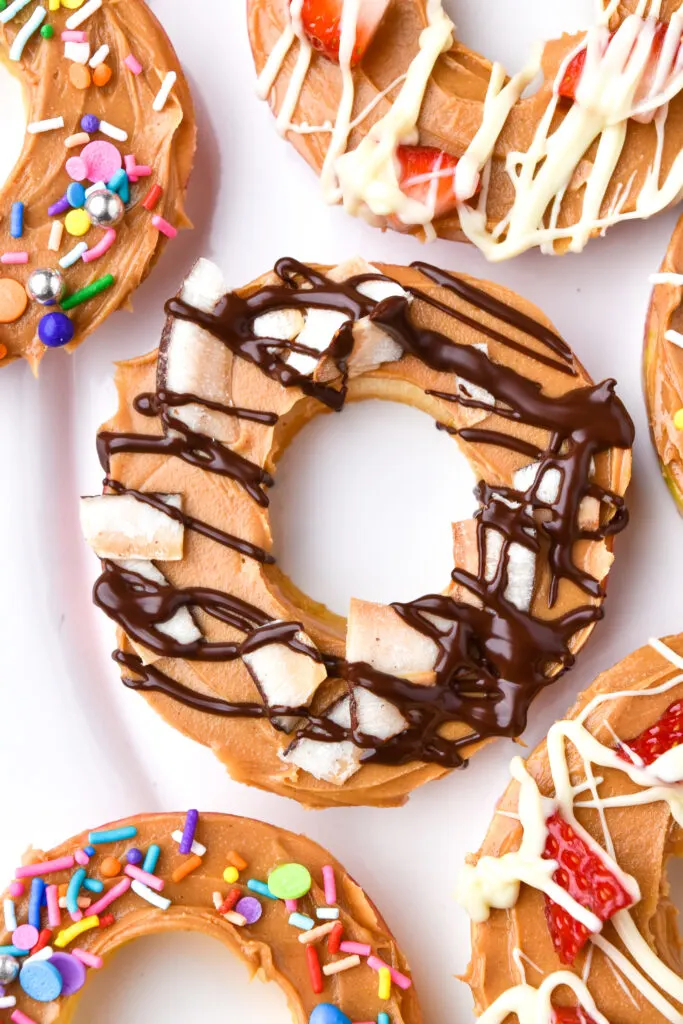 Spreads
Nut Butter
Nutella
Cream Cheese – Plain or flavored
Yogurt
Frosting
Toppings
Nuts – Chopped walnuts, Pecans, Almond Slivers
Fresh Fruit – Berries, Banana, Blueberries, and more
Fried Fruit – Coconut, Mango, and more
Sprinkles
Granola
Honey
Chocolate Chips
Candy – such as M&M, Reese's, or Rolos
Mini Marshmallows
Crackers – Crushed graham crackers or nilla wafers
Spices – Apple Pie Spice, Pumpkin Pie Spice, or Cinnamon
Sauces – Like caramel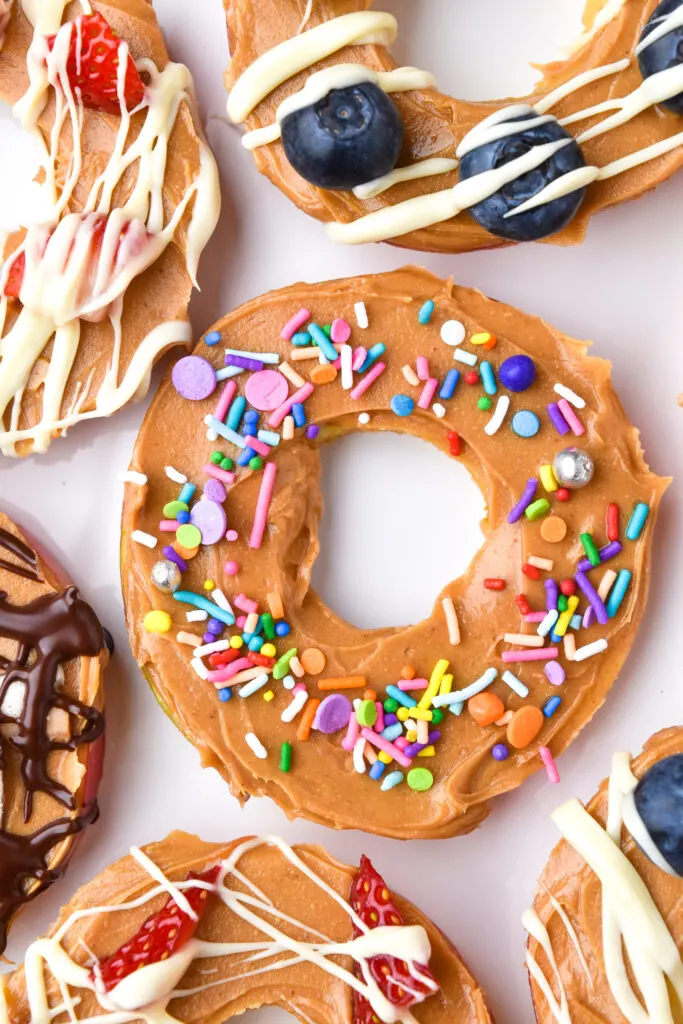 How to Make Apple Donuts
To make your apples donuts you'll need:
Apples
Peanut Butter or another spread
Toppings of your choice
Knife
Circle Cookie Cutter – I have this set and one of the smaller ones works great for getting the center of the apple out.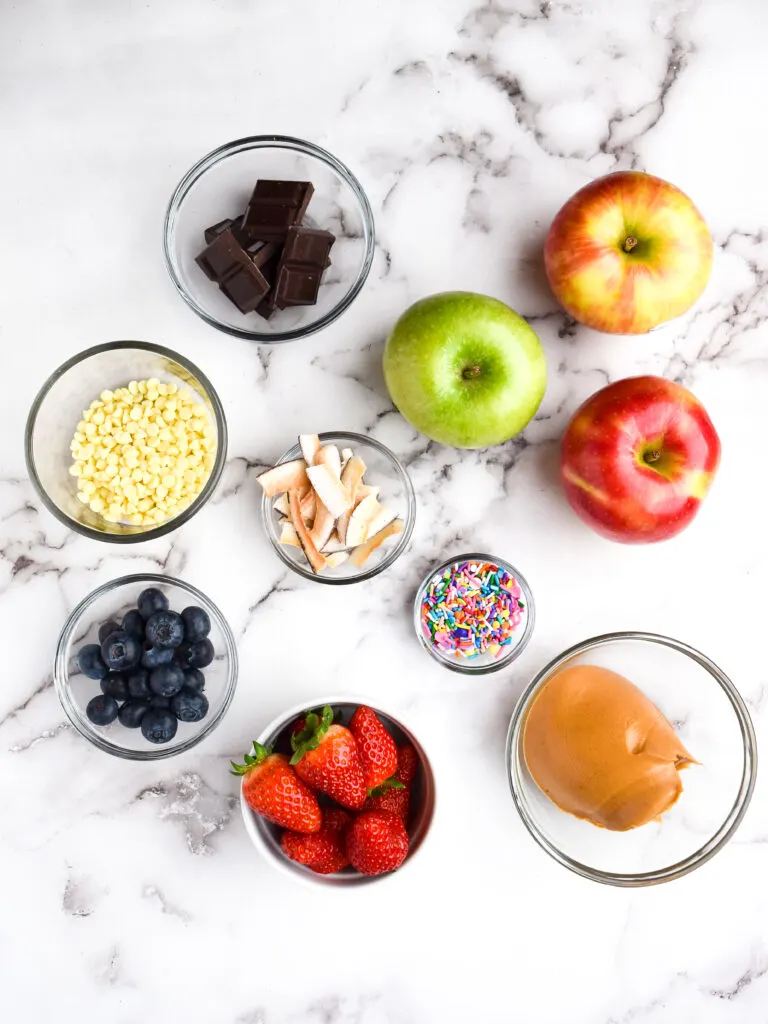 How to Make No Bake Apple Donuts
Wash the apples.
Slice the apple into ½ inch slices, discarding the top and bottom slices.
Remove the center of the apples with a small biscuit/cookie cutter or use a melon baller.
If you want to prevent apples from browning you can soak your sliced apples in a bowl of cold water with the juice of half a lemon for about 5 minutes. Pat them dry.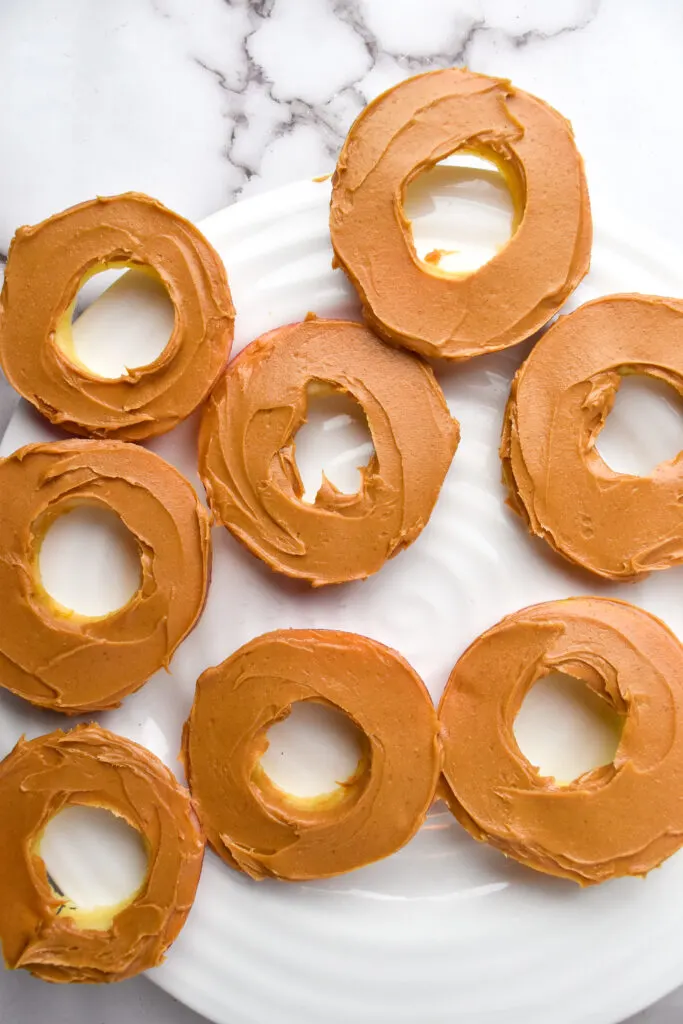 Spread the peanut butter on each apple.
Sprinkle your favorite toppings over the apples and drizzle with chocolate if desired.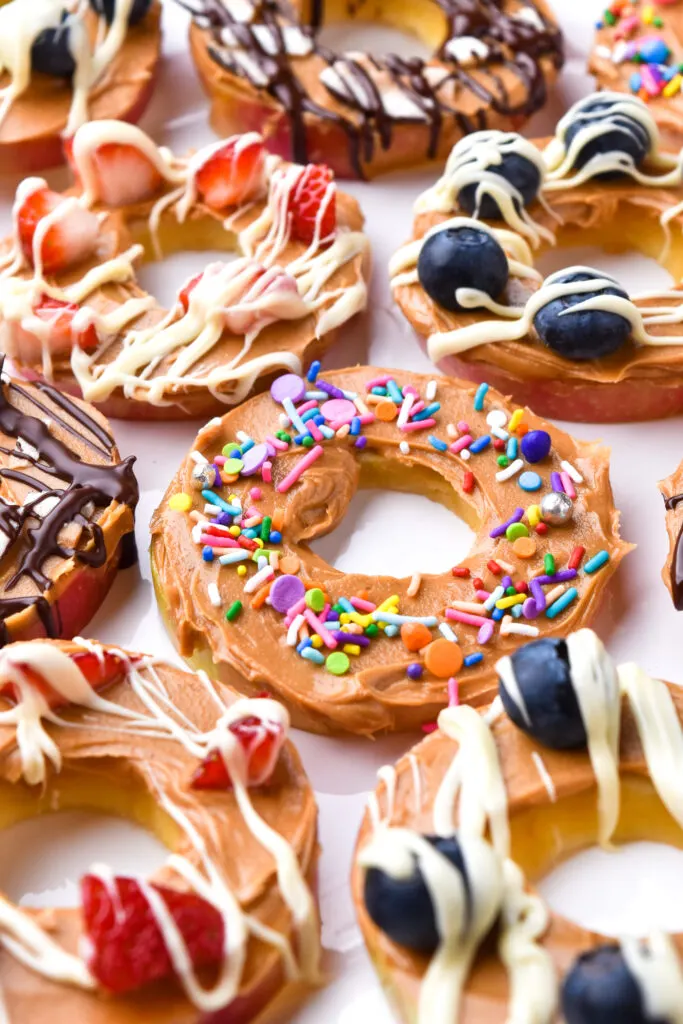 Tips for Making Apple Donuts
These are best served immediately.
You can pre-slice the apples in advance. Use lemon juice on the surface of the apples to prevent browning. Before decorating, pat them dry with a paper towel.
Any type of apple will work. I used Honeycrisp and Granny Smith apples.
Use a small round cookie cutter, melon baller or paring knife to core the apples and create a "donut" shape.
Add toppings just before serving to prevent the apples from getting soggy
If you're making Donut Apples for a party or gathering, consider setting up a DIY toppings bar so that guests can create their own custom Donut Apples.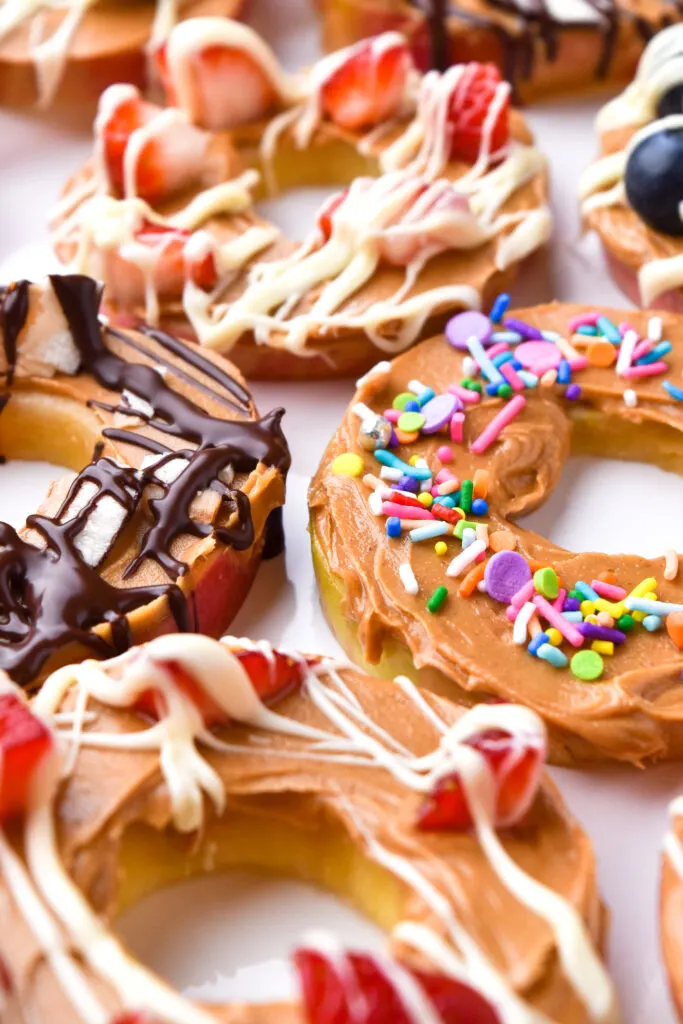 What are Apple Donuts?
Apple Donuts are a fun and creative way to enjoy apples. They are simply apples that have been sliced horizontally and cored to create a "donut" shape. They can be topped with peanut butter and a variety of toppings, such as coconut, strawberries, blueberries, sprinkles, white chocolate, or dark chocolate.
What kind of apples should I use for Apple Donuts?
Any type of apple can be used for Apple Donuts, but firm and crisp apples like Honeycrisp, Granny Smith, or Pink Lady work best because they hold their shape well and don't turn brown too quickly.
Can I make Apple Donuts ahead of time?
Yes, you can make Apple Donuts ahead of time, but it's best to wait to add the toppings until just before serving. To prevent the apples from turning brown, you can brush them with lemon juice or store them in an airtight container in the refrigerator.