Want to learn how to create AI images, Remix an Image, and more with Creative Fabrica CF Spark? Learn all about the tools CF Spark offers to help unleash your creative craftiness.
This post is brought to you in partnership with Creative Fabrica and contains affiliate links.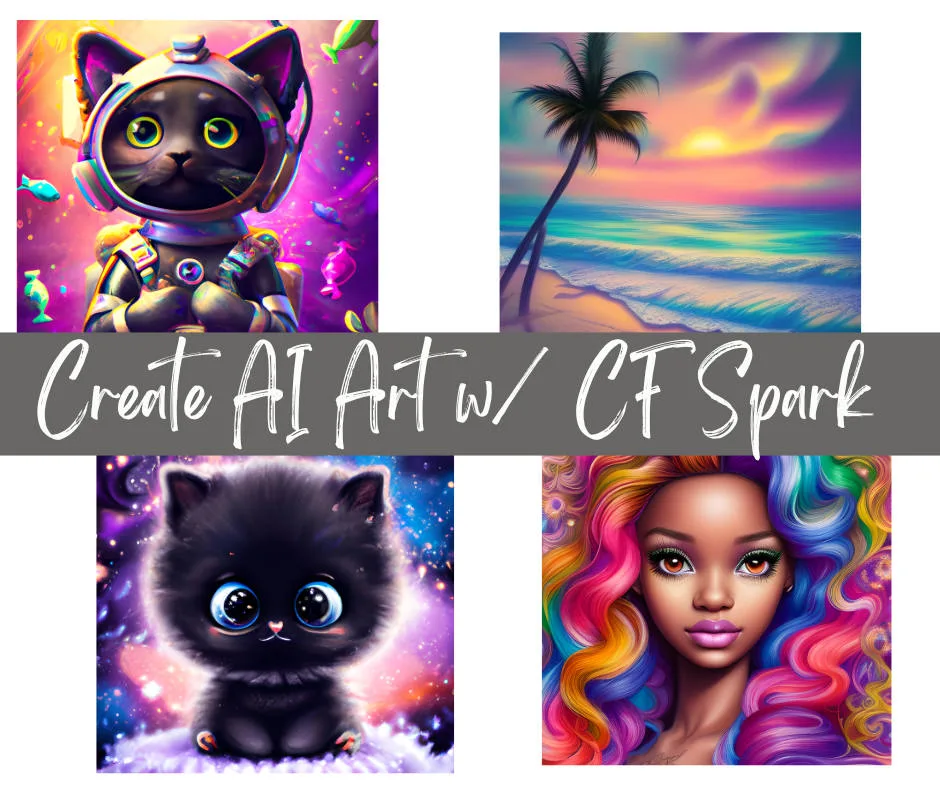 CF Spark is a new way to spark and unleash your creativity with AI which is all growing in popularity right now. AI can create new images for you with prompts, write articles or text for you, redesign images, and more!
All About Creative Fabrica
I love Creative Fabrica, so much that I have their monthly subscription (I pay for this on my own) and am always using it to find SVG files, PNG Files, Mockups, and Fonts. I could go on and on about why I enjoy their site, but here are a few of my main reasons:
Affordable: An unlimited monthly subscription with Creative Fabrica is just $4.99/mo (billed yearly as $59). This gives you unlimited access to fonts, images, svgs, project ideas, and more. You can try out a free trial of All Access which also gives you access to try CF Spark. When you decide to keep All Access you can then upgrade to the $4.99/mo deal.
Commercial License – Items purchased with Creative Fabrica come with a commercial license and many items come with a POD (print-on-demand) license. So if you're running a business this comes in handy and is included in the price.
Variety – They have a great variety of items available. I mostly download their fonts, but I also frequently download Mockups and SVG designs. They also have a lot of clip art and backgrounds if you want to create your own designs, but don't know how to design or aren't a good artist (like me).
CF Spark by Creative Fabrica Review
Now let's get into CF Spark. In full transparency, Creative Fabrica did reach out to me asking me to try out CF Spark and share my thoughts on it. I hadn't tried it prior to them emailing me, but after checking it out I was very intrigued since AI art was something I have been wanting to test out.
There are a variety of different AI tools that CF Spark offers. Here is what they are and what they do:
CF Spark Art – Create stunning artwork using text descriptions and prompts. Describe what you want the AI Tool to create with descriptions like artist styles, colors, objects, and more. You can also browse the Art Community to see what others have created and see which descriptions they used to help spark your own ideas. Note: Some people do have their descriptions hidden.
CF Spark Write – Need help writing the text for an article, book, advertisement, or greeting card? CF Spark Write can help you out. All you need to do is give it an idea with a few writing prompts and within a few minutes you'll have a completed project. I haven't personally used AI to write an article, but I wanted to give it a try and asked CF Spark Write for some tips when creating AI art and this is what it said:
It is important to be patient and keep trying new things. Creating AI art can be a trial and error process, but the more you experiment, the better your results will be.
I totally agree with this statement and it's something I'll cover more below!
CF Spark Crystalline – This creates png files, clip art, and cut files which can be used with your die-cutting machine, like a Cricut.
CF Spark Patterns – Create your own patterns to make your own digital papers.
CF Spark Sketch – Makes sketch drawings in black and white.
CF Spark ImageMix – Upload an image file and it recreated the image into new versions.
CF Spark Prompt Builder – Use this to make your AI art. This tool gives you prompt ideas which you can use to turn into your own art.
Creating AI Art
Before trying CF Spark Art I hadn't used an AI image tool before. There was A LOT of trial and error and looking at others' art in the community before I got a hang of what I was doing. Here are my tips for creating beautiful AI art:
Use a prompt builder like CF Spark Prompt Builder.
What are AI Art Prompts? These are keywords or descriptions of what you want your art to contain, you can go simple with a prompt like "black cat" and more in-depth with a prompt like "Cute baby black cat with fluffy fur". You'll also want to add art styles you enjoy, art mediums, colors, and styles.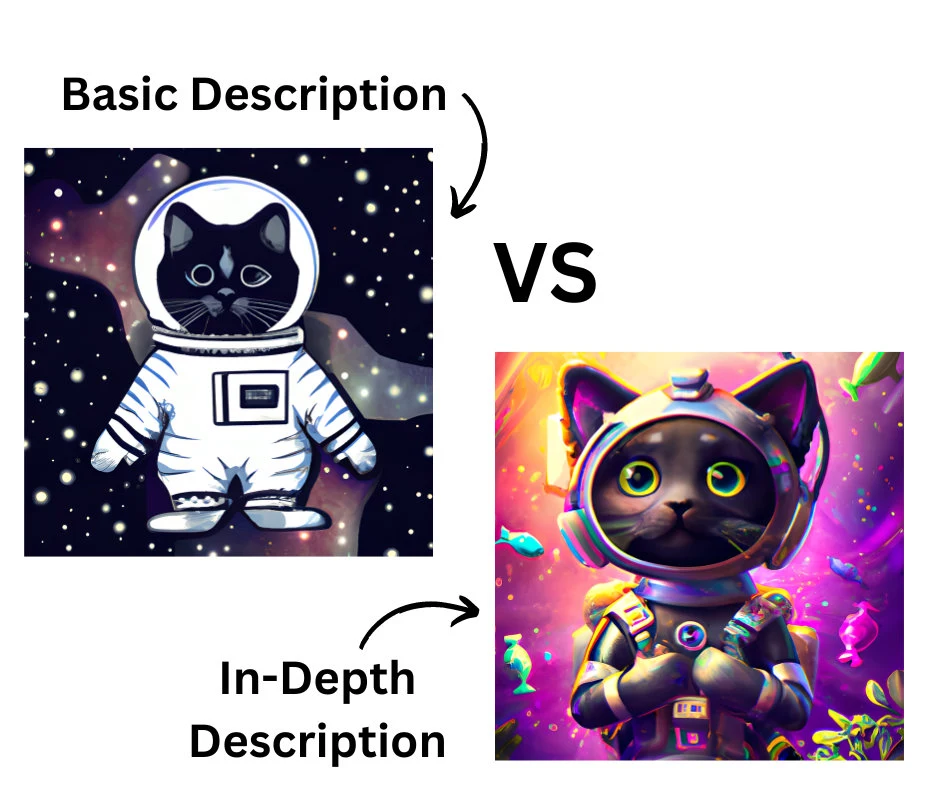 Try out different prompts to see what you like and dislike. Add and remove to see what different art it makes.
Be patient – It can take a few tries before you get something you like. Some of my images took 5, 6, or 7 tries before I got something I really liked, but they all ended up being worth it. So be patient and keep trying.
Be Descriptive – You need to be as descriptive as possible. Example: I knew I wanted an astronaut cat and built from that. The more descriptive you are the better your image will turn out.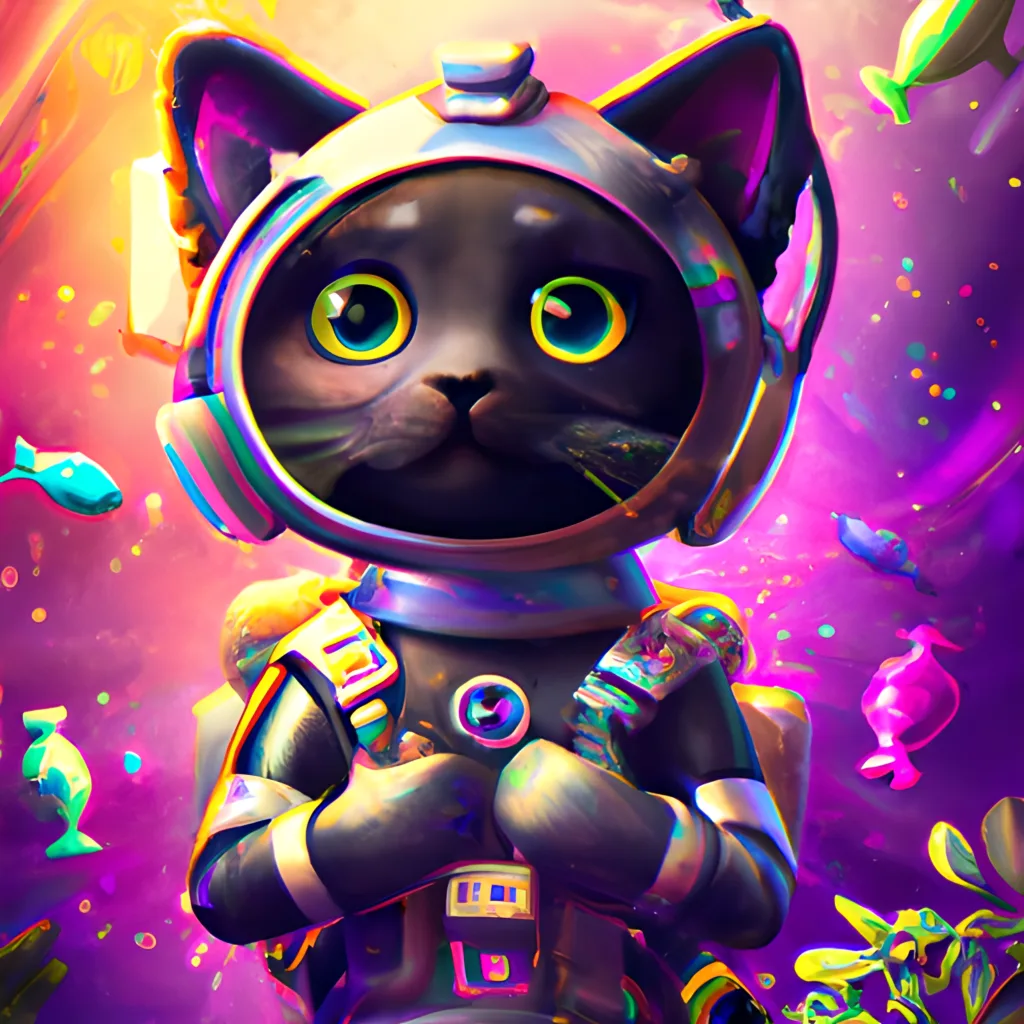 Here are the prompts I used to get my astronaut cat AI art: "Intricately rendered cute black cat in astronaut suit, sweet, colorful, cartoon character, magic, highly detailed, digital painting, face and shoulders, in the style of Ross Tran, Josephine Wall, well rendered matte fantasy painting, deviant art artstation, cinematic lighting, lisa frank style, pixar style, disney style"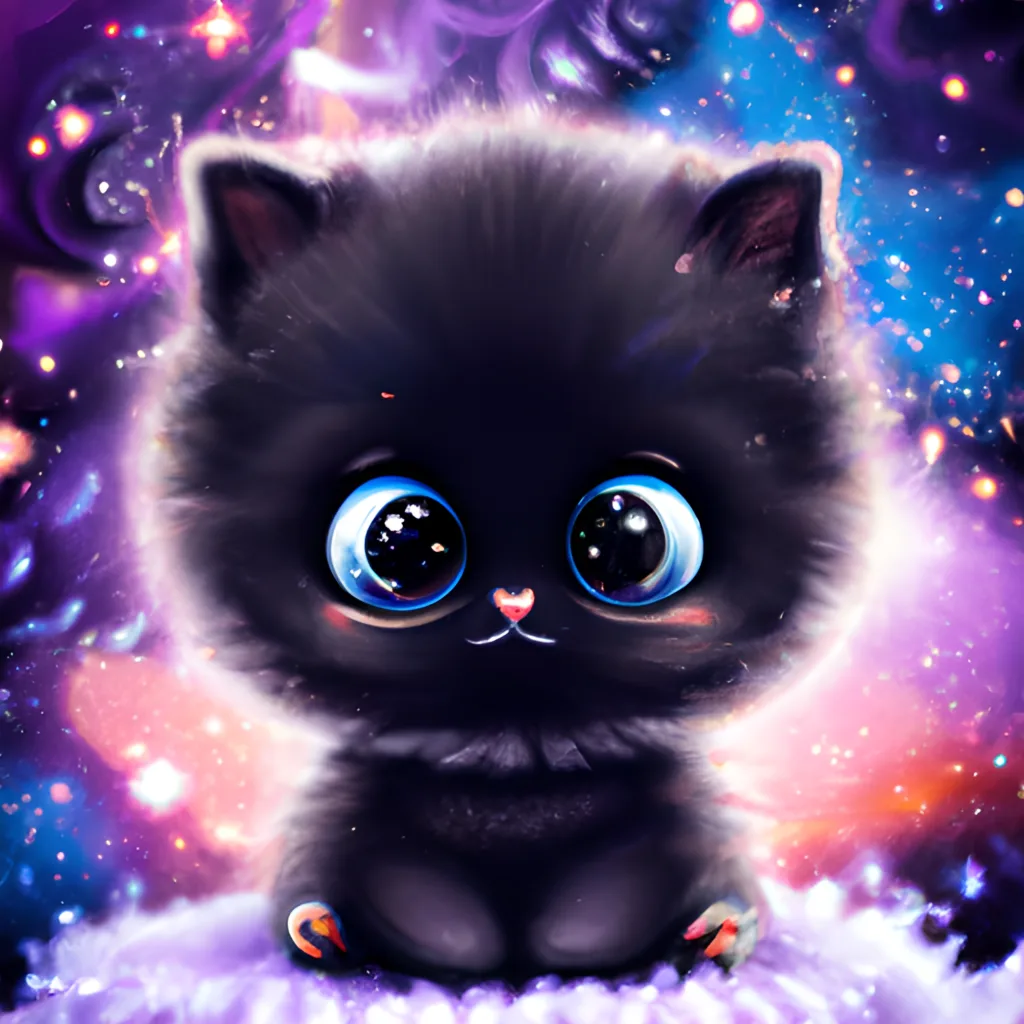 I also wanted just a black cat in space and used the following prompts to get that: Centered, Cute baby black cat with galaxy sky, Nursery Art, Nursery Decor, Digital art, chibi, dreamy eyes, magical, fluffy furry 3d, high rendering, central focus, scenic background, intricate details, by Ross Tran, Pinterest, bokeh, hyper realistic, intricate detail, illustration, painting, kawaii chibi, lisa frank style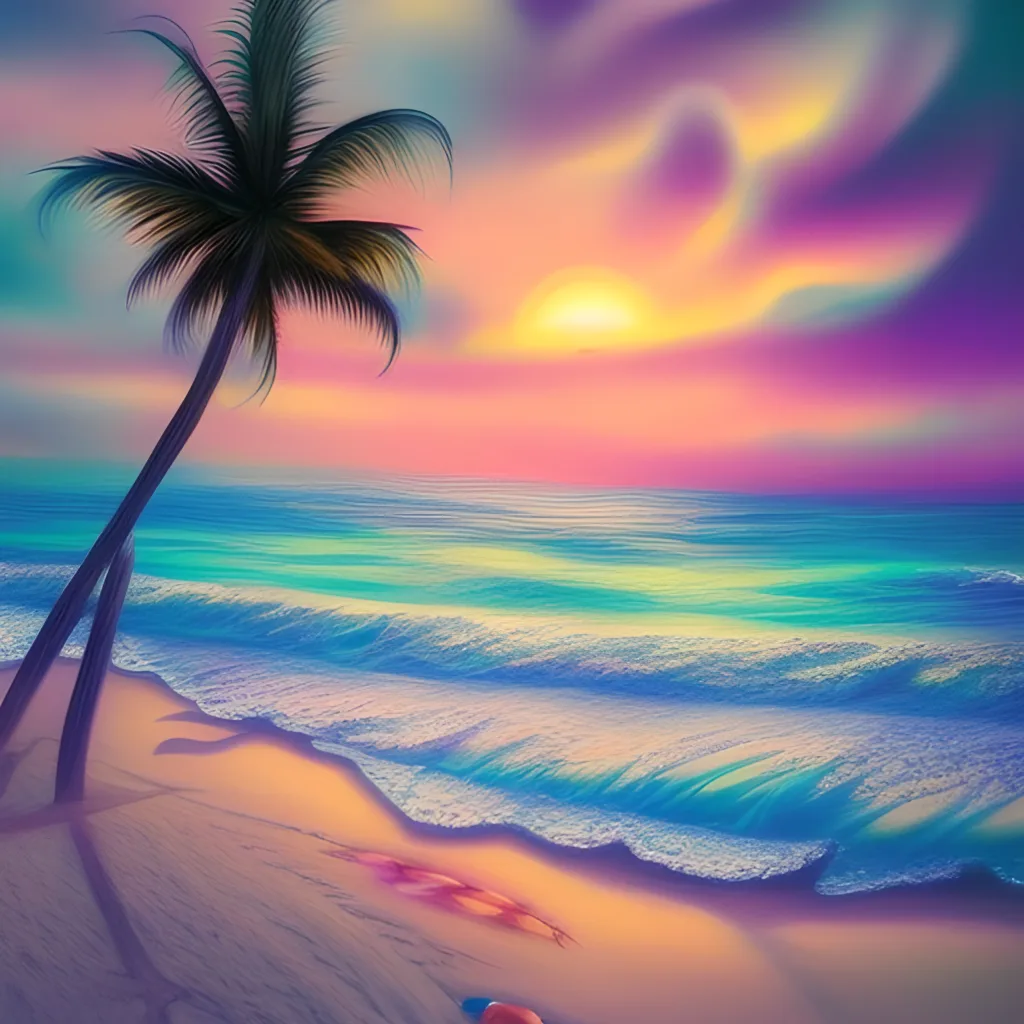 Sunset prompt used: mystical fantasy, beach sunset, surf, realistic tropical flowers, soft pastel hyper detailed with magical fantasy atmosphere
Prompt used: Intricately rendered light Brown Skin goddess, Barbie style, intricately rendered, in the style of Lisa Frank, charlie bowater, 8k, lots of curly hair, curly hair, colorful and generously detailed, bright pink pop art, hyper realistic, digital painting, close up portrait, in the style of Ross Tran, Josephine Wall
CF Spark ImageMix
When you find an image you like you can then use the ImageMix to give it different styles. Here is a remix of the cat I made. Whichever images you like you can download, but it gives you a lot of different options.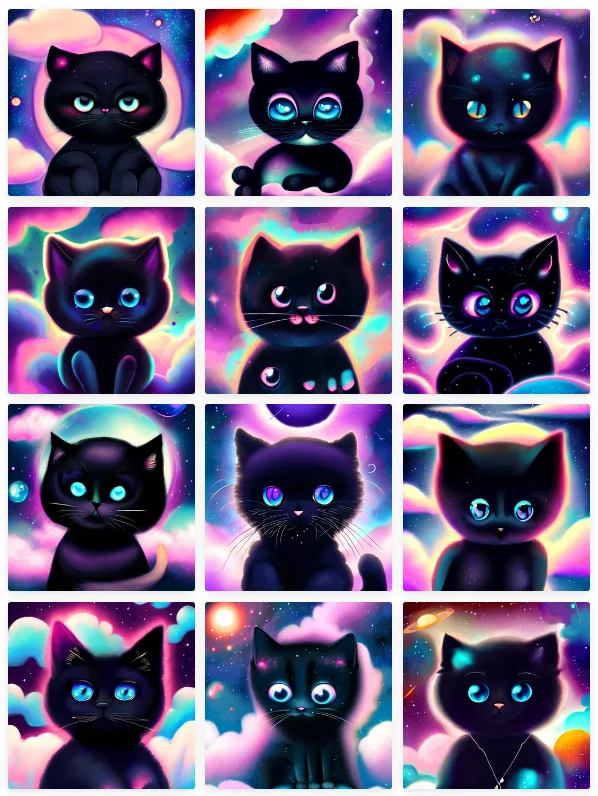 Don't like the art or remix it made? Then hit ignite or generate again and again and again until you find some you like! My daughter needs a new water bottle for school and I can use these images to make her a new one with sublimation. Not only will it be cute, but I know that no one else will have it!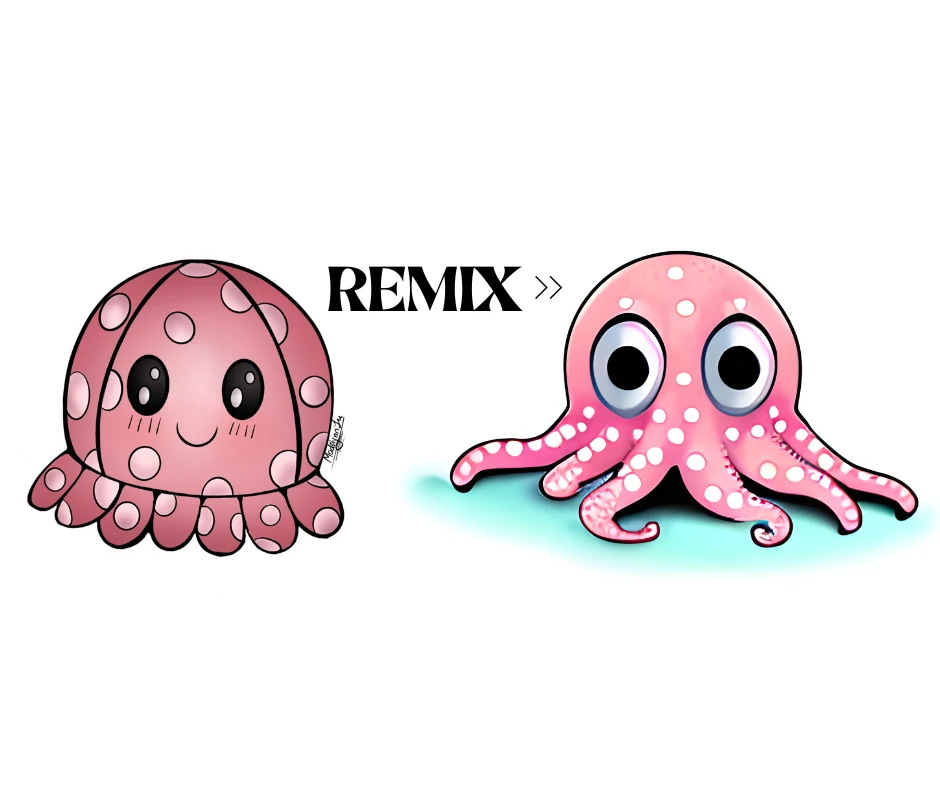 Here is an image my daughter created on the left and was ImageMixed on the right. Cute, right? You can remix images you created with the art tool or your own personal images. Here are some do's & dont's when using ImageMix:
DO:
– use graphics with a clean, simple background
– graphics with soft edges (i.e. watercolor) tend to give nicer results in comparison to drawings with sharp/thick outlines
– drawings of landscapes, architecture, and objects tend to give nice results
DON'T DO:
– avoid images with scenarios (i.e. children playing in the garden)
– avoid motifs sensitive to proportions and anatomy (i.e. human figures or animals, with exception of faces or animals sitting/lying)
Is CF Spark Free?
You do need to create an account to use CF Spark, which is free to do. You can create art with CF Spark for free, but you'll be unable to download it without an All Access Membership or Spark Credits. Getting All Access and CF Spark Credits allows you to do things like hide your prompts with the community, download your creation, makes your image creation faster, and more. Read all about the benefits of Spark Credits here!
Try out all the AI fun that Creative Fabrica has to offer with their AI Tools here.