Pixar Putt is swinging into Denver, Colorado on September 3, 2022 through November 27, 2022. Pixar Putt is a pop-up mini golf event with Pixar themed mini golf courses like Toy Story, Cars, Up, The Incredibles, and more! #pixarputt
We were given tickets to attend Pixar Putt.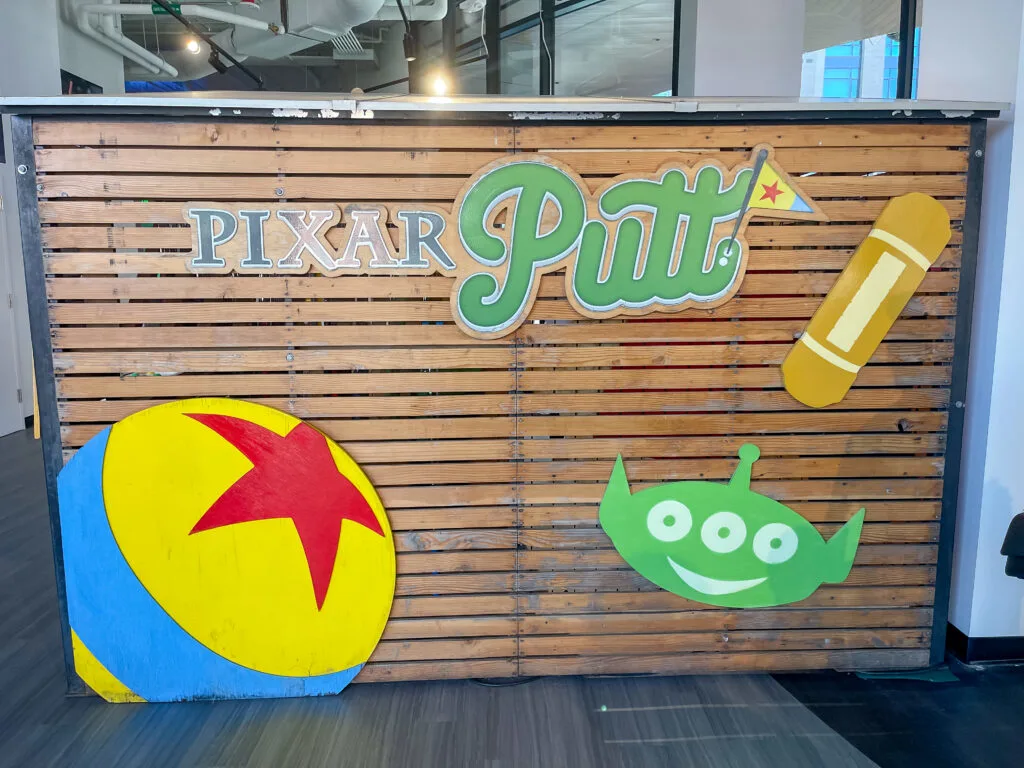 Where is Pixar Putt in Denver Located? Pixar Putt is located on the second floor of the Rally Hotel in McGregor Square. The entrance to Pixar Putt is located above the McGregor Square mezzanine, at the top of the grassy area. There are some stairs on the side of the grassy area that lead up to the entrance of Pixar Putt.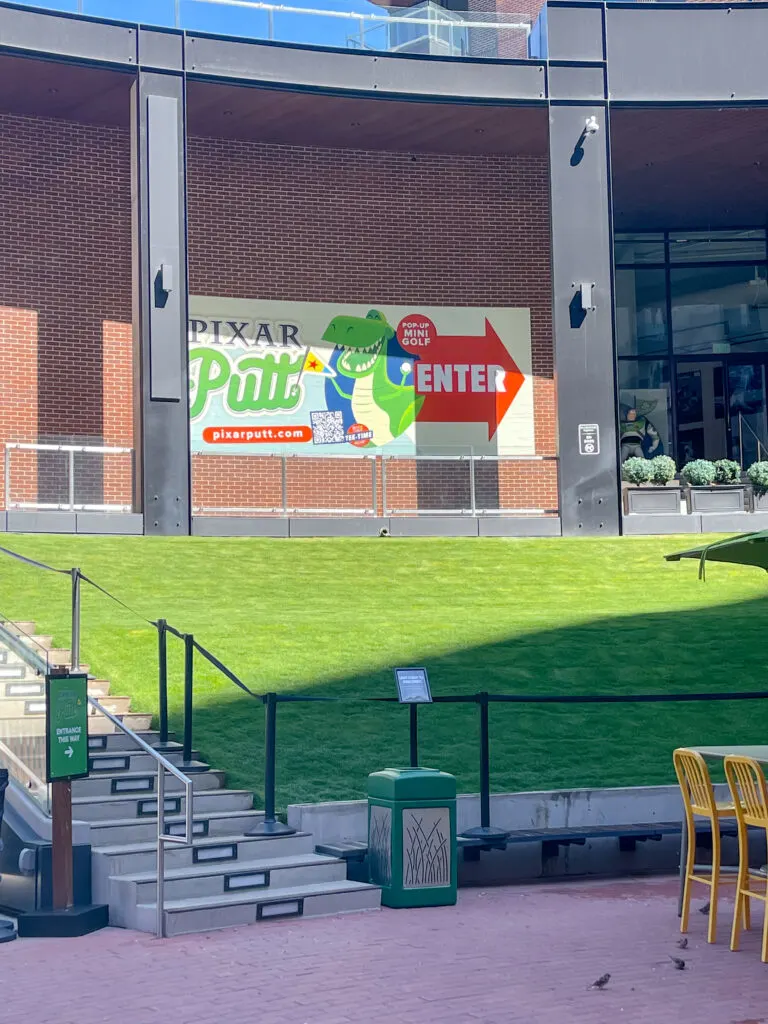 Pixar Putt Denver Hours: Monday through Friday: 3:00pm – 10:00pm (last entry 8:30pm) Saturday and Sunday: 10:00am – 10:00pm: (last entry 8:30pm) * 7:00pm onwards is 'Pixar Putt 18+ After Dark' for evening sessions Thursday through Saturday
How Long Does Pixar Putt Take? As a family of 5, it took us about an hour to complete all 18 holes. It wasn't super busy when we attended so we weren't stuck waiting behind groups, which was nice.
Where to Park for Pixar Putt? The Rally Hotel offers valet parking, but it's $50 per day. We parked under McGregor Square since there was a parking garage there. You access the parking garage via Wazee st and the entrance is in the middle of the big building. Address: 1901 Wazee Street. Parking on the weekend was $10 for 6 hours. There were also other parking garages and lots in the area.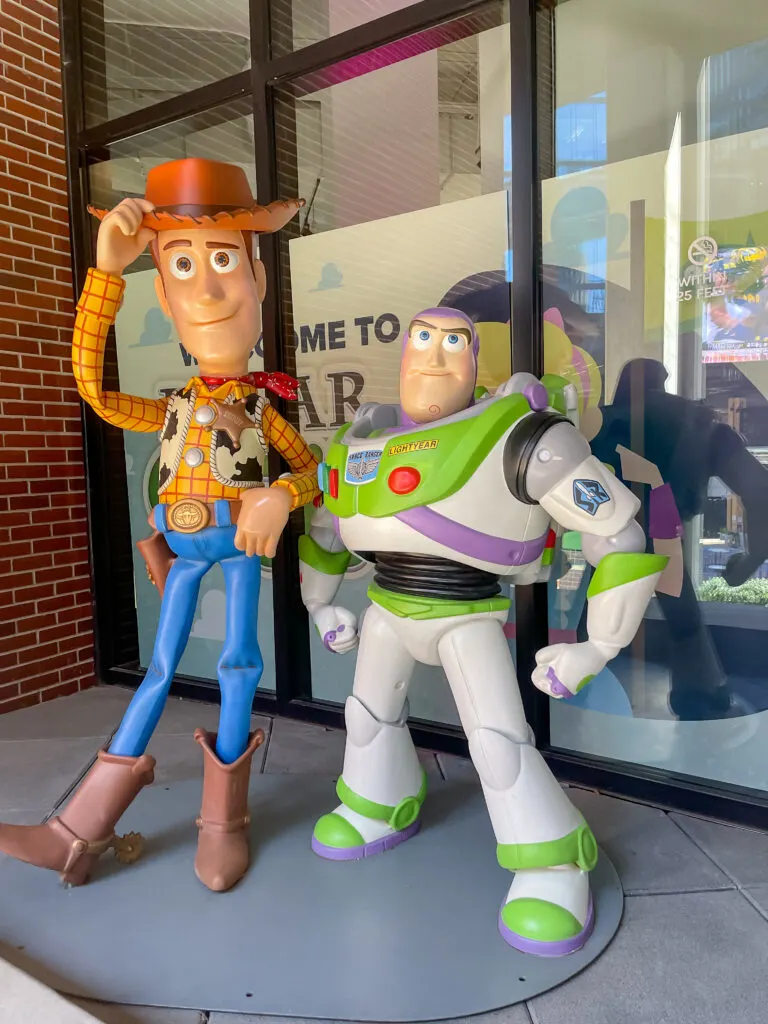 Is Pixar Putt worth the price? Yes, I did think it was worth the price. If this was a regular mini golf course I would say the price wouldn't be worth it, but since this was a special one-time event that had a theme our family loves I did think it was worth the price. It's definitely worth experiencing!
Is Pixar Putt for Adults? Yes! While we were golfing there was a group of about 10 adult males who were also playing. They seemed to be having a lot of fun and enjoying themselves. If you're a millennial then you probably grew up on Pixar movies and the Pixar Putt mini golf course is fun for adults, just as much as it is for kids.
Are masks required for Pixar Putt? No, masks are not required, but they are encouraged. Pixar Putt's standard COVID Safe measures include capped player numbers on the course, physical distancing measures in queues and on course; sanitizer stations located onsite; plus sanitizing of all golfing equipment between users for every session, each day. These measures follow all federal and local guidelines and will be updated as those guidelines change.
Ages for Pixar Putt? Pixar Putt is for people of all ages. Children under 3 are free, but they will not receive their own putter or ball. If you do bring your toddler be mindful of them running around, interrupting other games, and how long they would take to play.
Prices or Pixar Putt? Weekday prices (Mon-Thur) for Children between 3-12 years old are $25.50, Adults are 30.50, and there is a special family 4 pack of 2 adults and 2 kids for $99 which saves you $13.
Weekend prices (Fri-Sun) are Children between 3-12 years old are $27.50, Adults are 32.50, and there is a special family 4 pack of 2 adults and 2 kids for $99 which saves you $21.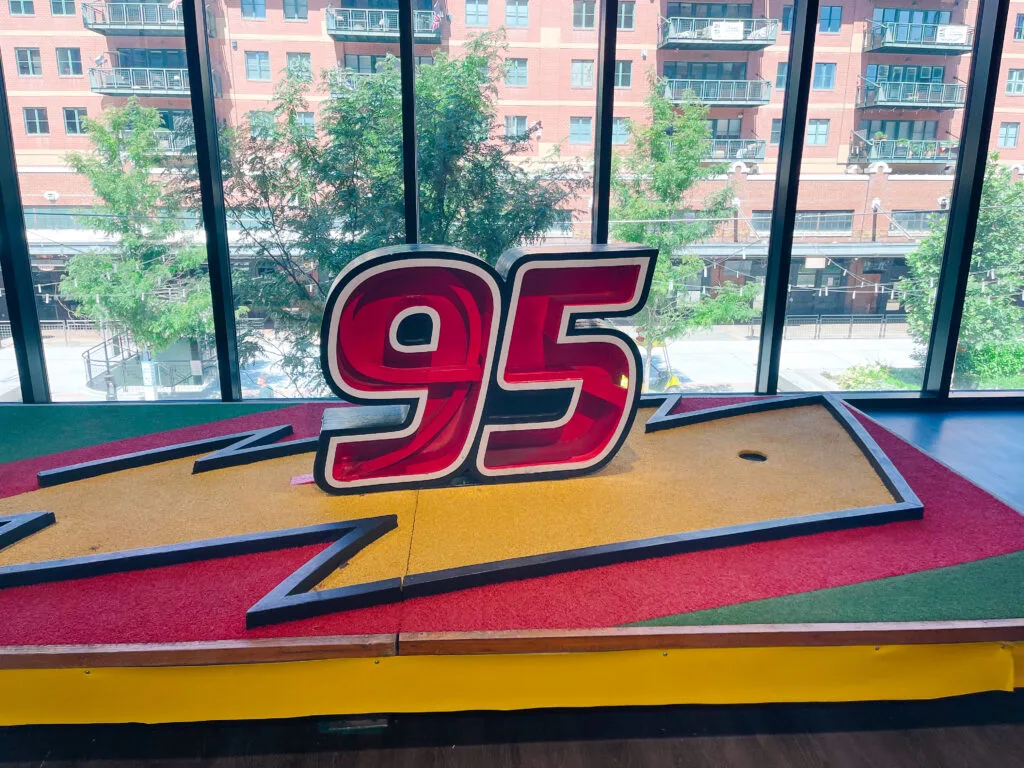 Pixar Putt Review
When you walk into Pixar Putt you'll go to the counter where they'll ask your name to check you in, and give you a golf club and score card, you then pick out your ball and get to work.
Pixar Putt tickets cannot be bought on-site. You need to purchase your tickets online prior to visiting.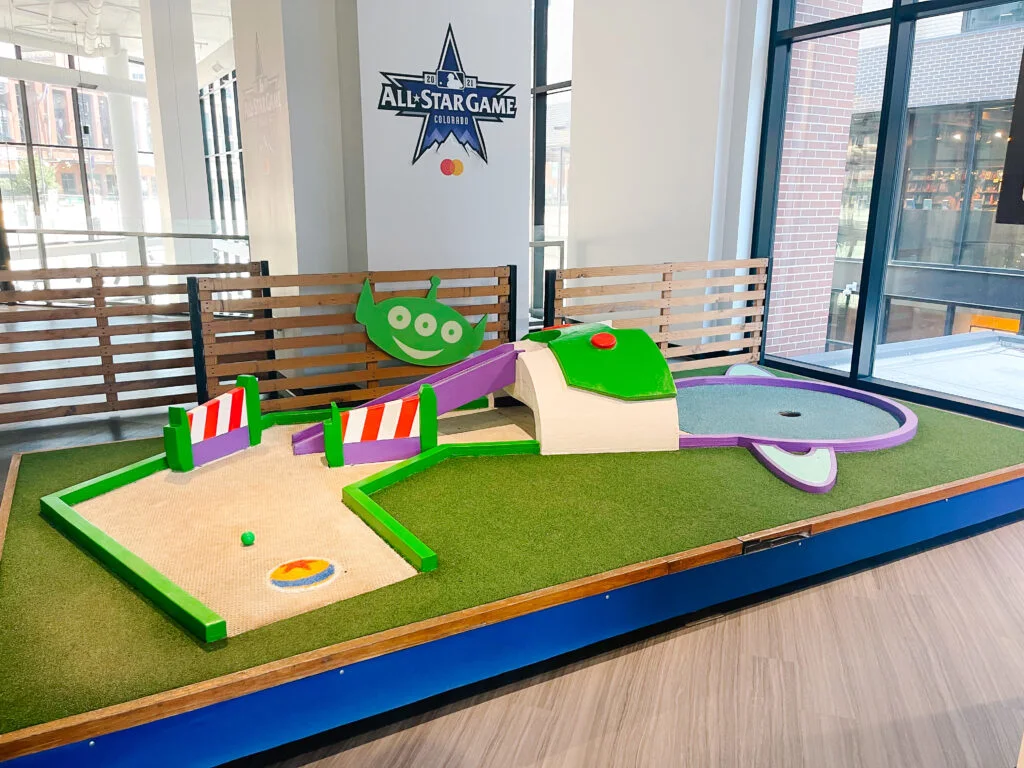 Each course is the theme of a different movie. There are 18 mini golf courses with popular Pixar movies like:
Toy Story
Wall-E
Soul
Cars
Brave
Inside Out
Onward
Coco
Finding Nemo
Bugs Life
The Incredibles
Bruno
The Good Dinosaur
Ratatouille
Up
The event is indoors which I loved since I don't like being in the sun and there was AC. Being indoors is perfect for the unpredictable Denver climate.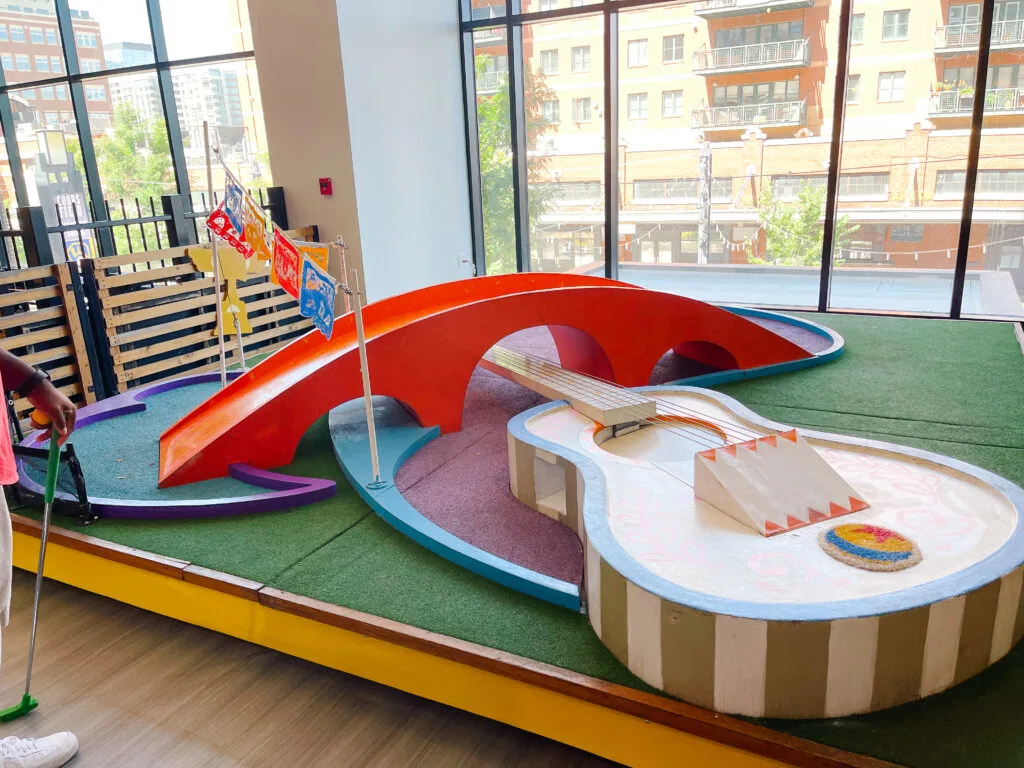 Some of the courses were easy and some were more of a struggle for the kids because they had a challenge, like a steep incline. However, the kids loved all the courses and the challenges they presented. They also really enjoyed seeing courses based on some of their favorite movies and I think it's safe to say our family's favorite course was the Claw from Toy Story!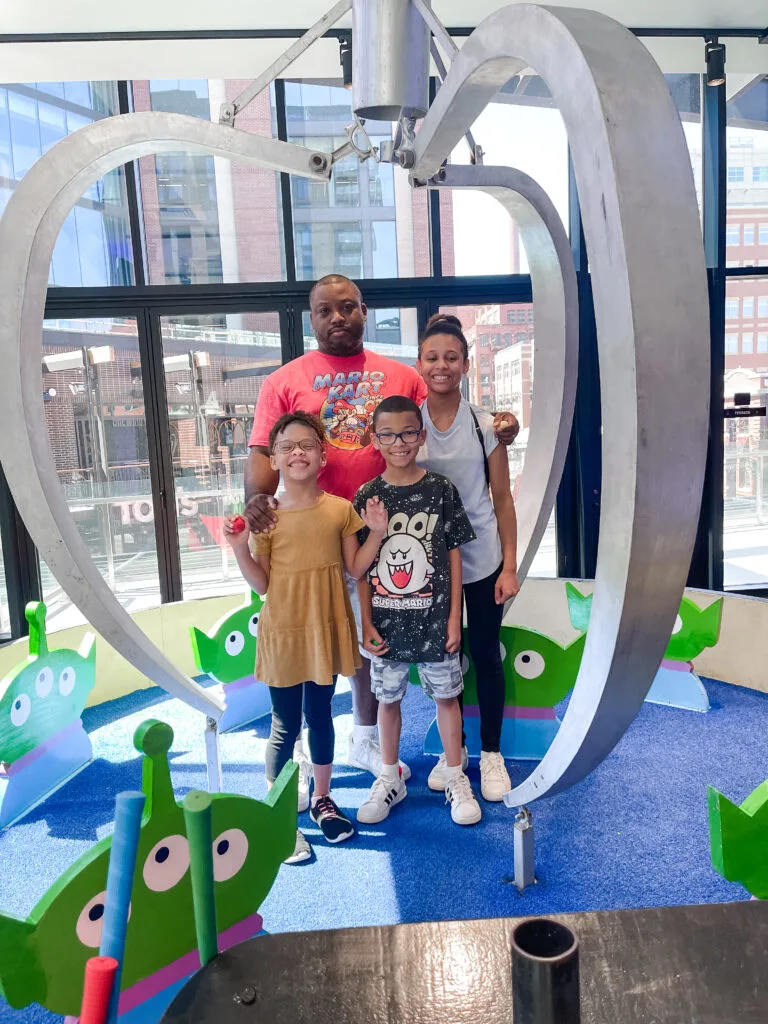 All in all our family had a fun time. We loved seeing the different movie courses, beating each other in mini golf, and having a fun family outing. You can even make a whole afternoon adventure and grab lunch or dinner at one of the many restaurants in McGregor Square.
Grab your tickets for Pixar Putt through Nov 27, 2022!
Want to see a tour of Pixar Putt in Denver? Check out the video below!