Birthday Charcuterie Boards are the new cake. Charcuterie boards are an easy way to serve a variety of foods at a party and they make sense for a birthday because you can add a variety of candy and desserts to them.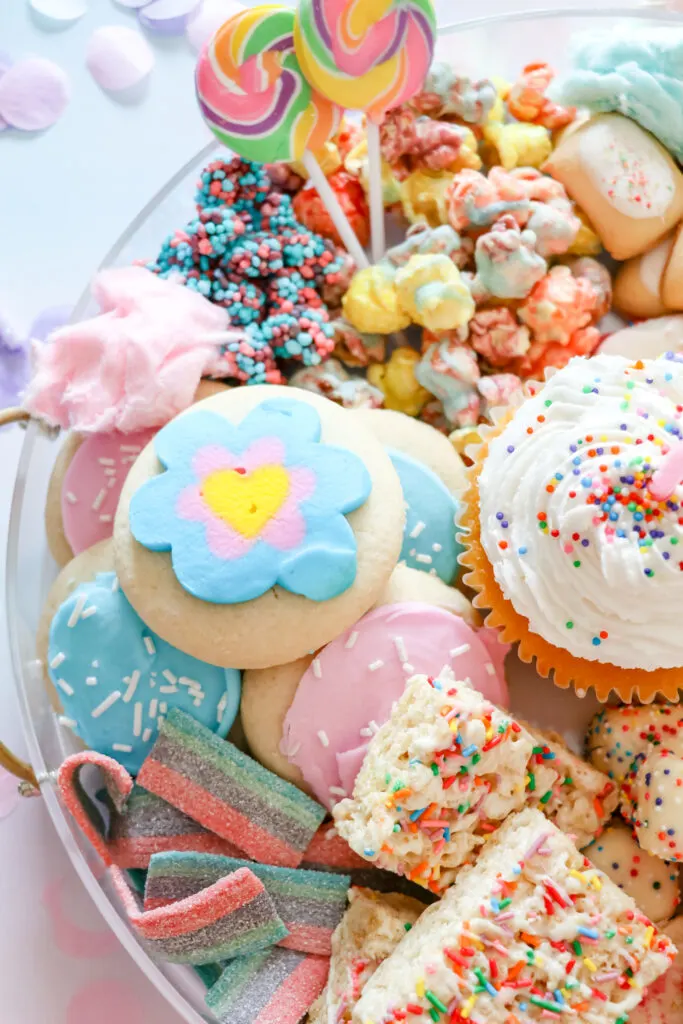 Want to learn how to make a birthday charcuterie dessert board for your next birthday? These all make great gifts or party favors! I'll share 2 ways to style a birthday charcuterie board in this post and both of them are simple and easy.
Birthday Charcuterie Board
There are a few ways you can use a birthday dessert board. You can replace a cake and cupcakes with a candy and dessert board or you can have it in addition to cake and/or cupcakes. Themes, colors, and food/candy options are endless for your birthday charcuterie board, but I went with a birthday cake and rainbow theme for ours.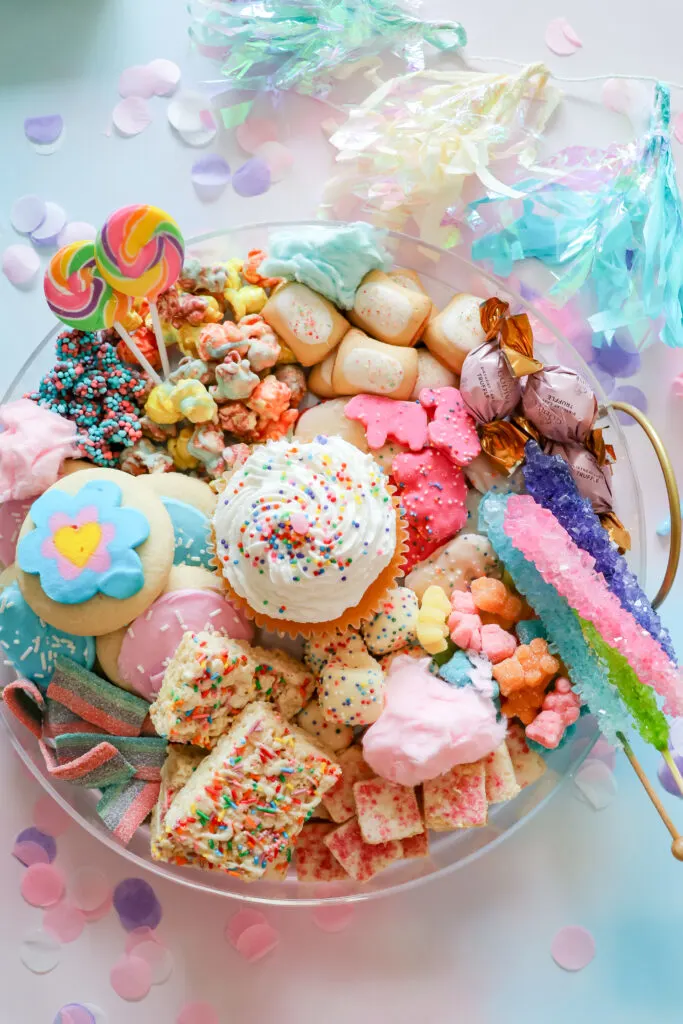 How to Make a Number or Letter Charcuterie Board
To make a number or letter birthday charcuterie board you will need a box in the shape you need. I purchased mine off Amazon or you could find a tutorial on Youtube on how to make a number shaped charcuterie box.
You can find a variety of shapes on Amazon for around $20. I recommend getting a 12″ sized box.
Once you have the letter, number, or shaped box you need fill it up with goodies like cookies, cupcakes, candy, and other sweet treats. I used mini cupcakes in my box, but regular-sized cupcakes could work as well. Chocolate-covered strawberries and macaroons are perfect for these boxes!
I like the shape boxes as a personal gift or even a party favor to take home instead of a goodie bag. If giving as party favors I would go with smaller size like 5-8″.
How to Make a Birthday Charcuterie Board
First decided what your birthday dessert charcuterie board theme is. Are you going for rainbow colors? Specific colors? A theme like mermaids, unicorns, or dinosaurs? Once you have that figured out start gathering your supplies. I got items from 5 Below, a local candy store, Target, and King Soopers for our charcuterie board. I'll share my list below and where I got everything. You could also hit up your local party store and Amazon.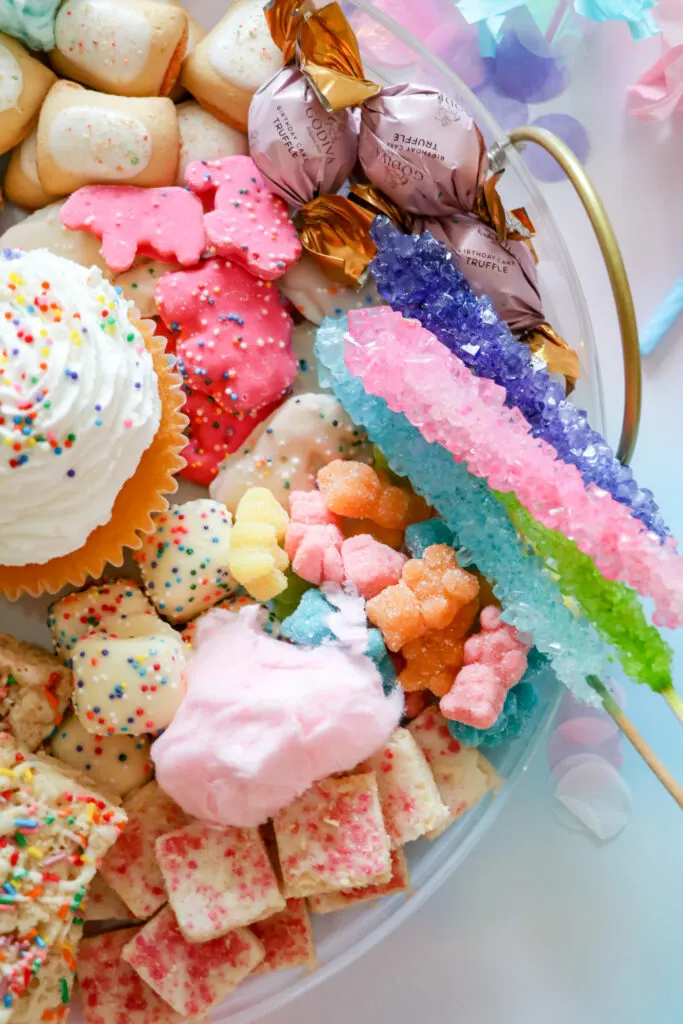 What to Put on a Birthday Charcuterie Board
I went with a dessert and candy theme for our charcuterie board for birthday party. Here are the items I used and where I found them.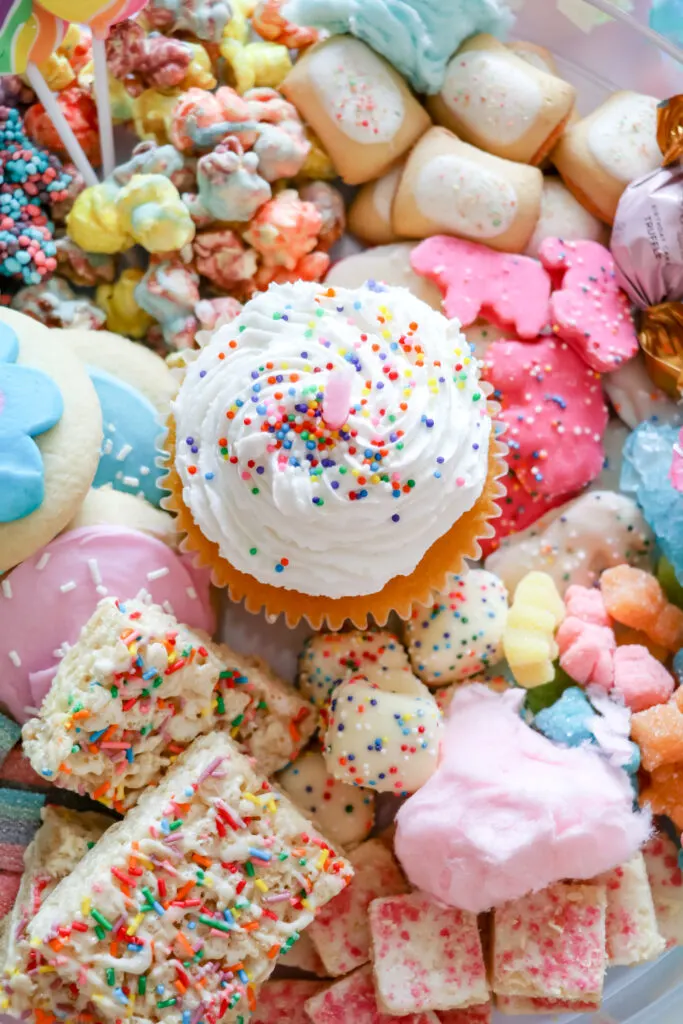 What to add to a birthday charcuterie board
Chocolate covered strawberries
Macaroons
Various Candy – Poprocks, Gummy candy, gum balls, M&M's, or any candy the birthday person enjoys
Different types of cookies
Mini Cupcakes
Donut holes
Chocolate covered pretzels
Snack Cakes
Sprinkles
Cookie Dough Bites
Now that you have all your items it's time to assemble your birthday party charcuterie board.
Here's how to assemble a dessert charcuterie board.
Get a charcuterie board or tray. For this one, I used a clear acrylic tray that I found at Michael's a few months ago. Here is a similar one on Amazon. You can use any size board, but I used a 12″ board for 4 people and it was a good size. Since I had leftover items I could refill them as needed. If feeding a bigger crowd use a bigger board.
Get all your desserts and candy.
Place the jumbo cupcake in the center of the tray and start to pile your other sweet treats around it.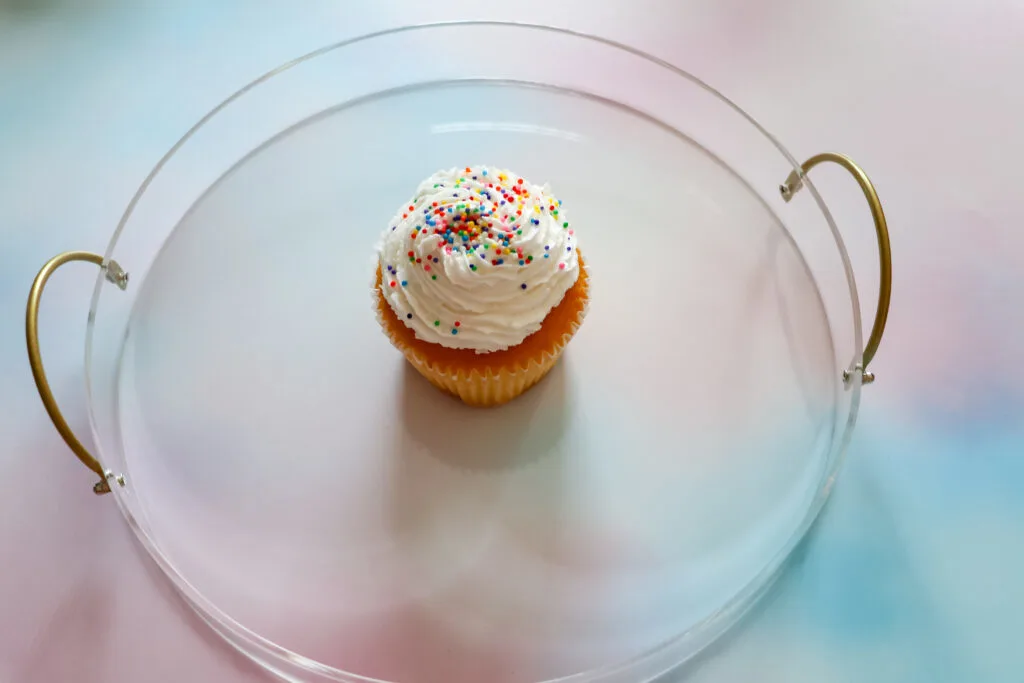 Place a candle in the jumbo cupcake. A fun addition would be to use a number candle for the age of the birthday person. (Nothing Bundts Bundlets and Bundtinis are perfect for a birthday charcuterie board.)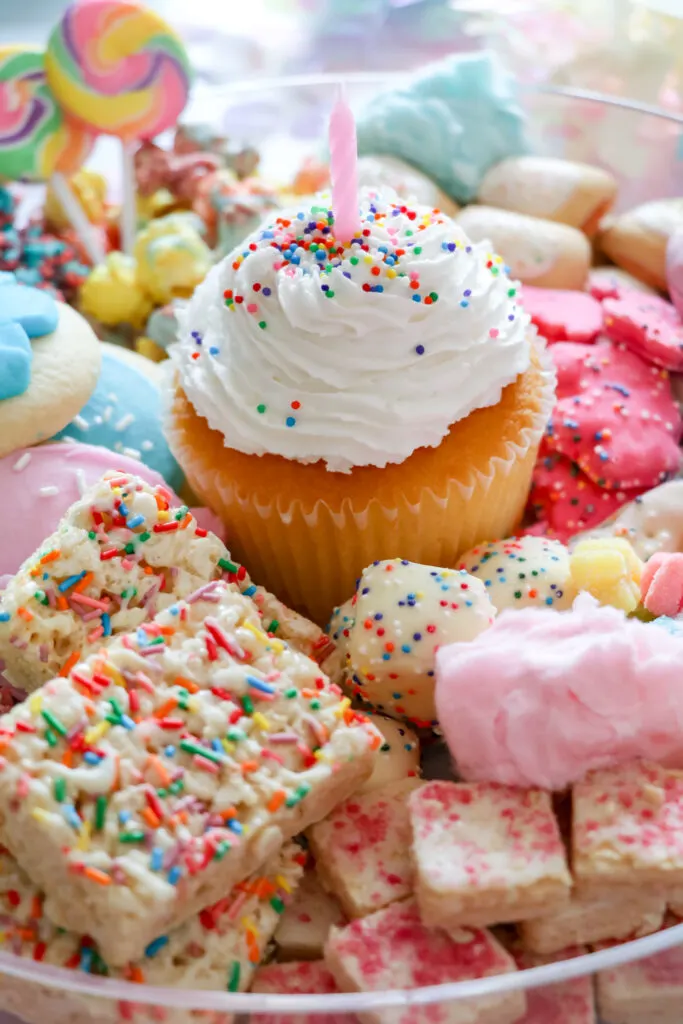 How to Store a Birthday Charcuterie Board
Due to the nature of the items on the birthday charcuterie board, I would suggest making it 15-30 minutes before your party. You could do it an hour or two before, but sweet treats tend to get stale or hard when sitting out so I would make this as close to the party as you can and keep any perishable items in the fridge until you're ready to serve your dessert charcuterie board.
When your party is over place your items into Ziploc bags or air-tight containers to store for 2-3 days. Perishable items should be stored in the fridge.
Birthday Charcuterie Board
An easy dessert candy board for a birthday party filled with cookies, cupcakes, candy, and more. Birthday Charcuterie Boards are delicious candy boards for a birthday party.
Ingredients
Rock Candy
Godiva Birthday Truffles
Neon Gummy Bears
Birthday Cake Marshmallows
Birthday Cake Rice Krispy Treats
Cotton Candy
Strawberry Crisps
Circus Animal Cookies
Mini Pop-Tarts
Sugar Frosted Cookies (Cotton Candy Flavor)
Jumbo Cupcake
Unicorn Popcorn
Candy Ropes
Nerd Clusters
Lolli Pops
Instructions
Place a jumbo cupcake or small cake in the center of your charcuterie board.
Fill in candy, cookies, and sweet treats in piles around the cake/cupcake.
This post contains affiliate links. Thank you for your support