Halloween is all about chocolate and candy and Halloween hot cocoa bombs are the perfect treat to keep you warm on a chilly fall night. Halloween Hot Chocolate Bombs can be made in a variety of shapes, colors, and flavors that are perfect for Halloween. From cute to spooky hot cocoa bombs.
If you're looking for even more hot chocolate bomb flavors check out my post of over 50+ ideas for hot chocolate bombs and coffee bomb flavors.
In this post I am going to share hot cocoa bomb flavors that I think are perfect for Halloween, molds to use, chocolate, and decorations ideas.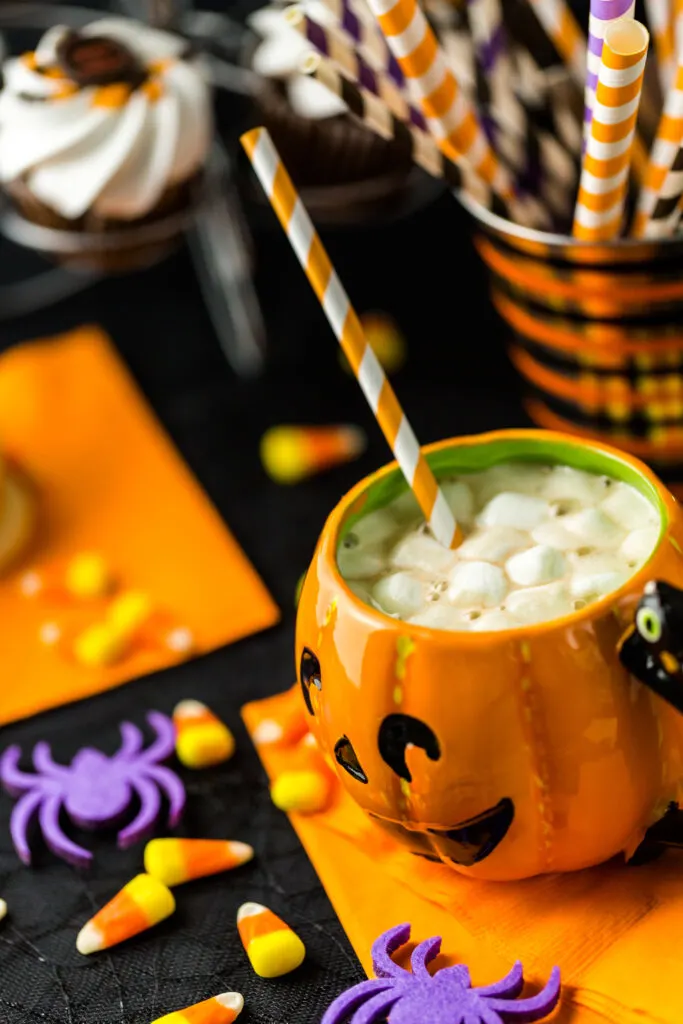 Halloween Hot Cocoa Bombs
In this post, I am going to share hot chocolate bombs for Halloween. Halloween hot chocolate bomb molds, fun colors to use, sprinkles, embellishments, and more.
Halloween Hot Chocolate Bomb Molds
Let's talk all about Halloween hot cocoa bomb molds. There are so many fun ways to make hot chocolate bombs for Halloween from pumpkins, skulls, mummies, and more. The best molds to use are silicone molds and you can find them online, Target, Michael's, Joann, and more.
Amazon
Michael's
Joann
Halloween Hot Cocoa Bomb Chocolate
Michael's Sweet Tooth Fairy Brand – Similar to Candy Melts these melting wafers come in a lot of fun colors and flavors like pumpkin spice, salted caramel, peanut butter, and tons of colors.
Wilton Candy Melts – You can find these at Walmart, Joann, Wilton.com, and Amazon. They also come in fun flavors and colors.
Ghirardelli Melting Wafers – These are my favorite to use for chocolate and white chocolate hot cocoa bombs. They're easy to melt and you can find them at any grocery store. If you have Sam's Club you can get big bags of the Dark and White chocolate melts there. The dark chocolate tastes pretty much the same as milk chocolate.
How to Decorate Halloween Hot Cocoa Bombs
When it comes to decorating your hot cocoa bombs for Halloween there are so many fun ways. If you are using the standard sphere mold I could do a drizzle in a fun Halloween color like green, purple, or orange and then add some Halloween sprinkles. You can also add Halloween embellishments like the royal icing ones from Wilton or edible picture sprinkles. When choosing your embellishments remember that not all of them will melt like the royal icing or the big sprinkle balls. If you use those make sure they are removed before the hot cocoa is consumed because they can be a choking hazard.
My favorite Halloween Sprinkles for Hot Chocolate Bombs
When buying sprinkles from Etsy or Amazon make sure you are buying EDIBLE sprinkles. There are sprinkles that show up and they're not edible.
Edible Sprinkle Toppers – These are made with wafer paper and will melt into your hot cocoa. There are so many cute designs like Hocus Pocus, Zombies, Horror Movies, and more. She also has a website with even more designs Floofcutters.com
Sprinkles:
Edible Toppers:
Halloween Marshmallows:
Inside of your hot cocoa bombs you'll want to add some marshmallows. Here are a few options:
Halloween Hot Chocolate Bomb Flavors
Here are some flavors to enjoy that are perfect for Halloween and Fall.
Basic flavors like Milk Chocolate, Dark Chocolate, or White Cocoa.
Salted Caramel Apple Cider – Use the Salted Caramel Melting Wafers and a packet of Apple Cider mix. Apple cider should be mixed with hot water instead of milk.
Caramel Hot Chocolate – Use a caramel or chocolate shell and caramel hot chocolate mix.
Peanut Butter Cup – Peanut Butter or Chocolate shell and peanut butter hot chocolate mix.
Cookies N Cream – Either a chocolate shell or white chocooolate shell with crushed Oreos mixed in. Cookies and Cream hot cocoa mix. If you can't find cookies and cream hot chocolate mix you can use oreo pudding mix or this cookies and cream drink mix. Add 1 tablespoon of whatever you choose.
S'mores – Chocolate shell with s'mores hot chocolate mix. You can decorate the top with crushed graham crackers and mini marshmallows.
Pumpkin Spice – Pumpkin Spice shell with the pumpkin spice melts or do a White Shell with pumpkin spices mixed into the white chocolate. Pumpkin spice hot chocolate.
Butterbeer – Butterbeer Hot Chocolate bomb. Get my recipe
Peach Cobbler or Peaches and Cream – White chocolate shell or Orange Colored shell, Peaches and Cream drink Mix. If you wanted to do cobbler add a pinch of brown sugar and some cinnamon to the drink mix.