Nestled in the valleys of the rocky mountains in Colorado is a little ranch called Parker Pastures. Parker Pastures was started in 2006 by Bill and Kelli Parker and their 3 children. Together this family of 5 owns, manages, and provides most of the labor for this family-owned business.
Bill and Kelli Parker both studied livestock production, ecology, and Holistic Management which they will use to help run their ranch. Their goal? To promote ecological regeneration through the production of high-quality grass-fed meats.
Parker Pastures offers a variety of beef that is 100% pasture-raised, grass-fed, grass-finished beef, and raised in Colorado.
The Parker Pasture Family Story
Bill and Kelli shared their story with me and this is what they had to say about why they started Parker Pastures.
We're parents who want to feed our families the highest quality real food that is raised in a way that is making the earth healthy again. We began raising our own meats so we could know what it is we're eating, where it came from, and how it was raised.
We wanted to be sure about something else too. We wanted to be sure the meats we were eating were contributing to the health of the earth. We wanted more wildlife, more plant diversity, less erosion, and no pollution.
What started as a means to provide clean, nutritious food for our family quickly grew to a business with hundreds of families each sharing our commitment to family health and thoughtfully raised food that was making the earth a better place while giving our animals an amazing life too. And honestly, Parker Pastures was really born when our friends and neighbors insisted on buying the delicious, organic, mountain meadow-raised, 100% grass-fed beef and lamb we were raising to feed our family!
Abundance and health, that's what we believe in. And that is why we choose to raise organic, high mountain, 100% grass-fed beef and lamb in a way that creates healthy land, healthy animals, and healthy people. We raise our beef and lamb in the lush, high mountain Gunnison Valley on the Western Slope of Colorado. We believe this location, and our careful care of our land and animals, allow us to produce the finest grass-fed meats in the world.
You see, Bill and I both grew up in the Gunnison Valley, and we were both born with a passion for healthy lands and humanely raised animals. We spent many years away studying organic grass-fed livestock production, ecology, soil science, (w)holistic management, health, and regenerative agriculture. Then in 2006, after the birth of our 2nd child, we knew it was time to move back to the emerald enchanted valley of our youth.
Our organic & holistic approach to land and animal care produces AMAZING grass-fed meats that you can feel good about feeding your family too! We are excellent stewards of the earth, promote life in all forms, produce healthy grass-fed meats in a way that regenerates the land, supports an excellent quality of life for our community, and we have absolute honesty and integrity in all of our relationships.
Parker Pastures Beef
Parker Pastures has a few different options available for purchasing their beef. You can visit their website to place your order. If you're local to Gunnison you can pick-up your order at the ranch, but if you're outside of Gunnison, Colorado you can have your beef shipped to you in Colorado or any of the lower 48 states.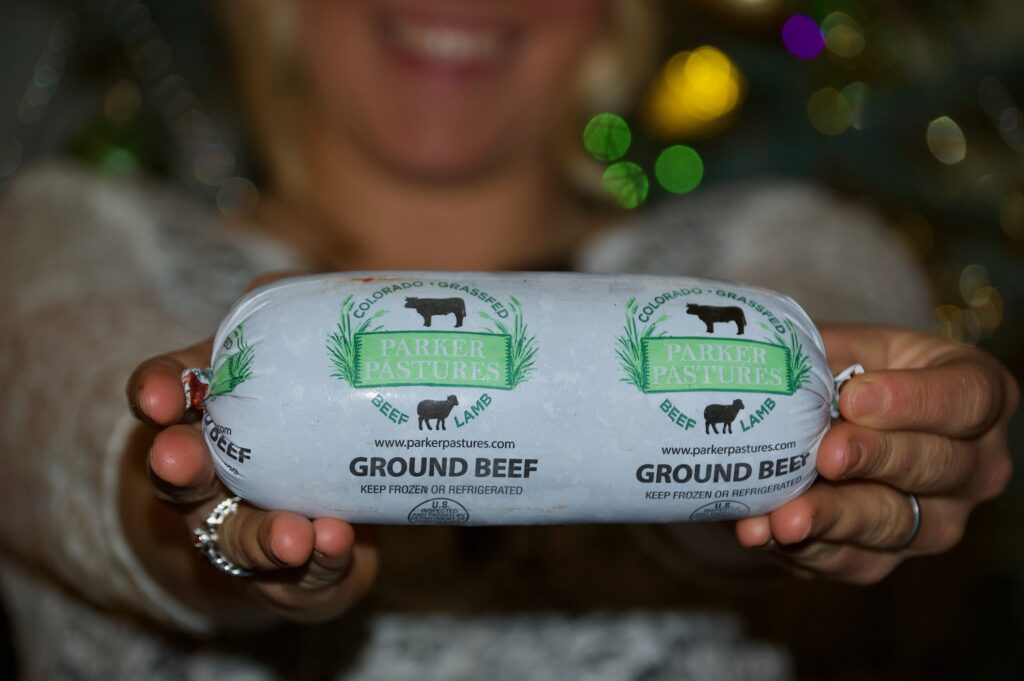 Parker Pastures has a few different ordering options available. You can order individual cuts of meat, variety boxes, and even buy into a cow share. If you're looking to for a Colorado cowshare Parker Pastures is the place to go.
Their cuts of beef include:
beef bone
burger patties
ground beef
fajitas
skirt steak
brisket
chuck roast
sirloin
shoulder roast
and much much more
In addition to beef you can also purchase Colorado made raw dog food and raw beef bones for dogs. They even have monthly subscriptions available.
Parker Pastures Review
Parker Pastures was kind enough to send me a beef box with some of their most popular cuts of meat like ground beef, strip steak, and a roast. They also added in some yummy spices and a few other goodies. All their orders ship every Tuesday. If you're in Colorado your order will arrive on Wednesday, which mine did.
When I have gotten cold food items before they have arrived with the ice melted and on the warm side. This was not the case with Parker Pastures. I was thoroughly impressed with how they packed their beef and at how cold it was when it arrived. It was insulated very well and arrived as I had just taken it out of the freezer.
As for the beef? The strip steaks were perfectly marbled, the roast was the perfect cut of meat, and the ground beef was delicious. I am no beef connoisseur, but I found the meat to be delicious, fresh, and something I will order again.
If you're looking for Colorado farm fresh beef give Parker Pastures a try!
Parker Pastures Beef Giveaway
Parker Pastures wants one of you lucky readers to try out their beef with a beef box worth $75! To enter visit THIS LINK. Giveaway ends 4/23/21 and giveaway is open to anyone in the lower 48 of the USA.