You can see my original post, 30+ Must Watch Series on Netflix, where I shared a bunch of shows to binge-watch. Now I'm back with more good shows to start on Netflix that I've found on Netflix, and other streaming services, that I love.
I have watched all the shows mentioned and loved them all.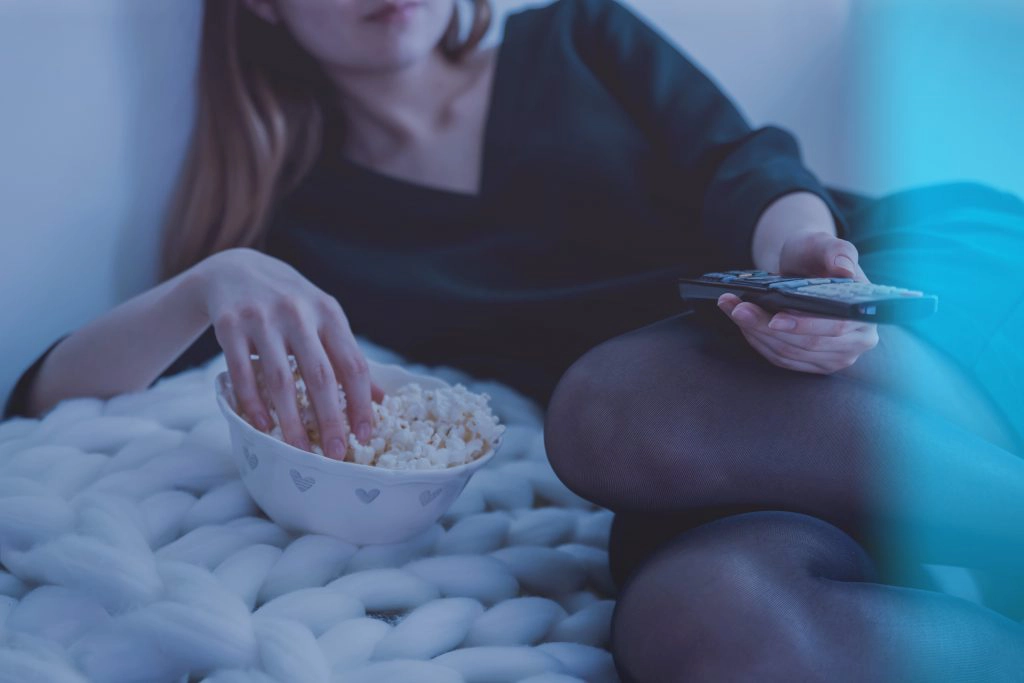 Shows to Binge on Netflix
Schitt's Creek – a wealthy couple — video store magnate Johnny and his soap opera star wife Moira — suddenly find themselves completely broke. With only one remaining asset, a small town called Schitt's Creek, which the Roses bought years earlier as a joke, this once-wealthy couple must give up life as they know it. With their two spoiled children in tow and their pampered lives behind them, the Rose family is forced to face their newfound poverty head-on and come together as a family to survive.
That 70's Show – a retro-hip situation comedy about an eclectic group of friends on the verge of adulthood. The group live in the suburbs of Wisconsin, where they yearn for independence amid the growing pains of becoming adults.
Workin' Moms – Warm, loyal PR executive Kate and her longtime friend, no-nonsense psychiatrist Anne, attend a judgmental mommies' group, where they meet timid IT tech Jenny and blindly optimistic real estate agent Frankie. The four quickly form an unlikely friendship, sharing struggles of urban motherhood filled with the chaos of toddlers, tantrums, careers, and identity crises, all while trying to achieve the holy grail: a sense of self.
You – What would you do for love? For a brilliant male bookstore manager who crosses paths with an aspiring female writer, this question is put to the test. A charming yet awkward crush becomes something even more sinister when the writer becomes the manager's obsession. Using social media and the internet, he uses every tool at his disposal to become close to her, even going so far as to remove any obstacle –including people — that stands in his way of getting to her.
Legacies – The town of Mystic Falls has a new generation of protectors in this spin-off of "The Vampire Diaries" and "The Originals." The Salvatore School for the Young and Gifted is home to Klaus Mikaelson's daughter Hope, Alaric Saltzman's twins Lizzie and Josie, and other young adults who are coming of age as witches, vampires and werewolves, nurtured to be their best selves and overcome their villainous impulses. Together, they rely on ancient folklore and tales to learn how to battle their far-reaching enemies and attempt to keep balance in the world.
Dead to Me – Jen's husband recently died in a hit-and-run, and the sardonic widow is determined to solve the crime. Optimistic free spirit Judy has recently suffered a tragic loss of her own. The ladies meet at a support group and, despite their polar-opposite personalities, become unlikely friends. As the women bond over bottles of wine and a shared affinity for "The Facts of Life," Judy tries to shield Jen from a shocking secret that could destroy her life as she knows it. The dark comedy — which explores the weirdly funny sides of grief, loss and forgiveness
Virgin River – Seeking a fresh start, a nurse practitioner moves from Los Angeles to a remote Northern California town and is surprised by what — and who — she finds.
Russian Doll – Nadia, a young woman who is on a journey to be the guest of honor at a party in New York City. But she gets caught in a mysterious loop as she repeatedly attends the same event and dies at the end of the night each time — only to awaken the next day unharmed as if nothing had happened.
Grace and Frankie – For as long as they can recall, Grace and Frankie have been rivals. Their one-upmanship comes crashing to a halt, however, when they learn that their husbands have fallen in love with each other and want to get married. As everything around the ladies is coming apart, the only thing they can really rely on is each other.
Private Practice – Neonatal surgeon Addison Montgomery escapes from a dysfunctional love triangle, leaving her friends and foes at Seattle Grace Hospital behind for a fresh start in Los Angeles, where she joins a trendy public clinic run by her recently divorced friends, Sam and Naomi Bennett.
Peaky Blinders – Britain is a mixture of despair and hedonism in 1919 in the aftermath of the Great War. Returning soldiers, newly minted revolutions and criminal gangs are fighting for survival in a nation rocked by economic upheaval. One of the most powerful gangs of the time is the Peaky Blinders, run by returning war hero Thomas Shelby and his family. But Thomas has bigger ambitions than just running the streets. When a crate of guns goes missing, he recognizes an opportunity to advance in the world because crime may pay but legitimate business pays better. Trying to rid Britain of its crime is Inspector Chester Campbell, who arrives from Belfast to try to achieve that goal.
Shows to Binge on Hulu
This is Us – Jack and his wife – who is very pregnant with triplets – have just moved into their new home in Pittsburgh. Successful and handsome television actor Kevin is growing increasingly bored with his bachelor lifestyle. Randall – who was abandoned at a fire station by his father as an infant – is a stylish New York-based businessman working to raise two daughters with his wife, Beth. These people are among a group, several of whom share a birthday, of seemingly random individuals whose lives intertwine in unexpected ways.
Manifest – When Montego Air Flight 828 landed safely after a turbulent but routine flight, the crew and passengers were relieved. But in the span of those few hours, the world had aged five years — and after mourning their loss, their friends, families and colleagues had given up hope and moved on. Now, faced with the impossible, they're all given a second chance. But as their new realities become clear, a deeper mystery unfolds, and some of the returned passengers soon realize they may be meant for something greater than they ever thought possible.
Empire – The powerful family drama set within the world of hip-hop music.
The Resident – Conrad Hawkins is one of Chastain Park Memorial Hospital's best doctors. Charming and arrogant, Conrad likes to take an unconventional approach whenever possible and believes it's his personal duty to shatter the romantic illusions of the first-year residents. Dr. Devon Pravesh is an innocent idealist who leans on his finely tuned moral compass, but with Conrad's help, he begins to realize that the practice of medicine is a business, like any other, with less-than-angelic patients and fallible doctors.
Almost Family – Only child Julia Bechley finds her life turned upside down when her father reveals that, over the course of his prize-winning career as a pioneering fertility doctor, he used his own genetic material to conceive dozens of children. Reeling from this explosive revelation, Julia discovers two new sisters.
The Handmaid's Tale – Set in a dystopian future, a woman is forced to live as a concubine under a fundamentalist theocratic dictatorship.
Nashville – After two decades as the reigning queen of country music, Rayna Jaymes (Connie Britton) is faced with pressure to adapt and reinvent herself to stay relevant.
Siren – Legend has it that Bristol Cove was once home to mermaids. Now, this coastal town has a mysterious new visitor in a girl named Ryn, who may just prove that all of the stories are true. Ryn catches the eye of local marine biologist Ben, and when he begins to show interest, fellow marine biologist Maddie becomes suspicious.
Timeless – When a group with nefarious intentions attempts to change the world as we know it by altering the past, Lucy, a historian, Wyatt, a soldier, and Rufus, a scientist, unite to form an unlikely partnership, traveling through time to save history.
Blindspot – A beautiful woman is found naked in Times Square, her memory erased, her body covered in a series of coded tattoos. But as "Jane Doe" and the FBI team who discovered her work to decipher, investigate and solve the complex treasure map of her body, an ever-widening web of conspiracy and corruption is revealed, as is the truth behind Jane Doe's real identity and the identity of the people who sent her to the FBI in the first place.
Dollface – After being dumped by her longtime boyfriend – must deal with her own imagination in order to literally and metaphorically re-enter the world of women, and rekindle the female friendships she left behind.
Good Girls – When sisters Beth and Annie and their best friend Ruby become fed up with playing by the rules and not getting the respect they deserve, they band together to take control of their lives — by holding up a local grocery store.
Star – Star's life in the foster system didn't dull her dreams, but it did give her the strength to pursue them. Committed to following the path to fame in the cut-throat music industry, the singer tracks down her sister, Simone, and her best friend from Instagram, Alexandra, and the trio make their way to Atlanta. Once there, they find support in the form of mother-figure Carlotta and a down-and-out talent agent named Jahil who takes an interest in Star. As the young women chase down their dream, they find that ambition has a price and sometimes that price is too high.
The Good Doctor – Shaun Murphy, a young autistic surgeon who has savant syndrome, relocates from a quiet country life to join the surgical unit at the prestigious San Jose St. Bonaventure Hospital — a move strongly supported by his mentor, Dr. Aaron Glassman. Having survived a troubled childhood, Shaun is alone in the world and unable to personally connect with those around him, but he finds his niche using his extraordinary medical skill and intuition to save lives and challenge the skepticism of his colleagues.
Shows to Binge on Amazon Prime
Marvelous Mrs. Maisel – It's the late 1950s and Miriam "Midge" Maisel has everything she has ever wanted — the perfect husband, two kids and an elegant apartment on New York's Upper West Side. Her seemingly idyllic life takes a surprising turn when she discovers a hidden talent she didn't previously know she had — stand-up comedy. This revelation changes her life forever as she begins a journey that takes her from her comfortable life on the Upper West Side through the cafes and nightclubs of Greenwich Village as she makes her way through the city's comedy industry on a path that could ultimately lead her to a spot on the "Tonight Show" couch.
The Boys – Superheroes are often as popular as celebrities, as influential as politicians, and sometimes even as revered as gods. But that's when they're using their powers for good. What happens when the heroes go rogue and start abusing their powers? When it's the powerless against the super powerful, the Boys head out on a heroic quest to expose the truth about the Seven and Vought, the multibillion-dollar conglomerate that manages the superheroes and covers up their dirty secrets. Based on the comic book series of the same name.
Chicago PD – District 21 of the Chicago Police Department is composed of the uniformed cops, who deal with street crimes, and the Intelligence Unit, which deals with major crimes like drug trafficking and high-profile murders. Sgt Hank Voight – a tough boss who doesn't mind bending the rules a little in the pursuit of justice – heads the unit's elite team. The responsibilities of life on the force take a toll on the officers, as they struggle to balance their personal lives with the strain of the job. From Emmy-winning producer Dick Wolf.
House – At fictional Princeton Plainsboro Teaching Hospital in New Jersey, prickly genius Dr. Gregory House tackles health mysteries as would a medical Sherlock Holmes, all the while playing mind games with colleagues that include his best friend, oncologist James Wilson. House, an acerbic infectious disease specialist, solves medical puzzles with the help of a team of young diagnosticians. Flawless instincts and unconventional thinking help earn House great respect, despite his brutal honesty and antisocial tendencies.
The Sopranos – Tony Soprano juggles the problems of his fractious family with those of a "Family" of a different sort – the mob. He sees a therapist to deal with his professional and personal problems, which bring on panic attacks. He deals with personal and professional power struggles, affairs, violence, the threat of exposure and betrayal, and a whole bunch of people being whacked.
Chicago Fire – As the firefighters, rescue squad and paramedics of Chicago Firehouse 51 forge headfirst into danger, the choices they make can mean the difference between life and death. But from the relentless pressure of saving lives, an extended family is forged. Led by Chief Wallace Boden, Matthew Casey, Kelly Severide, and the others know — when it's go time, Firehouse 51 lays it all on the line for each other. This high-octane drama from Executive Producer Dick Wolf offers an edge-of-your-seat view into the lives of everyday heroes committed to one of America's noblest professions.
Shows to Binge on HBO
Big Little Lies – Madeline, Celeste and Jane are a trio of wealthy young women in Monterey, California. Their lives are shattered when a murder takes place in their idyllic town, unraveling a can of worms.
True Blood – Small-town Louisiana waitress Sookie Stackhouse already is viewed as an oddball by her friends and neighbors, since she can read the minds of those around her. She doesn't exactly help her reputation, though, when she falls for Bill Compton, a 173-year-old vampire who has `come out of the coffin' along with many of his undead comrades now that a new synthetic blood has made it possible for vampires to survive without preying on humans. Still, the conservative locals aren't wild about mortal-vampire liaisons, especially Sookie's boss, Sam Merlotte, who carries a torch for her.
Boardwalk Empire – Atlantic City at the dawn of Prohibition is a place where the rules don't apply. And the man who runs things — legally and otherwise — is the town's treasurer, Enoch "Nucky" Thompson, who is equal parts, politician and gangster. Side by side with his brother Elias, Atlantic City's sheriff, and a crew of ward bosses and local tough guys, Nucky gains a reputation as the man to see for illegal alcohol. He does business with all the top gangsters — Al Capone, Lucky Luciano, "Big Jim" Colosimo — and he does it well … until a former protégé takes matters into his own hands, setting the Feds on Nucky's tail.
Shows to Binge on Showtime
Shameless – Frank Gallagher, a single father of six who spends much of his free time drinking at bars. The Gallagher children — led by oldest daughter Fiona (Emmy Rossum), who takes on much of the child-rearing responsibility due to her mother's absence — manage to raise themselves in spite of Frank's lack of parenting and unusual parenting style when he does choose to act like a father.
The Affair – "The Affair" explores the emotional/psychological effects of two affairs. Young diner waitress Alison and her husband, rancher Cole, are struggling — personally and financially — in the wake of tragedy. Noah, a settled teacher and would-be novelist, is summering at his in-laws' Hamptons estate with his wife, Helen, and four kids. When Noah meets Alison, they begin an affair. For her, he's a welcome escape; for him, she's a pretty distraction. But, the tryst eventually ends two marriages — one that was already a bit shaky, the other that was on solid ground.
Shows to Binge on CBS
Young Sheldon – It's 1989 and 9-year-old Sheldon Cooper has skipped four grades to start high school along with his less-intellectual older brother. As he struggles to be understood by his family, classmates and neighbours, his mother arms him with the best tool she can come up with: reminding bullies his dad is the football coach and his brother is on the team. His twin sister doesn't share his exceptional mind, but she has a much clearer vision of what life has in store for the young genius. Jim Parsons, who plays the adult version of Sheldon on "The Big Bang Theory," narrates.
Big Bang Theory – Mensa-fied best friends and roommates Leonard and Sheldon, physicists who work at the California Institute of Technology, may be able to tell everybody more than they want to know about quantum physics, but getting through most basic social situations, especially ones involving women, totally baffles them. How lucky, then, that babe-alicious waitress/aspiring actress Penny moves in next door. Frequently seen hanging out with Leonard and Sheldon are friends and fellow Caltech scientists Wolowitz and Koothrappali.
The Good Wife – When a very public sex and political-corruption scandal lands her husband, Peter, in prison, Alicia Florrick (Emmy-winner Julianna Margulies ) must get past the humiliation and betrayal and assume responsibility for her family. She resumes her career as a defense attorney, shedding her persona as the embarrassed wife of a politician, and takes charge of her destiny. Years later, after Peter wins the gubernatorial election, Alicia must balance her evolving career and family responsibilities with her new position as first lady of Illinois.
The Good Fight (the sequel to The Good Wife) – The CBS All Access series picks up one year after the events in the final episode of "The Good Wife." After a financial scam destroys the reputation of young lawyer Maia Rindell and wipes out her mentor and godmother Diane Lockhart's savings, the two are forced out of Lockhart & Lee and join forces with Lucca Quinn at one of Chicago's pre-eminent law firms. At Reddick, Boseman & Kolstad, Diane finds familiar faces, including Colin Morrello, who is a rising star in the state's attorney's office, and Marissa Gold. Though starting at the bottom, Diane and Maia are determined to rebuild their careers and lives at the new firm.