The kids are back in school and they're already complaining about having sandwiches every day for lunch, so Pinterest mom has to step into place and give them some variety at lunchtime. I want them to be properly fueled and excited for their lunch because I know this will help them to be successful in school. Grabbing a few essentials like a bento box and thermos will help to make lunch making easier and planning will ensure that they have different lunches.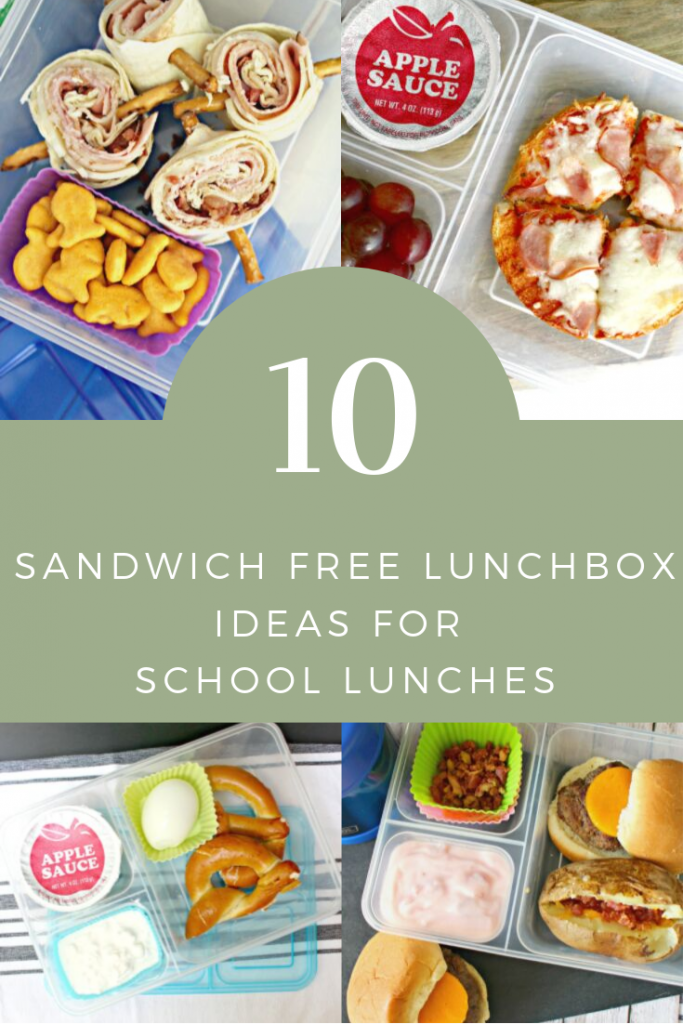 Here are 10 delicious lunches that kids will be begging for and that our kids often take.
Protein box. Turkey, cheese, crackers, hummus, and a hard-boiled egg. When I'm on the go, one of my favorite lunches to grab is a protein box. (Especially from Starbucks, yum!) This is a nut-free version of a protein box that your kids will eat up!
Packing tips: Change out the protein or add a mix.  Ham, turkey, or salami are all great options. Make your cheese in fun shapes for an added surprise! These small cutters are perfect.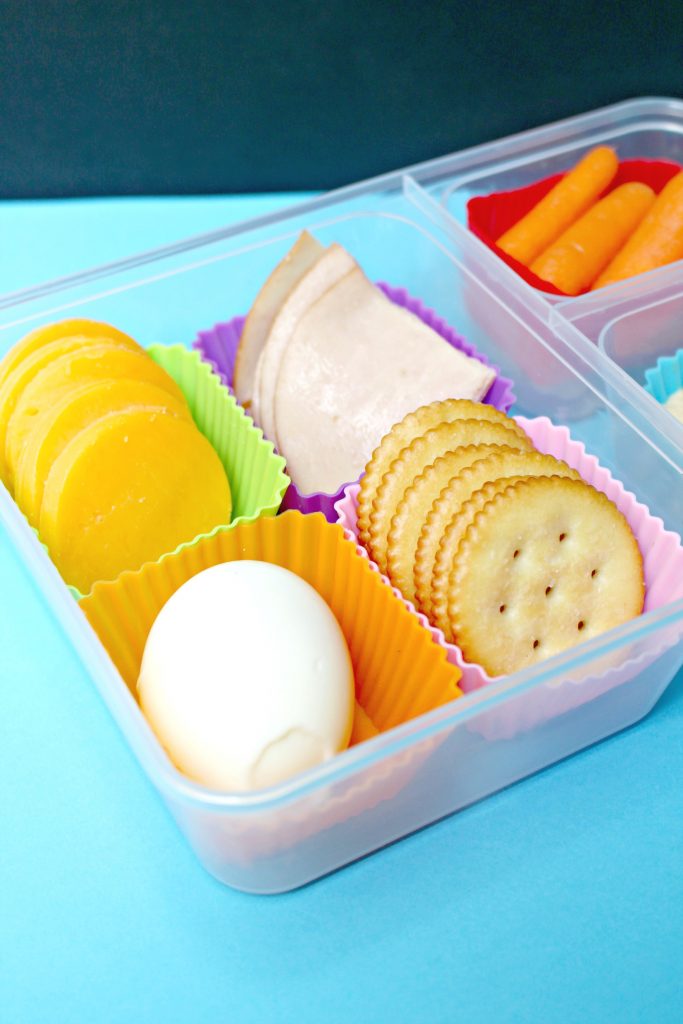 Meatballs. My kids love meatballs. With this lunch, they are great on their own to dunk in marinara sauce (because isn't everything better for kids when they get to dunk it?) or include a hoagie bun and cheese for a meatball sub. A small side salad and a breadstick complete the meal.
Packing tips: If you want to keep your meatballs warm until lunch, put them in a Funtainer and these small containers are perfect for their dipping sauce.
Pancakes, Sausage, and Fruit Salad. This lunch will be requested time and time again! Silver dollar pancakes can be made in a variety of flavors like whole wheat, banana, cinnamon apple, blueberry or even chocolate chip. Sausage and fruit salad are classic breakfast-for-lunch sides.
Packing tips: This is another great funtainer lunch, but my kids will gobble them up in or out of the funtainers.
Grilled Cheese Bites and Tomato Soup – This is a great fall lunch. Funtainers make packing a nice warm soup easy and mess-free. Pack a gooey cheesy grilled cheese for snacking and dunking and a side salad.
Sliders, Yogurt, and Loaded Baked Potato – One of my favorite things to pack for my kids is sliders. You can make slider burgers ahead of time, making them easy to grab and pack. A baked potato is fun for kids to load up with things like butter, cheese, and bacon. And who can resist a creamy yogurt?
Packing tips: A potato can fit great in a Funtainer. Just be sure to cut it open first before packing. Sliders can be served warm or cold. If your kids prefer them warm, they can get their own container or can fit in with the potato. Don't forget the cheese separate though!
Cereal, String Cheese, Fruit Salad – Need a fast lunch to pack? Pour in your child's favorite cereal and grab some fruit salad and a cheese stick.  Tada! Kids will be happy and you will be too! If your child needs special milk or you don't want them to buy one, you can pack your milk separate in a thermos bottle.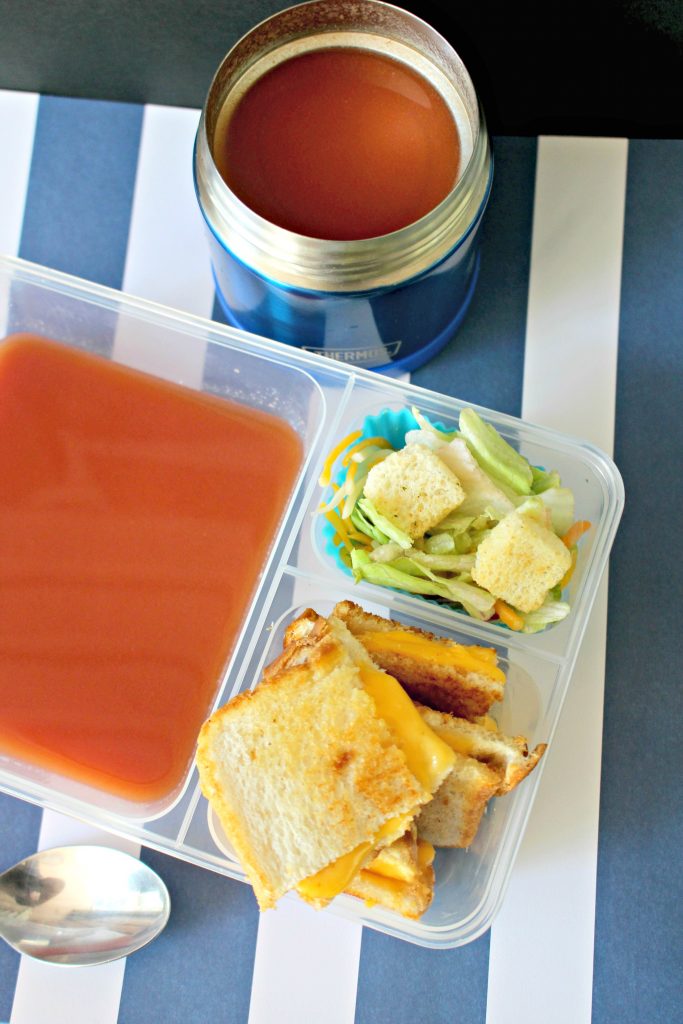 Club Pinwheels, Gold Fish, Caramel Apples – To make a club pinwheel, on a tortilla layer on turkey, ham, cheese, and bacon. If your child likes mayo or mustard you can add those too! Roll the tortilla tightly and slice. Secure with pretzel sticks. This makes the pinwheels super fun for kids to eat! Also add goldfish, apple slices and a caramel sauce for a delicious lunch.
Pizza Bagel, Applesauce, and Grapes – Bagels make a great 'deep dish' pizza for lunches. They make for easy lunches to make and delicious lunches to eat!
Tuna Salad, Cheese Cubes, Crackers, Celery Sticks, and Carrots – This protein style box is full of finger foods for kids to dunk, grab and munch.  Many schools have things like ranch available for kids, but if your child's school doesn't, these containers are perfect.
Hard Boiled Egg, Cottage Cheese, Applesauce, Pretzel – This lunch is all of my son's favorite foods! Moms will love that it is healthy and easy to pack.  Kids will love how yummy it all is.