An easy and delicious one-pot pasta recipe with sausage, spinach, tomatoes, and wine.
If you've been following my blog then you know I am all about easy meals and one-pot dishes are my absolute favorite. With the Holidays coming up that means there will be even more chaos to tackle, especially with family coming to visit. My aunt always comes to visit and when she does she makes this delicious sausage and wine pasta dish that our whole family loves. It's really easy to make, but hers isn't a one-pot dish so I decided to fix that and make it busy mom approved!
For this dish, you'll brown some mild Italian sausage with garlic and onion.
Drain the fat and then add the rest of your ingredients (minus the spinach), stir, and let cook for about 15 minutes or until pasta is al dente.
Once it's done cooking you'll add a bag of spinach into the dish, give it a good mix, cover, and let sit for a minute or two. Sprinkle with some fresh Parmesan cheese, serve with some crusty bread, and enjoy a glass of wine with it.
This recipe does use wine, but you can leave it out or substitute it with heavy cream.
One Pot Sausage Wine Pasta is a one-pot dish that is easy and delicious.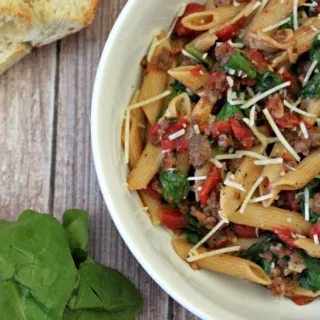 One Pot Sausage Wine Pasta
An easy and delicious sausage pasta made in one pot.
Ingredients
1 lb italian sausage, any kind.
2 tbsp olive oil
3-4 minced garlic cloves
1/2 white onion diced finely
1 can of petite diced tomatoes, 28oz
1 bag of spinach
3 cups of chicken broth
1 cup of red wine, your choice
5-6 basil leaves, fresh
1 tablespoon italitan seasoning
Penne Pasta, 16 oz
Salt and Pepper to taste.
Instructions
Saute onions, garlic and Italian sausage until sausage is fully cooked. Drain fat.
Add the can of diced tomatoes, Italian seasoning, basil, and red wine. Simmer for a few minutes.
Add 3 cups of chicken stock and 1 box of penne pasta to the pot. Mix everything together.
Cook for about 15 minutes or until pasta is al dente.
Add 1 bag of fresh spinach to the pot, give it a good stir and let it sit for 1-2 minutes.
Top with freshly grated parmesan.
Notes
Red wine can be left out or substituted with heavy cream.