I received samples of Text-UR Foam products for review purposes. All opinions are my own!
Text-UR Foam from Fibre-Craft is the new craft item that brings craft foam to a whole new dimension. You'll literally feel the fun by combining interesting textures with an added 3D element to make craft projects stand up and stand out! Priced from $2.99 to $8.99 even kids on a budget can relish the art of making something with their hands, no drawing, coloring or painting required. Use the 3D space-urs, which are peel and stick, stackable squares included in most text-UR Foam products to create an instant wow effect and make ordinary arts & crafts projects extraordinary. The 3D text-UR Foam sheets come in 6 bright colors and cool textures like Wavy, Scaly and Terry Cloth! Parents will quietly celebrate as kids unplug from their computers, TVs and hand-held gadgets to participate in this seemingly lost form of play. Concentration, dexterity, creativity and patience all come together when kids stop and sit down to create art. Maybe that's why there's art in this smart form of play. Look for Fibre-Craft's text-UR® Foam product kits at Michaels, Joann's, Meijer and A.C. Moore.
The toddler just LOVES arts n crafts so we we received some of Text-UR foam's products to try out she was more then thrilled. She picked out the bumble bee kit to try out first. The kit comes with everything we needed to make out stand up bumble bee and I just love that you don't need any extra supplies such as scissors, glue, or paper.
The toddler is 3 and this craft wasn't something she could do on her own so it made for a nice craft project for us to do together. I got to apply and peel the stickers and with some help she would apply the different pieces.
She's so happy with her completed project and already asking to do more of them. The quality of the Text-Ur Foam crafts are very nice. Everything holds together well, is easy to assemble, and full of bright, vibrant colors. The texturized foam is also a nice touch. Not only does it give the crafts some extra pop, but they're nice for learning about the different feelings of patterns. With a variety of different kits to build there's something for every little artist and the foam sheet packs really allow you to get creative with what you can make. The possibilities are endless, but fun!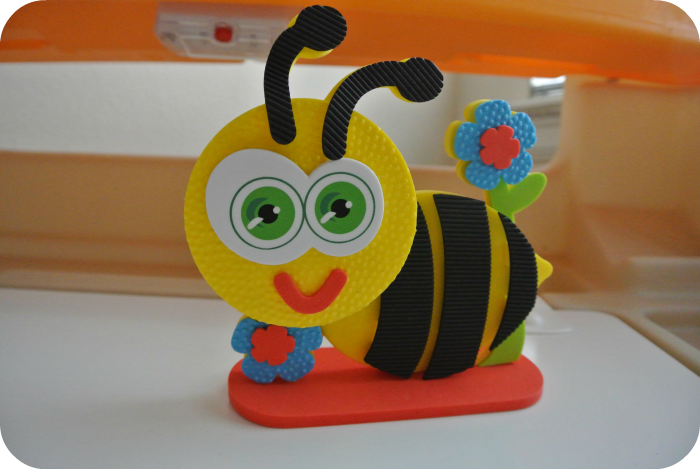 Make sure to check out the text-UR® Foam website for fun product ideas.