This post is brought to you by Folgers Coffee.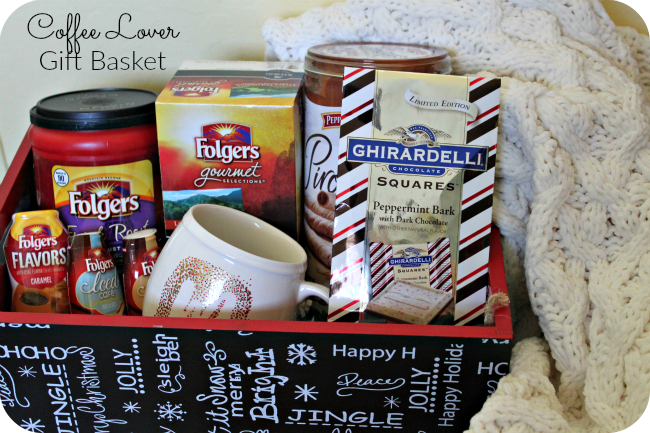 Everyone in my family and circles of friends is a coffee drinker. They all love it and when we get together to catch up there is usually a cup of coffee involved with our date. There's something that is so relaxing about a hot cup of coffee, spending time with a loved one, and chatting away. Coffee warms the soul on a chilly winter day and can be so comforting at the start of your morning, toss in some time with a loved one and it's even more special. With the Holidays approaching there will be lots of time being spent with close friends and family members and I'm getting those coffee mugs ready for our chit chat dates, plus I'm also putting together a little something for some of the coffee lovers in my life.
I know you all know the saying… "The best part of wakin' up is Folgers in your cup…", right? Gosh, those commercials have been a favorite of mine since I was a kid and I have to agree, the best part of wakin' up is Folgers in my cup. From the smell of fresh coffee being brewed to the taste of their smooth blends, Folgers is a go to for at home coffee. That's why this year I am sharing the love of fresh brewed coffee, snugly mornings, and happiness in a cup with a Coffee Lovers Gift Basket.
The great thing about gift baskets is they can be made to cater the person you're creating them for and you can add a variety of products. Here are some ideas:
A Snugly Blanket – One of the best things is snuggling up on the couch with a warm, fuzzy blanket and enjoying a hot cup of fresh brewed coffee.
A Coffee Mug – You need something to all that delicious coffee out of. A nice mug or travel mug makes a great gift and if you're feeling extra crafty you can personalize your own mug for someone. I'm sharing my DIY mug below.
Coffee – Since this is a coffee lovers gift basket you have to have coffee. Folgers has a wide variety of blends and their rich, smooth flavors are perfect for a coffee lovers gift basket. You can either give them a box or 2 of Folgers K-cups (if you're gifting to a Keurig user) or a variety of their ground coffees. Their mountain grown beans are a favorite in my family. Along with the coffee toss in a variety of Folgers Flavors which are the perfect addition to coffee and let them enhance the coffee with a burst of flavor like vanilla, caramel, or hazelnut. Easily available at grocery stores nationwide and if you go to somewhere like Target you can pick everything up for your gift basket in one place.
Some Snacks – What goes good with coffee? Why food of course! Add in a couple items your coffee lover can enjoy with their morning cup of coffee like cookies, biscotti, chocolate, or even some baked goodies.
Reading Material – Something they can enjoy reading while enjoying that hot cup of Folgers in the morning would also make a nice addition. A magazine, book, or even a gift card for them to buy something in an app store are nice additions.
The best thing about gift baskets is you can customize them however you want and to fit each individual person you're gifting them to and to fit your budget. They're the perfect Holiday gift!
Make sure you follow Folgers on Twitter // Facebook.
What items would you add to your coffee lovers gift basket?

Sharpie Monogram Mug
What you'll need:
White Mug
Sharpie Oil Based Markers
Letter – either printed or a sticker
Oven
What You'll Do:
Make sure the mug is clean and dry
I found a font I liked online, print it out in the size I wanted to fit my mug, printed and cut it out, and taped it to the mug. You can also use scrapbook letters or stickers.
Once you have the letter on the mug, start outlining the letter in dots with the sharpie markers.
Once the letter is outline, remove it. (This made it easier for me to keep adding dots, you can always leave it on until you're finished)
If you're going to use more than one color, do one color at a time. Let the first color dry and then go in and add the second color.
Let dry for 24 hours.
Bake the mugs at 350 degrees for 30 minutes. Place the mug in the oven before you turn it on, bake, and leave the mug in the oven until it's cooled off to prevent cracking.