Looking for ways to cool off this hot summer around the Denver area? Splash Pads around Denver are a great way to cool off this summer and most of them are FREE. Here's your guide to splash parks, both indoor and outdoor, around the Denver metro to help you stay cool.
Summer if kicking off this week and it's already getting hot out. With Memorial Day being this weekend it means splash pads are now open. This weekend we're supposed to hit over 90 and that means we'll be looking for somewhere outdoors to cool off. Where the kids can have fun, play, and splash around at a local splash pad. Check out this list of splash pads around the Denver metro area to help keep you little ones cool while having fun!
Located in Arvada the large splash pad has sprayers, and jets.
Located indoors in Arvada the Apex is an indoor swimming pool that has over 23,000 square feet of indoor water fun. With several slides, zero-depth entry, vortex pool, activity pool, lap pool, and adult and family hot tubs. The zero depth entry has a "beach" play area with slides, fountains, waterfalls and geysers.
Great Plains – Aurora (family favorite)
This Aurora spray ground has a variety of spray features that are fun for all ages.
Southlands Mall – Aurora (family favorite)
Located in the heart of Southlands shopping center (near the movie theater) the spray pad at Southlands features fountains for little ones to play in and cool off.
Red-tailed Hawk Park – Aurora
Spray park with fountains and water sprayers.
The Popjet Fountain is located on Pearl Street in downtown Boulder. The fountains feature a variety of jets that randomly "pop up" and surprise children as they splash around.
The Splash Pad Shelter is located off of Skeel street and is adjacent to the splash pad. Splash pad features sprayers and fountains.
The Aquatic Park offers a variety of water fun with two slides, an interactive water play structure, an inner-tube slide, and a separate toddler pool.
Located in South Denver's Castle Pines, this Park features a splash pad for little ones to enjoy.
This 11-acre park has one several awards, including best playground in 528o Magazine's "Top of the Town" issue. The park is located in Centennial on the North side of Arapahoe Road East of I25. The park includes covered shelters for gatherings, and the Nautilus water play area.
The splash pad has several hoses, buckets, and sprayers, and is situated next to a large pool with water slides.
Located next to the rec center is a spray pad.
H2Odyssey Fountains – Denver
H2Odyssey, a water jet fountain located just west of the Denver Museum of Nature and Science.
Wynkoop Plaza, Union Station – Denver
Located near Union Station in Denver Wynkoop Plaza boasts fountains to run through on a hot day.
Located near the Amphitheater the park has spray fountains to play in.
Northfield Stapleton – Denver
The shops at Northfield Stapleton has a splash pad/fountain.
This popular pool has it all and features a large play structure with dump bucket, zero-entry, a lazy river, three water slides, a competitive pool with diving board, a sandy beach area, and a spray garden to splash in.
Spray fountains, flower that sprays water, and a fun park.
10 acres of fun in beautiful Golden, CO. Spread out on 10-acres with a view of beautiful Golden. The leisure pool has a play structure, beach entry, a children's slide, two larger slides, spray cannons, and dump bucket.
Westlands Park is located in Greenwood Village off of Quebec Street. The park has been featured in Landscape Architecture Magazine for its innovative design, and was also chosen by 5280 Magazine's editor as the top playground in the Denver area. In addition to their great park there is a splash pad with fountains.
Located in Highlands Ranch next to the Highlands Ranch Library, this water park features two fountain areas that spray water intermittently, as well as a rock-bottomed creek.
This splash pad is located in Lakewood and features a fun spray park designed to look like a baseball diamond. The interactive water play area is situated next to a playground and covered shelter.
This spray park is located in Lakewood and contains both a large spray area and a smaller one for younger children.
With three diving boards, two slides, and a zero entry area, this swimming pool offers fun for all ages.
Irving Street Park Interactive Water Feature – Loveland
This interactive water sculpture was designed by a Colorado artist from Loveland and is located next to the Irving Street Library in Westminster. The brass sculpture of a boy and his dog holding a hose squirts periodically from 10 am to 4 pm.
Full of so much fun, it could almost be considered a water park! This pool has two 182 ft water slides, a water play structure, a spray garden, sprays and geysers, a circulation and lap pool, and dumping buckets.
During the summer months, the Discovery Park Play Fountain will be a destination for all ages! The approximately 900 square foot water feature includes programmable water jets embedded below the paving surface and color changing LED lights, allowing use during the day or on a warm summer evening.
Float down the lazy river, watch the 300 gallon water bucket soak those below, or ride down one of the winding slides at this fun pool. Wind down the day at the park next door, for a full day of fun.
Westminster Center Park – Westminster
This is such a fun park with fountains and splash river.
Located in the heart of Westminster Promenade there are spray fountains. Grab some lunch and let the kiddos play.
Located in the center of Orchard Town Center are some spray fountains.
Nottingham Park – Westminster
While there isn't a spray park there is a stream kids can play in.
Interactive water feature
Water spray is activated manually by stepping on the raised blue circle pad located on the northeast side of the splash pad.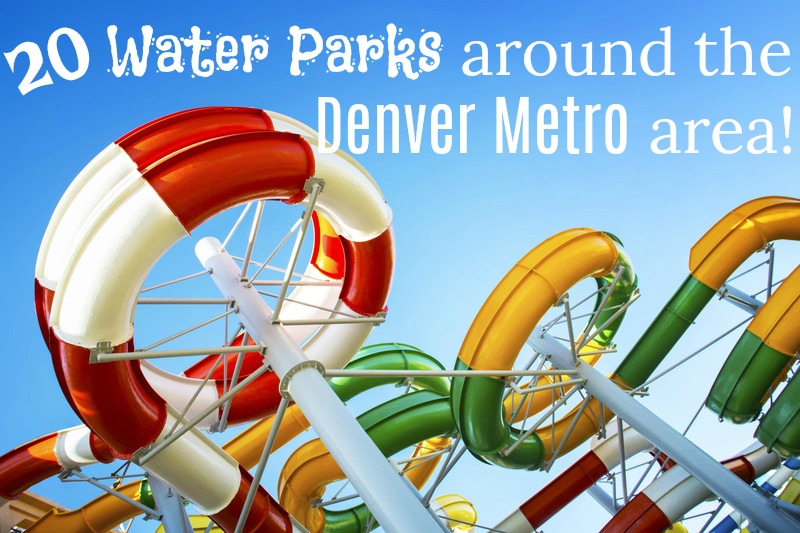 Looking for some water park fun? Check out my list of over 20 water parks around the Denver Metro Area!