Looking for Halloween Events in Denver? The best haunted houses and corn mazes that bring some spooky with them? Here's your guide to haunted houses and corn maze halloween activities in Denver!
It's the beginning to the most wonderful time of year and first up for fall is Halloween. Depending on how you celebrate Halloween you either go the cute route or you want creepy, spooky, and frightening terror. If you want to be scared then this list is for you because I am rounding up all of the fun, but frightening things to do around the Denver metro area for Halloween. This list will lead you down a path of screams, chainsaws, ghouls, and terror.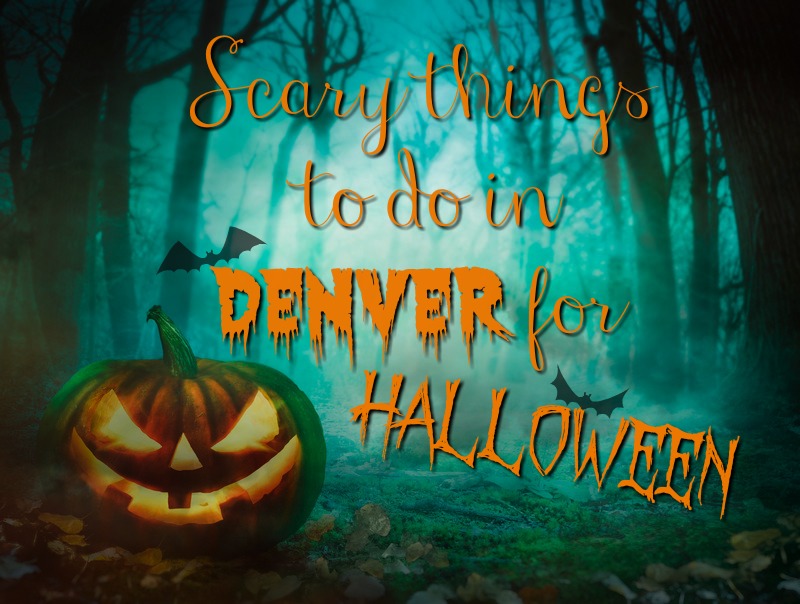 Elitch Gardens Fright Fest. Denver, CO
Family fun by day and Frightening by night. Opening Sept 29th Halloween festivities invade the park throughout the day each weekend. Little ghosts and goblins can enjoy Free Candy on the Trick or Treat Trail and partake in Halloween themed interactive challenges, crafts and interactive Halloween-themed activities for the little ones. Fright by Night takes over and blood-curdling shrieks, shrills and chills will take place. Prepare to be on alert all around you, as Fright Fest comes Alive and haunted creatures lurk around every thrilling corner. Costumes and make up are permitted but there are some rules. Get all the details about Elitch Gardens Fright Fest.
The Asylum. Denver, CO
Dubbed Denver's favorite haunted house The Asylum is made up of 3 horrifying attractions.
Primitive Fear: Walkers: Bloodshed paints the city red after an incurable virus has plagued humankind, leaving the undead desperate for flesh. Your job is to battle through bloodthirsty zombies in hopes of finding sanctuary from these demonic creatures.
Contagium: The Escape: Enter into the Asylum to discover a body of a victim lost to a ghastly disease waiting for you on an autopsy table. What begins as a tour quickly turns into a trap and a race against the clock for survival. You must work with your group to uncover clues in hopes of making your escape. But hurry, because the chamber where you make your mad search will eventually begin to fill with sedation gas. Get out before you're the next one on the autopsy table…
Ridgegate: The Condemned: Welcome to Ridgegate Hospital, where the dangerous and deranged patients are the least of your worries and fears. Doctors routinely take patients and visitors into the basement for rituals so horrifying, those who were sane, come out crazed, and those already crazed, return with a deeper, more sickening level of insanity. If you happen to make it past the tortuous staff, beware of the serial-killing nurse who has taken over 30 souls and counting. In Ridgegate, it can sometime be hard to determine who is a friend and who is foe. Don't be fooled…the nightmarish staff and residents of Ridgegate will surprise you when you least expect it.
Learn more about The Asylum and purchase tickets via their website!
13th Floor. Denver, CO
From the makers of The Asylum comes 13th floor. This Halloween Season, explore the legend of the 13th floor at one of the most horrifying haunted house experiences ever, the 13th Floor Haunted House! In most buildings, the 13th Floor does not exist. But hidden in this building, it's very real. Experience the truth about the legend of the 13th Floor at a haunted house created from your darkest fears. Legends and nightmares alike will come to life at the 13th Floor: Denver's legendary haunted house, a gut-wrenching ride to untold nightmares 13 floors straight down! 13th floor has 3 terrifying attractions that will leave you scared.
Darkest Dreams: Transcend into a dream world of terror that would scare even the bravest of souls. A demonic entity pulls you into her nightmare where she gathers all creatures of horror. You can run, but you can't hide from Nachtmah's deadly grip. Attempt to escape her reality, or fall prey to the demented creatures she plans to unleash on all who enter her world.
Slaughter: Residents are slowly vanishing in the quiet, eerie town of Coalfell. Rumor has it that every 20 years an unusually high rate of murders with an increased number of disappearances strike the city, but no one will speak to the issue for fear they will be next. Strange reports describe terrorizing shape shifting creatures, most often seen as evil clowns. Trespassers beware, for these petrifying entities prefer new visitors. Stay focused on your visit to Coalfell, if you don't you might just become their next permanent resident…
Undead: Restless spirits – A decaying mansion sits alongside a decrepit cemetery and mausoleums just outside of Denver. This seemingly abandoned manor is a permanent home to evil permanent residents who were unwittingly awakened by a local psychic, Madame Shelta. Now, unwelcomed trespassers will relive the horror of the lady of the house who took her own children's lives after the house terrorized her and convinced her to kill them. That unfortunately, is not the end of the story. The grief-stricken husband, in a fit of rage, murdered his wife for her evil deeds before taking his own life. The house staff discovered the horrifying murder scene and made a blood vow to keep the family safe in this life-and the next. They staff will harm anyone who dares to disturb the tragic…and gruesome final resting place.
Learn more about 13th floor and purchase tickets via their website.
Haunted Field of Screams. Thornton, CO
Colorado's largest haunted attraction. FEAR STALKS THE NIGHT at the Haunted Field of Screams this season. This interactive tour of terror leads from one nightmare to the next. With the moonlight as your only guide, follow the trail lined by daunting 16-foot-tall cornstalks containing pure terror at every turn. Whatever your worst nightmare – the walking dead, murderous clowns, chainsaw wielding madmen – all will be realized while journeying through the cornfield and encountering room-after-room that will make you SCREAM!
Packed with 3 scary attractions like Zombie paintball, Dead Man's Night Maze, and Haunted Field of Screams. Learn more and purchase your tickets via their website.
Anderson Farms Zombie Paintball and Terror in the Corn. Erie, CO
Terror in the Corn is Colorado's only haunted hayride & ghost town experience. Their 30 minute three part haunt is one you won't soon forget. Part one takes you on a hayride into the corn field. Part two drops you off into the middle of the cornfield. You must walk on a single path past scary scenes and hidden ghouls. The third and final part takes you through our haunted ghost town. The entire walking portion is on a single path. This is not in the maze and you will not get lost.
Zombie Paintball Hunt is the first of its kind in Colorado. This unique paintball experience, where you shoot but don't get shot, is sweeping the nation and will have you begging to come back for more. Guests will be loaded on a wagon and will each have their own paintball gun. One hopper full of paintballs will be handed to each "hunter". A path has been made in the cornfield, where the "hunters" will have the chance to shoot paintballs at props and zombie actors as the wagon drives by. The path is dark except for black lights that are attached to the zombie wagons. Guests stay on the wagon for the duration of the activity.
City of the Dead. Denver, Co
With three separate attractions, City of the Dead offers the best experience and value for haunted houses in Denver. Vampires, Demons, Zombies, and Undead creatures cause your blood to run cold as you try to make your way through their demented world. Throat dry from all that screaming? They're the only Denver haunted house to serve beer!! Have a few cold ones as you'll want something to calm your nerves before you enter City of the Dead.
The Dead Rising – Darkness surrounds you…….your heart pounds with fear…………The Dead are Rising and they're coming FOR YOU!! City of the Dead rises again with brand new UNDEAD creatures that are hungry for their next victim! The City of the Dead, where Zombies live like people but their city shops and streets take a much more twisted turn. Beware of hungry zombies as you venture into the untamed City of destruction and terror and come face to face with your biggest fears!
Dark Souls – No one truly knows what happened to Viktor and what now lays behind those storied walls. Will you run into him as he enjoys a Feast in the bowls of the parlor or will you run for sanctuary in the Lost Chapel only to find there is no way out! The Dark Souls linger around every corner smelling your fear as the blood pumps through your veins.
Carnival of Carnage – A unique interactive attraction where you get into the action. Play games, Drink beer, take pictures, and have fun!
The Frightmare Compound. Westminster, Co
The Frightmare Compound – As you begin your journey into the depths of The Frightmare Compound, be prepared to slide into the heart of the haunted house through catacombs and caverns, as you encounter flesh-starved Zombies and blood sucking creatures. Only to crawl out into the wet swamplands where true horror awaits. If you are lucky enough to have survived this far through the haunted house, you will then travel through the original 2-story barn where words cannot express the complete and utter fear you will experience. If you make it out alive, you have just escaped the most terrifying haunted house in Denver! Good luck!
The House of Darkness – Poppy Sycamore was the proud director of a small town circus in 1947. His clown themed funhouse was the highlight of his hometown year after year, and every fall during the Halloween season, Poppy could not wait to open his doors to the public. Tragically, Poppy fell mentally ill in the summer of 1976, and on opening night that fall, the fun house turned into the bloodiest massacre the small town had ever seen. No one survived the psychotic rampage of Poppy Sycamore. The town was so scared to step foot into the clown house that it sat dormant for decades, until finally the abandoned, scary clown house was relocated to Denver's world famous haunted house – The Frightmare Compound.
Hellscream Haunted House. Colorado Springs, CO
Haunted Houses, Escape Rooms, Laser Tag, and Murder Mysteries.
There are two escape rooms at Hellscream. The Elevator is one of the biggest Escape Rooms in Colorado and also one of the most unique in the world! Your adventure will start in an elevator which will take you on a three level journey through 6,000 square feet of Hellscream. You will need all of your wits and skills to get out within 60 minutes.The second Escape Room at Hellscream is called The Manor where you and seven other people are trapped in a room. You have to look around and you start to notice strange messages and hidden clues. Can you and your team solve the puzzles, find the key, and get out of The Manor within an hour? Grab your friends, family, or co-workers to come test your mental might and try to escape one of our rooms. They are one of the creepiest, most heart pounding, adrenaline filled, interactive games, in the country. Customers should wear comfortable clothes and be on time because if you are late, you'll be locked out. Escape Rooms are one of the fastest growing forms of entertainment in the world! "Escape From Hellscream" is very unique in that it takes place inside of an actual haunted attraction.Learn more via their website.
Great Escape Room. Denver, CO
Great Room Escape is a fully interactive and immersive experience unlike anything you have ever done before.
Up to 12 participants will enter a room, and they have one hour to escape. Clues and riddles hidden throughout the room provide the tools necessary to meet this objective. As the clock ticks down and the pressure mounts, can you stay calm, can you escape?
Learn more via their website.
If you like to get scared for Halloween, which is your favorite attraction??
Any I missed? Leave them in the comments below!