This is a sponsored post written by me on behalf of Hillshire Brands and Safeway. All opinions are my own! #BringHillshireHome
I'm always looking for a quick meal to feed the family on days that have been pure and utter chaos. Hillshire Brands, which include Hillshire Farm, Jimmy Dean, Ball Park, and State Fair, are some of my go to brands for quick, easy, and delicious meals. Jimmy Dean sausage is a favorite among the kids for breakfast and I love their tube sausage for my Thanksgiving Sausage Stuffing, their Ball Park hotdogs are our go to for grilling, Hillshire Farm smoke Turkey Sausage is a staple in my fridge and goes perfect with pasta dishes, and State Fair is our go to Corn Dog brand. They're all affordable, packed with flavor, and quick to cook up.
Every once in a while you just need a good comfort meal and one of our favorite comfort meals is chili dogs. We didn't have any hot dogs on hand during out latest craving so I decided to use some State Farm Corn Dogs instead and OMG! Talk about Yummy! These Chili Cheese Corn Dogs are super quick and easy to cook up and depending on how you cook them, they're done in a matter of minutes. I prefer to bake my corndogs, so they breading gets nice and crispy, but you can cook them however you want. While the corn dogs are baking I heat up a can of chili and once the corn dogs are done I top them with the chili and some shredded cheddar cheese.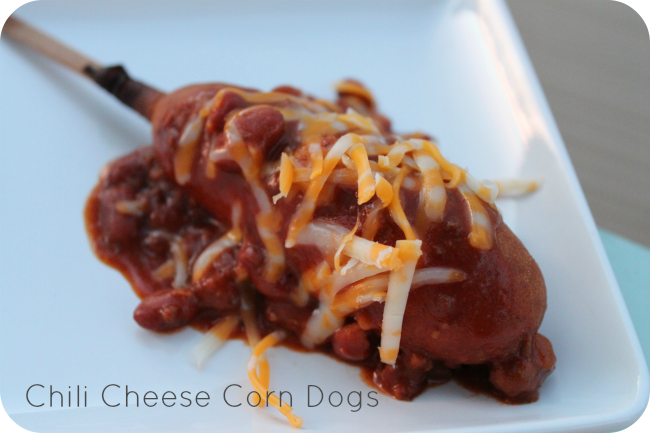 There are two ways to enjoy these bad boys. My favorite way is to take the stick out, smoother them in chili and cheese and grab a fork and knife and dig in, but you can also leave the stick in and put a smaller amount of chili and cheese on them and eat it off the stick. The choice is totally up to you and whichever way you choose, you won't be disappointed!
When you sign up for the Safeway Just for U program you can load a $1 off an state farm product coupon onto your Safeway club card. Safeway is one of my go to grocery stores and I love the Just for U program. Before I go on a shopping trip I scroll through the app to find the latest coupons, add them to my card for maximum savings.
Looking for other delicious meals using Hillshire Brands products? Check out these yummy recipes below!
Crustless Sausage Zucchini Quiche